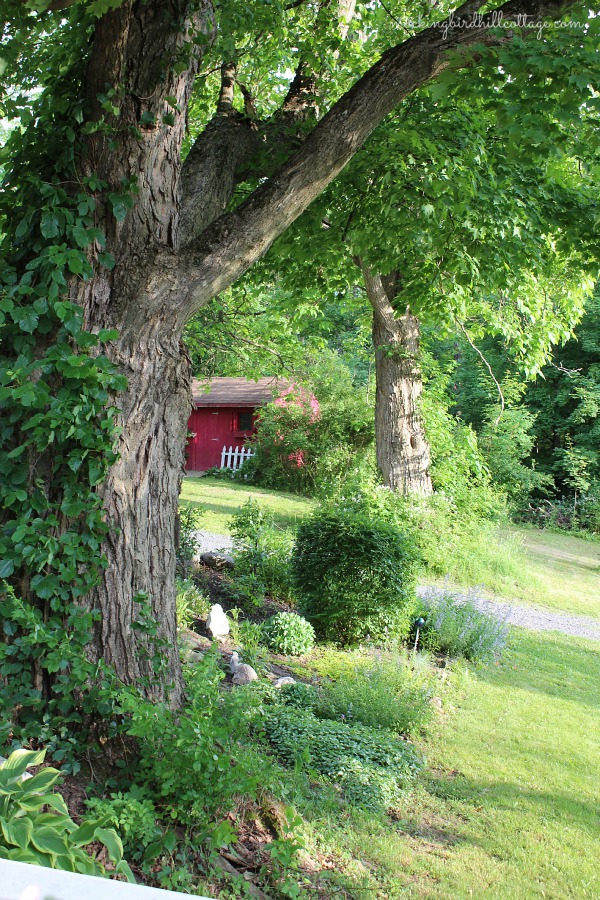 A view from the porch. Some much anticipated porch sitting has been happening around these parts. Oh, how I love this wrap-around porch with its bluestone floor.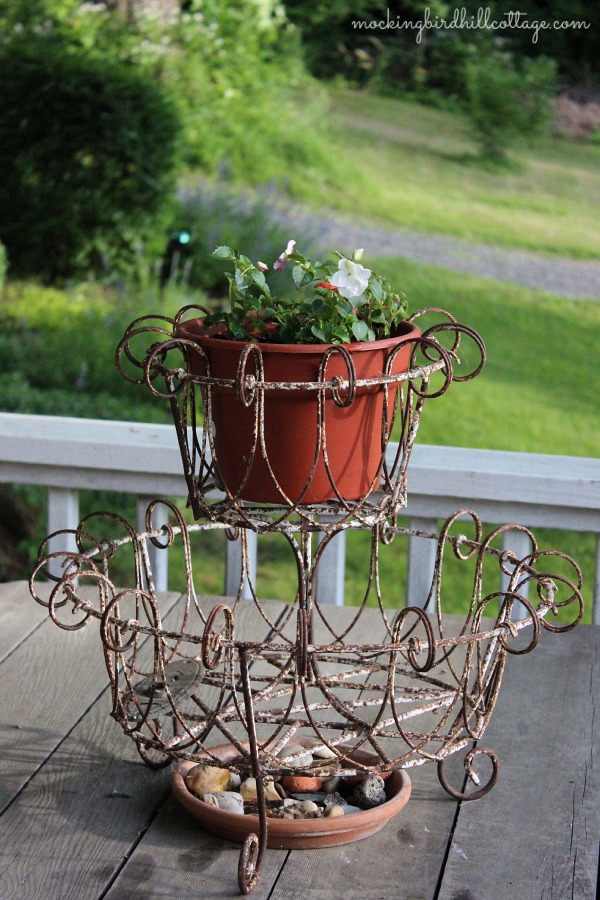 I know that impatiens are iffy this year. They've been struck by a fungus, which explains why the impatiens in our barrels suddenly up and died last summer. I couldn't figure it out at the time – it almost seemed as if some animal had lopped off all the flowers. I didn't learn about the fungus until I had already purchased a flat. So I compromised by not planting them in the barrels, just in pots on the porch. If they succumb, I'll just replant using something else. The fungus only affects impatiens, so nothing else is in danger.
A couple of years ago, Don bought a cot from a yard sale. At the time, I had plans to use it on the porch, but I never got around to it. Yesterday, I pulled it out of the shed.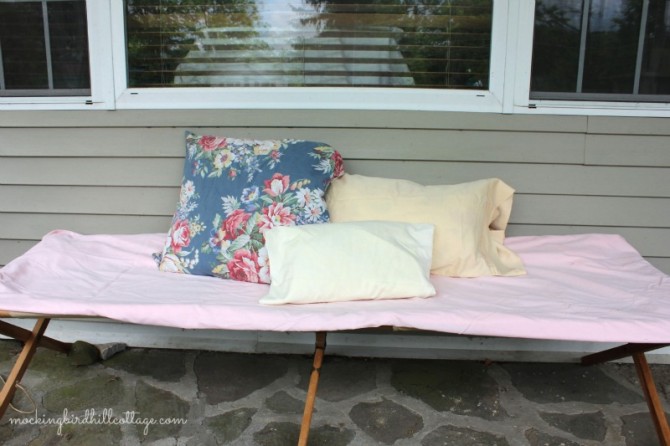 I threw an old sheet and some pillows on it. Ideally, I'd like to get some indoor-outdoor fabric and make a foam pad for it. In the meantime, this little arrangement cost me nothing. I can't get all fancy here; this porch is open to the elements.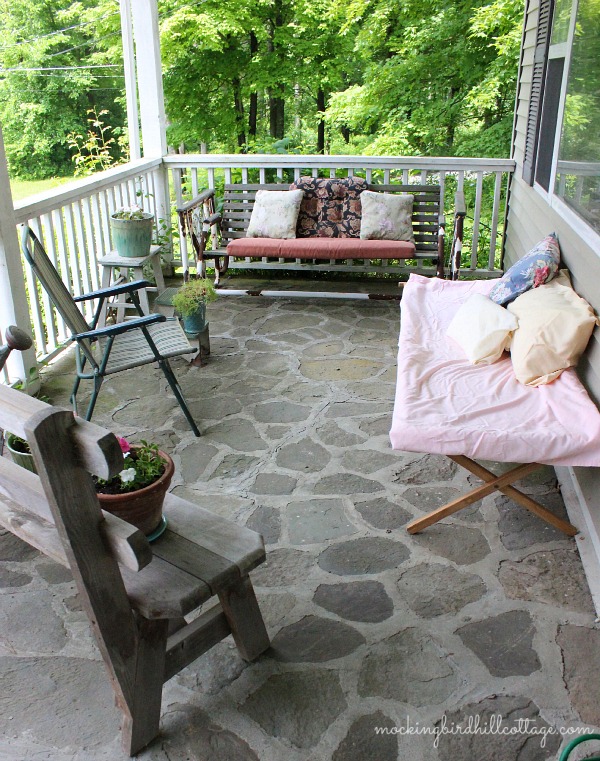 Don came home later in the day and offered to test it out. I see some snoozing ahead.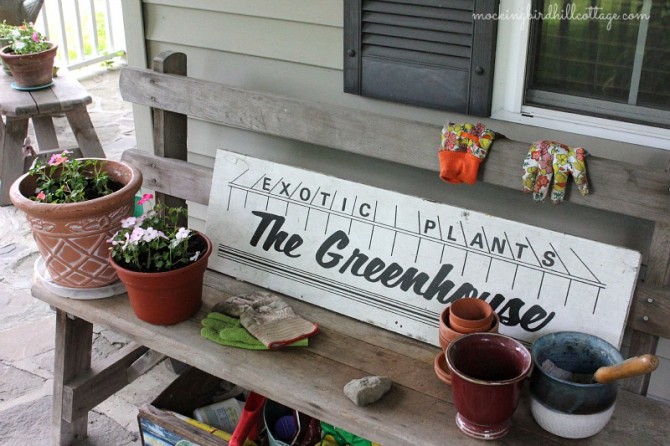 This bench faces the entrance to the porch. I found the greenhouse sign about 5 years ago in an antique shop.
We have a picnic table, two benches without backs and two with backs. The set was purchased from a neighbor just down the road for $25. I can't imagine the porch without them.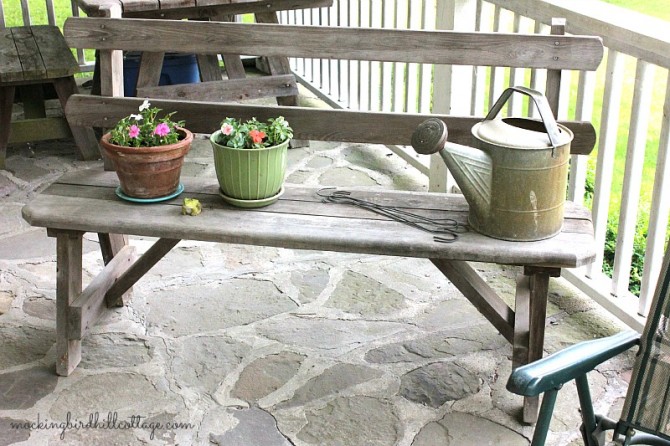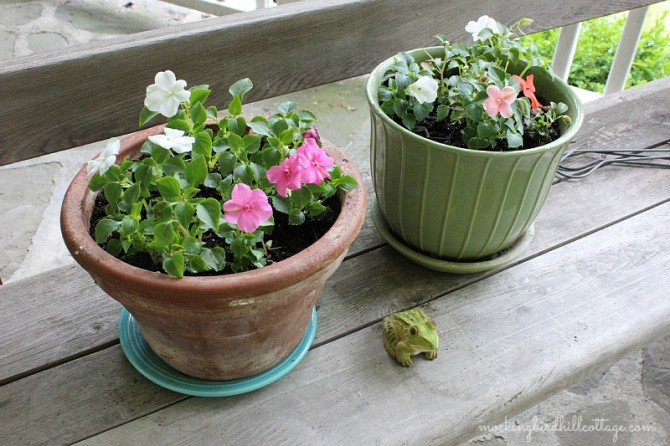 Last year, late in the summer, I looked into a pot on the porch and I saw this frog. It was hidden away, surrounded by lots of plant leaves. I excitedly called Don out to the porch to show him. "Oh that," said he, "that's just a wooden frog I stuck in the plant when you were away. I forgot all about it."
Wooden? I had been absolutely sure it was real. Though now that it's been freed from the plant I can't believe I ever thought that. Oh boy.
Wait, who do I see?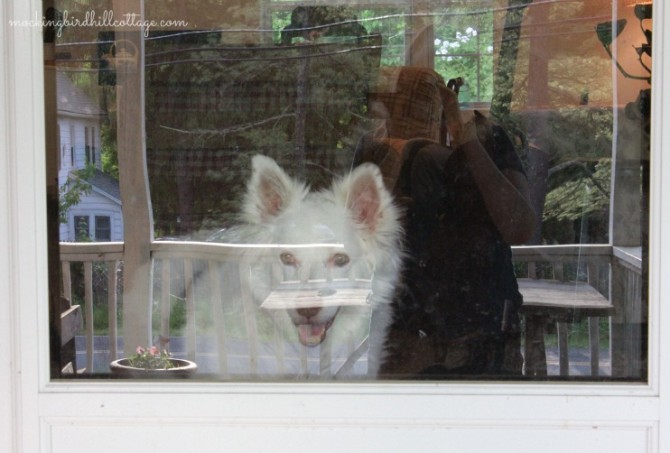 None other than Miss Scout, watching my every move.
It's the first week of June. Like clockwork, late spring or not, my little babies have appeared: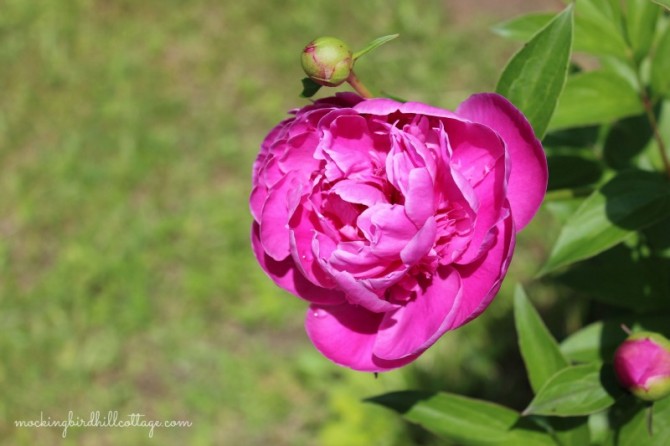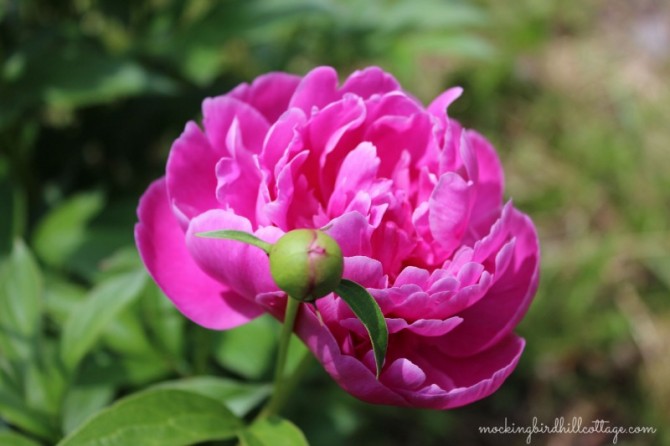 Love, love, love, love peonies. The scent is heavenly.
I have two bushes. This bush is in full sun. The other has blooms like the one below.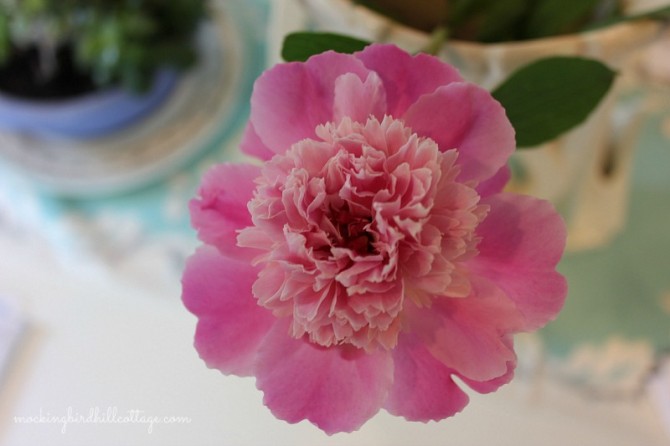 Interestingly, this bush is at the base of a shag hickory tree. That tree was very young when we moved in, but in the past 8 years it has really grown. This is the first year that I've only seen a few buds on that particular bush and I'm pretty sure it's due to the increasing shade provided by the hickory. Peonies like the sun.
I'm hesitant to transplant it. But I would really miss seeing this particular peony. Isn't it pretty? What to do?
While I ponder that, I will wish you a happy Tuesday.
Oh, by the way, Don's new album, Out Beyond the Breakers, is available for download on his website. If you're interested, click on this link, then click on Music/Shop.