What's happening around the house on a Wednesday: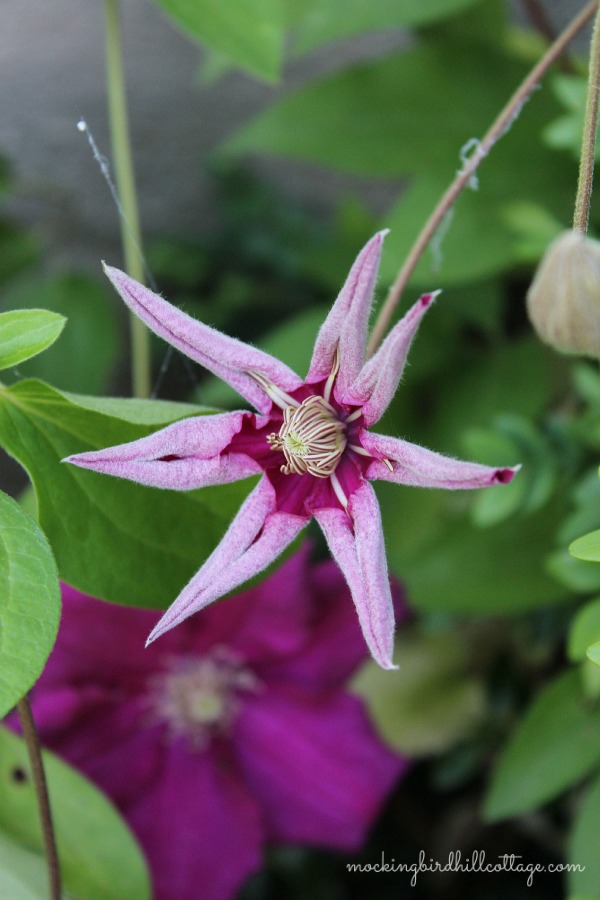 The clematis is unfurling its blooms.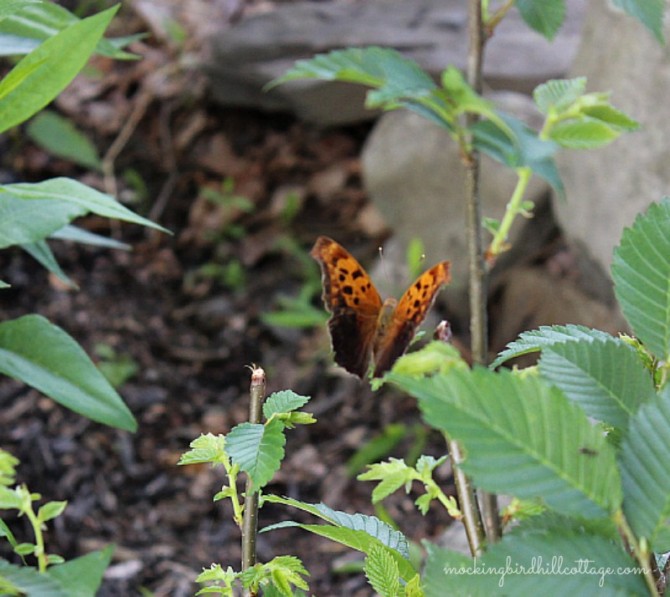 A beautiful moth stops for a rest.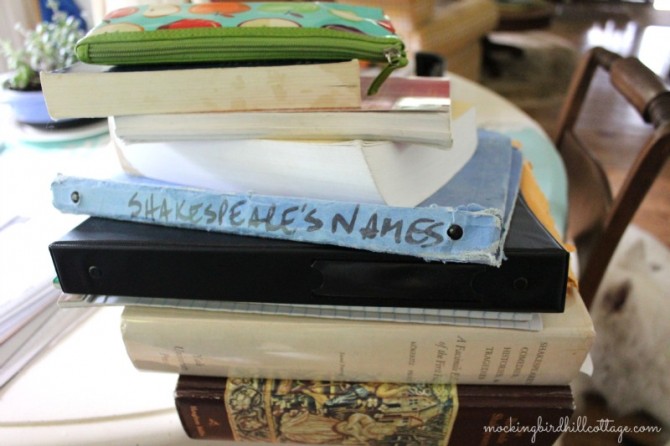 Time for research.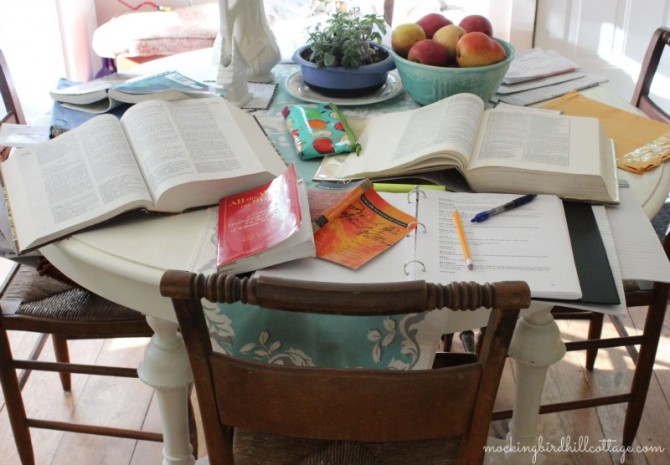 I've taken over the kitchen table.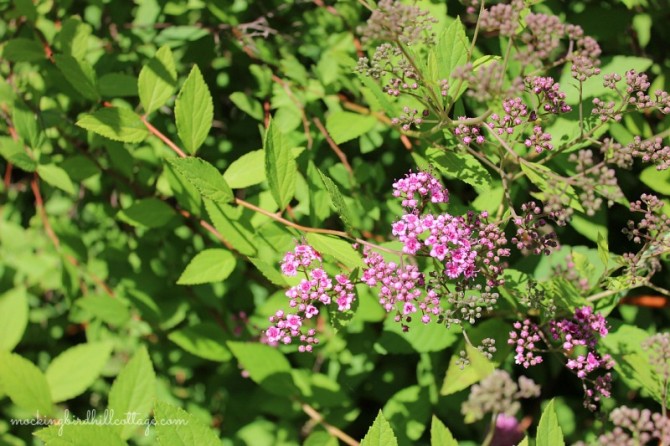 The spirea is blooming.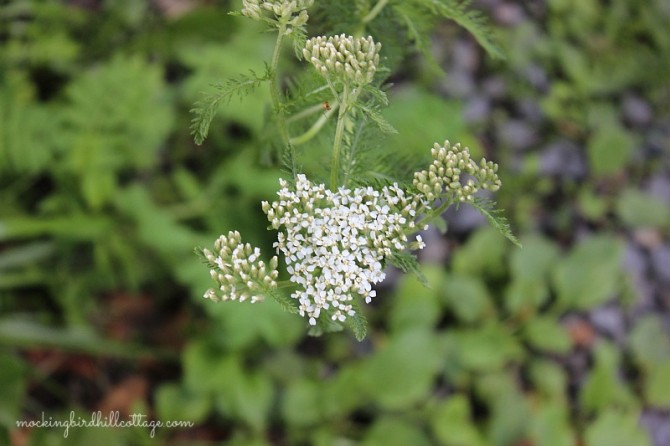 As is the yarrow.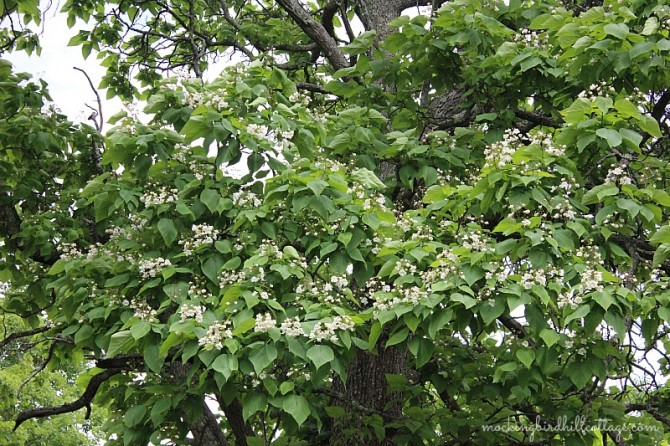 Second week of June? Like clockwork, the catalpa is full of gorgeous, fragrant blooms.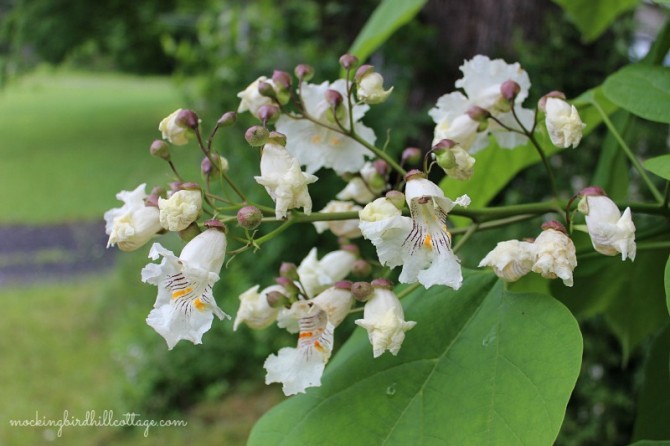 But it's been so windy, that many have fallen. Stop, wind.
And stop, rain, please. We've had long, torrential downpours for the past several days. The little leak in our bedroom has reared its ugly head again. I think it has to do with the chimney flashing, which has been replaced before and will have to be replaced again. Today is sunny, very breezy and I can see that some of my daylilies have bloomed.
I'm immersed in Shakespeare in preparation for my meeting with the director in NYC, which will take place next Monday. The table is covered in books and papers.Whenever I cover that table with something – be it my dollhouse project or reference books and legal pads, Don always says how much he likes it. I've noticed he very much likes to see creativity in process and what I might see as clutter, he finds stimulating and artistic.
Love that man.
By the way, for those of you interested in downloading selections from Don's new album, Out Beyond the Breakers, we have the all clear from Paypal now. Everything is in order. If you're interested, click on this link to Don's website and then click on Store. You can download the entire album or single songs.
I normally wouldn't have mentioned all of this again, but we did have a technical snafu, so I want to give you the latest news.
Don's really good. His word and music are soul-stirring. As is his voice.
There. That's all I will say. Except…thanks.
Now I plan to finish my coffee, go outside to see what is blooming, sneeze for the millionth time (my allergies are so bad this year!) finish my current Deborah Crombie novel, work on Act 2 of Much Ado About Nothing, and buy some more allergy medicine.
What do you plan to do today?
Happy Wednesday.