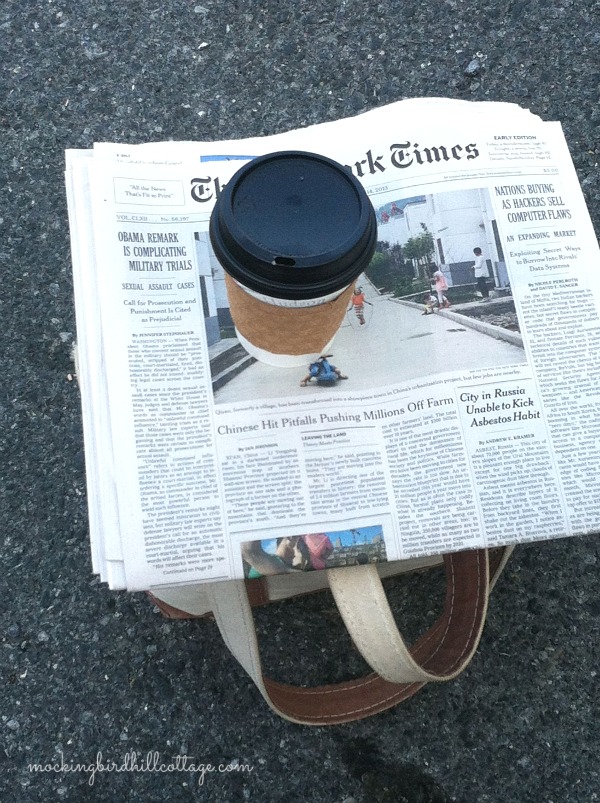 Sunday morning: waiting for the bus, my bag full of scripts and reference books, a Sunday New York Times (I treated myself) and some coffee. I read the Times online, but you know what? There's nothing like holding the actual paper in your hands. I worked on the Sunday crossword puzzle, one of my favorite things to do, but I was a wee bit limited by the bus and its bounces and jiggles. My pen wanted to skitter right off the page.
We had a good day of text work, finishing the play. I was able to do some one-on-one work with some of the actors. What a great group of people! As always in this 'small world' of theater, I knew some of the actors and/or we knew someone in common and there were lots of interesting conversations. Since we finished the play, I am not going to have to drive up there on Tuesday. That's good news. Instead, I'm going to try to combine watching a run-through with seeing Don's play. The theaters are about a half hour from each other. All in all, a very good experience.
Now it's on to the next two plays I begin coaching in two weeks.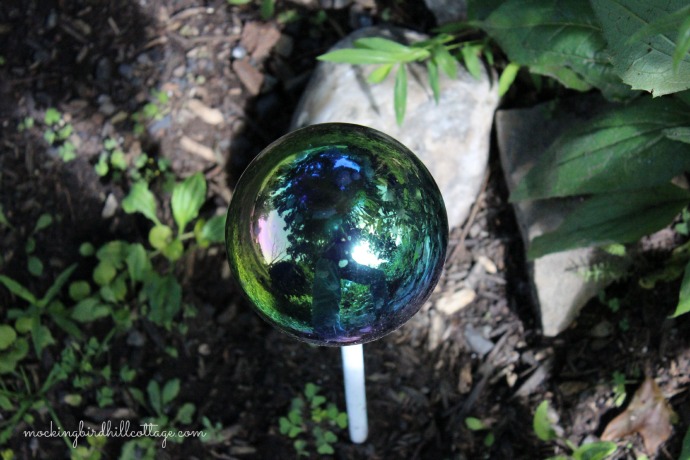 Writing a blog, as those of you who blog know, is hard work. Photos must be taken and edited. Words must be carefully chosen. If you post daily, as I do, you have to think of something new to write about every day. Then there's the actual writing of a post, which is never done casually and is always edited and re-edited. Perhaps you've designed your blog, as I have. That takes time and, often, money.
In the case of this blog, which is a self-hosted blog, I pay a yearly fee to my host. I paid for the theme which was the foundation of my blog design. I pay a bit extra for additional security. Two years ago, I started to include advertising on my blog to help defray my expenses and, frankly, to compensate myself for the enormous amount of time I put into this blog. Hey, it's a labor of love but it takes time.
With all the blogs that are out there in blogland, we should have no trouble finding several that are a good fit, that give us what we as readers want. And sometimes what we want changes, just as our tastes change. That makes sense to me.
Here is the curious phenomenon that I'm pondering. Why do readers leave comments or write emails that essentially castigate the blog author for having ads? Or for the design and look of their blog? Or, more ominously, for writing something from the heart? It's as if they feel the blog author has betrayed them in some way.
I don't get it.
This hasn't happened to me specifically, although I did have a comment that criticized me for a very personal decision that, quite frankly, was my business only. But I've seen this happen to my fellow bloggers and it makes me mad. These comments are made under the guise of being 'helpful' – a passive/aggressive thing. It's as if writing and reading in the online world gives the commenter permission to say things that they would never say face-to-face. Or, perhaps they would say it face-to-face. In that case, my response would be 'It's my blog.'
Some bloggers are sincerely trying to earn a living from their blog. They work very hard at it. You're not going to be able to earn any income from a blog without ads. Just as shows on television have ads, magazines have ads, billboards have ads, heck, even public television has a sort-of-ad at the top of some programming, so must blogs that supply needed income. If a reader doesn't like that, why not simply move on?
You can't please everyone all of the time, we all know that. If a blog I'm a regular reader of changes in a way that I no longer like, I simply move on. The author doesn't owe me anything. It's his/her blog. She can do whatever she wants to with it; she can have lots of ads, she can change the focus of the blog, she can post only photos, she can speak about political issues I don't agree with – she can do whatever she friggin' wants. I may be disappointed. I may disagree. That's fair. But I simply move on.
The only time I've ever commented on something I fundamentally disagreed with was in the case of a blogger who was repeatedly engaging in a form of bullying. I felt it was a moral issue. Would I speak out again if faced with the same sort of thing? I'm not sure. But surely, ads and blog design and posts written from the heart or any one of a slew of other things are part of that blogger's own particular way of blogging. It's what makes each blog individual and puts a personal stamp on things.
I have strong feelings and opinions as those of you who are regular readers of this blog know. I welcome discussion in the comments. Not everyone is going to agree with me and that's okay. Not everyone is going to find my blog a good fit, either. That's okay. What I don't welcome, and never will allow, is sniping. And that's what I saw in some of those comments on other blogs. Sniping, plain and simple.
It's not polite. It's not good behavior. It's not right. If it came from my child, she would be put in a time out.
That's what I say to all those who leave that kind of comment or send that kind of email. Put yourself in a time out by simply moving on.
Those are my thoughts on this Monday morning.
Happy Monday.