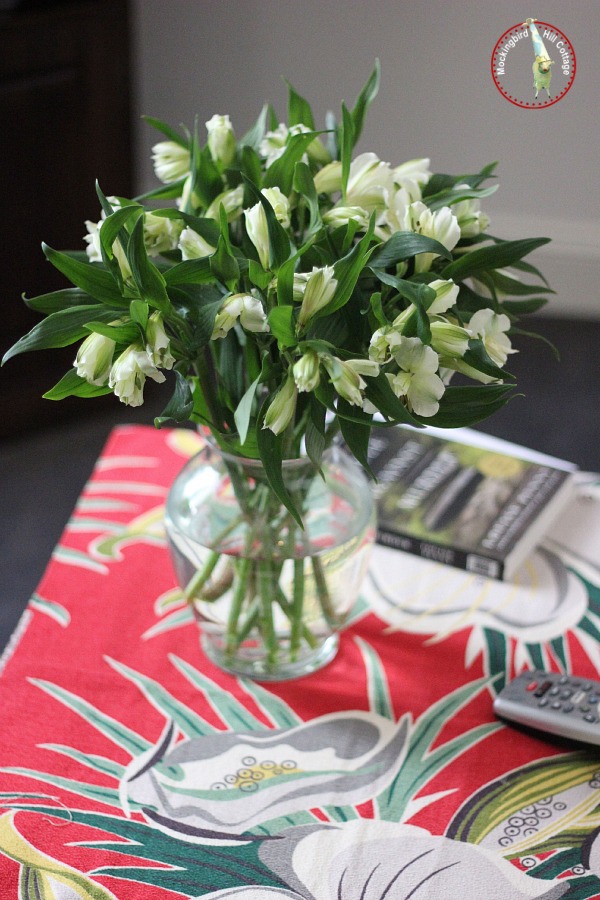 When you have just one day off a week, it goes by rather quickly. Hello Tuesday.
Yesterday I was a bit blue. I was missing my home and family and all of that. But it was a gorgeous day. Temps in the high seventies, not an ounce of humidity and sunny skies. Around about noon I packed my camera in my bag and visited the park. It's just across the street from my apartment building. Lots of workers were sitting on park benches, eating their lunches. I've been to the park a lot during my stints in Hartford and, while it's lovely, it wasn't doing it for me on this particular Monday. It seemed as if I'd already taken all those photos. I wasn't inspired to take any new ones.
How about a visit to the library? If you remember, I got a library card last time I was here. Hartford's library is beautiful, filled with light, filled with people, filled with books and computers and art and a section to help those searching for jobs and more, I'm sure. I walked through the doors and saw my favorite thing spread out before me  – books. Not eBooks, but three dimensional books where you can turn an actual page, not a virtual one, where you can pick up a book from a shelf, leaf through it, read the dust jacket and think about checking it out. There's an extensive 'New' section for both fiction and non-fiction.
Mindful that I already have some books here in the apartment and that I also have to review a couple of books that I brought with me, I limited my to-be-checked-out pile. But I swear, I'm like a kid in a candy shop there. The little library in my town is charming, but the selection would hardly be called extensive and most of the books I check out from there are ordered from some distant branch through the library system. Here in Hartford at this Main Library, oh my, the selection is pretty gosh-darned mouth watering.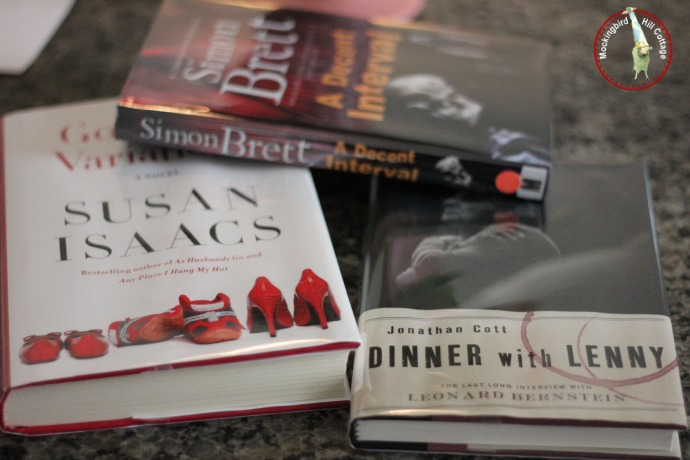 All from the 'New' stacks:
1. A new novel from Susan Isaacs, one of my favorite writers. I've read every one of her books over the past twenty or so years. She is very funny. She writes great dialogue.
2. A new mystery from English author Simon Brett, part of his theater series featuring actor Charles Paris. I read most of this series years ago with great enjoyment and lots of chuckling. Brett knows the theater world in England very well and he writes a good mystery with tongue firmly in cheek. I was pleasantly surprised to see a new book in the series. In fact, I checked the copyright to make sure it was new.
3. A new book that I was delighted to discover, which focuses on the last interview ever given by the late, great, brilliant Leonard Bernstein. I've read most everything I could get my hands on about Bernstein, who is one of my musical heroes, so this little discovery makes me very happy.
On my way back from the library, my cell phone rang. It was the actor who plays Macbeth. (He, Lady Macbeth and I share a car.) They were going to Whole Foods, did I want to come? Since I needed a few things and thought this would be a nice chance to spend some time with them, I said yes. He's a very talented actor and he's also very funny. You know I like funny. I'm funny. Don is very funny. Nothing better than a good sense of humor, say I, so we bantered back and forth and had a great time.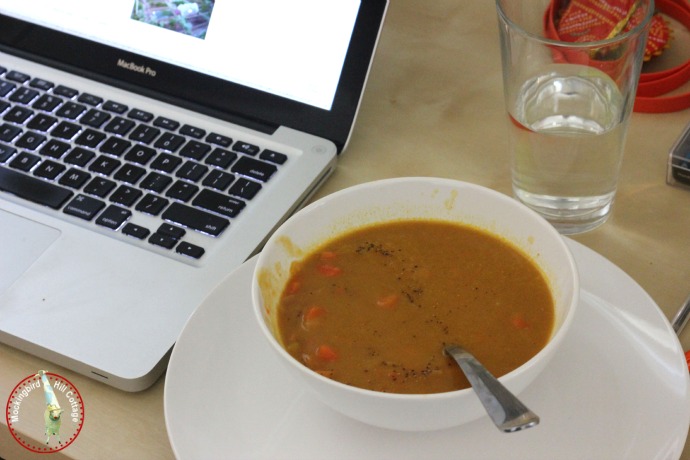 Back to the apartment with some time on the computer and a delicious bowl of Cashew Carrot Ginger Bisque. Oh my heavens, this is one of my favorite soups. Love carrots. Love ginger. Love cashews. And before you ask, no, I didn't make it myself. I did warm it up, however.
Along about 8 pm, after talking to Don more than a few times, I decided to re-join Netflix so that I could join the 21st century and have online access to movies, television shows, etc. The pickings on cable television here are limited. I'm not thrilled with most of the available programming. Don had urged me to join up because several of his fellow actors in Williamstown were doing just that. They would retreat to their bedrooms in the evening and watch something on Netflix or Hulu. It's especially nice when you're working out of town.
Since Netflix is having a deal where you get a month's free trial, I went for it. I watched part one of The Girl Who Played With Fire (the Swedish version.) So well done. And I had the Red Sox game muted on the apartment television so I could keep an eye on the score. (They lost.) I'm liking this – it's so nice to have options available while I'm on the road.
Long day of rehearsal ahead. Still doing table work for Macbeth. I'm happy to say I became more engaged in the process on Sunday. There will probably be another day of table work and then I'll be able to start work with the actors one-on-one.
Happy Tuesday.