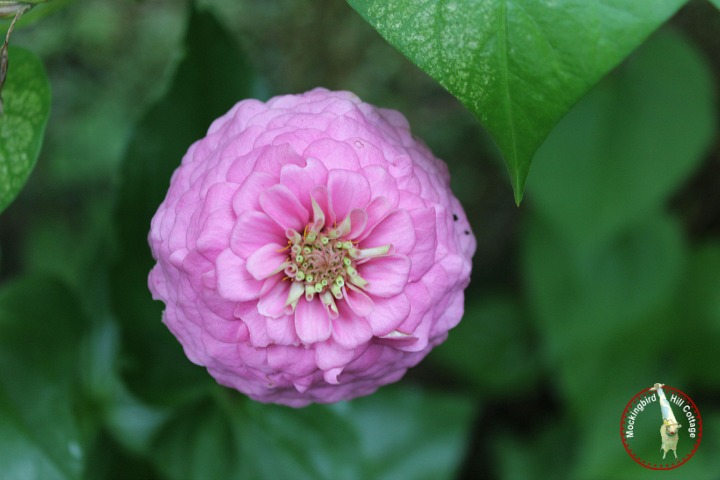 I always plant seeds in an area that borders the dog corral. Well, I shouldn't really use the word 'always.' I did it last year and I did it again this year. I started off using some seeds sent to me by my friend Nola, but after a few weeks, I realized the seeds were no longer viable. So I had to go out and buy some more.
The end result is that this little strip of garden didn't bloom until late in the summer. But the zinnias are now tall and strong and are blooming. Some are springing up in my planters. I didn't plant any seeds there, so I think I have our bird friends to thank for that little surprise. And the morning glory that I planted looks like it has buds. Finally. I so hope they open while I'm home.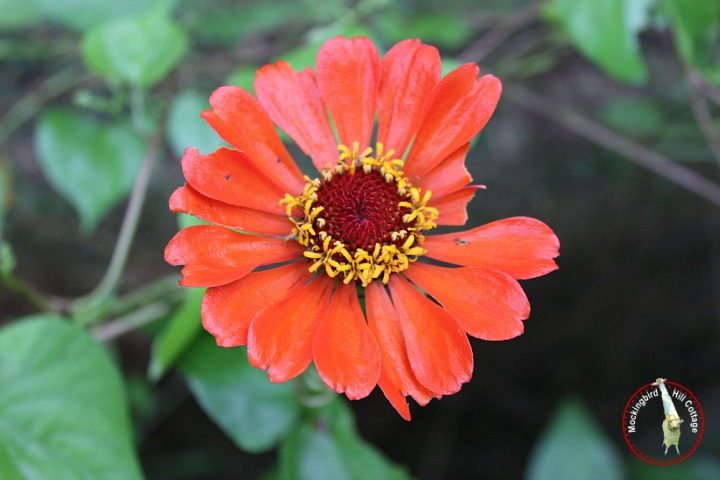 We had big thunderstorms yesterday. In between them, Don went up on the lower part of the roof and tried to determine how to climb up to the upper roof to wrap the lower portion of the chimney with a tarp. Our ladder isn't that tall, so getting up to that portion of the roof is tricky. We went next door and borrowed our neighbor's long extension ladder. But we soon realized it was too rickety and neither of us felt right about using it. The whole thing felt very risky and we didn't think Don should attempt it. Meanwhile, more rain was due.
We called the local guys who have worked on our chimney in the past and who came by a few weeks ago to check out the flashing. They are really busy this time of year and were going to send us an estimate of what the repair might cost. In the meantime, they put some caulk around the flashing – which, in Sunday's heavy rains, didn't work. Anyway, to make what is becoming a long story short, knowing it was Labor Day, Don expected to leave a message but one of the guys answered the phone. Don explained that we didn't have the right kind of ladder, that the caulking wasn't working, that we needed to wrap a tarp around the chimney and could they come help us out? An hour or so later, in the pouring rain, on a holiday, one of the guys came over, donned rain pants and a slicker and climbed up there. He wrapped the chimney in about 5 minutes.
All he asked for was a cup of coffee.
When Don said "Let us pay you," he said he lives by the Golden Rule. That you help out someone in need. And, in turn, someday you will be helped out.
This business is family owned and it's local. And they've been generous with us before, allowing us to pay off a repair in monthly payments. Why? Because we're part of the same community and they believe in helping others.
I have to say that we feel blessed. We still have to repair the leak, whether it's from the flashing or the masonry on the chimney, but we know we are in good hands. How often do we come across businesses like theirs in this day and age?
They are truly good people.
So it was a crazy day yesterday. But good, as well.
Also blooming: some seeds I planted in the planter by the kitchen door. These were also from Nola, but they were still viable. I wasn't sure what they were until I did some research. Four O'Clocks.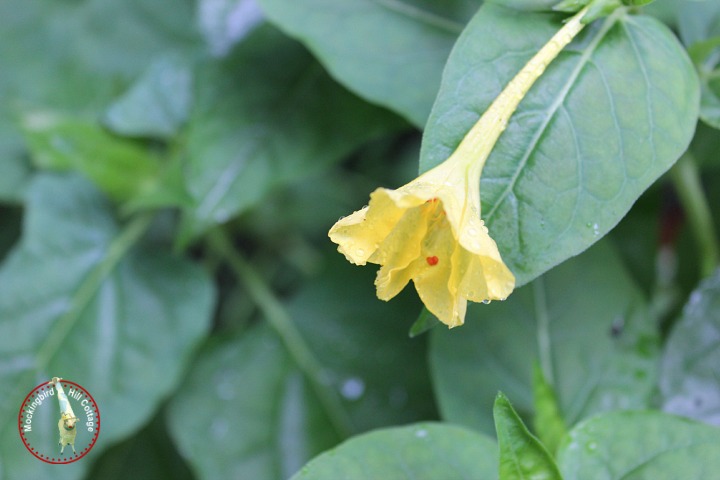 My girl is in the 'tunnel.' It's nice to be home.
Have you encountered a similar situation with a local business? One that practices the Golden Rule?
Happy Tuesday.