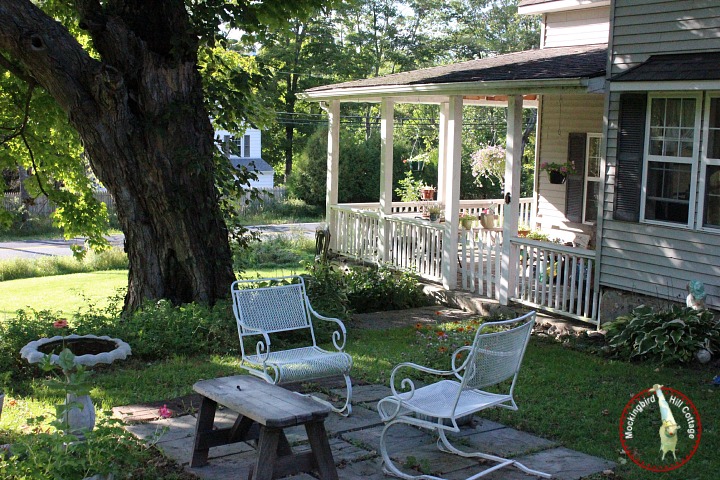 On Wednesday night, during a severe thunderstorm, that huge limb that you see on the left hand side of our maple came down. It's a massive tree. The limb just missed our car, took out some branches from the catalpa tree and, I'm sure, decimated parts of the garden.
I was watching the final dress rehearsal of Macbeth. It was intermission and I happened to look down at my phone to see that Don was calling. I knew something was wrong.
Yesterday, some friends came over with a chain saw and the clean-up began. Right now, we're heartsick. If you remember, we lost a huge limb off this same tree two years ago during Hurricane Irene. Now, we're wondering whether the tree is diseased, whether it is in further danger, and heaven forbid, whether it might have to be taken down. Don has contacted some arborists who are going to come by on Saturday to examine it.
Neither of us can imagine our house without this majestic Sugar Maple by it's side. You know, when we first saw this house, we fell in love with the four big trees that were nearest to the house: a weeping willow, a shag hickory, a sugar maple and a catalpa. The shag hickory has mysteriously died. The weeping willow had to be taken down. Now, we're wondering about the Sugar Maple. All of this in the eight short years we have lived here. We have many, many trees on the property, but they are mostly in the wooded portion of the back forty. These four trees; beautiful, old, majestic, were a great part of the siren call that reached out to me on the day we first viewed this house.
So send some positive energy to my tree, please. It's a living thing and surely if all of us send healing energy its way, it can't help but thrive.
In a way, I'm glad that I'm away during all of this. But I also wish I was there to help Don.
I'm starting to really hate huge storms.
Happy Friday.