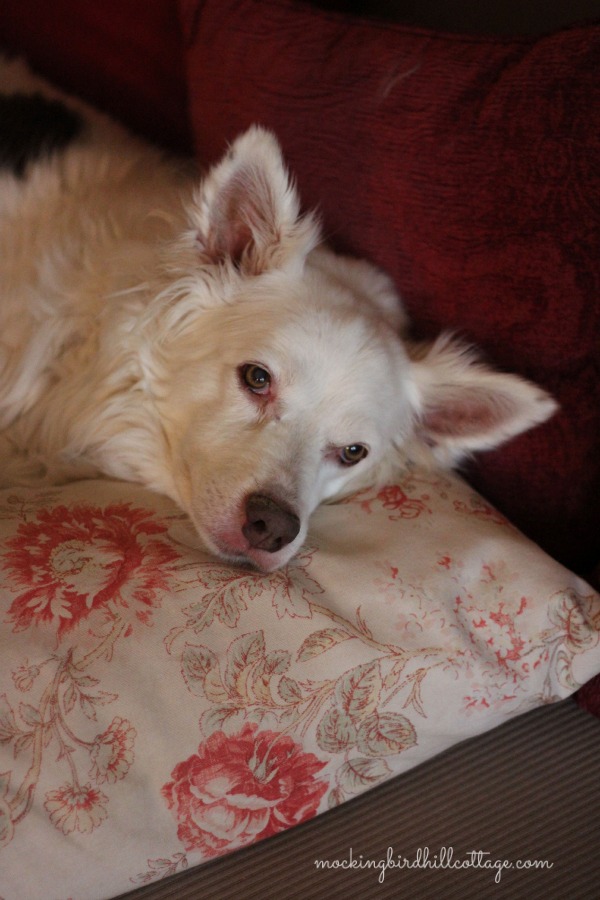 I don't mean to interrupt the festivities and I thank you all so much for your wonderful birthday wishes for my dad. Besides the fact that our muffler came loose on the last leg of our trip home, I came in the door, immediately got down on the floor to hug Scout, and noticed some matted blood on her hair below her tail. When I looked more closely, I saw the area around her vulva was inflamed and had been bleeding. We immediately took her to the Vet, and  after examining her they discovered she has a tumor there. Apparently this is common in female dogs, but hers is inflamed and badly infected. So it has to come out and she will have surgery tomorrow.
We had to leave her at the Vet overnight and they will do the surgery, hopefully, in the morning. She has to have blood work and she's older, so I worry about this. I would worry about any surgery, but she's 14 ½. She's been feisty and energetic according to Don and he saw no difference in her normal amount of energy.
May I ask to to pray for her? I am desperately worried and scared and overwhelmed by this. She is a strong girl and she has great stamina, so I'm hoping that will help her through this. It was awfully hard to see her for only a few minutes and then have to leave her at the Vet's overnight.
Maybe a prayer or two for me and Don, too.
Thank you.