Apparently that scamp, little Miss Scout, managed to get on the computer and write a blog post! And then proceeded to answer the comments. She's a Border Collie, you know; they're very intelligent. Ah well, it's good to get a day off from blogging every now and then. Scout as guest blogger – it somehow makes sense.
Also, before I forget, did you know I answer your comments right on the comment page? I think most of you are aware of this, but a lot of you have asked me specific questions lately and I want to make sure you know I always answer them. My answer is always right below your comment. To make sure you see them, you can do one of two things: check back in later in the day and see if I've answered, or, and I think this is easiest but that's just my opinion, check that box right below your comment that says "Notify me of follow-up comments via e-mail." When I answer your comment, you will get an email with your original comment and my response. There you go! One of things I love about this blog of mine is the dialogue that happens in the comments – it's a true joy for me. Scout obviously likes it as well. She tells me she had fun answering your comments.
Now. I've been collecting feathers lately – here at home and in Hartford. I love bird feathers. But what to do with them? How to display them? They were on top of the sideboard but any gust of wind from the window or the front door could blow them away. I'm too cheap to frame them at the moment and I'm not sure I would want to anyway. So, the other day my eyes lit on one of my flower frogs and I had an idea: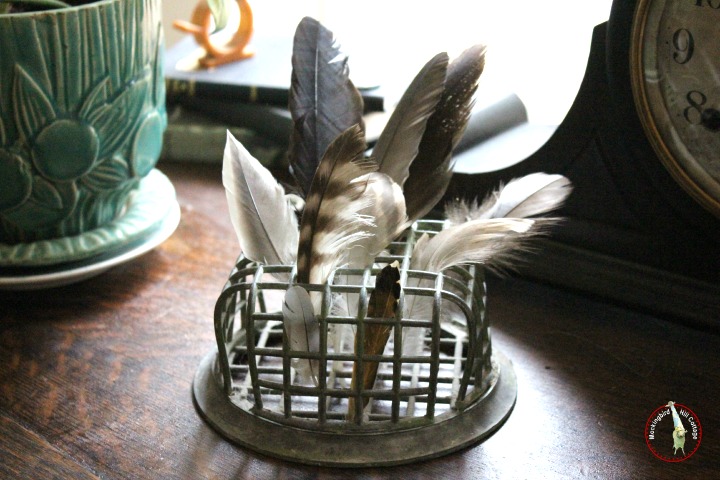 A flower frog turned feather holder.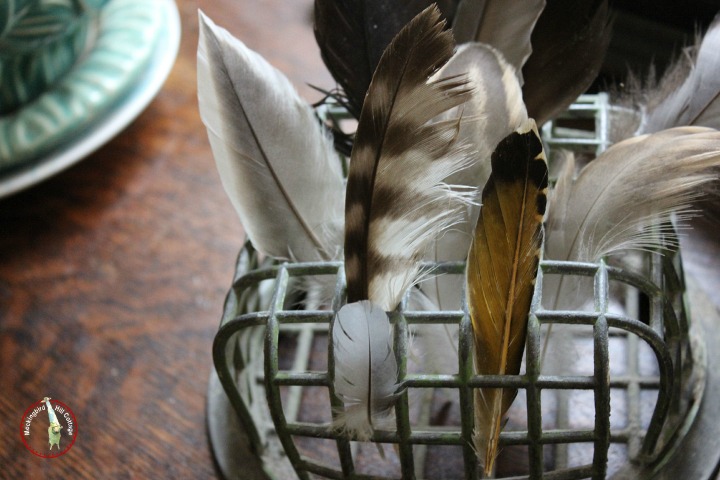 I'm rather pleased with this simple solution.
It sits on the sideboard, along with a piece of brown transferware that holds all my acorns and pods and pine cones. My little nature center.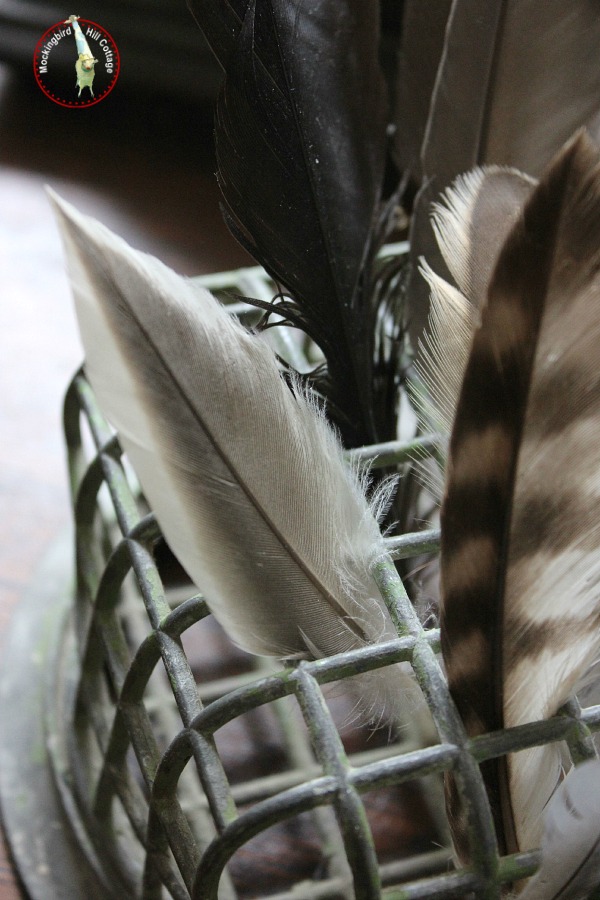 I used to have a bunch of wild turkey feathers but somehow I have lost them. We had a lot of turkeys hanging around on our lawn and they left me some beautiful feathers. Where the heck did I put them?
The morning glories are still going strong. I never get tired of looking at them and photographing them.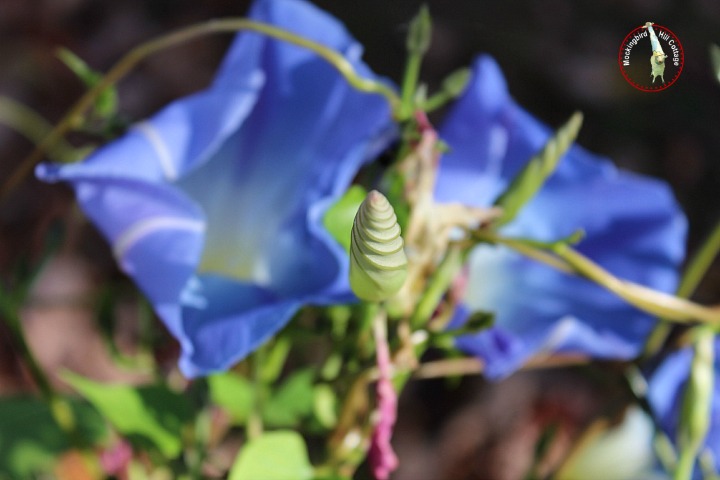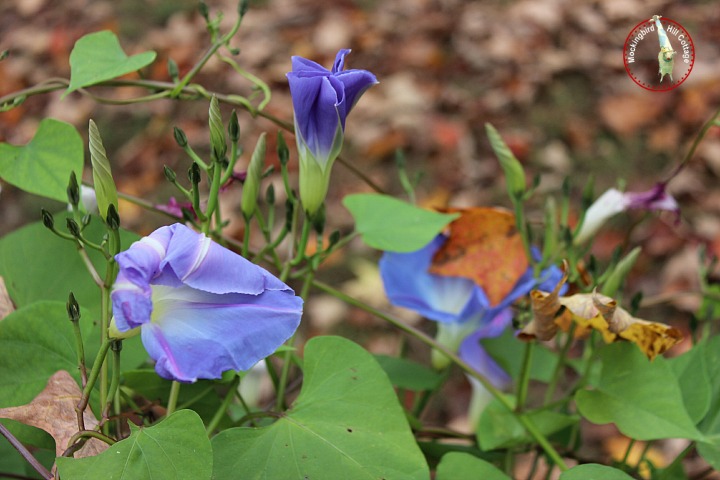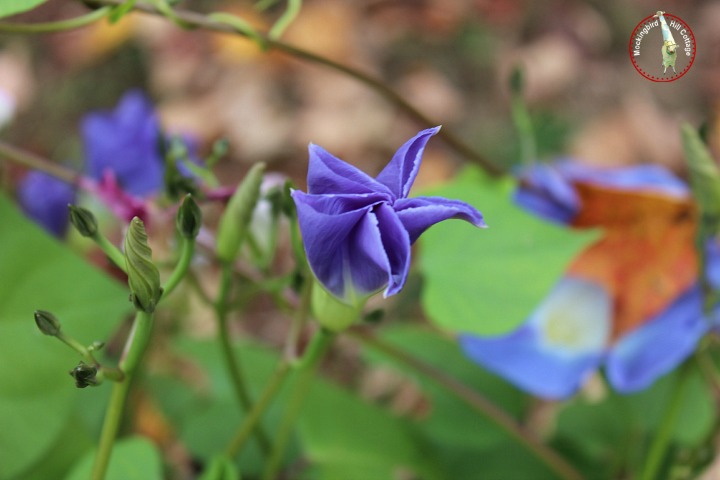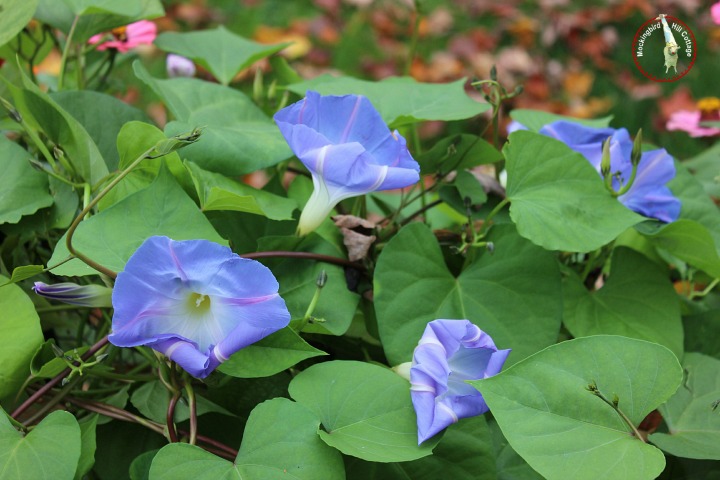 Some flowers for you on a Friday.
Happy Friday.