Lamps. They are a continual source of frustration for me. Lamps in my home are divided into two categories: charming, personality-filled vintage lamps and blah, cheap, mass-produced lamps. I've had a couple of lamps bite the dust this year and every time I've shopped for a new lamp I've been disappointed. Either they are boring and not me or they are ridiculously expensive. Our cottage is decorated in an eclectic/country/cottage/funky style – a style I call "Christmas in Connecticut" after the overstuffed, comfy, cottagey style in that movie. If I could manage it, every lamp in this cottage would be vintage. But they are hard to find and, often, very expensive.
Cut to Sunday: I was feeling restless after having been housebound with Scout for a whole week – a week in which the only place I visited was the Vet's office. I told Don I needed to get out and suggested we go across the Hudson River to an antique center that we like. It's a really neat place in a very old building with lots of dealers. At one point I quickly went through a room filled with silver and 'traditional' things that I usually ignore. I was on my way upstairs. On the way back through that same room, I spied an interesting lamp base. I stopped. Part of it was done in jadeite green. I think it's that color that caught my eye. But there was also some sort of metal in a lovely design. It was heavy. I walked away. Came back. Then I realized there were two of them – a pair. My eyes traveled up to the shade. Oh my. Vintage. Whipstitched. Gorgeous. I did a speed walk around the building and found Don. What did he think? He really liked them. We found the dealer and asked him to put in some light bulbs so we could see if they worked. They did.
Then we dithered about them. We are so, so careful with money that we more often than not say no to something like this. Then the dealer gave us a discount. Oh boy. We knew we would never see anything like them again.
We bought them.
This is the base: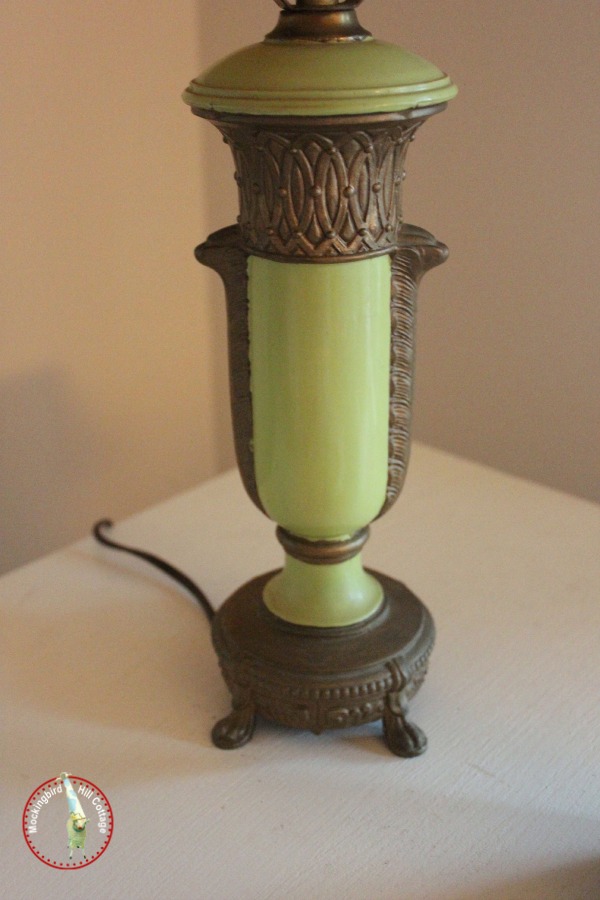 Another view: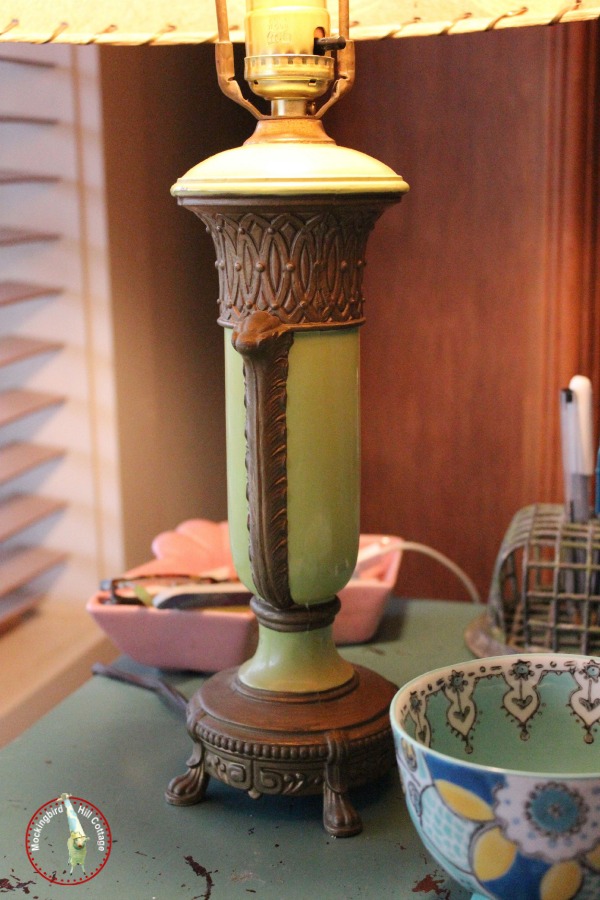 I'm in love.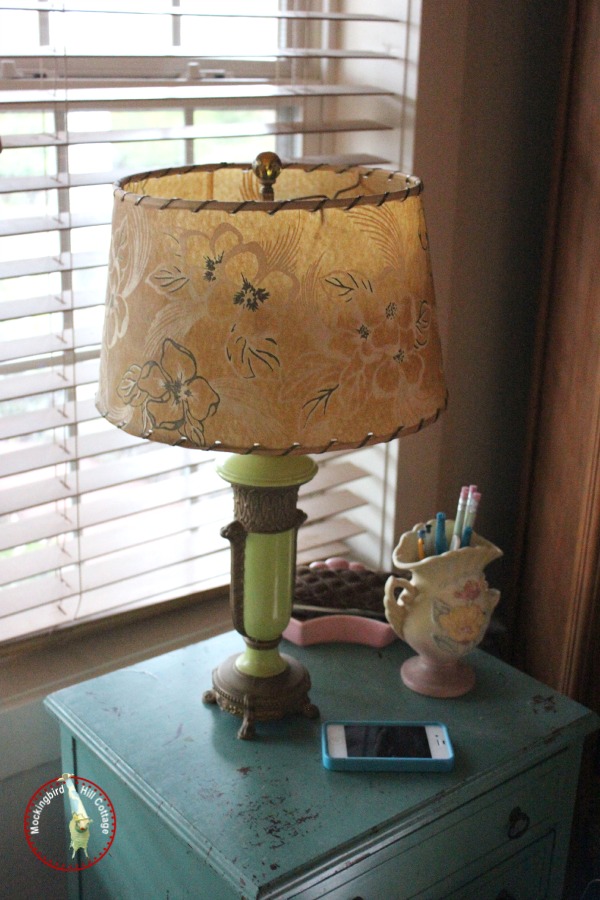 And with the shade. The shades…the shades are making me crazy, I love them so much. I'm pretty sure the shades were replacements for something more ornate, but I can't be sure. I don't really care. The combination of the base and the shade is splendidly funky – just our style. Look at the whipstitching: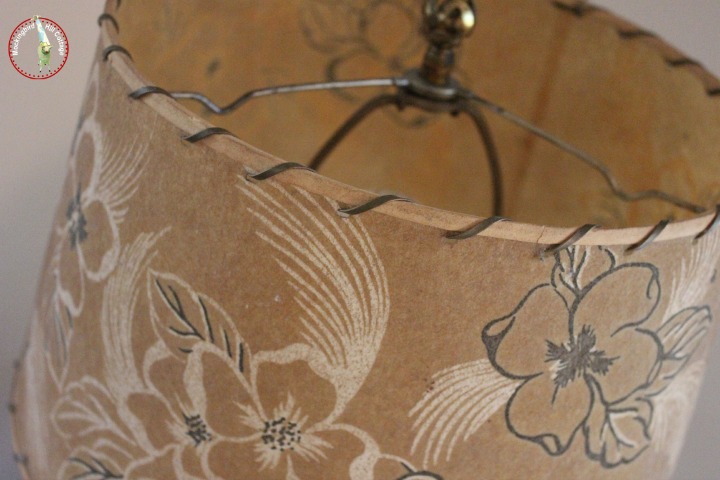 These vintage shades are in perfect condition. As are the lamp bases. (The dealer told me he bought them because of the shades and I totally get it.)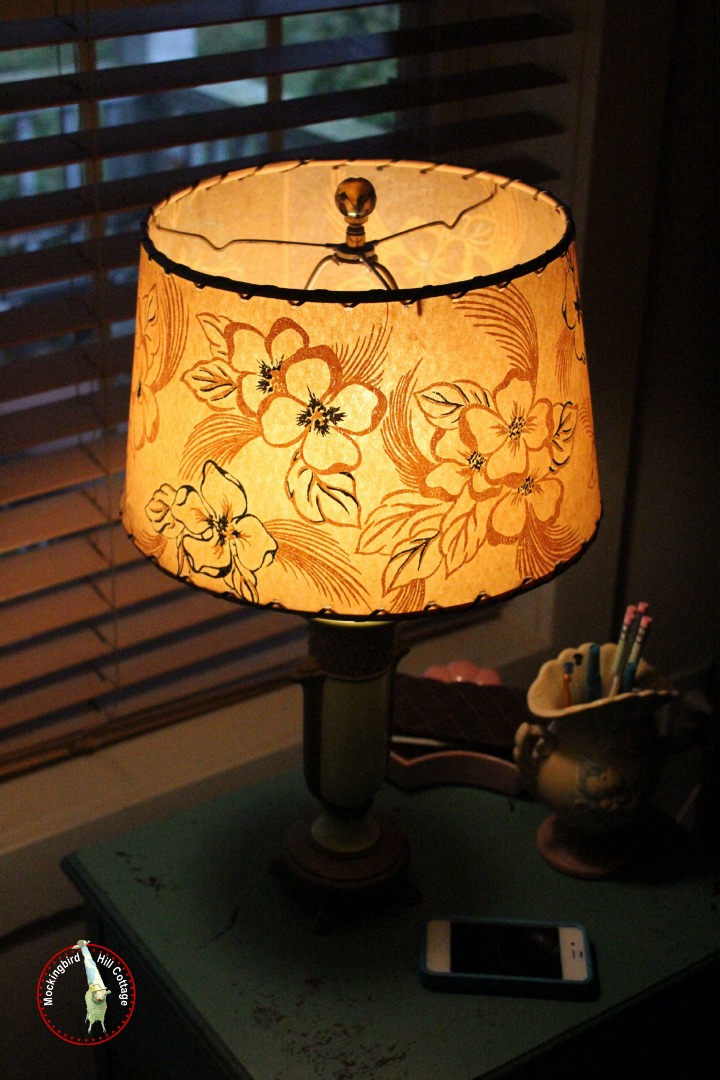 Be still my heart.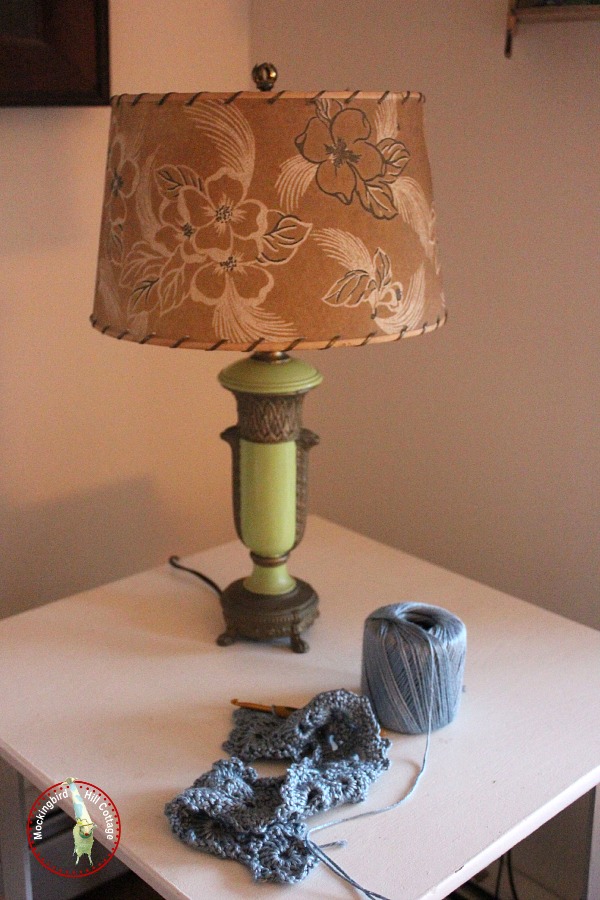 On the other table in the den. (This table is usually home to the phone and the remotes. I removed them for this picture.)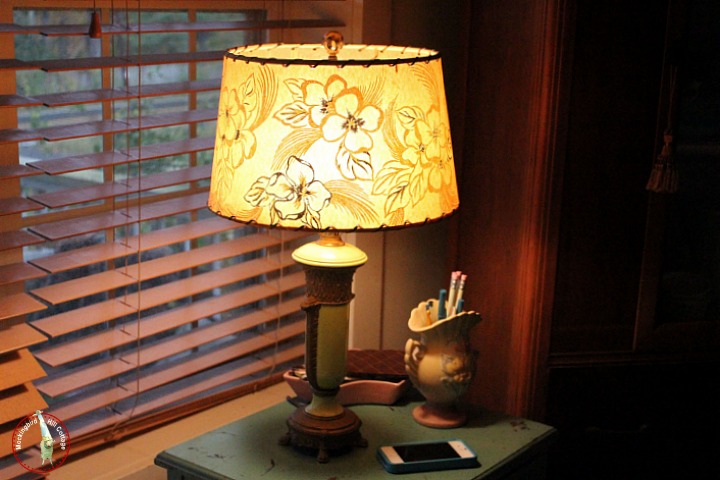 And on my little table.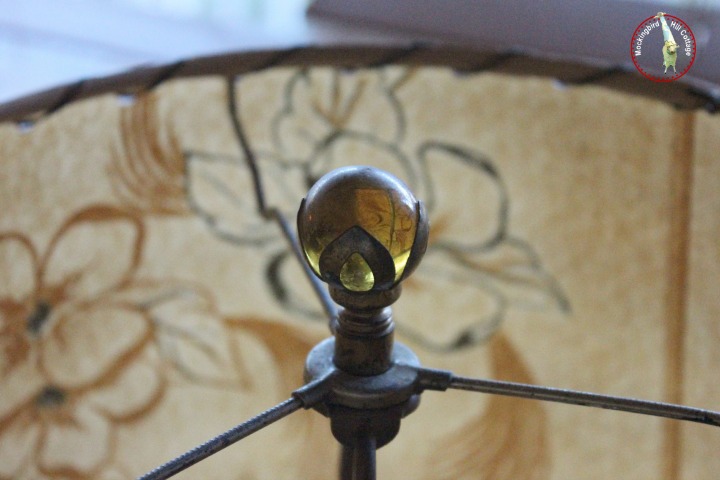 The finials are lovely – one has a lovely glass marble insert, the other insert is missing. We will be keeping our eyes open for a pretty glass marble to replace the missing one.
When I look at the amber marble, which matches the shade, I begin to wonder if the lampshades were indeed original to the lamp. Hmmm.
Honestly, we are in love with these lamps. The golden glow they give to the den in the evening is simply wonderful. They make the den seem so intimate and cozy and warm and inviting. They're the perfect size – about 21 inches tall. They're heavy and solid and they make my heart sing.
The price for the pair was truly a steal – the shades alone are worth more than the final cost. But of course, we have to validate every purchase we make. So we went through the list. We needed lamps – check. They're vintage and we won't see them in anyone else's home – check. They suit our style – check. We love them – check.
And our anniversary is this Saturday. They are the anniversary gift we are giving to each other.
Check.
Happy Tuesday.