And so it begins. My little battle with the elements.
Every year around this time, give or take a week or so, the temperatures start to drop. We had a frost warning last night and will have one for the next 3 nights. Am I ready to say goodbye to my flowers?
No.
Late afternoon found me outside with my pruners, cutting some flowers. I knew I couldn't possibly cover everything and I couldn't begin to contemplate seeing them brown and wilted.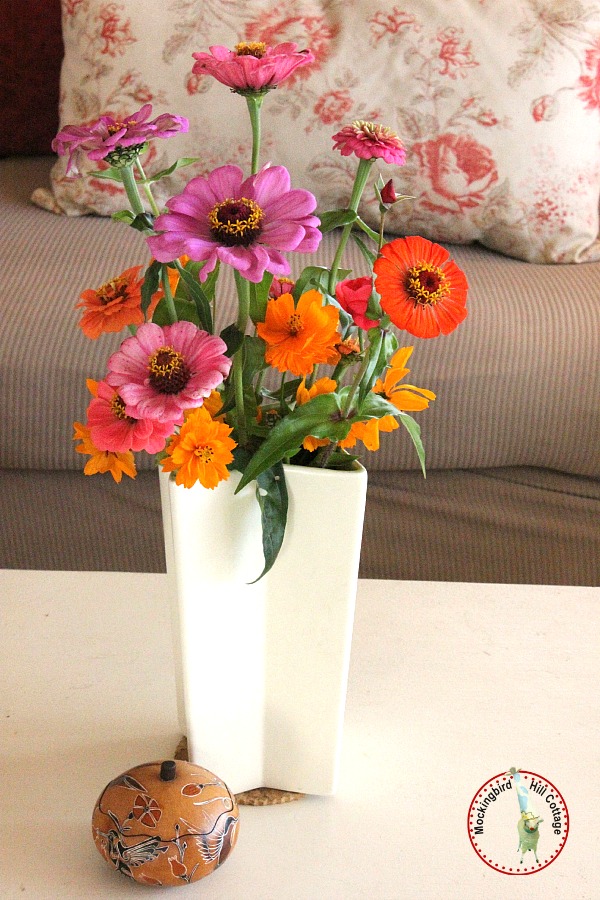 Zinnias and cosmos.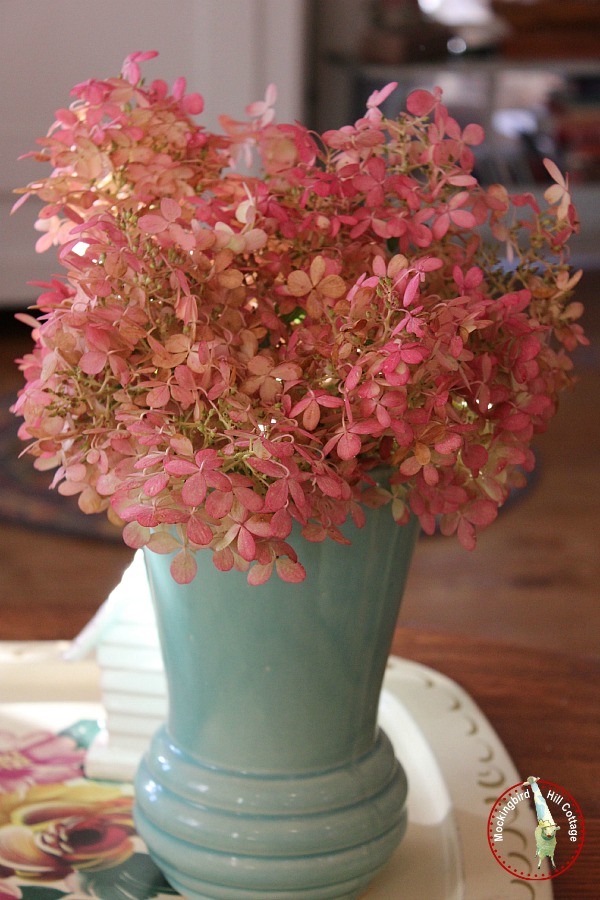 Limelight hydrangeas. This is what happens if you leave them on the bush until mid-October- you get a gorgeous intensely pink blossom. Oh goodness, I love this color, especially in combination with the McCoy vase.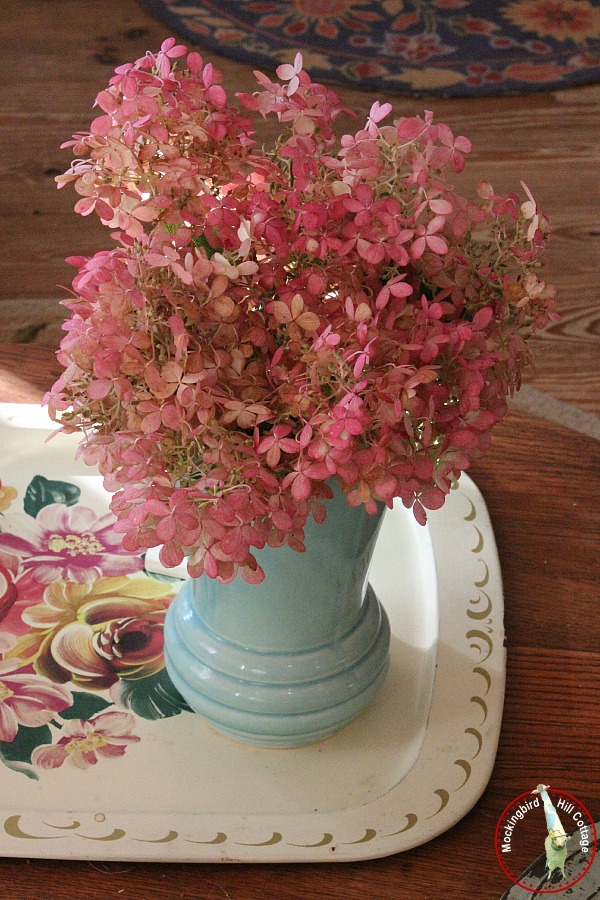 I'll leave them in this vase, sans water, to dry. It couldn't be simpler. I know you'll see other tips about drying hydrangeas but I simply cut them, stick them in a vase and let the drying happen naturally. This pink will fade a bit, but it will still be lovely.
For contrast, I cut these hydrangeas from the same bush about 10 days ago: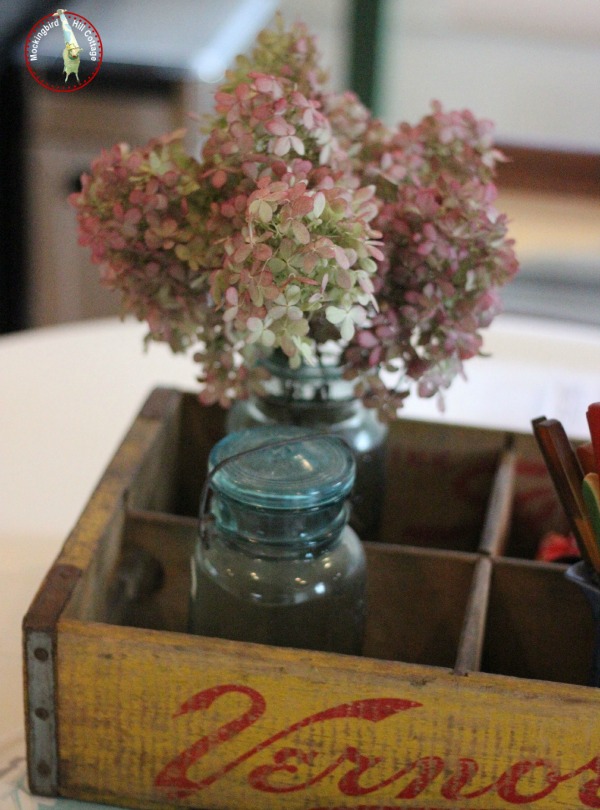 The blossoms were a mix of pale green and a lighter pink. I like to cut them at different stages to get a beautiful mix of colors. Love, love hydrangeas.
Once it started to get dark, I covered the Chicken Wire Fence Garden with three cotton sheets, thanks to the advice of my friends on MHC's Facebook page. Then I brought in all my potted plants from the porch, as well as my hanging plants. This is what it looks like in our living room: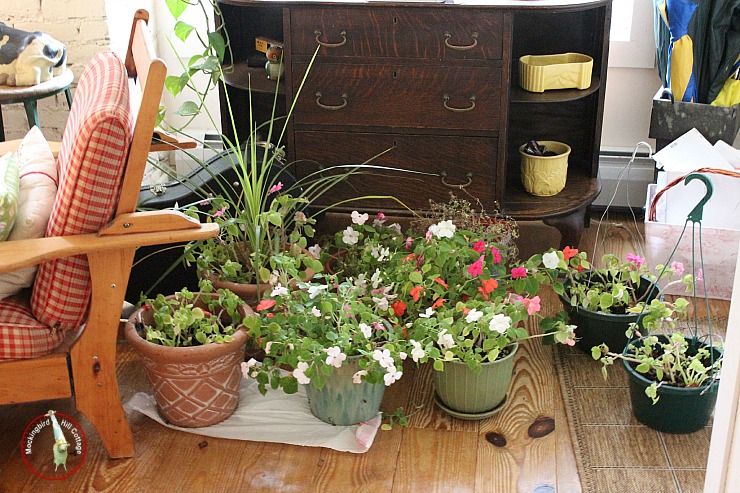 We don't have a mud room or a laundry room or an enclosed porch. They spend the night just inside the door and the big, big hanging plant lives on the bench in the kitchen. Crazy, but true.
So far, so good. I don't think we had real hard freeze as the leaves haven't suddenly fallen off the catalpa. The Chicken Wire Fence Garden survived for another day. Tonight promises to be a couple of degrees colder. Cross your fingers.
And so it will go until the temperatures lock in to below freezing lows. Then I'll find myself giving in to the change of seasons.
But not yet!
By the way, despite all the warnings about impatiens and a fungus that could kill them (and did with my barrel impatiens last year) I had no problems at all. They did really well.
(I loved all the library and bookmobile memories you shared yesterday. Thank you so much!)
Happy Wednesday.