My husband is a fun, slightly wacky guy. He has a wonderful sense of the absurd, as well as…get ready for my favorite word…a sense of 'whimsy.' Since I'm the same way, we get on beautifully. During one visit to Hartford, he saw my new Lamb with the Party Hat canvas and loved it. His immediate reaction? Hang it in the living room.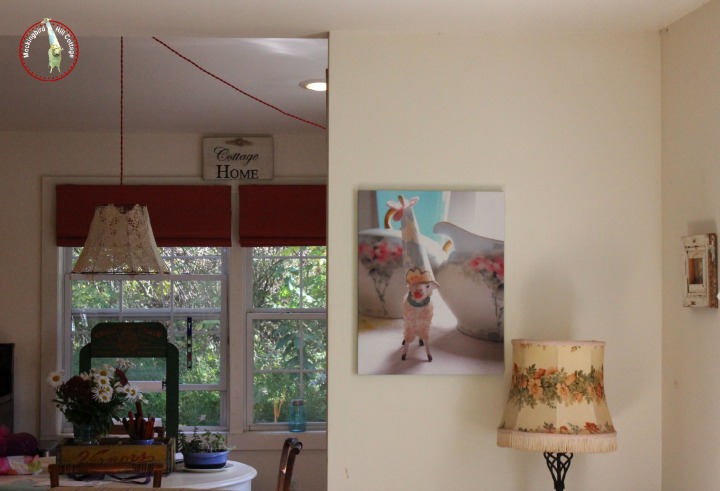 Since I had been thinking he would most likely think it was cute but would go along with my idea to hang it in my studio or above my desk in the den, I was surprised. And pleased. So this is what greets you if you enter the cottage via the front door. Is she the official greeter? Ummm, no. Scout would have a problem with that. But she's certainly second in command.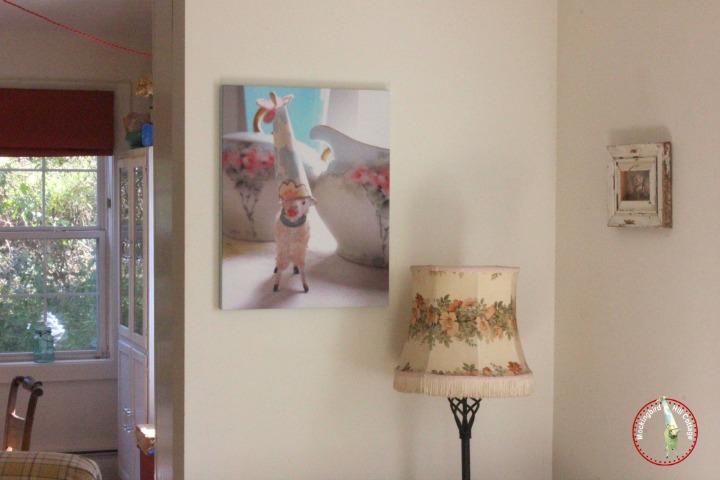 Gosh, I love a splash of whimsy in a room.
During the course of our initial conversation, Don said we should hang it above the piano. Yes, I said, it would look nice there, but one of my favorite things is hanging above the piano and that bit of wall space is the perfect place for it. This is what I was referring to: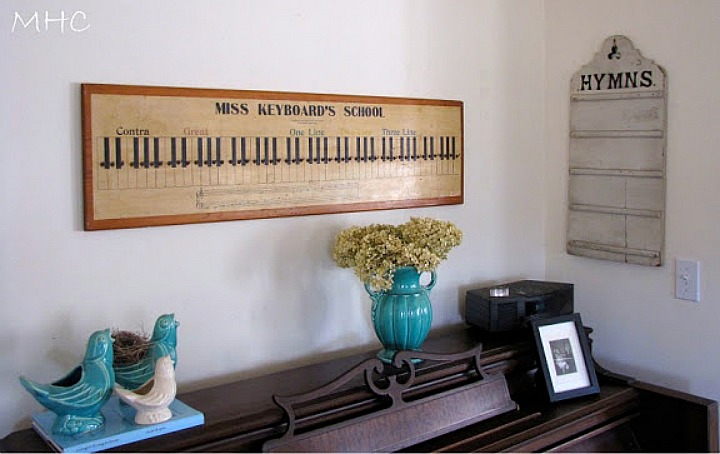 (There's a post on this blog that tells the story of this sign. You can read about it here.)
Turns out Don isn't so crazy about this sign.
What???? I couldn't believe my ears. If you've read this blog for any length of time, you know I am absolutely gaga, certifiably crazy, as well as nutty, about this sign. When pressed to give his reasons, he said it just didn't do anything for him.
Well, I said, with hands on hips. It's staying. I'm not moving it. It's the perfect place for it. It's staying.
Then I gave him a look of utter disbelief.
And besides, I said, there's enough aqua in and around the piano. I don't want things to be too matchy-matchy.
I put my proverbial foot down.
Actually, we're pretty sympatico as to the decorating of our house. For the most part, we like the same things. This is the rare blip on the horizon. But I am the driving force behind most of the decorating. I usually get the final say, except for parts of the guest room/Don's studio/office. I let him have (mostly) free rein there.
He's a pretty easy-going guy about this sort of thing.
Nevertheless, I was sort of shocked. Just when you think you know someone….
In other news, the New Dawn Rose stopped blooming a long time ago. What did I see yesterday evening?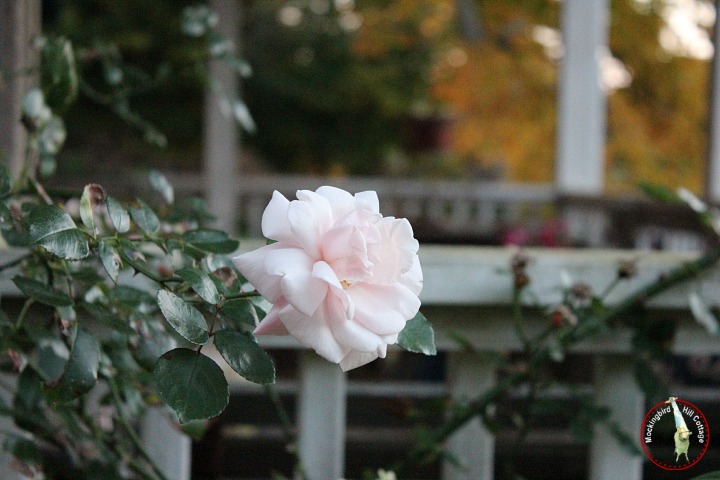 A single blossom. A surprise early autumn gift. Lovely.
Scout turned a corner yesterday. She slept a lot the night before and when she woke up, she looked more like herself. She's been eating white rice and cottage cheese, with the addition of few pieces of kibble. She was hungry all day long, not surprising considering she hadn't had anything to eat since Friday. We're taking it slow. She is getting around just fine and any pain she had seems to be gone. She's still bleeding a bit, but the doctor said that would happen, as the blood has to drain.
We still have to keep a close eye on her, but the relief we both felt yesterday was enormous. I'm starting to see my girl again. What a trooper she is! What a feisty, strong, beautiful girl.
We're all recovering here at the cottage.
Happy Thursday.