We watched one of my favorite movies last night, It Happened One Night. Perfection. Frank Capra, Clark Gable, Claudette Colbert, a wonderful supporting cast of great character actors – what more could you ask for? Personally, I think this is Gable's finest performance. Funny, romantic, brazen, outrageous, serious; he nails it all.
Can you tell that I'm still basking in the glow of a brilliant black and white comedy straight out of the Thirties? If I could have managed it, I would have stayed up all night because there were four Screwball Comedies on the docket on TCM. Heaven.
Today? We're touring the bedroom (which is small) and getting a brief glimpse of the studio (which is even smaller.) By the way, I call it a studio, but it's really just my little creative area. I'm thinking more and more that studio sounds a bit grandiose.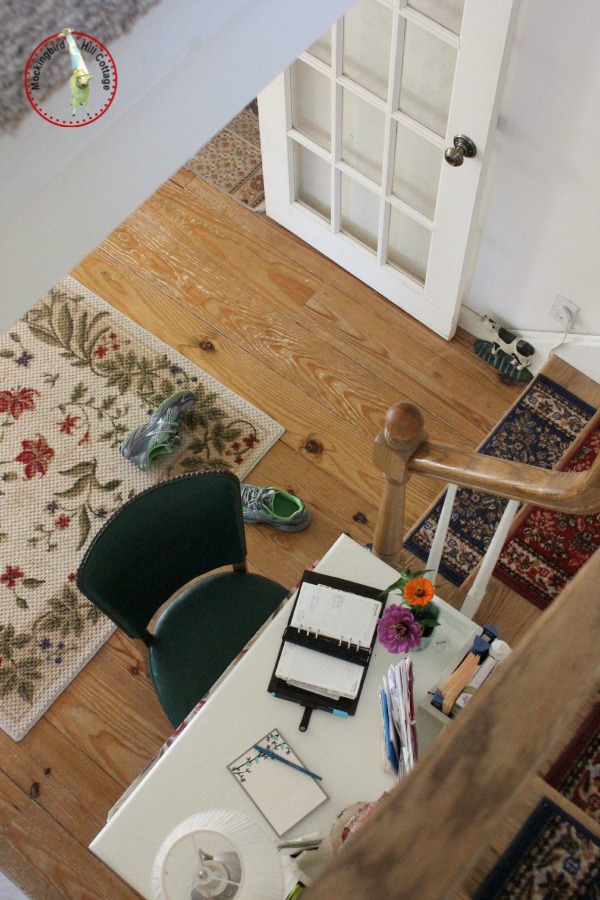 We'll have to head up the stairs, but first a view of the desk from above.
And my sneakers.
The stairs were slippery for our dogs, so I had to come up with a solution. We couldn't afford to carpet them when we first moved in, so I went to either Home Depot or Lowe's (can't remember now) and bought these pieces of carpet that are designed for stairs. Since I like things a little offbeat, I alternated blue and red for what I hoped would be a more interesting look. Eight years later, they're still here.
That's a Christie Repasy canvas at the bottom of the stairs and our vintage "Use Other Stair" sign is to the right. When I finish hand quilting my newest quilt, it will hang on that wall.
A quick peek at the sewing niche at the top of the stairs. That skylight makes a big difference in the space. I've blogged about this creative space a lot over the years, so I'm only going to show a bit of it now.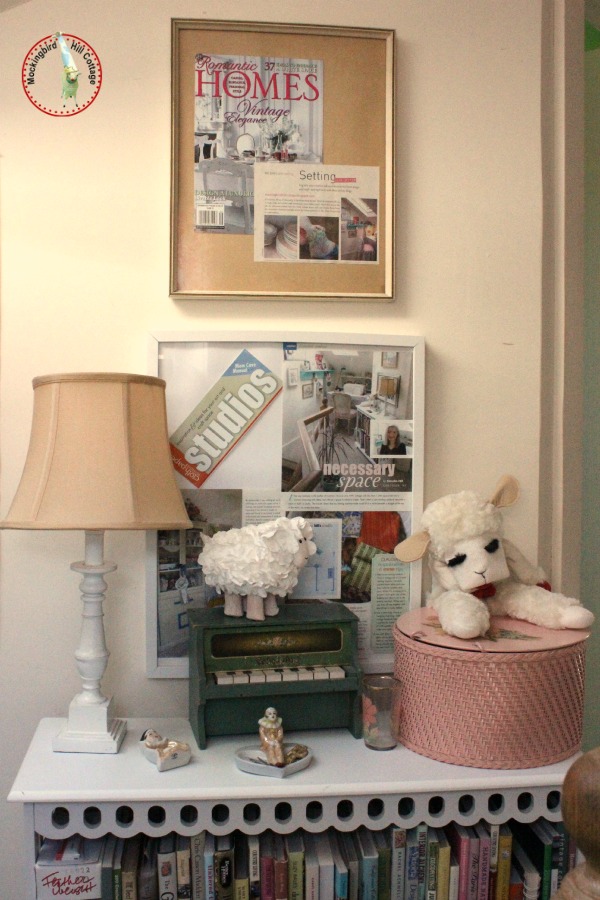 To the right of the sewing niche is a little bookshelf. And Lambchop (my muse).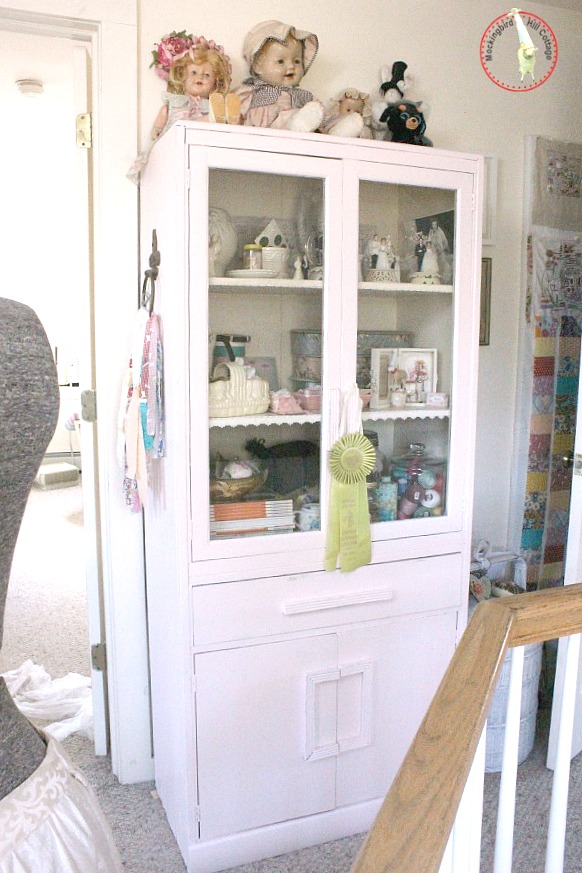 To the right of the bookcase is the door to the bathroom, then the door to the bedroom, then this cabinet. I snagged it for $75 on Craig's List and eventually painted it this pale pink, which I had on hand from another project. Letitia, my vintage dress form is on the left.
That's all for the studio. There are plenty of photos on this blog of the details – just search for "studio."
The bedroom. Oy. We have cottagey eaves in both bedrooms, so we constantly wrestle with furniture placement. The fact is that there is very little wall space and a lot of eaves.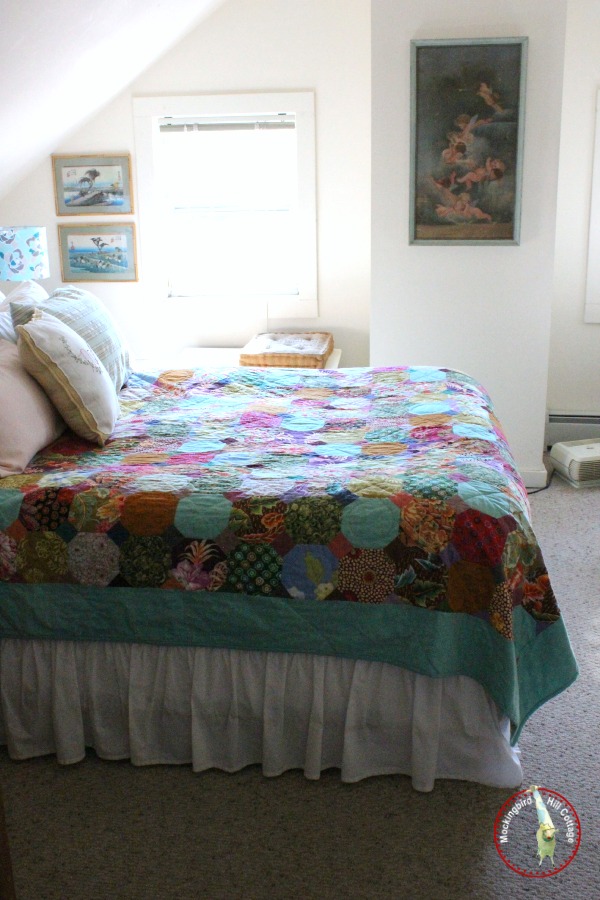 Looking in from the studio.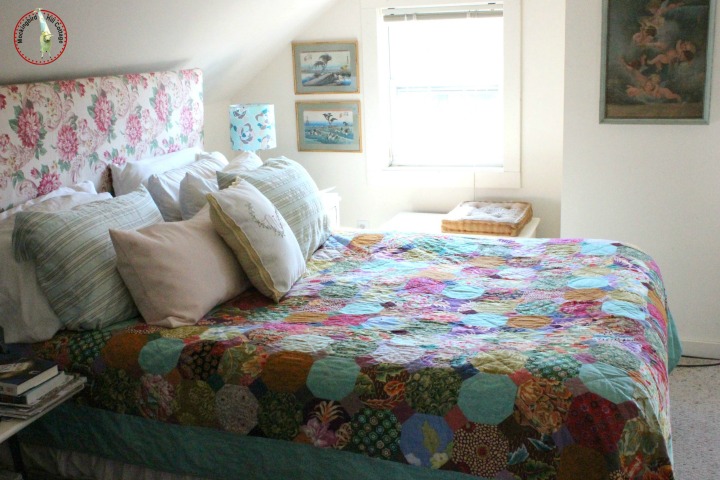 You can see how we've had to place the bed up against the slanted ceiling. I made the headboard when we were living in our rental after we'd first moved out East. A couple of years ago, I recovered it with this vintage fabric. Then I finished the quilt. Lots of pattern here, but the rest of the room is pattern-less, so it works. Don has the lamp I bought in Hartford on his bedside table because he really likes it.
That's an oak blanket chest under the window that I repainted last year. With Chalk Paint. Turns out, I'm not a fan. There's a post all about it here. That post also shows a closeup of the blanket chest. The two framed items on Don's side of the bed are beautiful Chinese watercolors with bamboo frames. Don bought them years ago. And to the right you can see my favorite canvas: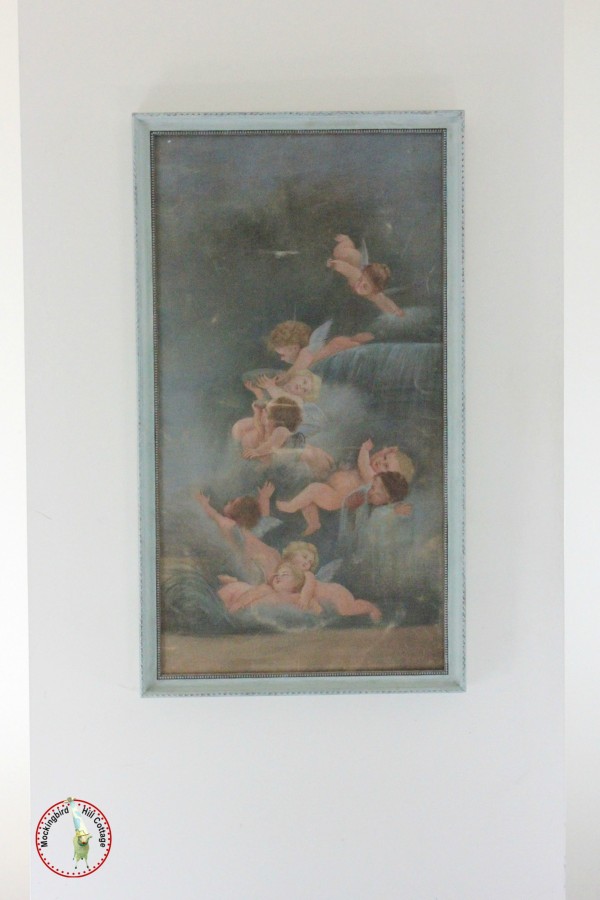 My cherubs. I saw this painting in Vignettes when I was working in San Diego about 4 years ago. It was hanging near the front counter. I fell in love with it. I went back home after my gig. The next year, I went back to San Diego for another gig. And the painting was still there. Lori, the owner of Vignettes, would see me gazing at it every time I came into the shop. Finally, I asked about it. It was expensive for this girl who buys everything at a deep discount – more money than I felt comfortable spending. But I loved it. I took a picture of it and sent it to Don. I imagine he didn't care one way or the other but he heard that tone in my voice that said I had fallen hard for this painting. Then one day I went back to the store and Lori told me that she had been thinking of me. A couple had decided to buy the painting and had paid for it and had it wrapped when, at the last minute, they decided to buy something else. All Lori could think was "Claudia is going to be so disappointed when she finds out the painting was sold."
That did it. I bought it and I've never regretted it. I also knew immediately where I would hang it. It has influenced the color scheme of the room, for sure.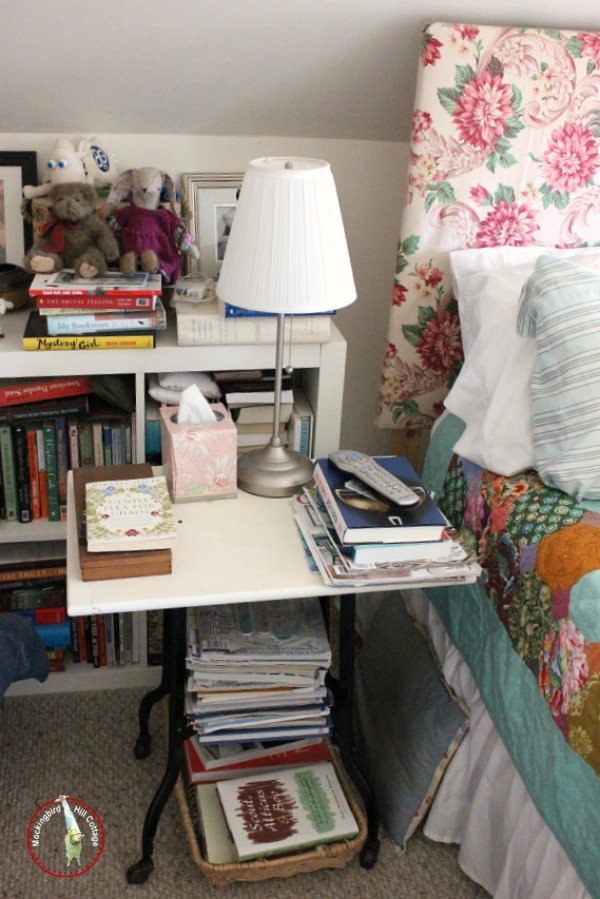 My side of the bed. The bedside table is an old typing table. That's an Expedit shelf unit from IKEA in the background, filled with books.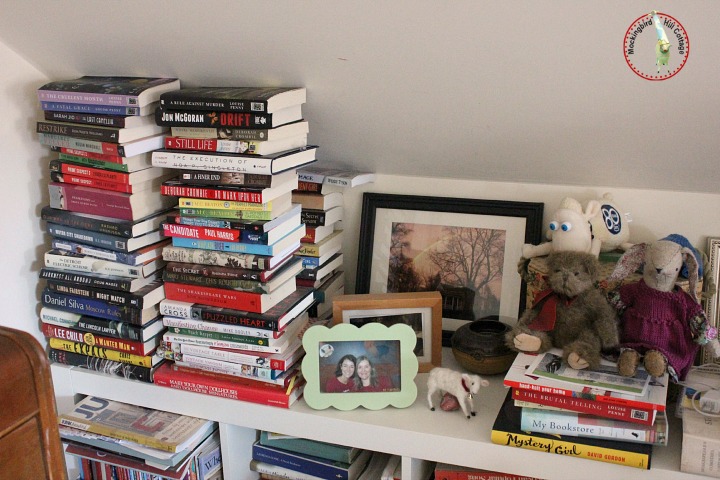 See what I mean? And you wonder why I want built-in bookshelves in the den. (Let's not even discuss the boxes full of books out in the shed.) That's a photo of my sister Meredith and me. Behind it is a photo of Riley and Scout and behind that is a framed photo of a beautiful double rainbow over the cottage.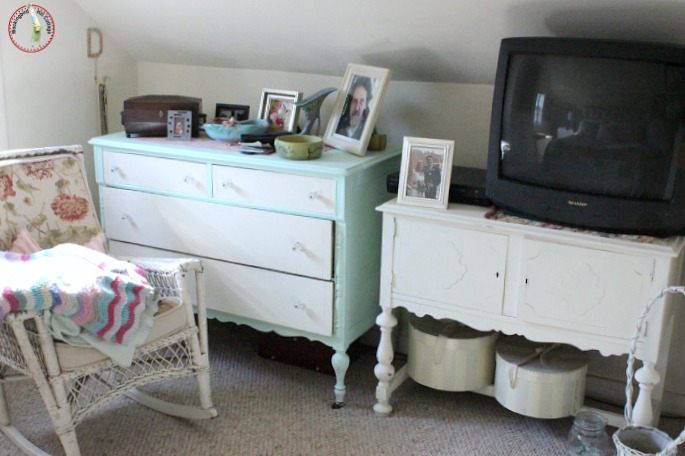 The other side of the room. Our wicker rocker is to the left. That dresser has been with me a long time, since the days I lived in Cambridge, MA and found it on the street, whereupon I enlisted the help of my friend to carry it for three blocks and then up three flights of stairs to my apartment. It's been painted gray, then pale yellow, and last year I painted it in aqua and cream. (If I had a dollar for every time I've hit my head against the ceiling when using the dresser drawers, I'd be a wealthy woman.)
The piece next to it is a mini-sideboard that I use for sweater storage. It holds our behemoth of a television. Hey, it works and I'm not about to toss it while it's still going strong.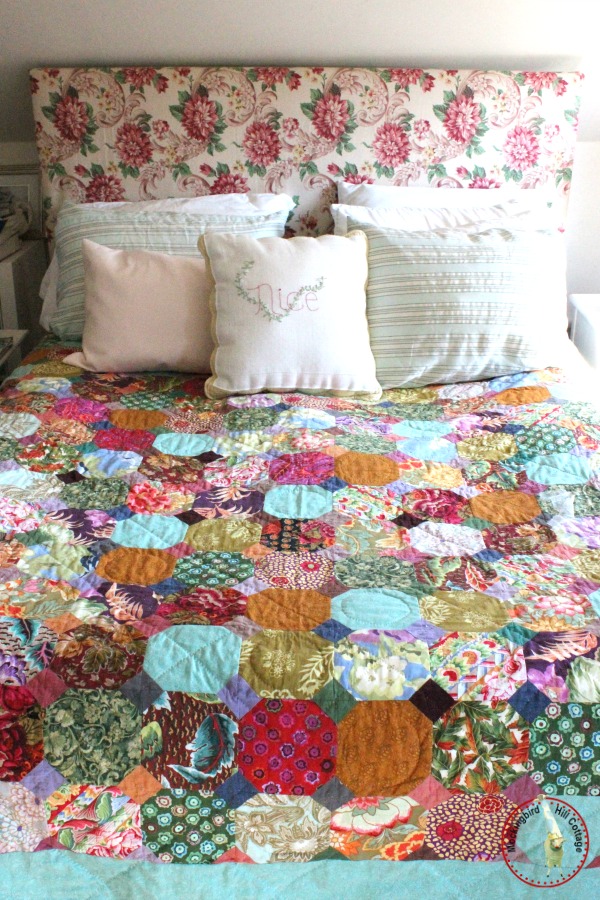 The bedroom, tucked under the eaves, has smallish windows but it gets a lot of light. I'd kill for one large standard wall, but what can you do? In an old house that has very little closet space, I have to make do with storage. So I store our luggage in the space between the headboard and the wall.
There you have it. Tomorrow I'll share some of the framed artwork we have hanging in the upstairs half-bath.
Happy Saturday.