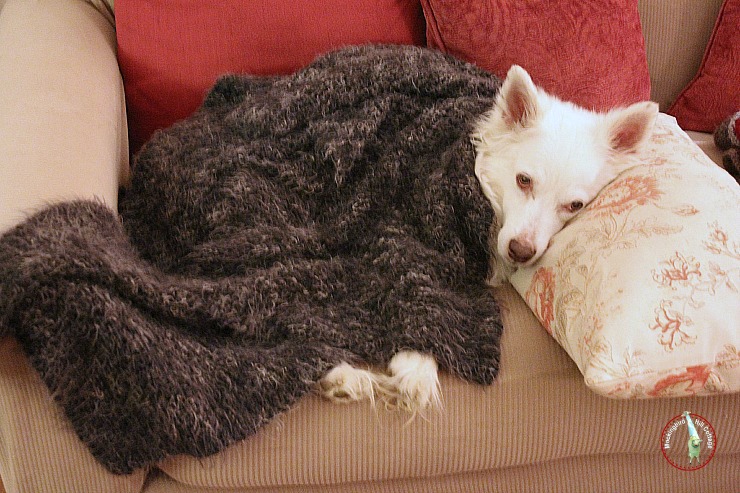 I'm exhausted.
No, really. You have no idea.
Herding these two people around, making sure I get to eat when I want to, barking at strange people who come to the door, watching and waiting for my dad to come back home when he's been out in the car, pouncing, pouncing on cue because Mom seems to think I should perform for her, waiting for food to fall to the floor when dad is cooking….the list just goes on and on.
Lately, Dad has been getting up at the same time as Mom. What?????
This is a guy who has always, always slept in. So, Mom would get up and drink her coffee and I would get in the 'tunnel' and spend some time with her until Dad got up and then I would dutifully switch locations and spend some time with Dad.
Everyone was happy.
Now, I have to figure out where to go and one of my parents is always disappointed. Usually, it's Mom.
It's too much pressure.
I can't make everyone happy.
Let's not even mention the recent incident with the lamb costume.
And the hats.
I know you all saw it because Mom put pictures of me wearing that darned costume on the blog. Can't I retain some sort of dignity?
Mom put that costume on me twice. And then she dragged out that camera and took lots of pictures. I tried to walk away. I tried to not meet her eyes. Does Mom realize how silly she looks with this black box in front of her eyes? I don't get it. And I don't like it.
The first time Mom put me in the costume was when Tina was here. Apparently, Tina made it.
The second time Mom put me in the costume, Dad was home. And once I was in it, Mom and Dad laughed and laughed. At me.
Maybe I should put them in a costume. I have some ideas. Oh boy, what I could do with a needle and thread!
Again, exhausting.
And Dad does things like this, he covers me with some sort of throw and asks Mom to come look and then…you guessed it…out comes the camera. Again.
Do you think Mom realizes I'm sticking my tongue out? At her?
I doubt it. She'll think I'm just licking my chops.
Which, by the way, I do a lot. That's my cue. That's my M.O. When I lick my chops, Mom is supposed to immediately get up and feed me. I mean, right away. But she doesn't. She sticks to something she calls her 'schedule.' She says things like "It's too early." Or "Not yet." Or "No, you can't have another treat."
Even when I resort to my brilliant lick-my-chops-and-cock-my-head-toward-the-treat-cupboard move, she will stand there, look me in the eye and say NO.
What? That is a guaranteed, no fail and, in my humble opinion, adorable move.
And to top it all off, now I have to go outside to do my business in frigid temperatures. It's cold out there! Why can't I use that bathroom, too? Mom and Dad do.
It seems unfair.
By the way, I'm fascinated by the bathroom. I wander in there a lot during the day. I sniff the bathtub. I sniff the toilet. I sniff the trash. It's now part of my rounds.
Mom had a birthday last week. I got to sniff all her presents. I even licked a few. I like presents. I get excited when I see them. I gave her a sign about eating cupcakes. I know her weakness.
I didn't get a present. That doesn't seem fair, either.
But my birthday is coming up in January. I'll be 15 years old.
I expect some presents. (I assume Mom and Dad will be reading this – especially Mom because she thinks this is her blog.)
It isn't.
Happy Saturday.
Scout