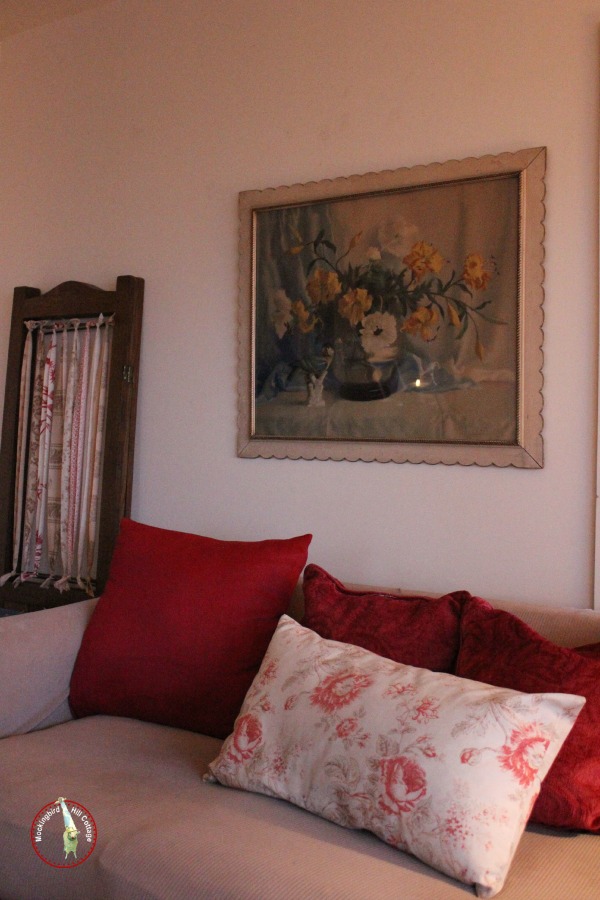 It's a foggy morning here at the cottage. We woke up early, a little too early. But then again, the days are so short at this time of year that we want to grab all the daylight we can. It's now December 3rd and I have yet to clean up the porch and stow things for the winter. Honestly, I seem to do this later and later every year. The reason? I tend to be a procrastinator about things I don't want to do. This is one of them. It symbolizes the end of all things green and growing. Since I am about to decorate for Christmas next week, I think I'd better get a move on.
I included this photo because I have a candle burning this morning and you can see the flame reflected in the glass of vintage frame on the wall. And I didn't have any other photo to share! Goodness, what will I do now that I can't take endless pictures of the flowers in my garden?
You'll notice that Scout is not in this photo. Since Don has recently started to get up at the same time as me, her 'schedule' has been thrown off. She goes back and forth between us. She settles on the loveseat in the living room where Don is sitting, then she comes into the den and gets in the 'tunnel' and, after about 5 minutes, she heads back up to the living room. She's like the child of divorced parents, shuttling back and forth between houses. I think she's fed up with both of us. But you know all of that, since she recently absconded with the laptop and wrote a blog post. That girl!
I'm in the midst of Daniel Silva's newest thriller, The English Girl. He is a wonderful author that I discovered a couple of years ago and, like Lee Child, Deborah Crombie and Louise Penny, I ended up reading all of his books in chronological order. Don't you just love it when you discover a new author and absolutely have to read all of their books? In order? Such an unexpected pleasure.
I love reading. I remember being a young girl and thinking to myself, "There are so many books to read and so much music to listen to that I will never be able to accomplish it all in my lifetime!" It was thrilling and overwhelming at the same time. While I might not say it quite as dramatically nowadays, I still feel the same way. I wish I had the foresight many years ago to record the name of every book I read and continue it right up to the present. Can you imagine how staggering it would be to see a list of every book you've ever read? Oh, darn it, I wish I'd done that!
Finally, a little teaser for you. The Poisoner's Handbook (which Don filmed in Prague last winter) airs on PBS on January 7th. Just a little over a month away! Don't worry, I'll remind you about it. If you click on this link, you'll see a preview!
We're very excited.
Oh for heaven's sake, I keep forgetting to post the winner of a copy of The Alligator Man. Missy, you are the winner. I'll shoot an email your way.
Happy Tuesday.