This is the second morning in a row where I woke up around 5 am and couldn't get back to sleep. Once my brain starts whirring with thoughts, it can be almost impossible to shut it down enough to fall asleep again. Ah, well. As I sit here in my blogging chair, snow is falling once again. We're supposed to get an additional 2 – 4 inches today.
I think I can say with confidence that we're going to have a White Christmas this year.
Don and I are full of gratefulness today. Our little cottage is cozy and warm. Classical music is playing in the background. The Christmas trees are lit and casting their glow indoors as it starts to get light outdoors. Snow is falling gently. Don is reading his book; he's currently into Joseph Ellis, who writes about American History in a way that is vivid and real and reads like a novel. He's a Pulitzer Prize winner. I'm, of course, on the laptop. Scout? She's decided, for the time being, to park herself on the sofa in the living room.
I love our little cottage any time of the year but at Christmas it is especially lovely.
Drumroll: All wallpapering, measuring, cutting and painting of molding, baseboards, floorboards, and paneling in the dollhouse has come to an end. Yes, I finished the craft/office/studio space.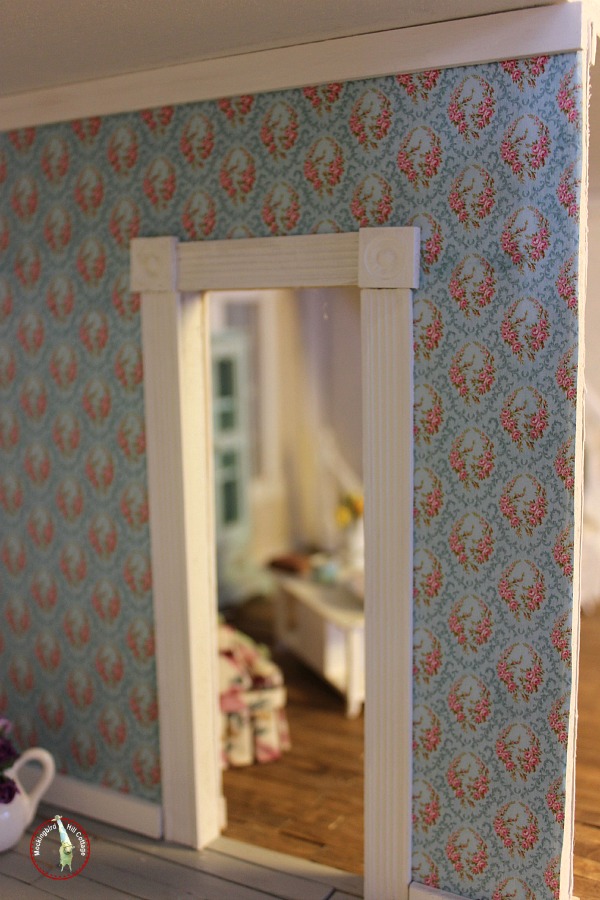 This is the wallpaper I chose for the room. It's from Itsy Bitsy Mini (I purchased all the wallpaper in the dollhouse from them) and the pattern is Parisian Floral Wreath. I really love it.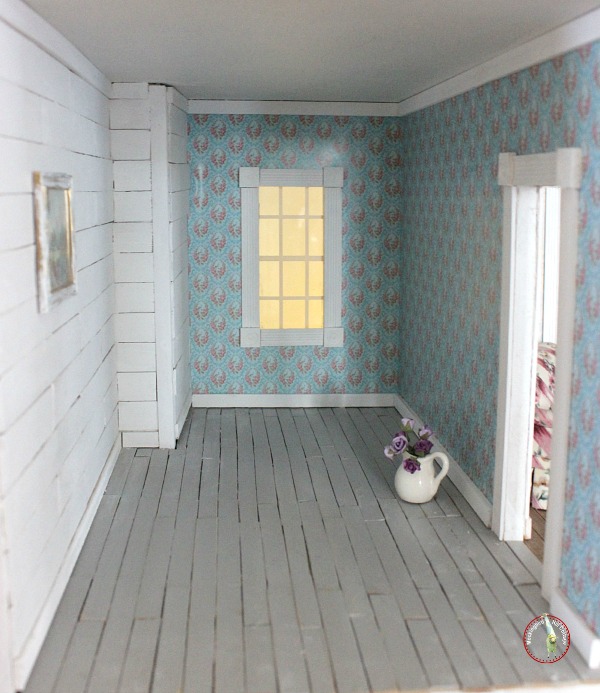 Here's a view of the whole room. I like the contrast of the planked walls with the wallpaper. I'm pretty happy with the painted floor, which will have a rug or two on it eventually. The walls and floor in this room had some irregularities that were, ahem, a pain in the tush.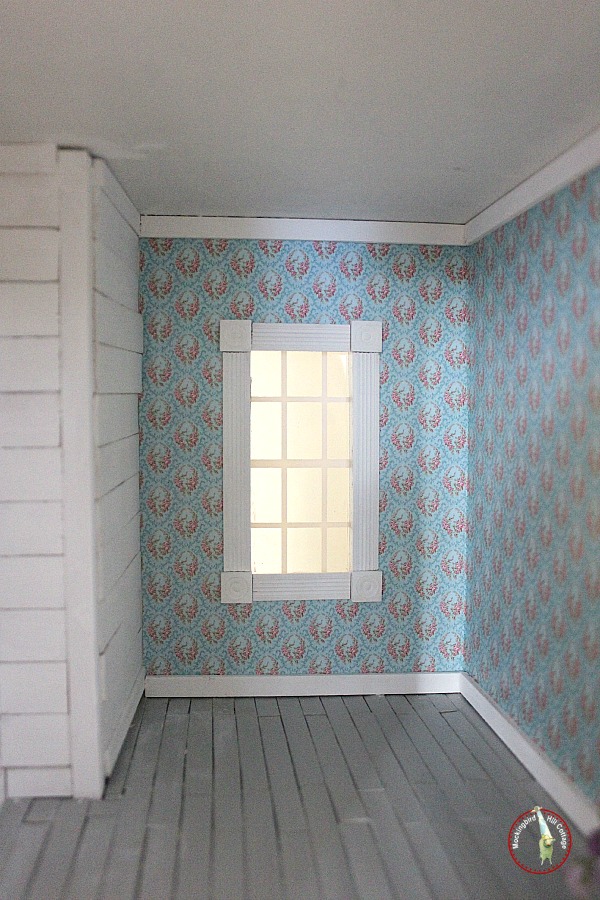 I can't believe that I've finally finished the framework of all of the rooms! This house was put together rather haphazardly by its previous owners and much of the challenge has been finding ways to work around the design flaws. There was considerable water damage on the downstairs floors, walls didn't always meet correctly, there were hinges here and there which drove me nuts and which is why you sometimes see irregularities on the walls. The cupola at the top of the house was in the wrong place, some of the windows were crooked and had to be straightened, shingles needed to be replaced – I'm sure I'm forgetting something. Nonetheless, I love it for its crazy imperfections. It's like all old houses everywhere, isn't it?
Now, it's all in place. I may do something with the tower later on – I'm thinking of making it an attic storage room. But that can wait. Now I have to finish furnishing it, which takes time. I have some ideas for the newest room. And I'm still searching for a toilet and bathtub that I like. And for a refrigerator that looks real. Most of the ones I see look like boxes I might have made in elementary school. That's not the look I'm going for.
And then there are all the little accessories….and the curtains…and the rugs…and some more lights.
Oh, I'm not done yet.
Today's Holiday Bokeh shot: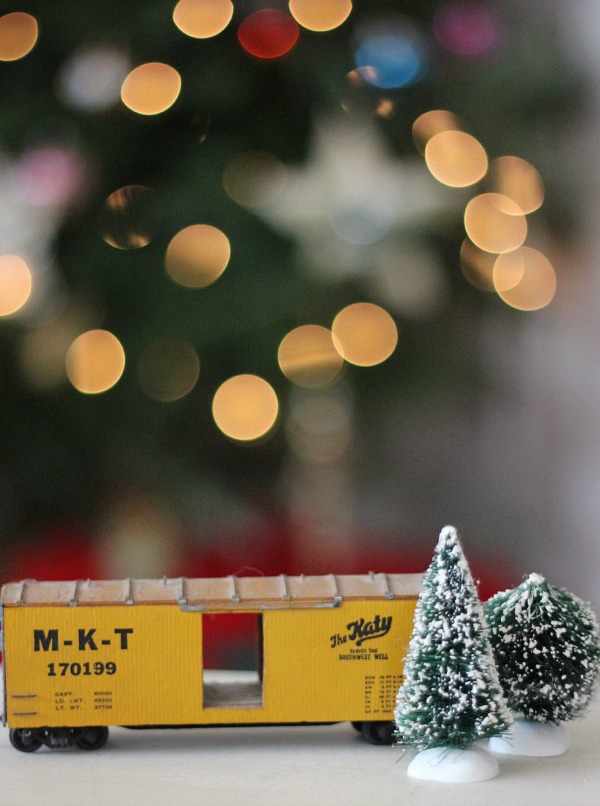 My dad made that train car. He used to have an amazing train set that he built and that ran all the way around our basement. It had little towns and miniature buildings and trees and signs. Wait a minute…I think I'm seeing a pattern here. A father who loves miniatures. A daughter who loves miniatures. Who would have thought?
Happy Tuesday.