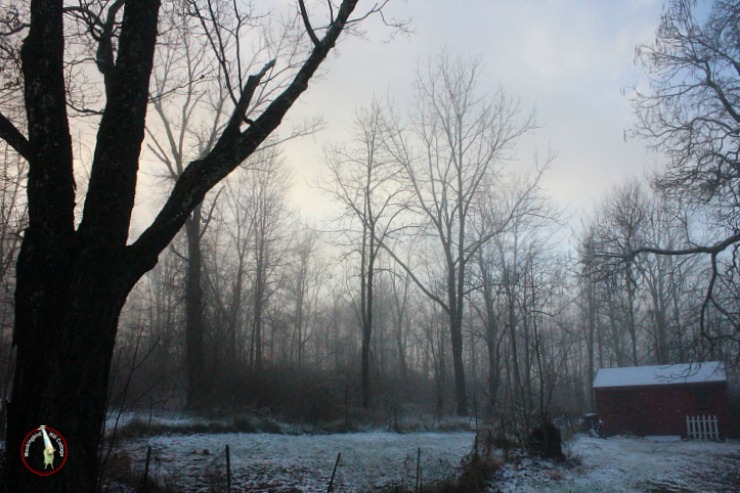 You'll be happy to know that upon rising, I immediately grasped the fact that today is Saturday. Looks like I'm back on track. We had predictions for lots more snow than this rather paltry amount. I was actually a little disappointed. Scout loves to play in the snow and I was in the mood for a snowy landscape.
We don't even have to shovel.
It's a lovely foggy morning here. The candles are lit, husband is reading in his chair, I'm in my blogging chair in the den, and Scout is shuttling back and forth between us. We're drinking Peet's French Roast; mine with half and half, Don's black. I'm just starting to get the urge to decorate, but I can stem that tide until next week. There's plenty of time for the house to be decorated for the holidays. My dad and I were talking about that the other day. When I mentioned decorating for Christmas, he immediately said, "You don't want to do it too soon. You'll get tired of it." Bingo.
Dad gave away most of his decorations this year. It's too much work for him and since Mom is in the nursing home and not at home with him it just makes him sad. He only displays a decoration or two, mostly for the cats to play with.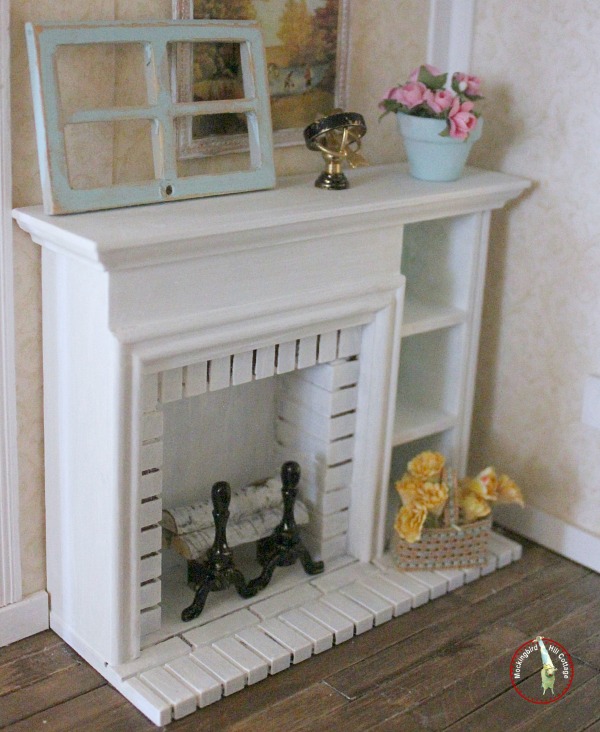 I painted the bright brassy andirons a metallic black. I like them better this way. And I added some birch logs. Very hard to get a good photo yesterday as it was gray and rainy all day long.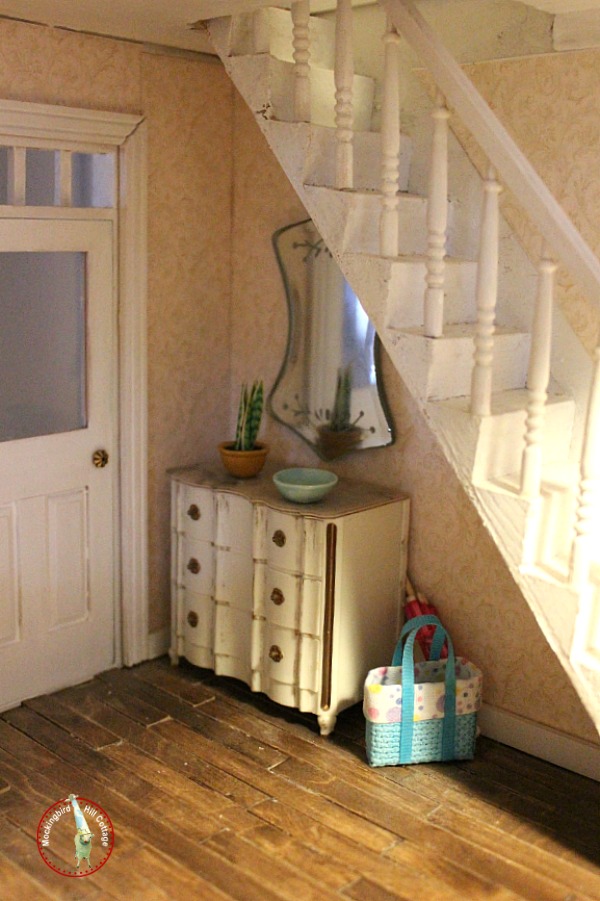 And I added this mirror to the entry. One of my readers sent me this a long time ago, specifically for the dollhouse. I was thinking of using it in the bathroom, but I like it better here. The owner of Hummingbird Cottage likes to check her appearance before heading out the door. (Don't we all?)
Wouldn't some mini paperwhites look good on that dresser?
I am so sorry but I can't remember the name of the wonderful person who sent this to me. I'm thinking it's Linda, but I'm not sure. If you're out there and you see this post, can you leave a comment? I want to thank you properly!
I was all set to start in on the craft room/office but I wasn't feeling inspired. I'm not sure exactly what I want to do with the walls. I have an idea which keeps calling to me and I think I'll give it a go today. I also need to add some more molding to the top of the walls in the living room and bathroom.
I could spend hours, and have, looking at miniature blogs and the dollhouse mini listings on Etsy. Oh my goodness, what a treasure trove for the senses! After I've finished putting together the basics in the dollhouse; wallpaper, moldings, trim and furniture, then I get to add all the little touches that will make Hummingbird Cottage look lived in. Books, dishes, pots, towels, rugs, more books, lamps, and I don't know what all else. I did find some little treasures from two sellers on Etsy. One lives in Spain, the other lives in Australia. I'm crossing my fingers that the little package from Spain will arrive any day now. I just ordered from the seller in Australia, so I don't expect it to arrive before Christmas. Eeeek! I can't wait to see what's inside. Oh, and I ordered one kitchen accessory that should be arriving any day now. None of these 'littles' cost more than a few dollars.
Honestly, if you gave me a new credit card (which I need like a hole in the head) I could go nuts in the dollhouse miniature section on Etsy.
This hobby is addictive.
Yesterday I asked Don if it was wrong to love my dollhouse so much.
He immediately answered no. (Smart man.)
Happy Saturday.