When to decorate for Christmas? Some start decorating before Thanksgiving. Others wait until December. My dad's family didn't put up their Christmas Tree until Christmas Eve. Each of us has a tradition, a preferred time to start in all the hoopla.
If you've read this blog for any length of time, you know I have a rule: absolutely no decorating until at least the second week of December. I don't like the bleeding over from one holiday to another that seems to rule the world of commerce and even our world of blogging. October = Halloween. November = Thanksgiving (and my birthday.) December = Christmas. I like some breathing space between my holidays. If I decorate too early, I find that by the time Christmas actually rolls around, I'm so used to seeing all the decorations that I don't really see them anymore. The magic is long gone.
Anyway, when it's time to decorate, I avoid themes like the plague. We use our vintage and beloved ornaments. We hang a wreath on the door. We decorate our little white tree in the living room and the big tree in the den. Simple.
Yesterday, I put together the only Christmas decoration that will be on display until I officially start decorating. It's something I created a couple of years ago, when I  found a vintage Necco candy jar in an antique shop. I made a snow globe. Or as I called it at the time, a Necco Snow Globe.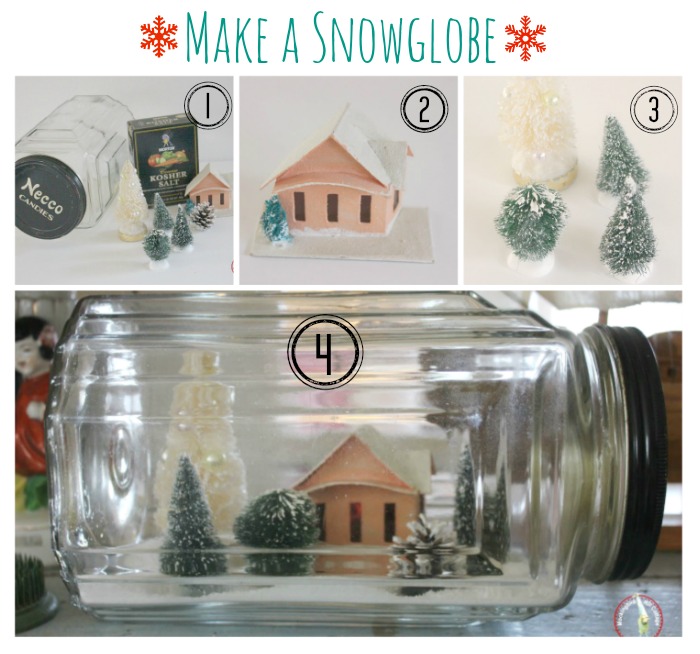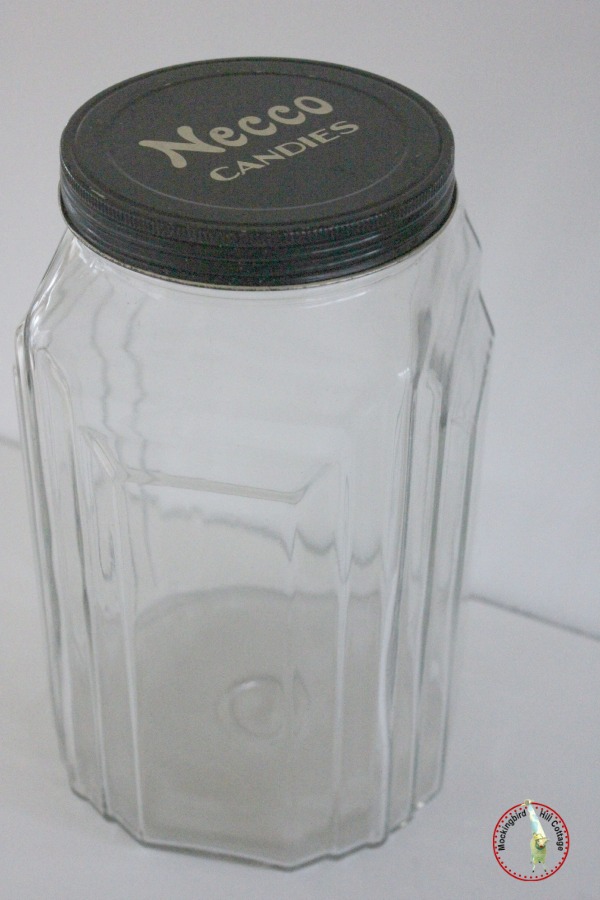 I started with the jar. It's quite large, about 13 inches in height, and is in the Art Deco Style. It's one of my favorite finds.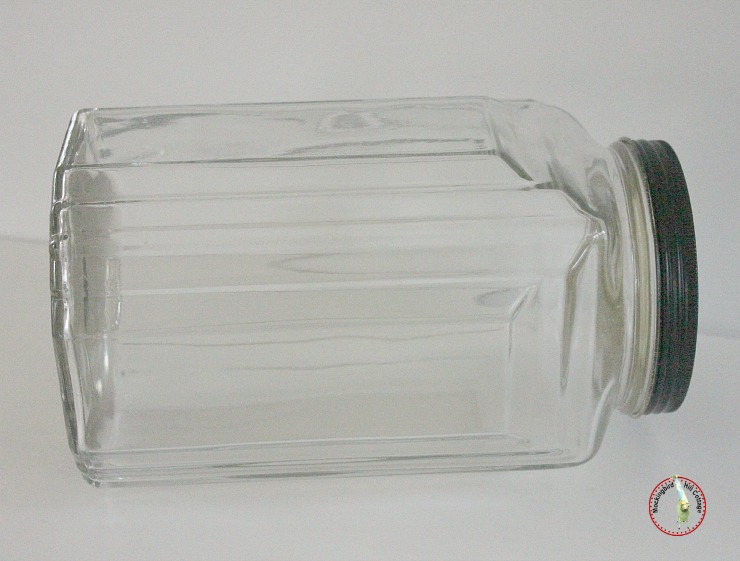 Because of its design, I am able to turn it on its side.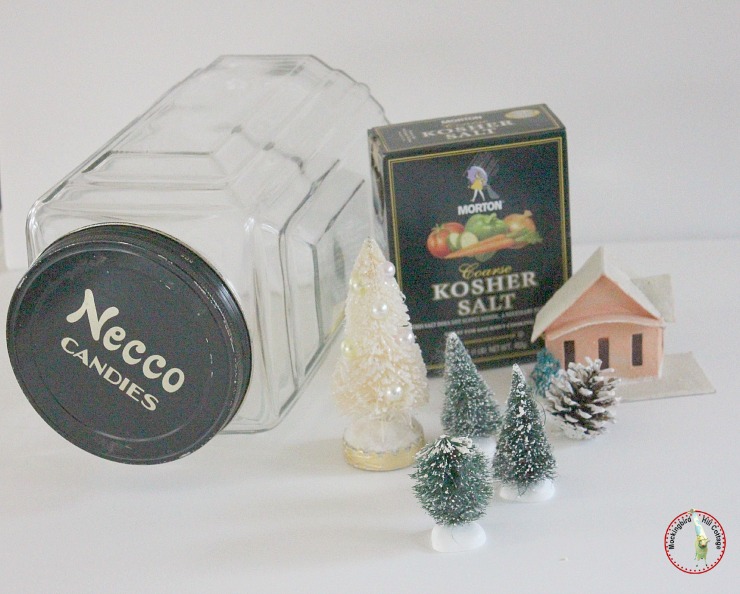 It's very simple. Buy some Kosher Salt or Epsom Salt.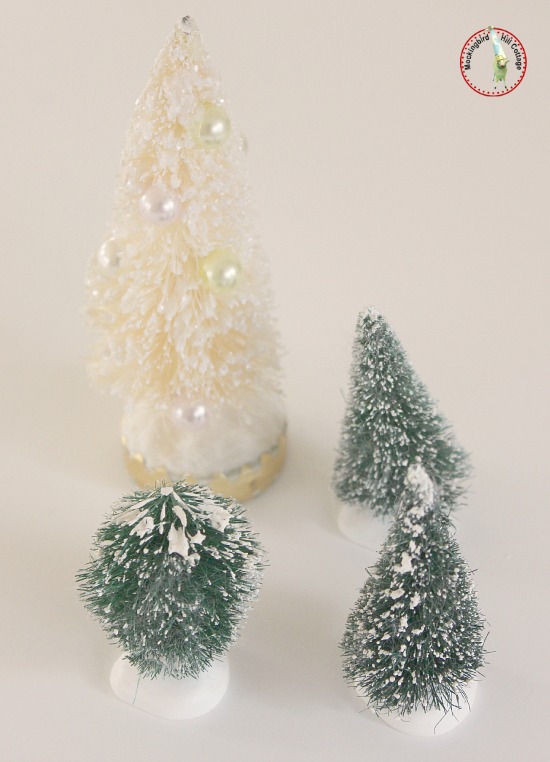 Decide what you want in your display. In my case, I'm using these fir trees.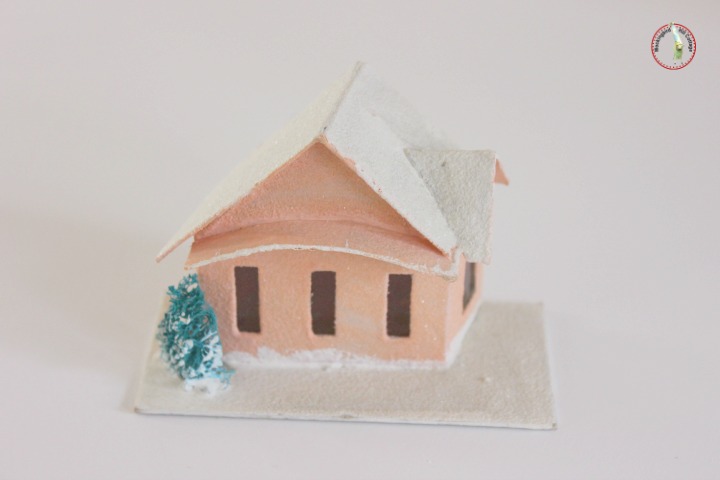 And this little Putz house.
And a tiny pine cone.
Fill the bottom of your jar with the coarse salt.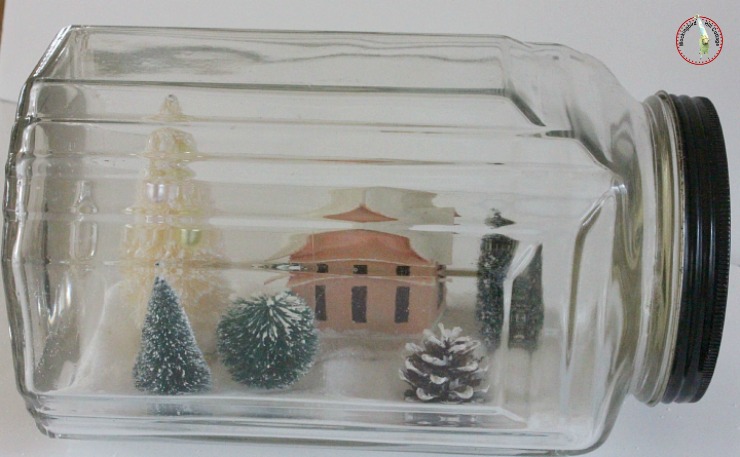 And add your scenic elements.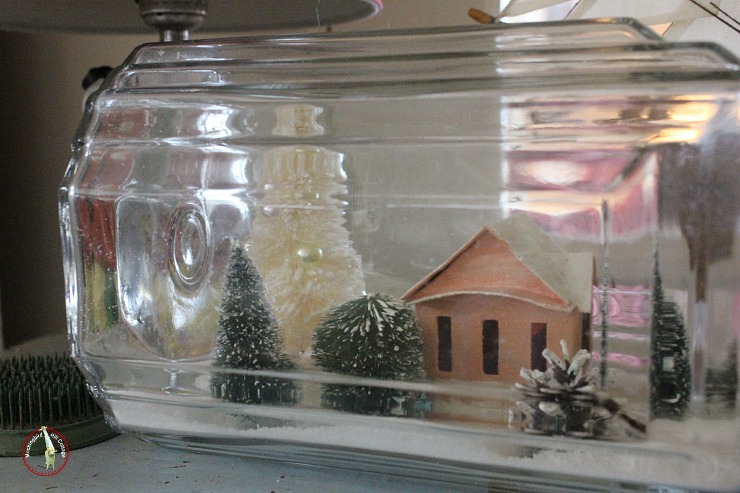 And you're done.
Oooh. Isn't it pretty?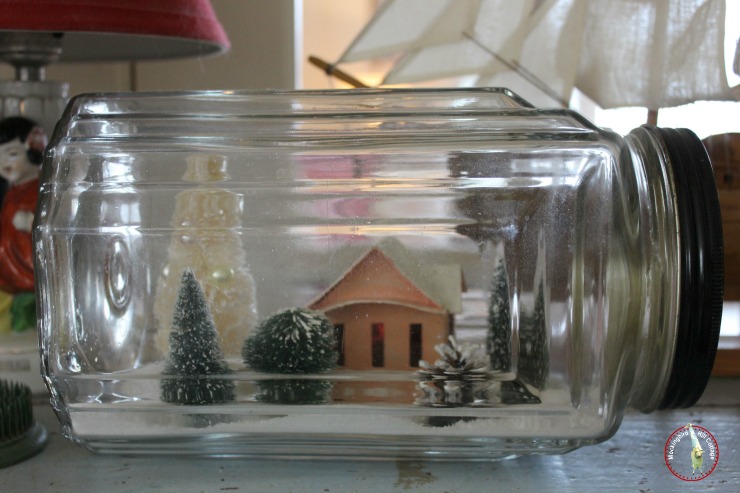 It couldn't be simpler. You can use any size jar, from a tiny baby food jar or salt shaker to a large jar like this one.
Who doesn't love a snow globe?
I was a bit low on Kosher Salt and I'm going to buy some more today because I want that layer of snow to be deeper than it is.
Just like the first time I put the snow globe together, Don came in the door and noticed it right away. (This isn't always the case!)
Do you make your own snow globes? And when do you start decorating?
I must take a moment to acknowledge the derailment of the Metro North commuter train yesterday. Four people were killed and many injured. My thoughts and prayers are with everyone involved in this terrible accident. This particular line – the Hudson Line – is the train I have taken countless times when commuting into Manhattan.
Happy Monday.