Cue the trumpets.
I cleaned off the front porch.
I packed away the cushions, the cot, the garden paraphernalia, the vintage garden sign. Only the pots of impatiens, still holding court inside the house, haven't been stowed away in the shed. I also cleaned up the chicken wire fence garden and all the dead plants on the funky patio.
Not only that, since I was in and out of the shed, I grabbed the wreath and hung it on the door.
Not only that, I draped the outdoor lights along the front porch railing. And turned them on.
Don't get too excited. That is the extent of my holiday decorating so far. Remember: No Christmas decorating until next week. Though, when I did a little update about said lights and wreath on MHC's Facebook page, Melanie commented: "Aren't lights and a wreath Christmas decorating?"
Well, technically, yes. So I've amended my rule to No Indoor Christmas Decorating until the second week of December.
Do you find you get more done when there are no distractions – in my case – my husband? Don had to go into Manhattan yesterday and I suddenly became Miss Efficiency. I got a lot of things done.
Case in point: I was sitting in the blogging chair, which gives a direct view of the side of the dollhouse and, unfortunately, of the mess on top of the dollhouse. That's where all my scraps of wood, glue, paint, etc. are. When I am painting or cutting wood, I often work on the top of the kitchen island. So I find myself walking back and forth between the dollhouse and the island because I need something or other that I forgot to bring with me to the island.
Then I saw my Vernor's soda crate on the kitchen table. Ding! An idea.
Next thing I knew, I was on my way to a favorite local antique center and I found this:
A nifty soda crate with dividers. I see Pepsi and Coca-Cola crates everywhere, so I didn't want one. Since I've never heard of A-Treat, this crate went home with me. But now I'll have to research this brand because I'm curious.
These soda crates have handles on the sides, so I can carry this with me from room to room.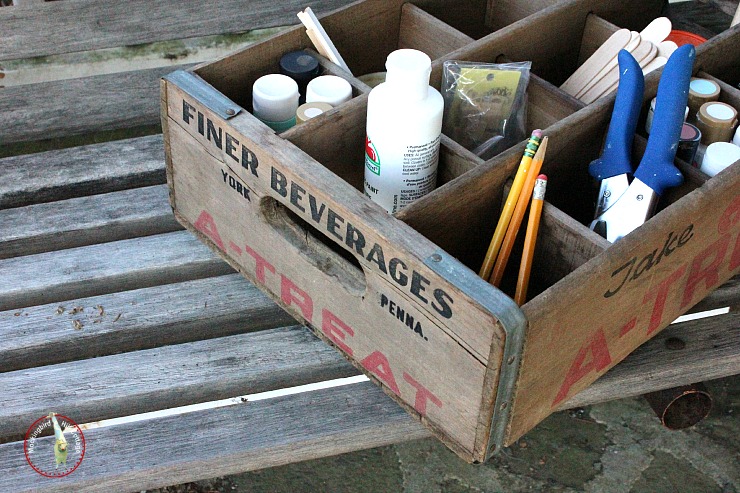 This goes under the heading of Why didn't I think of this sooner?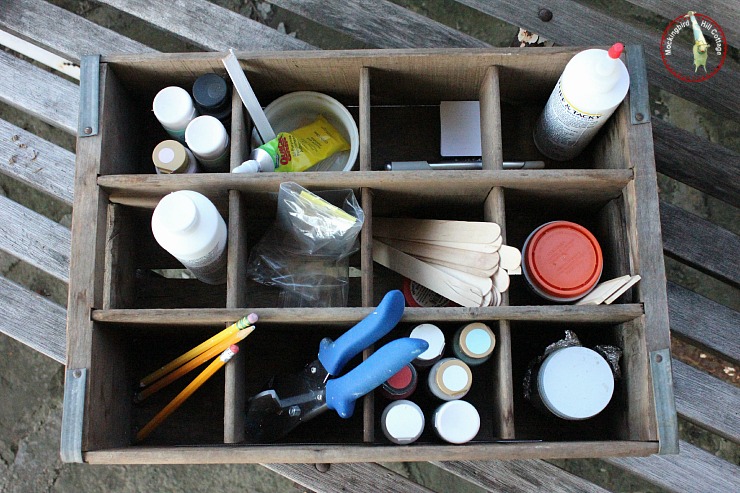 Glue, pencils, ruler, paints, craft sticks, shutters, trim…..all in one place.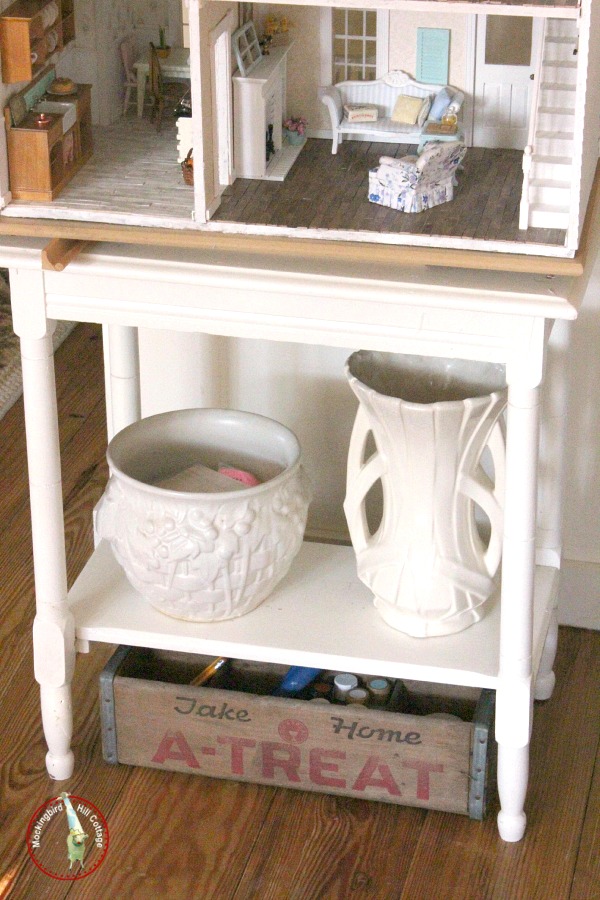 And then stashed under the dollhouse table. Perfect.
Such a little thing, but such a time saver. And when the dollhouse is finished, I can use the crate for something else. I love these soda crates, by the way. I'm still looking for an aqua colored crate. I've seen them here and there in blogland.
I just have to share one more thing with you. I saw the most beautiful cabinet in that same antique shop. I almost hyperventilated. I took a photo with my iPhone but it doesn't do it justice. (Notice the big Coca-Cola crate on top?)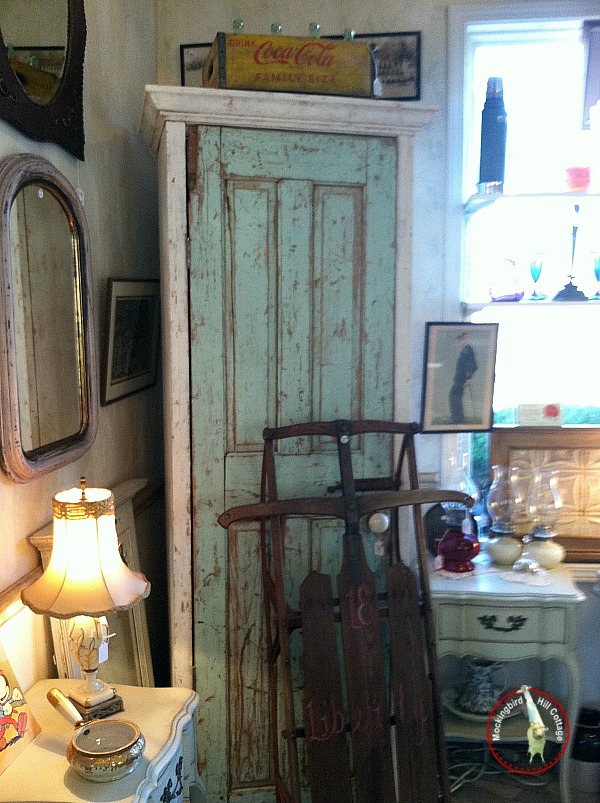 Oh. My. Goodness.
It's quite tall, about 2 ½ feet wide (maybe more) and it has beautiful legs which I obviously didn't capture in this photo. That's a big antique porcelain doorknob. (Why the heck didn't I move that sled to take this picture?)
Doesn't this cabinet scream Claudia?? Unfortunately, the price tag said $290. Sob. It's worth every penny, in my humble opinion. Very seldom do I see something that stops me in my tracks but this piece did. I don't know where I'd put it. I don't care. I would find a place for it.
Ah well. Sob, again.
Happy Wednesday.