Well, I've obviously entered some other time/space dimension.
Yesterday I was absolutely sure it was Wednesday. All day long. I'm not talking about those days where you think for a minute that it's another day but then almost immediately you realize it isn't. No. I knew it was Wednesday and it wasn't open to question because it was as clear to me as the fact that it was raining outside.
Then I watched the evening news with Brian Williams. He signed off with "this is the news for this Thursday…" or something to that effect and I thought, "Oh poor Brian, he said the wrong day. Even Brian makes mistakes." I looked at the calendar on my laptop. The current day was highlighted, and it was Thursday. Still not believing it, I shouted out to Don, "What day is this?" He responded with "Thursday." "Are you sure??" "Yes."
What????
I've officially lost my mind.
Even this morning, I thought for a moment it was Thursday. But it's Friday.
Perhaps I was abducted by aliens and lost a day.
On to more news.
While out in the dreaded overly-full shed the other day, I rediscovered this: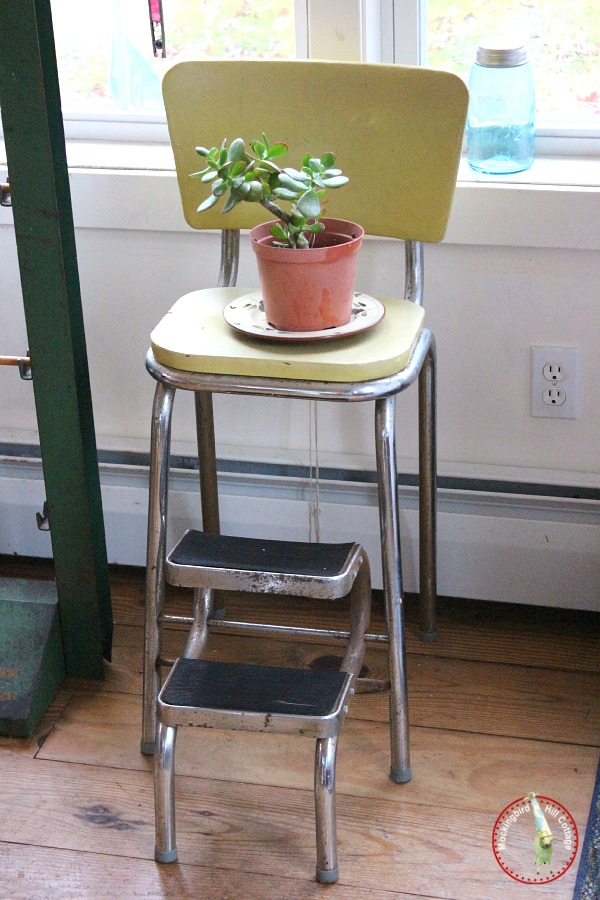 We bought this vintage step stool a long time ago when we were living in San Diego. Somehow it ended up out in the shed when we moved here to the cottage. Why? Who knows.
But given the fact that I'm constantly dragging the laboratory stool that lives in the living room into the kitchen to change a light bulb or climb up onto the counter for some reason or another, doesn't it make sense that this little baby should take up official residence in the cottage? It's a wee bit rusty. I went at it with some steel wool which helped a great deal, but it needs a more thorough clean-up when I have the time.
It so reminds me of my childhood. The vinyl is right out of post-war suburbia. I love it. Welcome, little yellow vinyl vintagey stool.
Heidi gave me this bathtub a while back. It was part of some dollhouse furniture she acquired at auction. It had the syrupy flower decals on the sides, so I tossed it aside thinking I would never use it. But then I thought that it just might do until I found something else.
The flowers had to go. So I bought some craft paint meant for ceramics and painted it. Lord, did that paint stink! Eventually I put it outside on the porch to finish drying.
I forgot about it and left it out there for 3 days. The elements had their way with the paint and you can see some crackling on the inside of the tub. I rather like it. I've decided it will do for the time being. The owner of Hummingbird Cottage likes the old look of the bathtub and, since we all know she loves vintage, this aged effect makes her smile.
This morning, Don got up before me. That in itself is shocking. I got up about 15 minutes later. Scout, who is still not used to her dad rising at the same time as her mom, much less earlier, was at a loss as to what to do. She was on the sofa in the living room with her dad. Five minutes later, she came down to the den with me. Five minutes later, she went back up to the living room. Five minutes later she came back down to the den. Five minutes later, she was back in the living room. And then, back in the den. We were howling with laughter.
Poor girl, she's exhausted.
Two more things. We watched the live version of The Sound of Music last night, though I didn't want to watch it because I thought the casting was less than inspired. I still do. But I'm glad we watched it. It's a rather daring choice nowadays: airing a Broadway musical live. No chance to re-record. No retakes. None of that; simply live and broadcast to millions. It's a brave thing to do. I grew up watching live television and it really doesn't happen anymore, especially on this scope. I thought it was executed beautifully. I was an actress for many years and I cut my teeth on Musical Theater. I can't even begin to count the musicals I have done. Musicals remain my first love, especially musicals written with smart lyrics and beautiful melodies that do what they should do; tell the story in a heightened way. I'm not a fan of Pop Musicals where every song sounds like something else you've heard before and one melody could easily blend right into another into another. Nor am I a fan of Juke Box Musicals. But gorgeous melodies, witty and moving lyrics, especially by the great Rodgers and Hammerstein? Count me in.
(Side note: Kurt was played by Joe West, son of my former student from Boston University, Maura West. He was really, really good. Yay, Joe! Maura and her husband are both actors and met while working on As the World Turns.)
I hope this is the start of more live broadcasts. The American Musical is a true treasure and it needs to be honored and introduced to a whole new generation.
And finally, rest in peace Nelson Mandela. You were a truly great man. Maybe the only truly great man in my lifetime. You changed the world and we are all better for it.
Happy Friday.