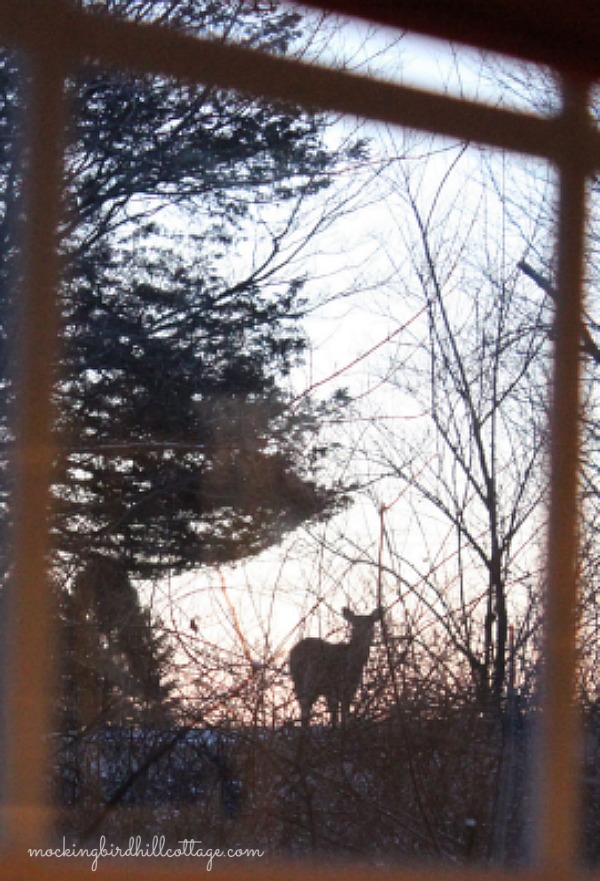 This morning, and yesterday morning, as I walked into the upstairs bathroom, I could see the shadowy figures of deer walking through our property. One, then another, then another, then another, walking slowly, looking for food, stopping to nibble on a branch here and there. I purposely delayed going downstairs. If I went downstairs, I would have to let Scout out and that girl would scare those peaceful animals. Animals who do no harm to anyone. Animals who are hunted by locals who, trust me on this one, don't have to hunt to eat.
But you know how I feel about all that. It's the same reason I won't watch a certain 'reality' show that's been very much in the news lately. I cannot, in conscience, watch a show that stars a family that made their millions from manufacturing a 'call' that leads innocent birds to their deaths. Sorry. No can do.
How can I admire and love the geese and ducks we see every day on our walk or in the park in Hartford and then turn around and watch a program that is built on money and notoriety earned from their deaths?
If you know anything about me from reading this blog over the course of the almost-six-years of its existence, you know I am passionate about animal rights. I believe that all of us, human and animal, have the same right to live peacefully, without fear of a bullet or a bow and arrow or a knife. Sadly, that isn't the case for many of our fellow humans or for many of our animal friends.
These are the things that haunt my dreams.
That some of you will disagree with me is certain. I've had these discussions before on this blog. I'd rather not have them again because, you see, nothing anyone can say is going to change what I believe deep in my heart, what I hold to be morally right. I'm 61. I'm pretty clear about what I believe at this point in my life. And most likely, if you believe differently than I, nothing is going to change your point-of-view.
Same thing as the time I was in grad school, already in my early thirties, and a classmate urged me to try cocaine. After hearing me say I wasn't interested, he responded with "If you try it with me, I guarantee you're going to like it. You'll have fun." Really? Do you really think I'm going to abandon my moral beliefs that quickly? For a reason that I don't believe in and cannot, in conscience, support?
Any arguments for hunting get the same sort of response from me.
Since this blog is about my thoughts and worries and beliefs as well as the happy things in my life, I'd be less than honest in not writing about this occasionally because, believe me, it is part of the framework of my life – every day. I try to live that belief to the best of my ability. I don't eat animals. I do my best to respect them. I'm not perfect, by any means. But I do the best I can.
We used to see about a dozen deer grazing on a hill during our daily 4 pm walk. When the hunting season brought the sound of gun shots, they were no longer in evidence. Every day, as we walked, I would tell Don I was worried about them. Where had they gone? Had they been killed? Or had they, hopefully, changed their pattern to avoid hunters? I prayed it was the latter.
Recently, we've seen four deer grazing again on the hill. Perhaps the same four deer that walk through our property in the early hours of dawn, as we live just over that hill. What happened to the others? I don't know. I am happy to see these four. As Don said this morning, "You are welcome here."
I'd add: "You are safe here."