After shuttling back and forth between the two of us this morning, Scout planted herself here: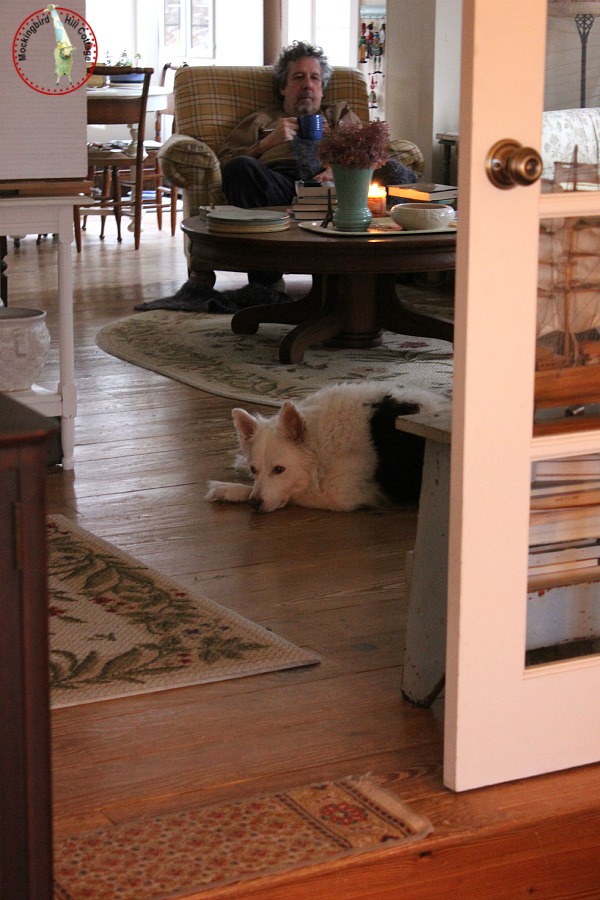 Exactly halfway between her dad's chair and mine.
She's had it with us.
We're due for some snow this afternoon. How much, I don't know, as the last forecast was off by a more than a few inches. It's COLD. I'm wrapped in my crocheted throw as I type this. Bundle up, everyone! I know that this frigid air mass has covered much of the country. Stay safe, stay warm. This is when I realize how much more efficient our new oil burner is. This particular delivery of oil has lasted much longer than it used to. Yay! We're saving money! (We'd better be, after the cost of that new burner!)
This is the idea that I was pondering for the the dollhouse craft/studio/office space. I finally bit the bullet and worked on it yesterday.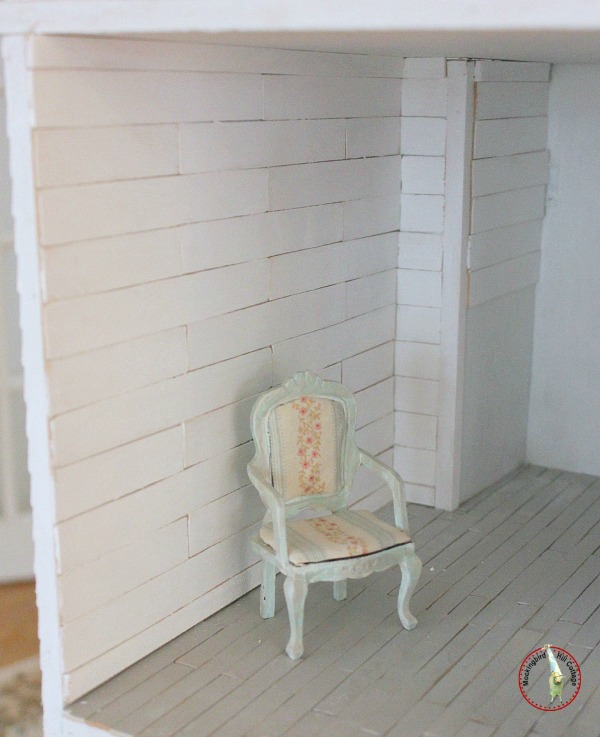 I thought it would be neat to have a plank wall. It's not finished yet and I have to do some touch up painting and work with the trim, but I'm pleased so far. This kind of work takes several hours. Trimming the craft sticks, painting, measuring, fitting, gluing, and my neck gets sore from contorting my body so that I can work in the rooms. It's darkish outside this morning, so the photo isn't the best, but it will give you an idea of what's happening.
Now, I'm wrestling with whether I do this all the way around the room, which seems especially daunting, or whether I go for a contrast on the other walls by using wallpaper. I'm leaning that way. Maybe those plank walls were original to the house and the owner decided to keep them because she has a funky, artistic side. I've already got my eye on some striking wallpaper – a bit more vivid than that used in the rest of the house. Maybe the top half the remaining walls will be wallpapered and the bottom half will be planked? Hmmm. I already have lots of ideas as to what I want to hang on these walls.
The great thing about a dollhouse is that you can decorate, experiment and re-do for a small amount of money – unlike a real house. Redoing anything in our real house is beyond our means at the moment. But a few bucks for wallpaper and sticks and craft paint? That I can afford.
Look what arrived in the mail yesterday: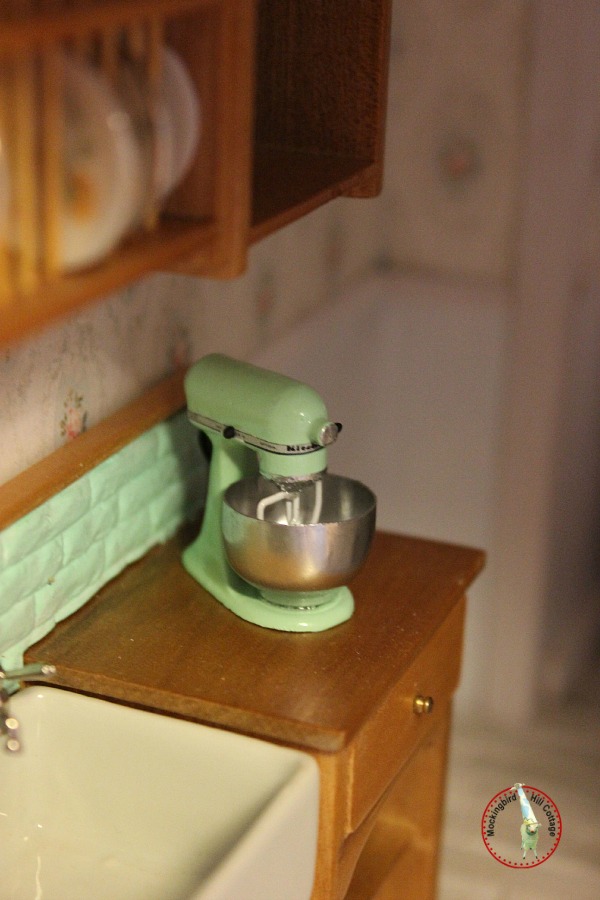 Eeeeek! I am swooning here.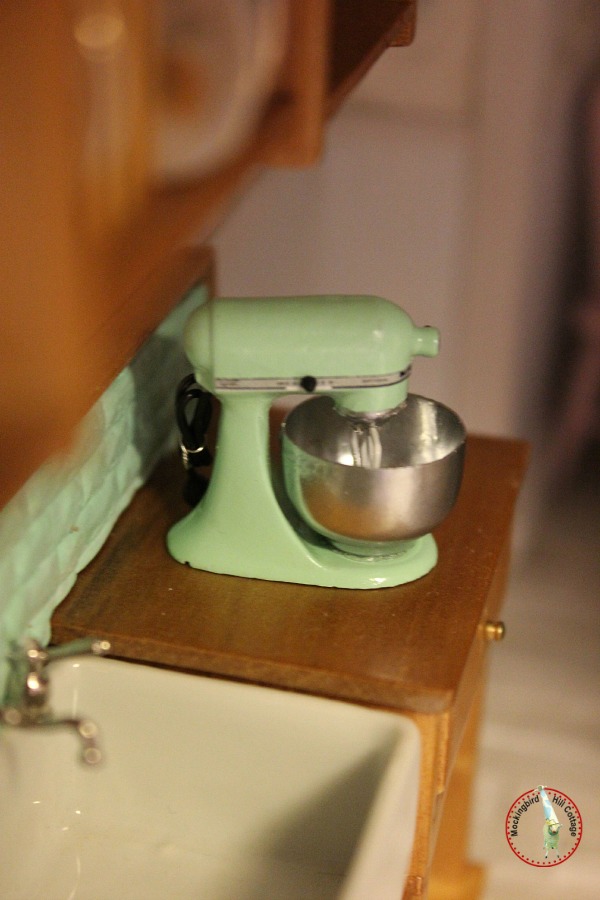 You can't see it, but it even has a cord.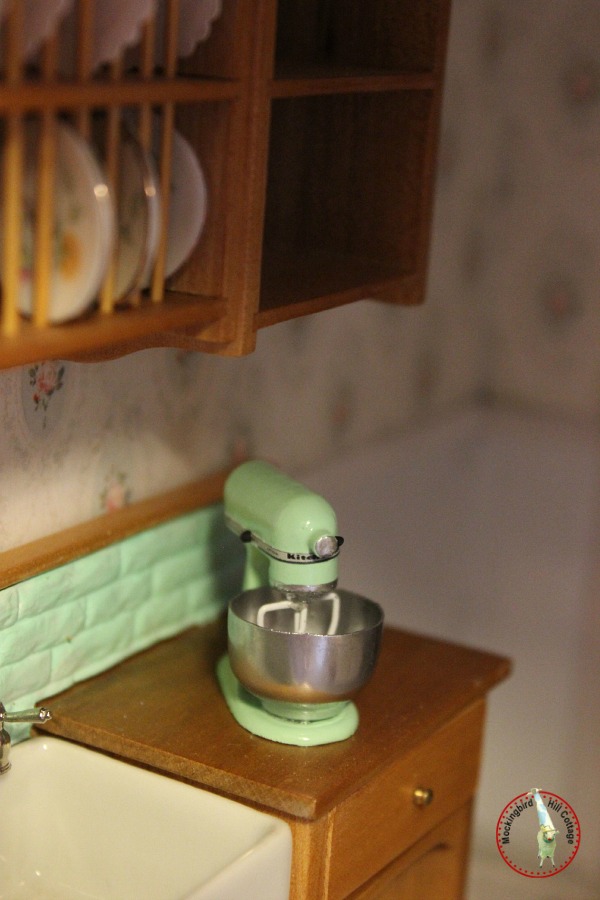 We have the life-sized version of this mixer in yellow. I much prefer this color.
Can you stand such cuteness? Don couldn't get over the detail. I'll tell you one thing, it sure is a lot lighter to lift and carry than our life-sized version.
Some of you may be getting rather tired of all the dollhouse posts but, hey, this is what I'm doing at the moment. My creative juices are shouting out "The dollhouse, the dollhouse!" And so, that's where I'll be.
If I'm not shoveling.
Happy Sunday.