I've been feeling under the weather for the past two days. One of those things that is almost like a cold, but really isn't – it's sinus congestion and general yuckyness. Nevertheless, it hasn't stopped me from noodling around with the dollhouse. Here are the latest Hummingbird Cottage updates: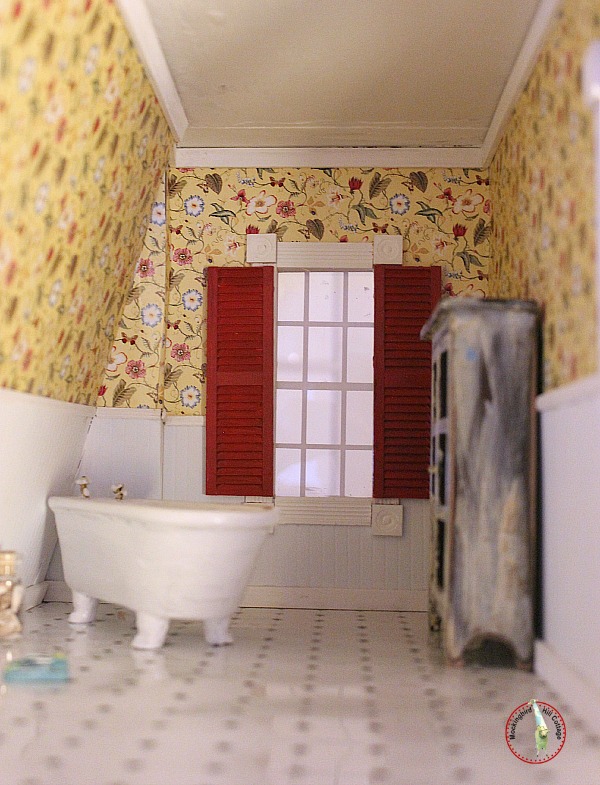 I added these red shutters to the bathroom. That particular idea had been in my thoughts for about a week. I painted the shutters the day before yesterday but realized they were too long for the window. I cut them down in length yesterday.
I really love the pop of red in the back of the bathroom. It makes for a somewhat dramatic look and frankly, the pop of color is needed because this room is rather long and tunnel-like. They need a little tweaking, but I'm happy with the result.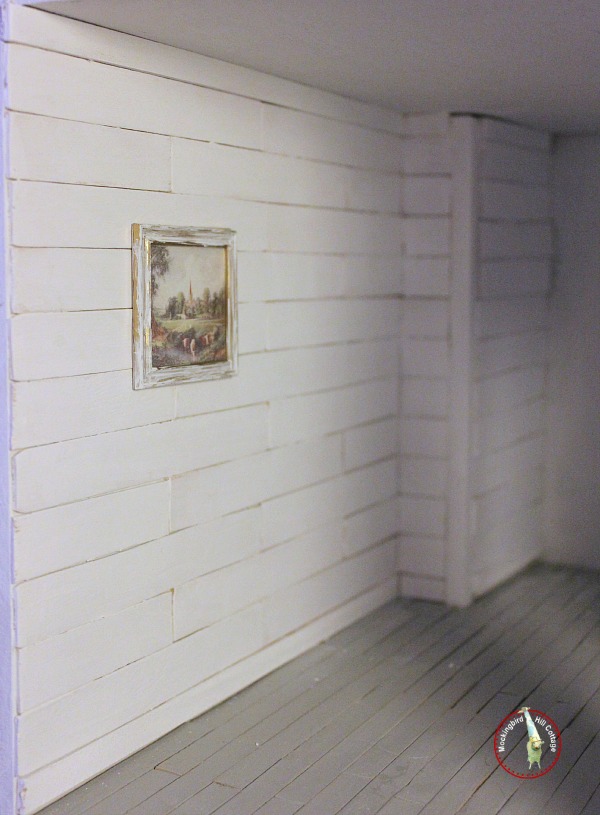 The plank wall is finished. I really love it. I'm going to wallpaper the remaining walls, in fact, I ordered it yesterday. And that, my friends, will be the last time I have to deal with messy wallpaper paste. Wish me luck!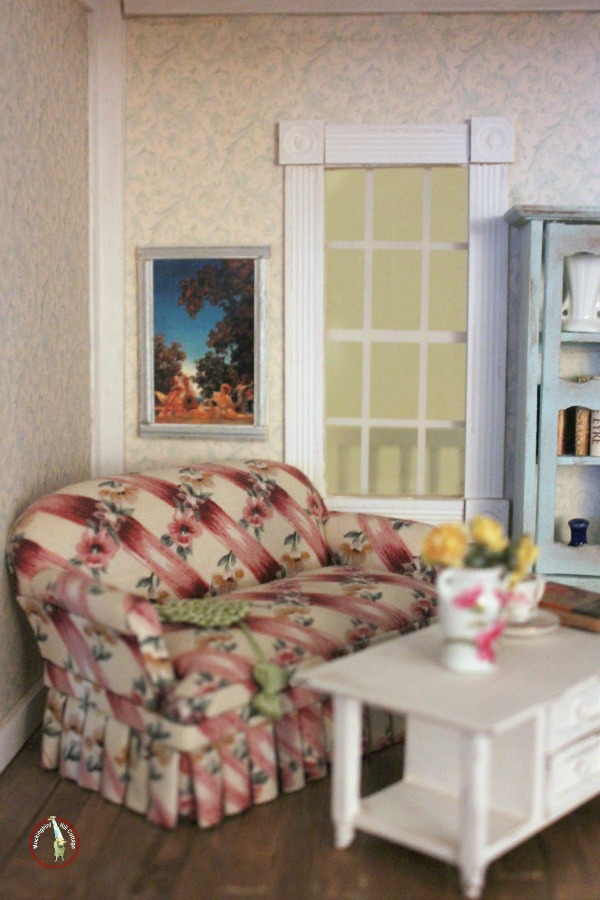 I made some artwork. In my own little amateurish way, I decided to try making a framed piece of art with what I had on hand. I got this idea when looking at mini frames and art on Etsy. One woman uses beautiful stamps from all over the world for her minis. I remembered that I had this Maxfield Parrish calendar upstairs in a drawer (Maxfield Parrish being one of my favorite artists) and I seemed to remember that the back of the calendar showed small versions of  the prints that were going to be used each month. Sure enough, it did. I cut one out and grabbed some leftover trim that I use for the chair rail. Executing a mitered corner was beyond my current skill set, so I simply glued the pieces together the way you see them here. The chair rail trim was painted white and that wasn't the look I was going for. I found some Rub n' Buff in silver upstairs in my cabinet and I used that to create a silver frame. Glued the Parrish print on the back and then backed that with another piece of thin cardboard. It worked! (I also spayed the print with some matte sealer, hoping to take the glossiness down a notch.)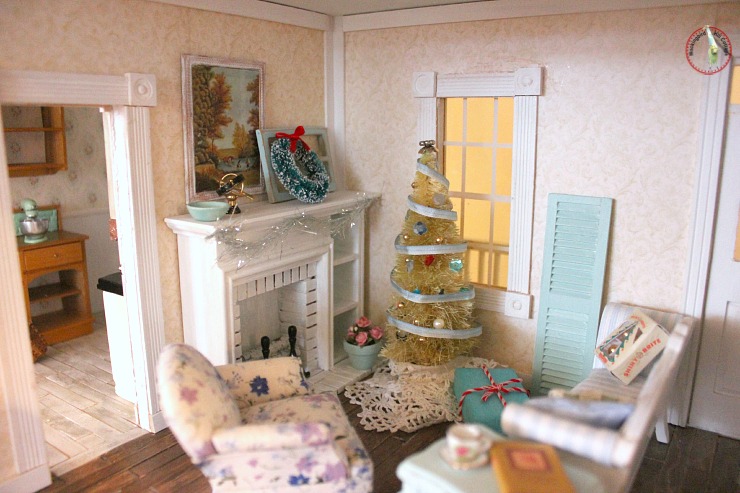 The living room furniture has been rearranged for the Holidays. Again, I used what I had on hand. I made this tree last year from one of the bottle brush trees I have stashed in a drawer. Admittedly, it's a bit too short, but it works. Have you ever priced fully decorated miniature trees for a dollhouse? Too expensive for my taste, especially when I'm only going to use it for a week or two. The box that has been wrapped as a present is a bit too big, but maybe there's something wonderful in it! The garland on the fireplace is courtesy of some trim that Elyse sent me. I ran across it yesterday and thought it would be perfect for the dollhouse. By the way, lots of the 'ornaments' are also from bits and bobs sent by Elyse.
I usually decorate the outside of the dollhouse but this year, since I'm doing so much work on the inside, I'm just going to decorate the living room.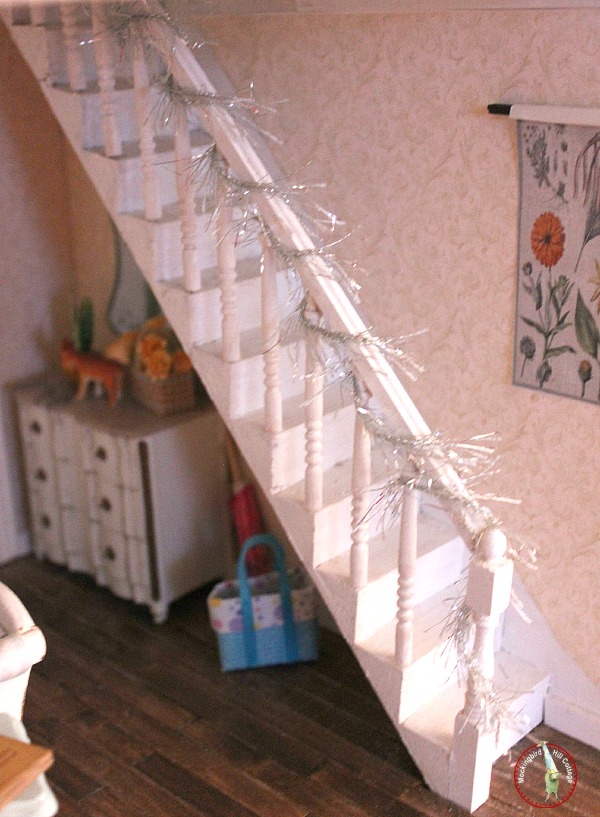 Here's the rest of the garland. Festive, no?
Can you see that animal on the dresser? Also from Elyse. I found it in another bag of Elyse treats. It's a goat, technically, but I'm calling it a reindeer.
Works for me.
Happy Tuesday.