I know this will be shocking and not all in tune with the rest of the blogging world, but here goes. I'm not a fan of Cath Kidston's designs. Never have been. There's something about her version of flowery prints that I just don't like. And you know I like flowery things. They're all over my house.
I do, however, love the designs of GreenGate, a company based in Denmark. I could easily go crazy there, buying china and tea towels and mugs and aprons and all things home. I love the way GreenGate uses color and flowers. Their design work is gorgeous. Unfortunately (or perhaps fortunately) there's no way to buy their products here in the States. So my house has nothing from GreenGate inside its walls.
Oh wait, my dollhouse is another story: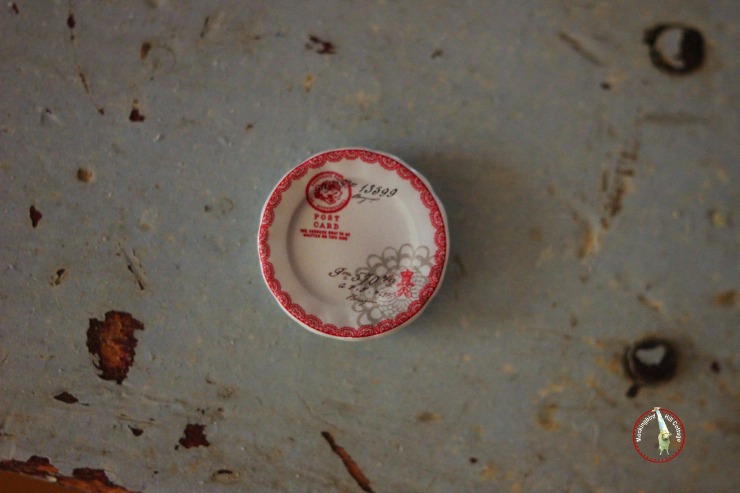 This little plate was made by Carrie Lavender. It's one of my favorite GreenGate designs. It was inadvertently left off my order, so Carrie sent it to me separately and here it is. Just to prove to you that it is indeed a miniature plate, I give you this.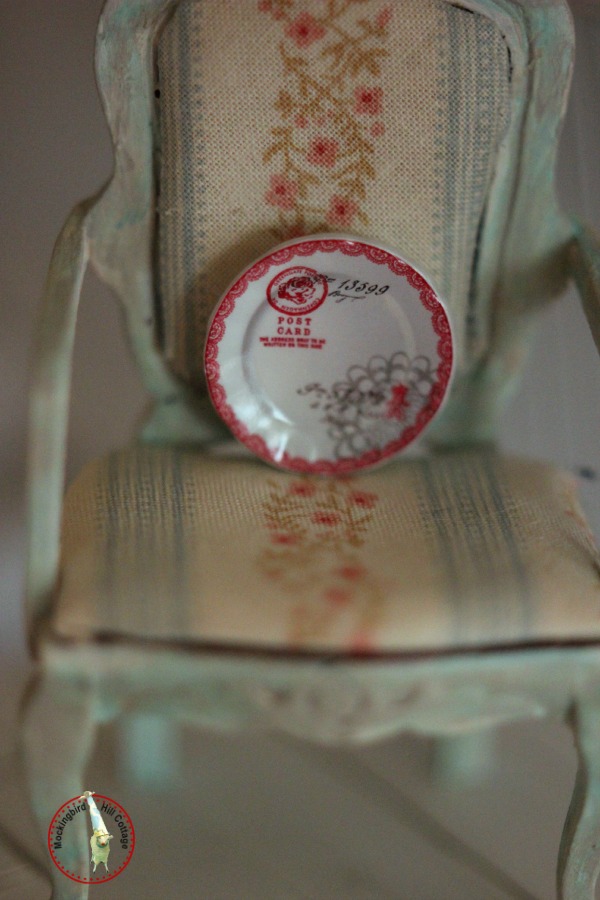 Adorable. Beautiful. I'm in love.
Yesterday, taking advantage of Don's absence while he worked in the city, I cleaned the bathroom like a crazy woman. I straightened up the topsy-turvy areas of the house as best I could. And I did a little work on the dollhouse. Girding my loins, I thought I might try a little project from Léa Frisoni's book on Miniatures (the one that Don got me for Christmas.) I had to translate all the directions via Google Translate but fortunately, I did that a few week ago, so I was ready to go. It looked fairly simple; deceptively simple, I might add. But I figured, what the heck? After a couple of hours I came up with a chair.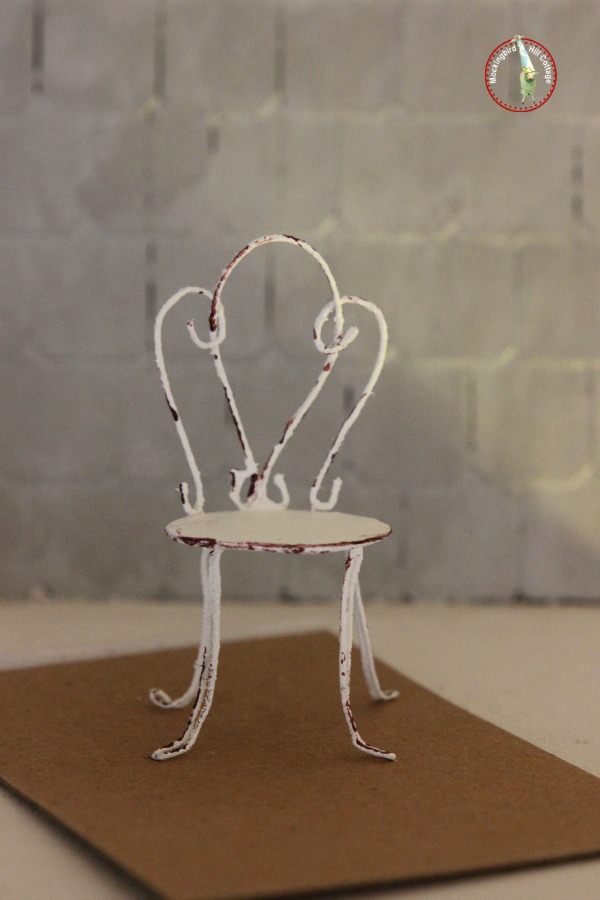 This is a bit of a variation on Léa's design. I couldn't find the same kind of florist wire, so I substituted something else. It's ever so slightly wonky, but it works.  I was thinking it might be a nice addition to the bathroom.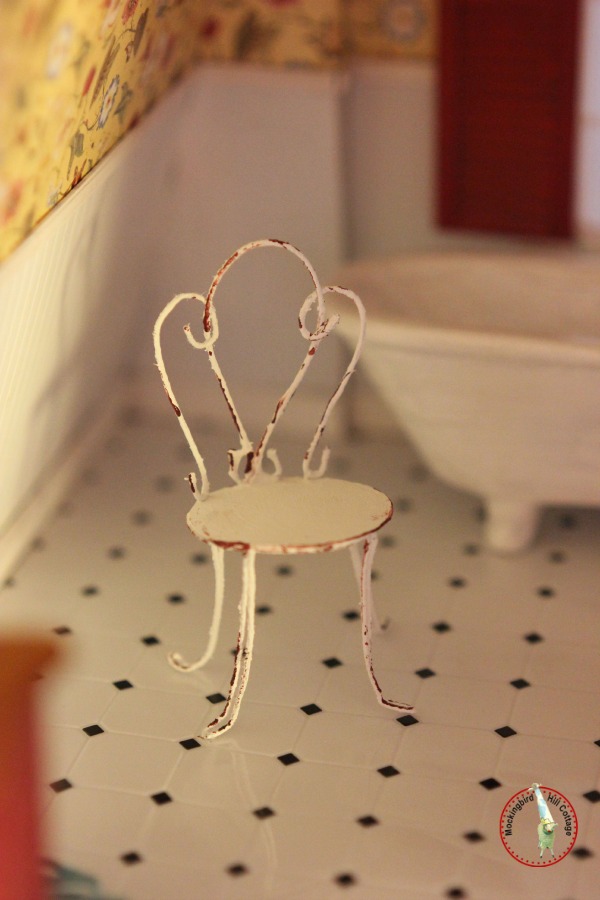 What do you think? A little vintage chair to sit on for a second or two, or a place to toss a towel or a robe? I am rather proud of my first foray into mini-making. I want to make another one someday when I can find the kind of florist wire Léa recommends. But right now? I'm liking this sweet little vintagey-looking chair.
Then I moved on to the craft room/studio/office. I've had this idea for a while. I wanted a counter-like desk on the the planked wall, long and narrow, where the owner could set up her sewing machine or write a letter or work on her computer. It's meant to function as a space saver, as the owner also has a work table for larger projects.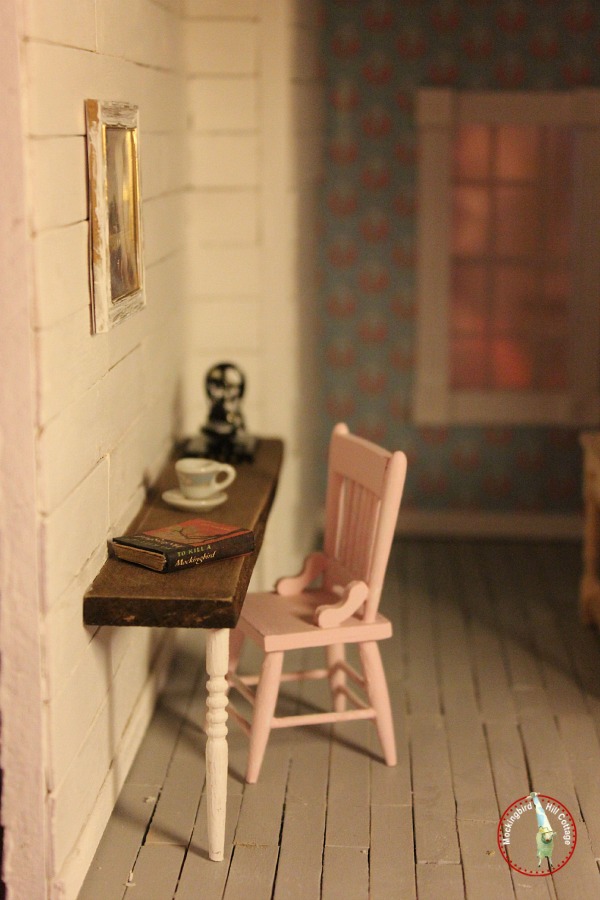 I found a nice piece of wood at the hobby shop, cut it to the length I wanted and then decided to stain it. I like the contrast of the stained wood with the white planked wall. The legs are left over spindles from the stair railings that I cut down. (I'm realizing that my mini copy of To Kill a Mockingbird is a little off scale, a little on the large side. I'm going to think of it as a special edition – a coffee table size edition of my favorite novel.)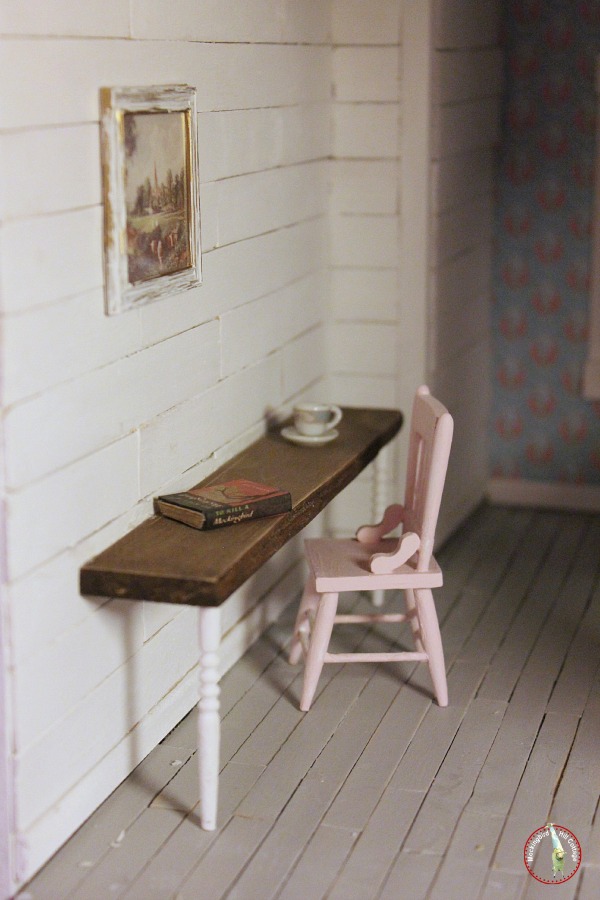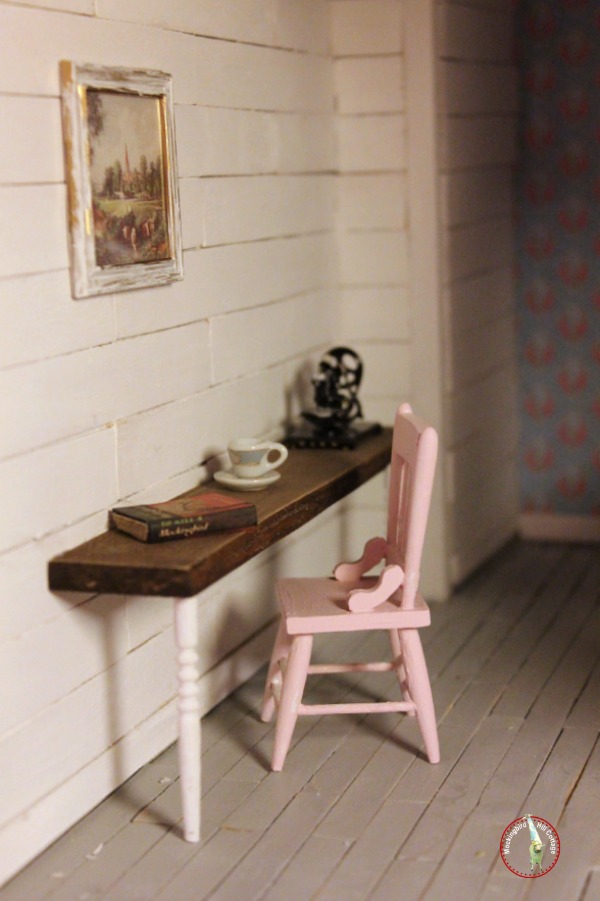 That's the sewing machine Julie sent to me – all the way from Canada. It looks like my Featherweight.
All in all, a productive day. I had another call from QVC. They are doing their best to check in with me every day. The bed we're sleeping on is from the days when I really liked a firm mattress. My bones no longer prefer that level of firmness and I'm very sore and creaky upon waking. The bed is in relatively good shape because I only had it for a year or so before Don and I moved in together and bought a bigger bed. It hasn't been used all that much. However, it's a full size bed that was meant for single girl Claudia. Not Claudia and Don twenty years later…. Ah well.
Happy Saturday.