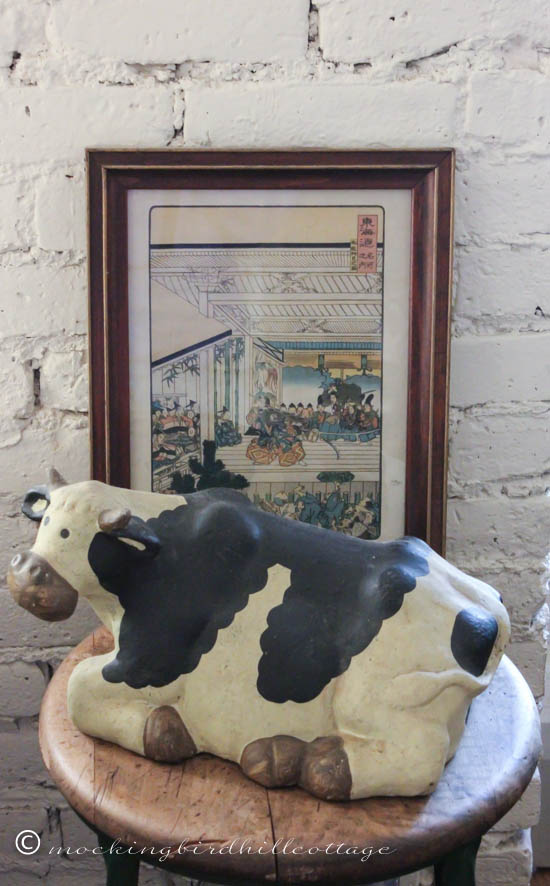 I've been moving a few things around, due, I'm sure, to being stuck in my own particular mattress vortex. There's a whole heck of a lot I can't do until that mattress is delivered and the old mattress is taken away. Which will be on Tuesday, by the way.
Since things are in a state of flux here, I have to give myself little projects to complete or I would go mad. The other day I painted some dollar store frames that I'm going to use in my studio. The studio that is to be rethought and decluttered, when I can get to it. Which will be after the mattress is delivered. Do you see how it all works? I also painted the mantel shelf that goes in the studio a paler aqua. I wanted to tone things down a bit.
Yesterday I cleaned out the closet in our spare bedroom that is, for want of a better word, my craft closet. Wait. Why not a better word? How about my All Things Creative Closet? I like that much better. Anyway, I sorted everything out, filled a trash bag with things I didn't need and put a pile together to take to the Salvation Army.
Very satisfying.
Remember our trip the other day (which resulted in the red shoes) to Michael's for some frames? Here's what we framed: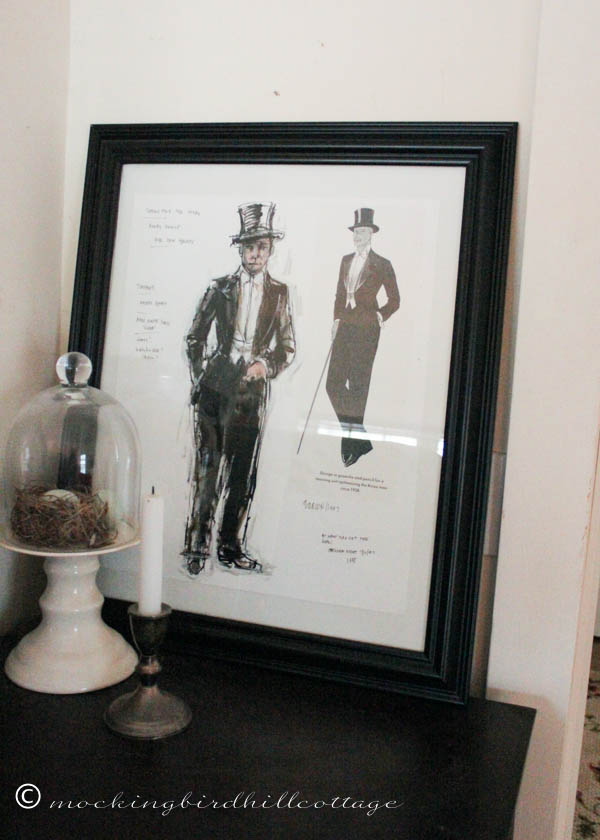 This is a costume rendering done for a play Don did at the Old Globe many years ago. The costume designer, a wonderful guy who is sadly no longer with us, gave it to Don on opening night. It was in a plastic slip case and Don decided it should be framed because he wanted to honor it, as well as see it right here in the den every day. We really love it. Now it's sitting on the music cabinet in the den, which is why that print in the top photo has moved to its new position behind Monty.
And we also found this shadow box frame for my vintage program for the Broadway play, Claudia.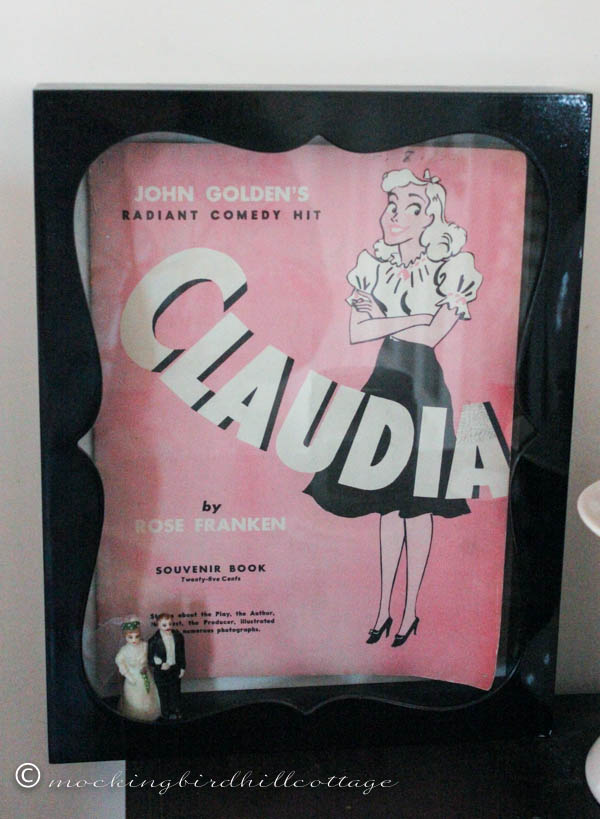 Excuse the glare. This program was sitting on the shelf in my studio and, foolishly, I didn't do anything to protect it from the sun streaming through the skylight. The color had faded quite a bit. Don's the one who found the shadow box, which works well with the thickness of the program. I stuck the bride and groom cake topper in there on a whim. This might go back in the studio. Or it might stay downstairs. I'm not sure yet.
By the way, the framing process for the costume rendering was a bit of a saga. We wanted an inexpensive frame, so we ended up buying one that already had a matted black and white photo in it, thinking we would simply change out the print for the rendering.
Not quite.
The back had been sealed and stapled and it took forever to pry up the little doohickeys that held the matted print inside the frame. I used a screwdriver. I used a knife. I used pliers. Then we had to get the print out of the frame, which wasn't easy. When we finally got it out, we realized we had nothing left to serve as the backing for the rendering. I thought of the foam board that I use sometimes for Etsy photos (and since I don't have anything in my Etsy shop I figured I could cut it up) and brought it downstairs. Then I grabbed my exacto knife and cut and cut and cut – a long and tedious process – until we finally got the foam board to fit the frame. I also have to add a hanger, which is why it's propped against the wall in the photo.
Though I do like that look. I try to have at least one framed piece propped against a wall in each room. It adds a sort of casual look that I'm really drawn to.
Lest we forget, here's the view into the den from the living room: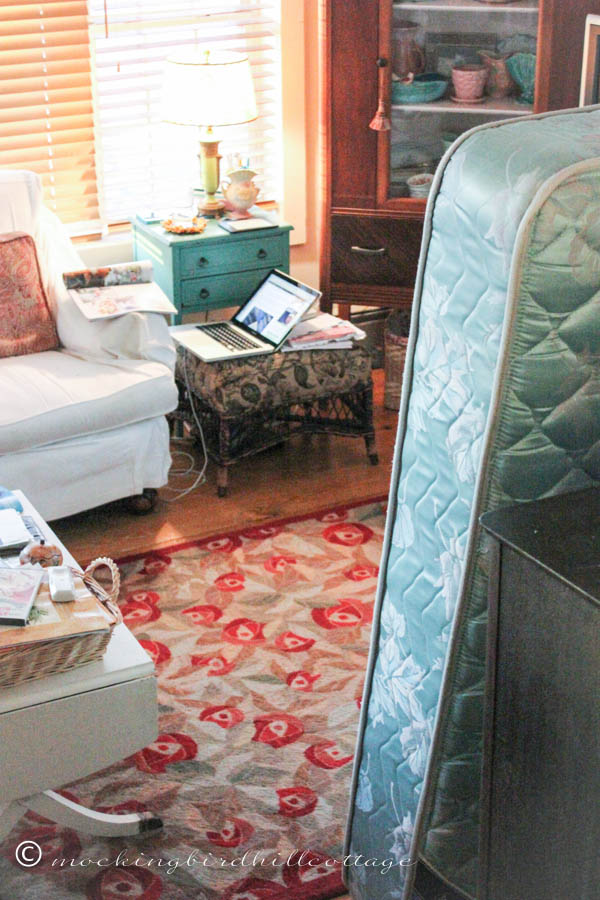 As you can see, I can't even see the framed rendering, which is on that cabinet to the right, when I'm sitting in my chair. The danged mattress is blocking it.
Happy Friday.