We're watching snow fall, waiting for the big wallop of a storm that is going to hit us later today and into tomorrow. All sorts of warnings, wind chills of 20 – 30 below zero expected, blizzard-like conditions overnight.
Oh boy.
I had a sleepless night. Why, I don't know. Just one of those things that happens occasionally.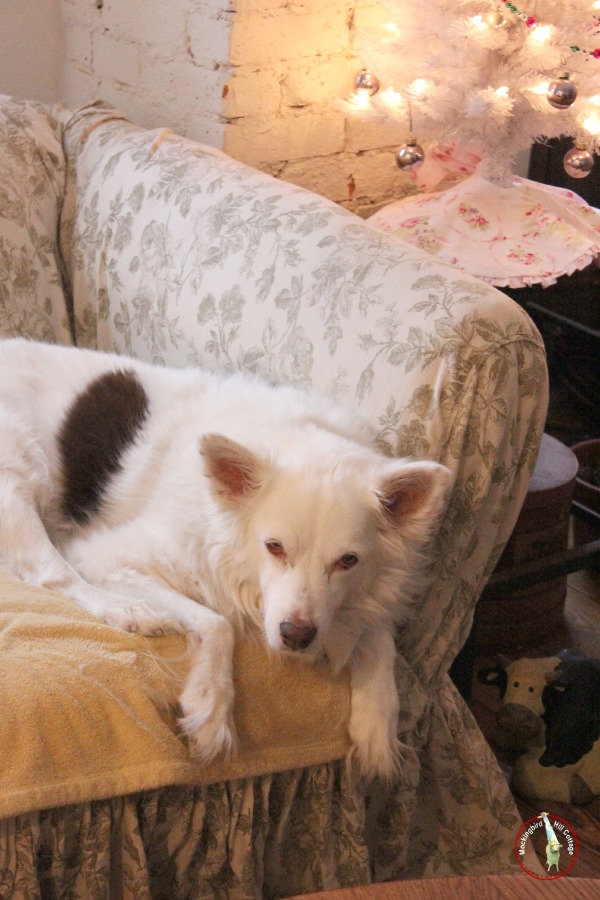 Thank you, Scout. You've managed to capture the exact way I feel this morning.
Our friends, Tina and Noble, stopped by yesterday afternoon. Tina made the lamb costume and party hats for Scout and is immensely talented in all sorts of ways and Noble is a colleague of mine, a wonderful actor who I've worked with at Hartford Stage twice now. We had such a lovely time with them.
Tina, who is the one of the most thoughtful and loving people I know, brought gifts.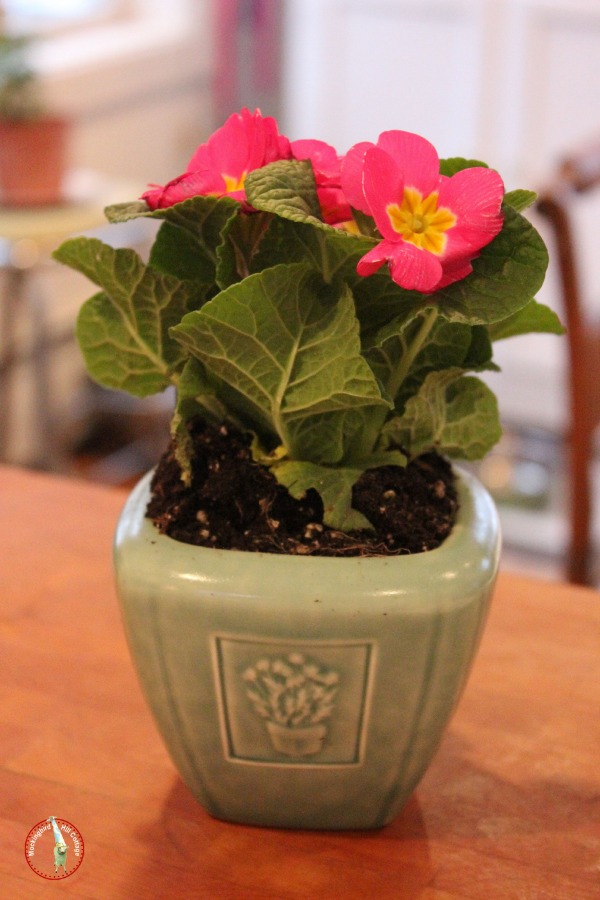 A beautiful piece of vintage Pfaltzgraff pottery. I love this design and the color of the glaze.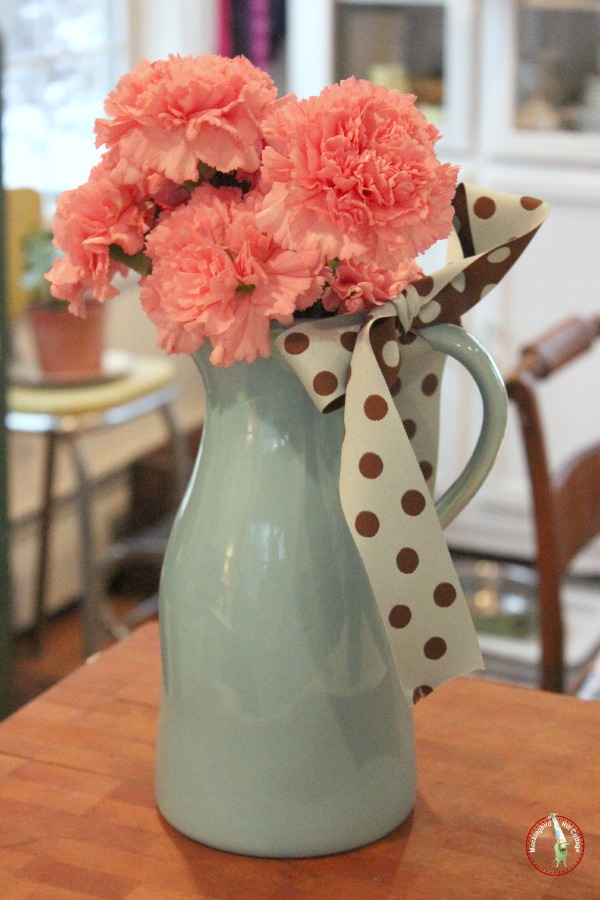 And this beautiful aqua pitcher, filled with flowers. I'm thinking Tina knows my favorite colors.
I was completely surprised by these lovely gifts. Thank you, dear Tina.
Tina brought two more items that won't be revealed until Sunday. You'll have to wait.
In other news, and this item is a biggie for us, we bought a new bed! We have a list of things that need to be fixed and/or taken care of around here. It's sort of a Wish/Must Be Done List, which we've written on the kitchen blackboard. One of those wishes has become a necessity and that's a new bed. We've had our queen-sized bed for almost 18 years. It's been uncomfortable for about 5 years now and we wake up with sore hips, sore backs, sore everything. Plus, it's too gosh-darned small for the two of us. Don is almost 6′5″ – I am just under 5′9″ –  Don's feet touch the very end of the mattress and I constantly complain about being pushed to the edge of my side of the bed.
We have a small bedroom. But, I think we can rearrange things to accommodate a California King-sized mattress. It will take some creative thinking, but we really need a bigger bed. King-sized won't do it, because the length of the bed is the same as a queen. But a California King is four inches longer, so that's the ticket for us. And it's not as wide as a king, but it is 12 inches wider than a queen, that's 6 for me and 6 for Don.
That means we have to buy a new bed frame and linens and a headboard, a necessity because of the slanted walls. We went back and forth on this purchase but, in the end, we realized that the quality of our sleep is important and that the investment will pay off over time. It will probably arrive towards the end of the month. Good luck to the guys who have to get it up the stairs. I'll have to clear a lot of things out of the hallway studio before the delivery – as always in a small house, space is at a premium, including the space in which to maneuver a mattress.
Cannot wait.
Happy Thursday.