It's no secret that I love the color red.
When I was a little girl, I would come home from the Bookmobile carrying a pile of books with red covers.
There are pops of red all over my house. I have red shades in the kitchen, a red bench with red and white and tan cushions. I have a chair in the living room with red and white checked cushions, a little lamp with a red shade. In the den? A red and green and tan floor rug, red pillows on the sofa and a crocheted throw with lots of red in it.
I've somehow managed to make red work with the sherbety McCoy colors that I love so much.
Red is also a big part of my blog design.
Being a 'Winter', I look good in red, especially deeper, richer reds.
And oh boy, do I love a pair of red shoes. When I look back at my life in shoes, some of my absolute favorites were red. A few years back, I bought a pair of MaryJane type shoes in red. I bought them online, so it was a bit of a risk. They never fit right. I was so disappointed! And as I have grown older, comfort is my first requirement in a pair of shoes. Arch support and cushioning and comfort; that's what I go for.
Yesterday, Don and I went on an errand. We were looking for a frame or two. So we drove south to Michael's where we found two out of the three frames we were looking for. I suggested that we go to HomeGoods (in the same shopping center) to look for the third frame. Right next door to HomeGoods was a shoe store and I remarked to Don that they looked like they carried what I call 'healthy shoes.' Comfortable, designed for ease, well made, etc. He suggested we go inside. Since I am constantly complaining about not having enough shoes that fit (my feet have grown a size in the last few years,) he was thinking that maybe I could find some snow boots that fit. My boots are too small, yet I wear them every time I shovel. Quite frankly, spending money on boots doesn't thrill me and I keep hoping I can make it through this winter using my old boots. So boots? Not on my Want List.
Then I saw these: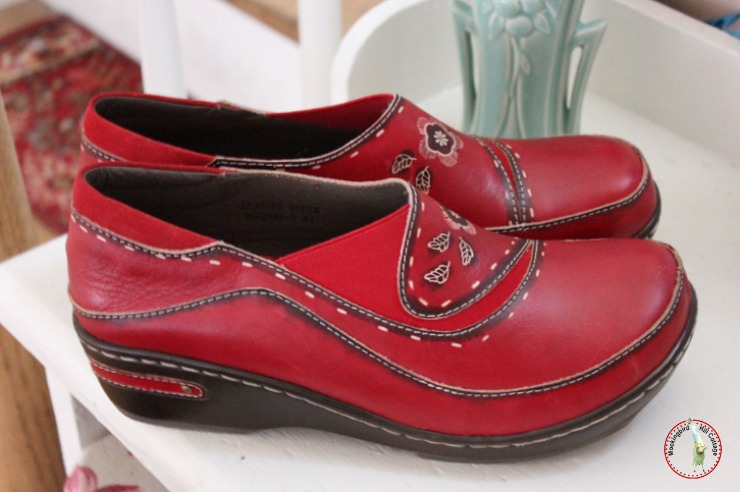 Insert sound of Choirs of Angels.
Oh my goodness.
They had them in my size.
They are made in Italy and they have cushioning like you wouldn't believe. They have great arch support. They are beautifully made. (And they also make me even taller than I already am.)
Don made me get them. I would have said no because they weren't on sale. They weren't at a deep discount. Too frivolous. Too many other things we could use that money for.
He wouldn't listen. He said that he loved them and that I clearly loved them. And that I needed shoes that fit. That made me happy.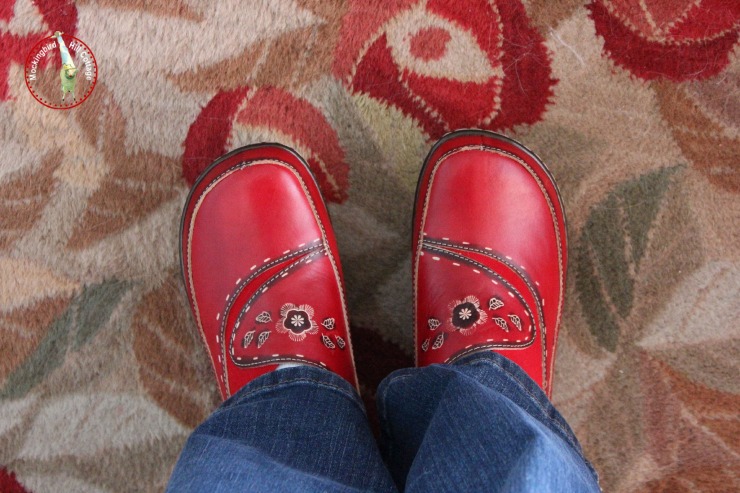 These shoes make me happy. They make me smile.
They're my favorite shoes, ever.
I feel guilty for buying them. Every time I start to say something about that, Don shushes me. He says, "Just say I love my new shoes and I deserve them."
So okay. "I love my new shoes and I deserve them."
But what about the money we spent?
Sssh. "I love my new shoes and I deserve them."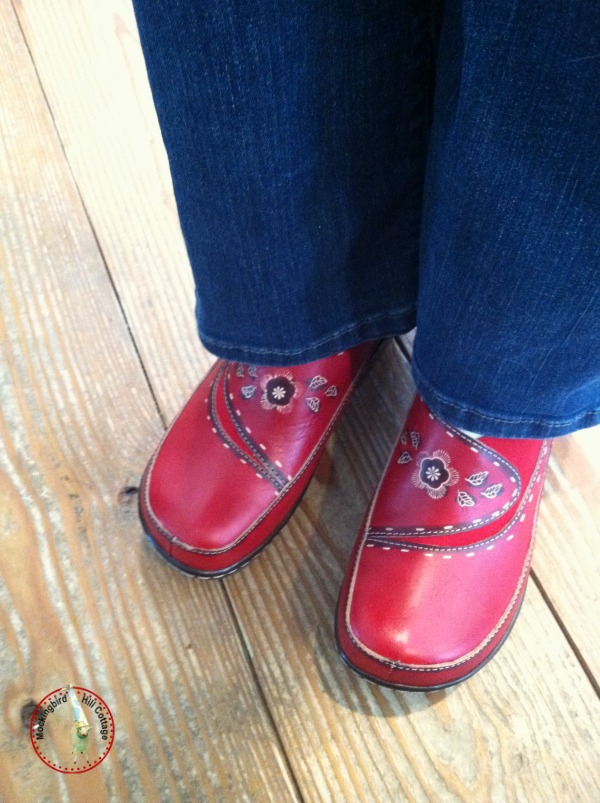 Don took this photo with his iPhone. While I'd love a pair of red cowboy boots, they aren't the most comfortable things for me to wear with their narrow toe box, so I guess these are my version of red cowboy boots.
Who would have thought I'd be writing about a pair of shoes?
But they're red shoes.
Enough said.
By the way, I have a couple of sponsored posts coming up in the next week (both for things I recommend highly), as well as two book reviews – somehow all of these commitments ended up having due dates around the same time. Just giving you a heads up.
Link to Spring Step's website, where you can order the shoes.
Happy Wednesday.