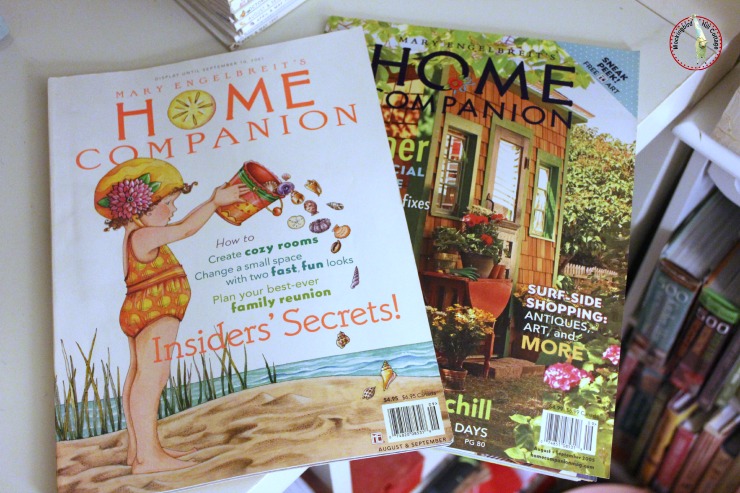 The other day I mentioned my stack of Mary Engelbreit's Home Companion magazines (hereafter referred to as MEHC.) I think I managed to save just about every issue. A lot of you commented that you also had hoarded away copies of MEHC. I thought that MEHC would go on forever, just as I thought Country Home and Cottage Living would go on forever. (By the way, I saved a lot of my Country Homes and Cottage Livings as well, but they're tucked away on one of the lower shelves of this bookcase and I can't get to them at the moment.)
My three favorite 'shelter' magazines. I loved them because they were lush with gorgeous photographs, eclectic homes, (unlike the trendy and like-every-other-home look I often see nowadays), wonderful features, informative articles. Opening each new issue was exciting, I knew I was in for a nice, long session amongst the pages. The sleeper among them, Cottage Living, was a brilliant mix of design, articles about cottage communities, how-tos, home tours, gardening  – every page was a delight.
When they went under during the 'magazine bust', as I call it, I was shocked. I even wrote about it on this blog. I went into my own little period of mourning. In the meantime, the internet, blogs, Pinterest, etc. have taken up a lot of the slack. But none of them are a substitute for the glossy pages of a reasonably priced magazine with informative articles that is perfect for holding in your hands while sipping a cup of tea.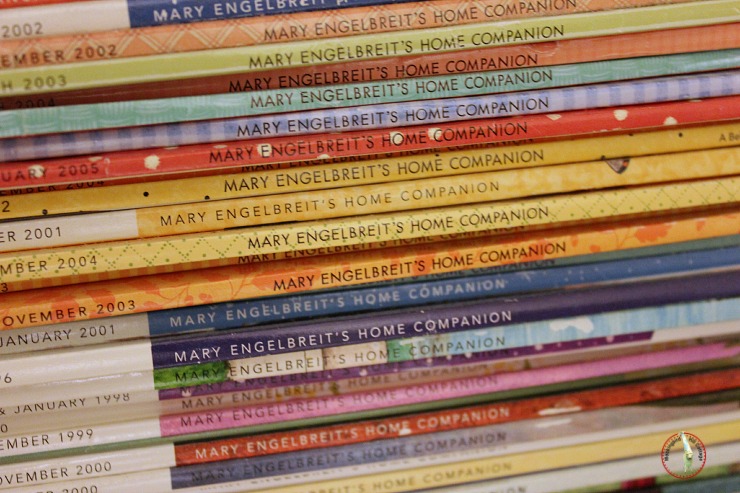 I used to be a sort of shelter magazine addict. I bought a lot of them every month. I looked forward to the day I knew I could find Country Home on my neighborhood magazine stand. I had a mental chart of each magazine's publishing date. I knew when MEHC would arrive in my local store and I couldn't wait to get my hands on a copy. I loved nothing more than sitting down with a stack of newly published issues. Such a wonderful treat!
Now? I buy a magazine about once every six months. If that. Partly because I'm very careful with my money but mostly because I find the content less than inspired. Country Living doesn't really do it for me anymore. Sad to say, it doesn't inspire me. I usually stand in the aisles of the supermarket or the bookstore and thumb through the pages of an issue, carefully considering whether or not I should put out the cash to bring the magazine home with me. Almost always I come up with a firm "No." And when I cave because I just want to treat myself, to try to re-experience that old pleasure of finishing everything I need to do so I can sit down and lose myself in the pages of a magazine, I end up disappointed and feel like I wasted my money.
Much of this is due to the competition from the internet and from blogs. How many times do you pick up a magazine and see a feature about a home and realize you've already seen it on the internet? It has to be tough for magazines to come up with original content. I don't envy them that task. And while I'm thrilled for fellow bloggers who get featured in a magazine (I've been there a time or two and, believe me, I felt proud and honored) I seldom buy those issues because I'm already familiar with the content. If I had a lot of disposable income, it might very well be a different story.
There is also the sheer glut of home and decorating blogs and photos everywhere online. If that overabundance makes me tired, and it often does, then I'm probably not going to put out money to buy more of the same.
I also don't want to pay $7.99 for a glossy issue that is 75% ads and 25% content. I understand the need for ad income and I wish I could fork out the money to support those magazines, but money is just too tight. I'm on a strict budget. On the other end of the spectrum, the Stampington magazines, Where Women Create, Somerset Life, etc. are gorgeous, beautifully designed, lush and a treat for the eyes, but they are over $15.00 a pop. They are worth every penny but I can't afford them. And I still love specialized, niche magazines like Studios, where I know I will see lots of new-to-me features. Oh, and I forgot to mention Flea Market Style, which I adore, and buy.
Of course, I'm talking about my personal preferences in reading matter. I know that yours might very well be different. I'd love to hear about them.
So, some questions for you this morning, sparked by your comments on my stack of MEHCs. What shelter magazines do you miss? What magazines do you routinely buy? Do you subscribe to any magazines? What are your thoughts?
Happy Tuesday.