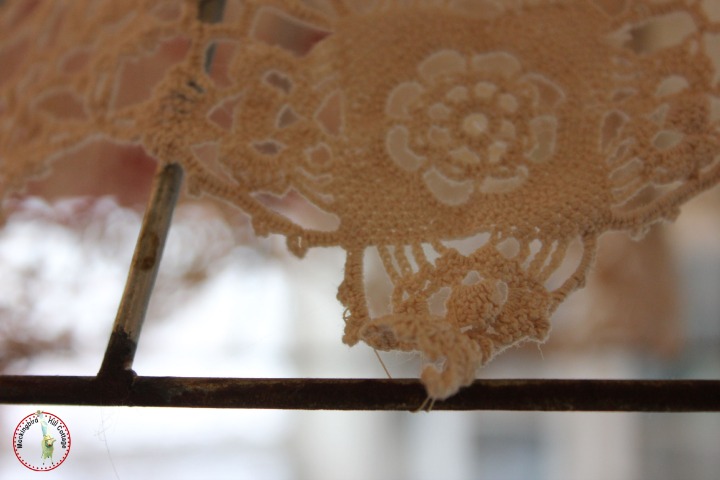 That's a close-up of the hanging lamp in the kitchen. Why is it here? I just like the look of the crochet against the metal frame. You can see where I secured the vintage crochet pieces to the frame with quilting thread.
Well, all the warnings of 3 to 6 inches of snow were clearly overblown. We had a few flurries. That's it. All day long we waited. Don had dashed out in the morning to get a few things at the store. We canceled any other plans for the day we might have entertained.
And….nothing. We ended up being just north of the line on the map where the snow stopped.
We were curiously disappointed. When we know a winter storm is coming, we get a little excited. We feel a tingle of anticipation. It's not as if we want to shovel a lot of snow, far from it. But we love feeling safe and snug in our little cottage, tucked in for the duration of the storm. We love watching the snow fall outside our windows, knowing we don't have to go anywhere and that a book or an old movie is on hand to entertain us.
That's a luxury, I know. Believe me, there have been plenty of times in my life where I had to be out in the storm, where I had to drive on treacherous roads, where I gripped the steering wheel for what seemed like hours as I prayed that I would make it home safely. Once, back in Detroit, I was driving home from work and I turned onto an entrance ramp for the freeway. I lost control of the car and it spun out, turning 180 degrees until I found myself facing a huge semi. I thought it was over. But somehow, the truck stopped just short of my car, I managed to maneuver the car so that it was once again facing the right direction, and I made it home. Just writing about it takes me right back to that moment in time.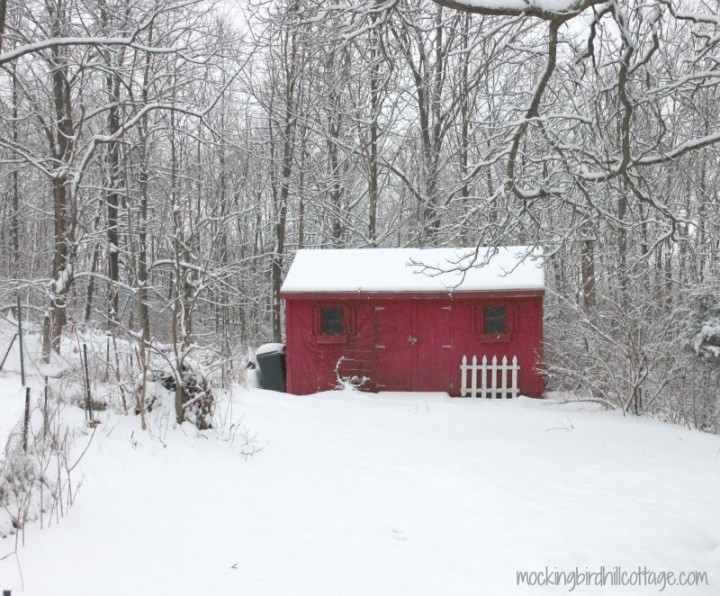 A few years back when we were living in our rental cottage, I had to be in Manhattan for a rehearsal on a day when a major snow storm was due. It was a one-time coaching gig and I didn't want to miss it, so I took the train into the city despite the warning. Don was back home and was going to pick me up at the train station when I returned. The rehearsal was many, many blocks from the train station – nearly to the Hudson River. Two things happened that day. The snow started falling heavily even before I reached the rehearsal and fell with increasing intensity as the day went on. And while I was working at the rehearsal, I experienced something that filled me with fear. My vision in one eye started playing tricks on me. I saw a flashing, pulsing light that formed a circle. It kept getting bigger. I had no idea what was happening to me, but I tried to act as if nothing was amiss while I watched the actors and talked with them and took notes on their rehearsal. All the while the circle kept increasing until I thought I must be losing the vision in my eye or having some sort of stroke. I distinctly remember using an excuse to go to the bathroom so that I could have a moment of privacy. I stared at my face in the mirror. Nothing looked amiss. But still the pulsing light increased. I was in a panic. All I could think of was that I wanted to get home. By the time rehearsal ended, the pulsing had decreased somewhat and I slogged through the wind and the snow that stung my face as I made my way back to the train station. I was scared. By the time I got on the train, my vision was back to normal. When the train dropped me off at our local station, the roads were nearly impassable. I didn't see Don anywhere. Finally, I figured he couldn't get the car out of our driveway and I was going to have to walk the couple of miles it took to get back home. I struck out on my journey, barely able to see, still worried about what had happened to my vision, wanting to sit down and cry. I think I had walked about a half mile or so when I saw our car and Don rescued me and took me home.
I found out later that what I had experienced was an ocular migraine and that it wasn't the end of my vision or anything other than a form of migraine. I still get one every once in a while and I've learned to relax and wait about a half hour or so until it goes away. But that day, that snow storm, the rehearsal, the travel back and forth to Manhattan and the strange thing that happened to my vision are intertwined in my memory.
One other: years ago, Don was working in Calgary, Alberta. I flew up to visit him. On his day off, we had planned to visit a lovely inn that was recommended to us by the management of the theater. It was in a ski resort area called Kananaskis in the Canadian Rockies. There was snow in the forecast. As we left Calgary and drove west the snow became alarmingly heavy. We detoured to Banff because I'd never been there (I bought a hat there that I still wear today) and then backtracked toward Kananaskis. The weather was deteriorating but we didn't want to cancel our plans. There were white-out conditions as we drove, cars were spinning out everywhere we looked. We could hardly see at times. We had no choice but to keep on going but we were as tense as I ever remember being during a journey. It took hours. Don somehow kept us on the road. I don't know how he did it. When we arrived at the inn, the management was stunned that we'd made it. We were snowed in there for a couple of days. Once we relaxed, it ended up being rather magical.
So many of you are coping with lots of snow this winter season. Do you have stories to share? I'd love it if you shared one or two in the comments.
Happy Wednesday.