Greetings from Topsy-Turvy House, where I stare at a mattress propped up against the wall as I write this post, where the vacuum is on display for all to see in the living room because the aforementioned mattress is blocking the closet where it usually lives, where paintings and anything that would have been in the way of the new mattress and its travels up the stairs are stashed in corners, piled up on desks, and shoved behind pieces of furniture. Where we sleep in one room but our clothes are in another room and I'm not sure exactly where anything is.
And where Claudia is so sore from sleeping on the guest room bed that she actually groans during the night. I think I'm headed for the sofa in the den tonight. Don mentioned the fact that we used to think of the guest room bed as the most comfortable bed in the house. I reminded him that I said that based on the memories of a forty-something Claudia, not the realities of a person who is now quite a bit older. And that I really haven't slept on that bed since long before we moved here.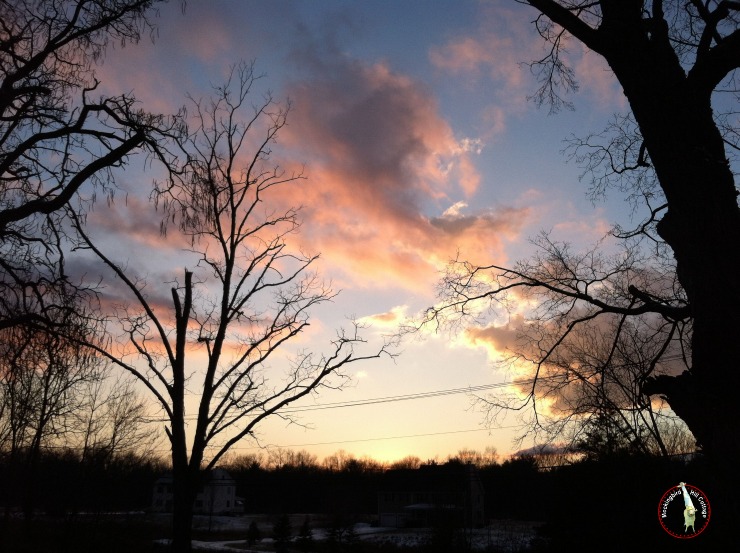 This sunset greeted us as we left for our late afternoon walk yesterday. We've been rather lax about our walks lately, mostly because of frigid and/or rainy weather. I've missed our daily ritual, so I suggested we reinstate it yesterday. The cold air felt bracing, the scenery was beautiful, and once again we were reminded of how lucky we are to live here. This area is so gloriously beautiful, even in the dead of winter; mountains on the horizon, a river across the street and one just down the road, nights filled with millions of stars in the sky.
See? Just writing about this makes me feel better. Gratitude is a powerful thing.
We might go see Philomena today. It's at our local movie theater which has a $5 matinee. I love Judi Dench and would be quite happy simply hearing her read her grocery list. I have to say that most of the films  nominated for Oscars this year leave me curiously flat. I really don't want to see them, with the exception of 12 Years a Slave and maybe Nebraska because I really like Alexander Payne's work. American Hustle just looks like a lot of over-the-top costumery gone amok. The Wolf of Wall Street? No. I'm going to be frank. I am probably the exception here, but I'm not crazy about Leonardo DiCaprio. I never have been. He's okay, but just okay. His voice is too lightweight, it doesn't have the gravitas necessary to match the roles in which he is cast. I'm also not a fan of Matthew McConnaughey, who is nominated for Dallas Buyers Club. Don't get me started on his new HBO series, True Detective, which we watched last night. I tried, Matthew. I gave you a chance, but I regret to say I am still not a fan. To be fair, you weren't helped by your director or your co-star, Woody Harrelson. All in all, an exercise in self-indulgent acting by both McConnaughey and Harrelson that could have been reined in by a stronger director.
So there you go. That rules out three of the top films nominated. Would I watch them someday on HBO or Netflix? Maybe, but doubtful. Oscar voters seem to be unduly impressed by outlandish costumes and wigs and actors who lose or gain a lot of weight for a role.
I've seen Gravity and loved it. I've heard nothing but good things about Philomena. The two other films I would really like to see are Enough Said with the late, great James Gandolfini and Julia Louis-Dreyfus and All is Lost, starring Robert Redford in what many critics have said is the performance of his career. So why wasn't he nominated? Ridiculous. Too often the Oscars are all about films made by big studios with the money to wage an expensive campaign. Hmmm. Sound familiar? Just like our elections.
Anyway, these are just my opinions, obviously – Claudia as critic. (I seem to be speaking about myself in the third person today.) But for the first time that I can remember, I have no interest in watching the Oscars. I'm thinking an old movie on TCM might be a better option.
Okay. I've indulged in enough opinion for today. Thank you for putting up with it!
Oh, my favorite, Sherlock, starts tonight on PBS!
Happy Sunday.