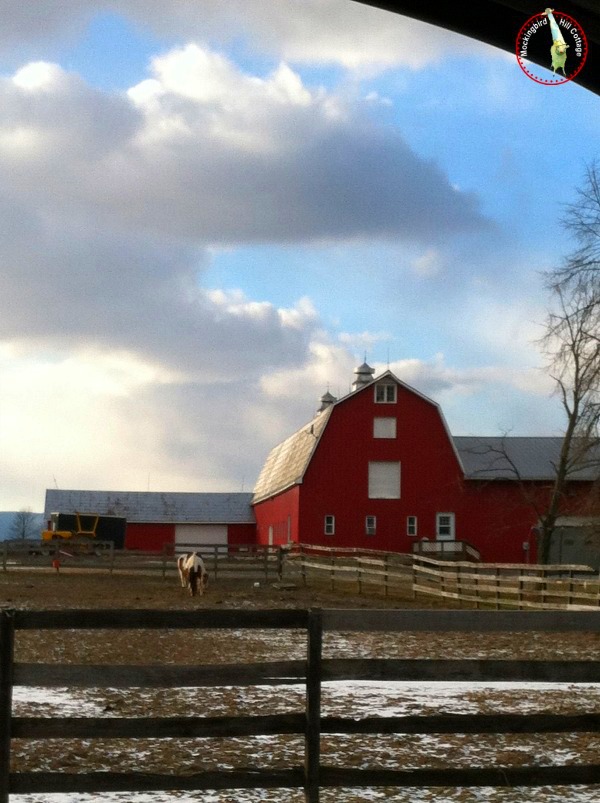 Just down the road from our house, we encountered this lovely scene. Out came the dueling iPhones as we both snapped pictures of the barn and the horses and the sky.
May I say a word or two about my husband? And marriage? One of the joys of marriage or a long-term committed partnership is the precious knowledge that someone loves you and accepts you despite your flaws. That person loves the total you, the whole package, good and bad.
For so much of my life before I met Don, I had secrets. I'm talking about those private fears and insecurities that we hold close to the vest; that we feel ashamed of, or embarrassed by, that we might not share with anyone else. I didn't have a lot of them, but I had them. And I bet everyone, if they were being totally honest with themselves, would admit to the same thing.
Then along came this man who changed everything. I can tell him anything. He won't judge me. He won't think me 'less than.' He simply accepts me as I am. I'm profoundly grateful.
Yesterday morning, when I was paralyzed with fear about going to the dentist, he calmly took control. He made phone calls to our new dental insurer. They had assigned us to a primary dentist, but Don thought it was too far away. So he checked out another dentist on the list – this one happened to be six miles away from us – and asked a lot of questions, one of which was whether the dentist was compassionate toward fearful patients. He took care of changing the primary dentist to this new dentist and, though I was hopeful I could put the appointment off a day because I was scared, he made an appointment for that very afternoon. I needed him to take charge, though I never said that, and he did. I am so very lucky.
Don said he went with his gut and his gut told him this was the guy for us. His office is in a neighboring town, small, unpretentious, with wood paneling that has probably been there for years. In fact, he's been in practice for 35 years. There's a small town feel to it that I liked very much. When I met the dentist, I told him about my fears, in fact I used the word 'phobia,' and he nodded calmly, took it all in stride and then he made me laugh. The work was painless, mainly because I had had a root canal in that tooth so there was no sensation. He did some work on the tooth under the crown, but there was decay there, so we'll see if it works. (The story about why there was decay is one for another day. Let's just say I'm not happy with my former dentist.) He asked me if my husband was there with me and I said yes and he said 'Let's bring him in here.' So Don sat in, held my hand when necessary, and my shaking legs started to settle down. There's more work to be done on my other teeth, but he didn't pressure me to make another appointment. He just said that when I was ready, he would take some X-rays and we'd figure out a plan of treatment. He is very wise. I like him very much.
I still have to work on this fear I have. I'm a work in progress.
So thank you dearest husband. And thank you newest dentist.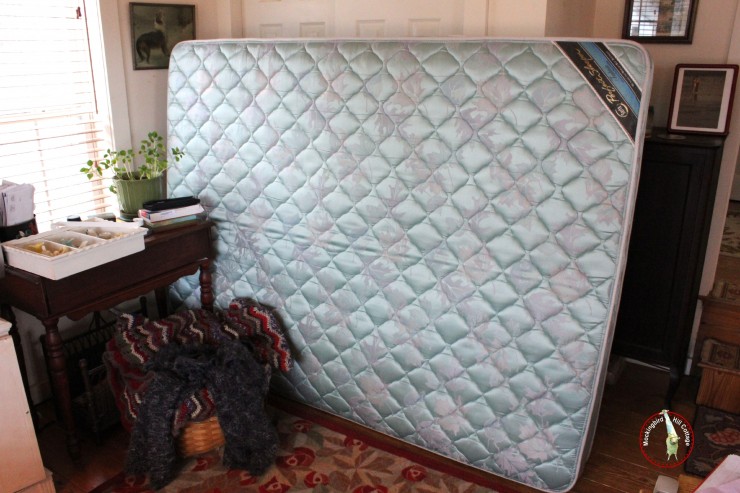 (The view from my chair. You thought I was kidding?)
Okay. One more thing. I'm trying to be patient, but I'm quickly getting tired of all the topsy-turvy-ness of this house. I can't set anything to rights until that darn mattress arrives. I talked to the woman at QVC yesterday, who had been snowed in for two days and couldn't make it in to work, and the latest news is that the mattress will be shipped to the delivery company next Wednesday. That is disappointing because I thought we would have it here by then. Once it gets to the delivery company, we'll still have to wait a few days until they deliver it. At this rate, Don will get to sleep on it for only a few nights before he has to leave for Boston.
I can't do anything with the studio, either bedroom, my crafty closet or the den – all of which need to be sorted and rearranged – until the danged mattress is delivered. It's making me nuts. The good news: my body adjusted to the guest room mattress and I'm no longer having any problems at night. It is definitely in better shape than our old mattress. Don and I have figured out how to maneuver in that tight space. I probably won't know what to do with myself when I can sleep on a larger mattress!
Oy. Though we've never had construction done while living in this house, I imagine this is much the same feeling; everything is out-of-order, everything is on hold, until it is finished.
I. don't. like.
A reminder. Our Christmas Critter Felt Along Linky Party will be on January 27th and the links will go live the evening before – on the evening of January 26th. So get ready to show us your Felt Christmas Critters!
Happy Friday.