Countdown until mattress delivery: T minus 2 days and counting.
Meanwhile, Don and Claudia had a lovely day yesterday, frolicking while out and about in a neighboring town. For a few hours yesterday, it was warmer (in the high thirties!) and sunny. I had a flash of spring fever, but only a flash, as the fact that it was only February 1st could not be ignored.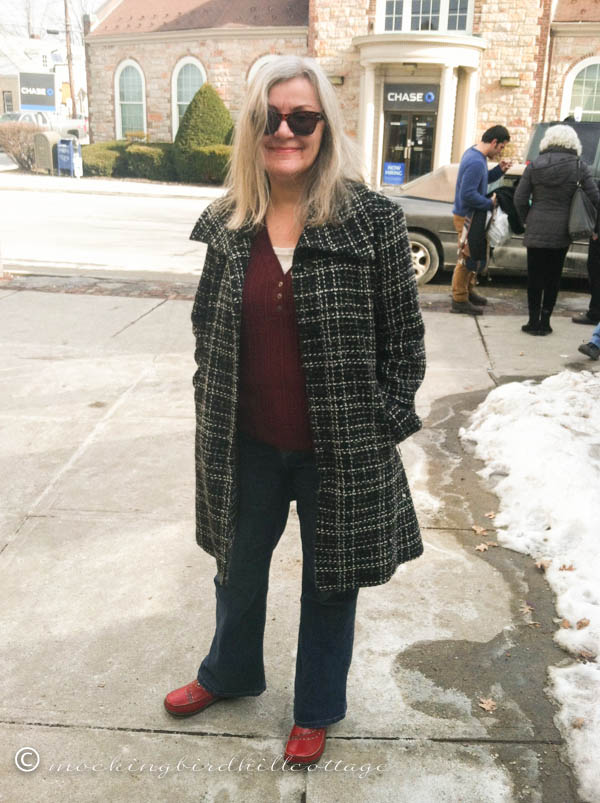 Here I am, outside of Starbucks, clad in my red shoes. My hair isn't this gray most of the time, it has a lot of brown in it, but when I'm standing under direct sunlight, wow. It's gray.
The red shoes are unbelievably comfortable. Heavenly to wear. That's my Calvin Klein coat that I got at a deep, deep discount a few years back. It looks vintagey and that's why I fell for it.
We went back to the newly discovered antique shop, found a parking space that was non-metered, and spent a long time there. I got some photos but I must tell you that the aisles are narrow and it's awfully hard to get a good photo – especially with my iPhone. But here goes.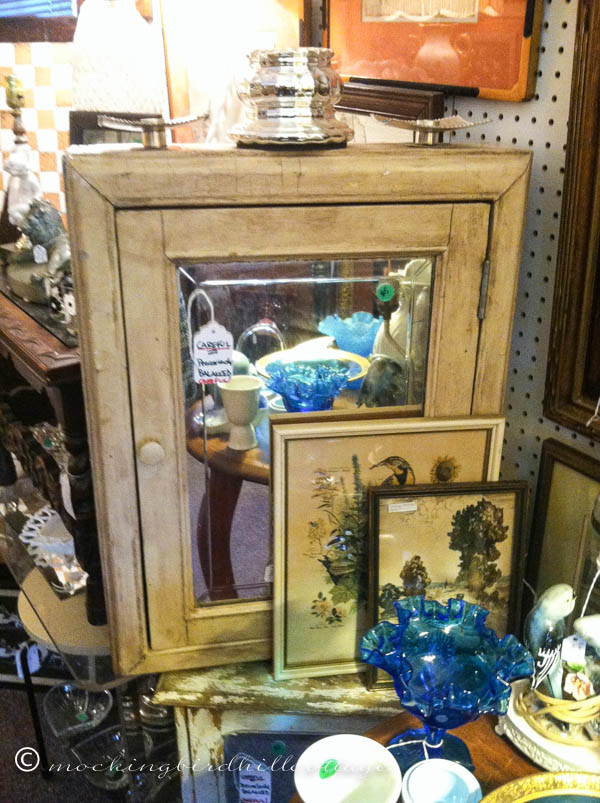 I've been searching for a vintage medicine cabinet for the bathroom and this shop has two of them.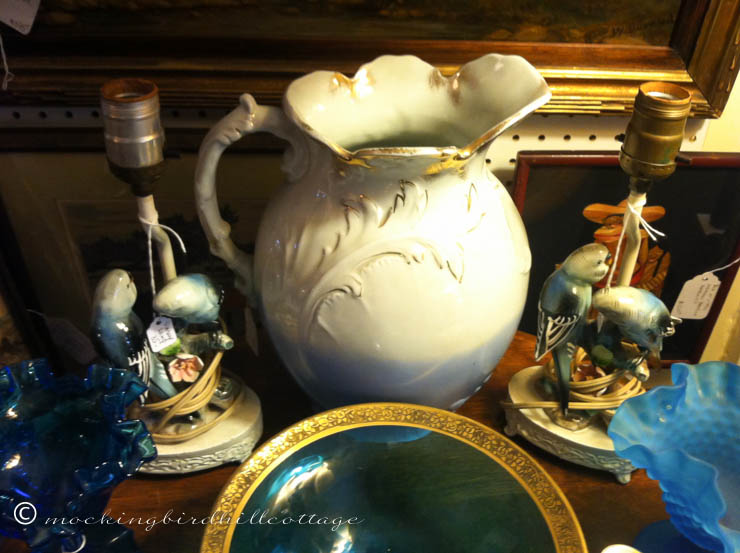 Look familiar? I have the same parakeet lamp! Donna, this shop has a pair of them! I remember how much you wanted one. Give me the word and I'll get one or both for you.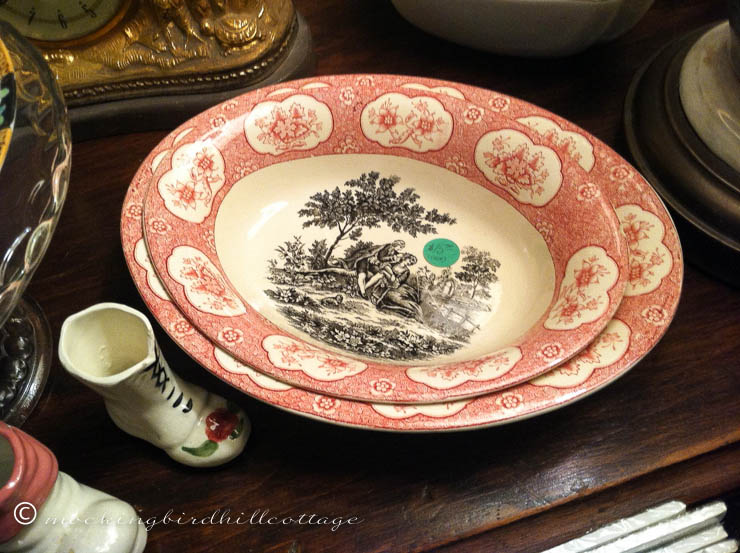 Love this china. It reminds me of something I might find in Tina's house.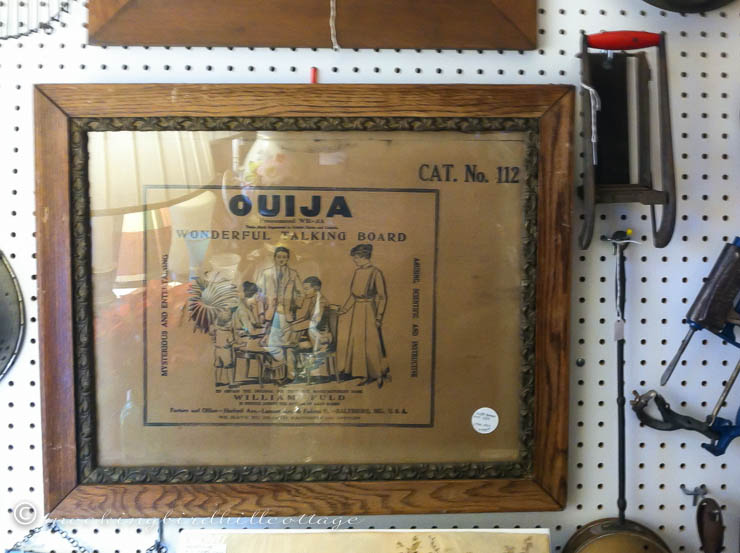 Wonderful vintage ad for the Ouija Board.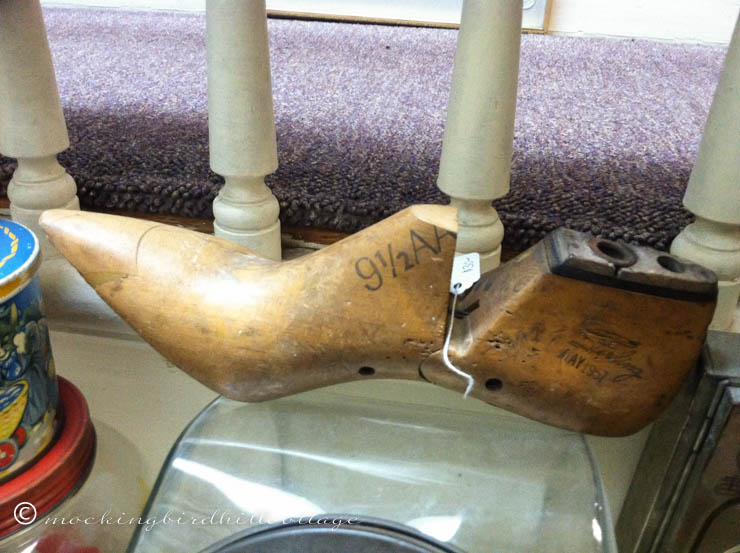 My shoe size, though not quite that narrow!
Don loved this painting. Original oil, $650.00. Ummm, I don't think so.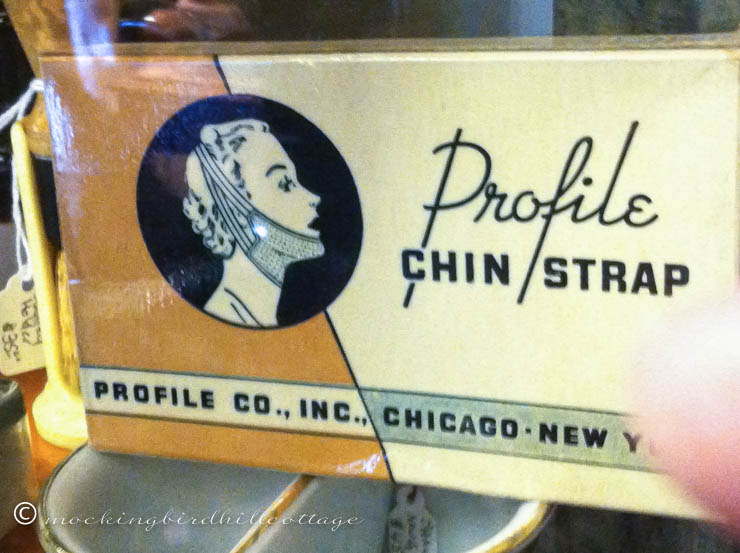 This was inside a glass case. I'm thinking I need one of these. I have a pesky double chin that I'd like to tighten up. When I asked Don if he could go along with me wearing one of these at night, I was on the receiving end of some eye rolling.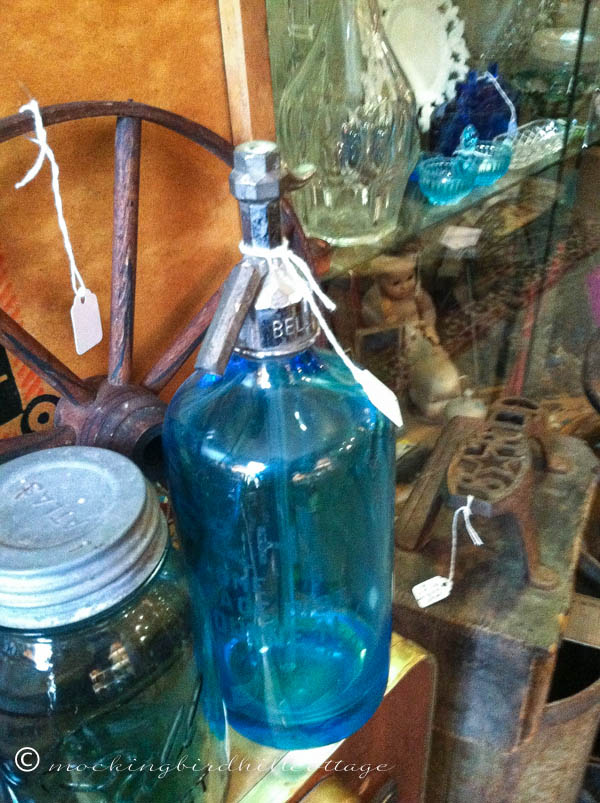 I have my eye on this vintage seltzer bottle in the most beautiful shade of aqua. It may have to come home with me.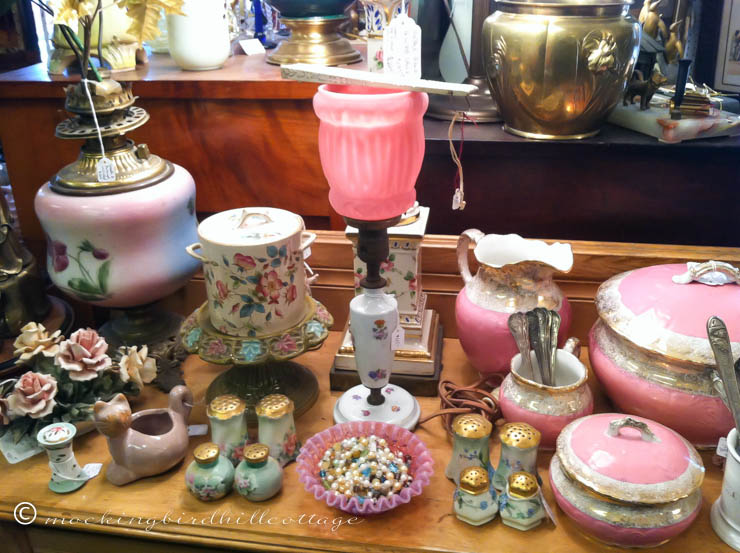 Sigh. Very, very pretty.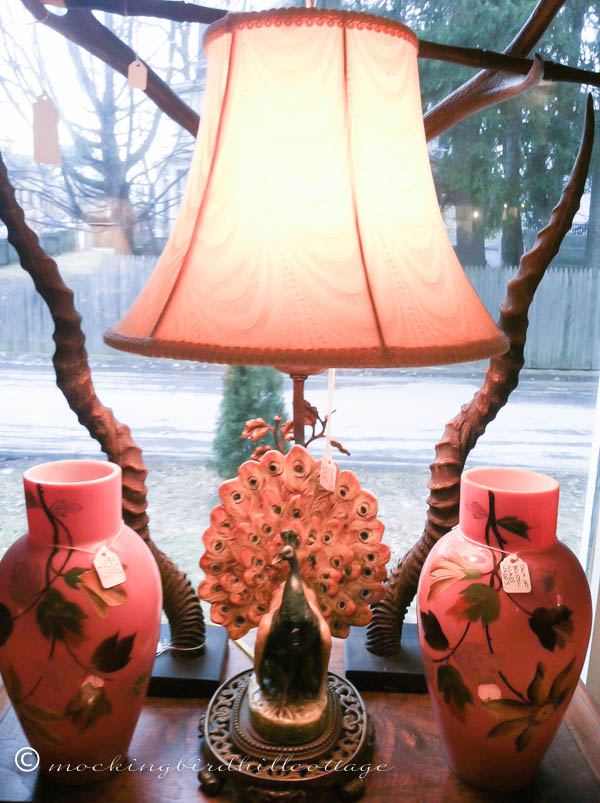 I sort of fell in love with this peacock lamp. I love quirky, unique lamps and this certainly fits the bill.
This is just a minute sampling of what's in the shop. I promise more photos in the future. Now that I know the shop manager, I'm sure she won't mind me taking some with my Canon. There are some beautiful furniture pieces as well. It's so densely packed with antiques of every sort that it's hard to step back and frame some sort of photo. Gorgeous vintage jewelry, vintage packaging and military memorabilia, exotic masks, tiny collectibles, kitchen collectibles, lots of artwork, vintage maps and posters, china, pottery….you name it. And the manager has organized it all in like groups. So every display makes sense and once you realize that everything has its place, the sheer amount of inventory isn't so overwhelming.
We found something there on our first trip that we fell in love with. We both took pictures of it on our iPhones. We talked about it when we got home. We crunched numbers. We talked about it again. I worried. Don worried. We researched the piece online and found the price to be very fair. It's highly collectible and, more than that, it was calling our name.
We slept on it.
When we got up the next morning, we knew we had to get it. Sometimes you see something that you fall in love with and you are willing to sacrifice a bit to have it in your home. Of course, everything is relative. What is a chunk of money for us is a minor expense for others.
We bit the bullet and bought it. I've decided it will be our Valentine's Day gift to each other. Now, with that teaser, I'll leave you until tomorrow.
Happy Sunday.