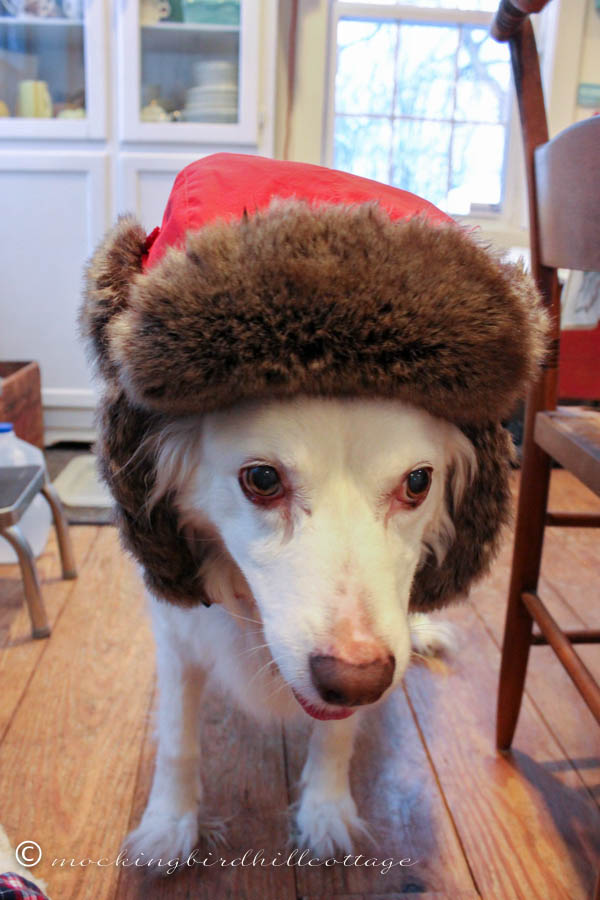 It's simply horrendous here. We have been through a storm unlike any other I've seen, with the Hudson Valley (where I live) bearing the brunt of the snow. I'd say we got at least 20 inches – on top of the 12 that were already on the ground. My car is buried. My back is already sore from shoveling yesterday. My neighbor took a pass at the driveway during the day but believe me, so much snow has fallen since then that you'd never know it. Late last night the snow changed to sleet for several hours and then back to snow.
I have no idea how I'm going to shovel my way out of here. I've managed to stall Scout this morning so I can have some coffee before I go out to shovel a path for her.
Valentine's Day? Don't care. Not really into that today. There has been too much devastation from this storm.
The only thing that made me laugh yesterday? Putting this hat on Scout.
This will be a short one. I've got a lot to do today.