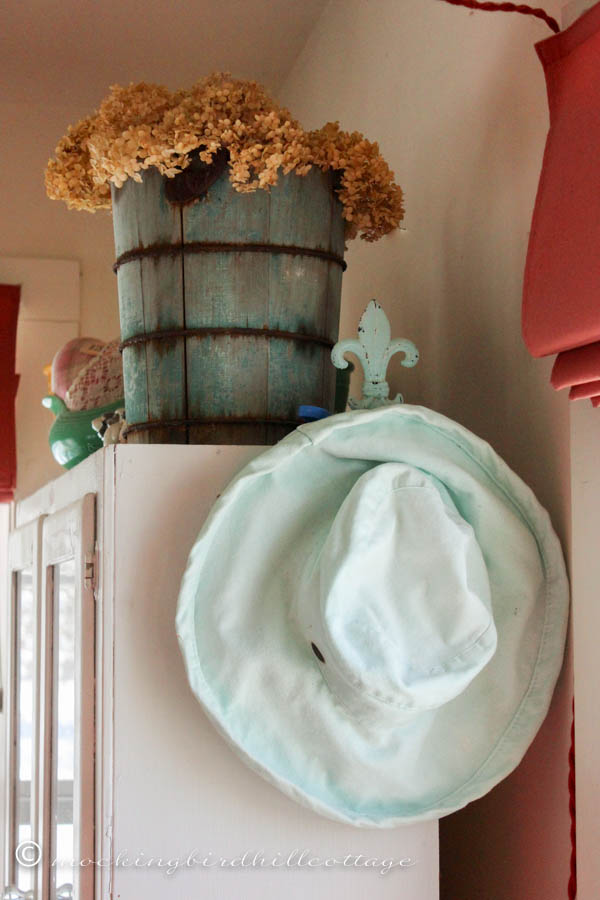 Oh gardening hat, you look charming. It's been a long time since you've been worn by the mistress of this cottage.
Soon, soon.
I write this accompanied by the honking of Canadian Geese flying overhead. I love that sound. Many, many of them hang out on the river that's just down the road. They honk and talk to each other, then some will suddenly take off and fly in a V formation. Others will stay behind. I find them fascinating. Sometimes I'll see just a few on my walk by the river. At other times, it looks like I'm sneaking into a Convention of Canadian Geese. So many!
Yesterday the temperature topped out at over 50 degrees. The sun was shining. A tease, for sure, as temperatures will plunge again this week. But it was so nice. Tina and Noble stopped by and we chatted at the top of the driveway, feeling the sun on our faces. I can't say with any honesty that I felt spring in the air, but I definitely felt a momentary sense of relief. It will take a long time to completely melt the huge amount of snow around here but I can see less snow on the roof and hear the drip, drip of melting ice in the gutters. The cold will return tomorrow.
Don was walking home from rehearsal the other night with some fellow cast members and there was a sudden heavy rain, out of the blue. His iPhone, which was in his pocket, got wet. Uh oh. He's tried to dry it out in a bag of rice, which is the usual recommendation, but it's still wonky. There is no landline in his apartment so we skyped the other night. It was so good to see his darling face! In the meantime, he bought a temporary phone and has an appointment at the Apple Store tomorrow. Let's hope the phone can be saved.
My recommendations: 1. Get an umbrella. 2. In the future, stash the phone in the inside pocket of your coat, right next to your Kindle.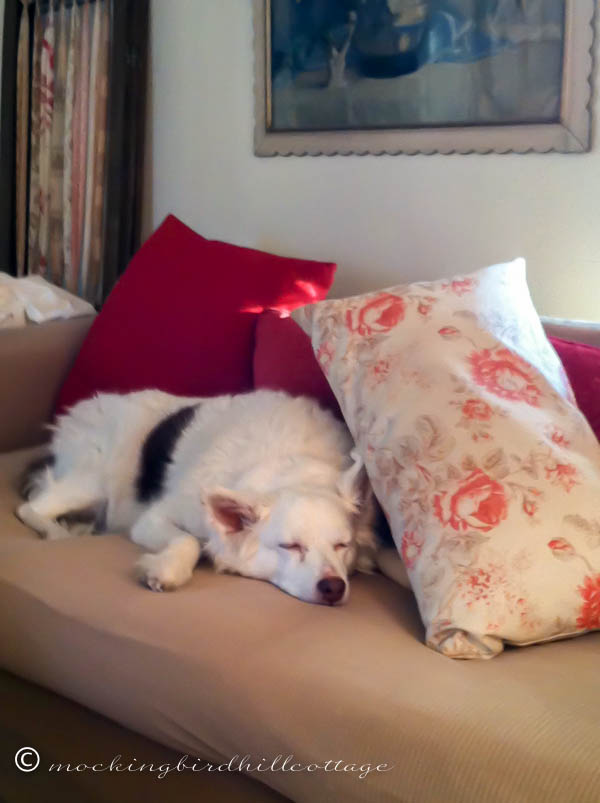 Scoutie snoozing. She gets up on the sofa in the den and noses that flowered pillow out of her way. Sometimes it lands on the floor. This time, it ended up in this position. Note folded ear on the right. My tired girl has had a hard time of it lately.
The big news can now be revealed. Please visit my sister's post for today entitled Beautiful Blessings. I've stayed silent about this miracle until my sister decided it was the right time to post about it. We're over the moon about this news! I will write more about little Z later; for now, let Meredith tell you this story. I cannot tell you how much I love and admire my sister and how thrilled Don and I are to welcome this sweet child to our family.
Tomorrow is our monthly linky party for the Christmas Critter Felt Along. I will be putting the post up at 6:00 pm this evening. So stop by tonight or tomorrow and link up your February creations. See you then!
Happy Sunday.