Of course, not every corner is worth highlighting, but I'm starting a little series that will aim a spotlight on a smaller areas and niches in the cottage. Who knows? It may end up being a very short series! Here goes.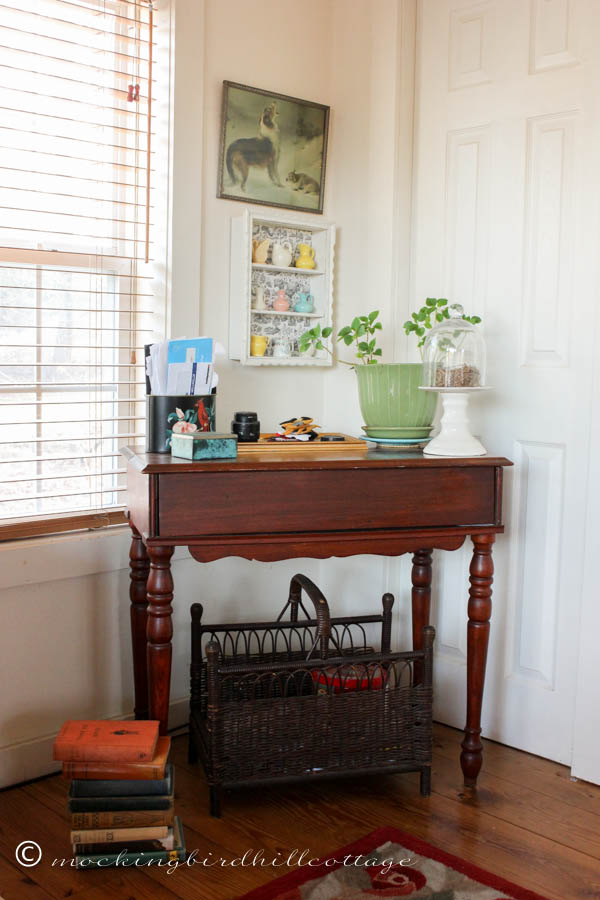 First up: this little corner in the den.
What's that piece of furniture? The cherry spinet desk was a local find. It used to be by the stairs and my little white freebie-street-find desk was in here. They've recently changed places. Because this corner has a lot going on already, we decided to close the desk up and use it as a table.
What's on/in it? A hand-painted tole letter holder (it holds bills that need to be paid,) a vintage cigarette box that I got in Edinburgh, a framed print that I'm using as a tray and which holds my lenses and a stack of already made felt critters, a pot of impatiens that will eventually return to its original home on the porch, a bird nest I found on the property that is under a glass dome.
What's on the wall? The Lost Lamb print in a beautiful vintage frame that I purchased from my blogging friend, Debra, is at the top. Underneath it is a vintage shadow-box type shelf that had a dark finish and mirrored back. I painted it and covered the mirror with scrapbook paper and now it holds my miniature pottery collection.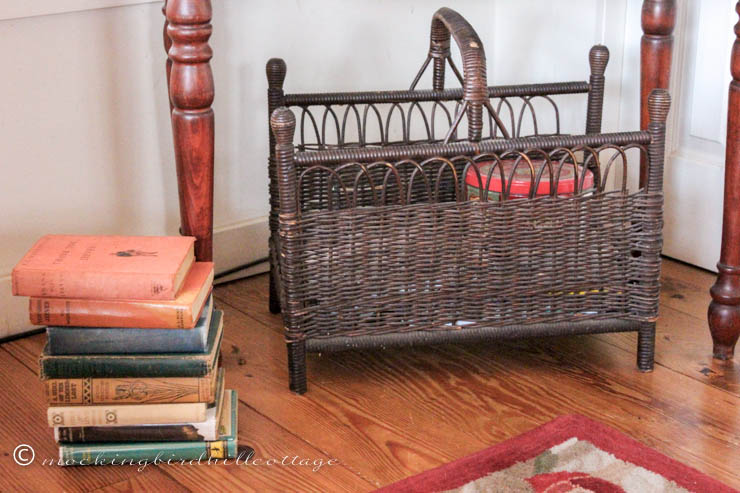 What else? On the floor is a stack of vintage books, books that we have read and truly love. Next to the books is a vintage wicker piece that could hold logs or magazines or a host of other things. Here at the cottage it holds some reading material and my tin of hand quilting supplies.
Any challenges? Yes. This little space is nestled between a window and a closet. So whatever we put there has to be able to exist in that space and also be fairly easy to move. The window cannot be blocked because it is the home of a window air conditioner in the summer months.
And there you are. I hope you like this little series!
Happy Saturday.