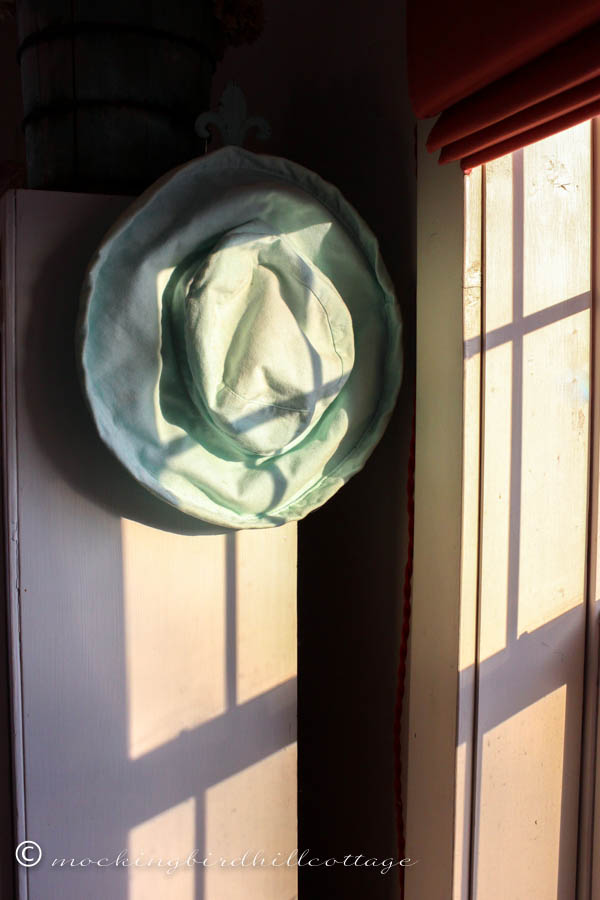 • Weather-wise, we were fortunate compared to some of you, who I know got lots more snow. We got a lot of rain, then sleet, flash freezing and ice, and a dusting of snow. The ice continues to be a pain in the tush for Scout. That poor girl has to navigate a dog corral that one moment is squishy and slippery with mud after a 57 degree day and the next moment is full of treacherous ice patches because we had a flash freeze. This morning she stopped right behind an ice patch that was outside the kitchen door and just stared at me with an expression that said, "I have to deal with this again? Enough already."
I get it, my girl. I echo your sentiments. I have more than had it with this bizarre winter. I feel like most of the time Don has been away, I have been putting all my energy into coping with the elements. Chopping ice, shoveling snow, figuring out how to get the ice dams on the roof to melt, trekking through four foot high snow drifts to rake the roof, salting, clearing several feet of snow to find the downspouts and gutter extensions, worrying about the weight of snow on the roof.
I might not be cut out for the role of a pioneer woman.
• I'm feeling a bit stir crazy here at the cottage. I'm contemplating a trip south to IKEA and Trader Joe's. I need a change in scenery. TJ's has the best deals on fresh flowers and heaven knows I could use some around here. And sometimes I simply need to take a jaunt through IKEA. Today might be the day.
• I'm reading The Cuckoo's Calling by Robert Galbraith. It's a very well written mystery that got great reviews in Great Britain when it was published.  Then it somehow got out that Robert Galbraith was really J. K. Rowling, author of the Harry Potter series. She wanted to publish something under another name, free of all the expectations that would come if she published a new series under her own name. She is a wonderful writer.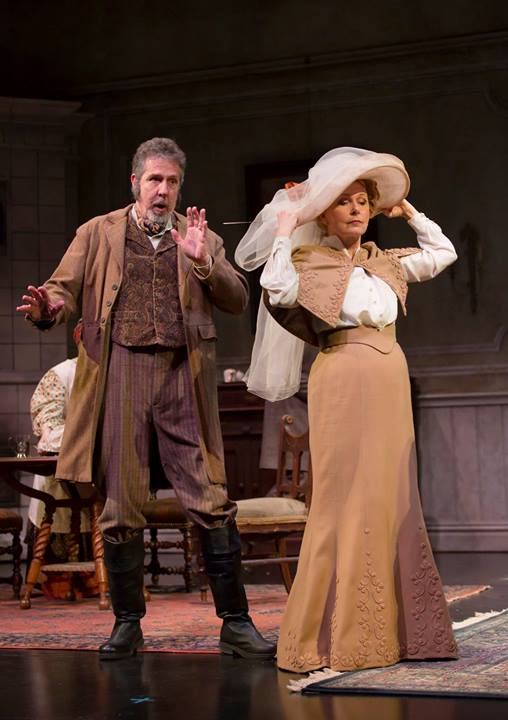 Photo © T. Charles Erickson/The Huntington Theatre Company
• The Seagull by Anton Chekhov opened Wednesday night in Boston. Here's a photo of Don with Kate Burton (a wonderful actress and the daughter of Richard Burton.) Now all the rehearsals and long days are over and Don can settle into the run of the play.
I love Chekhov. I was in The Three Sisters when I was an actress and it remains one of my favorite experiences. I've coached several different productions of Chekhov's plays. He was such a wise man, so attuned to the complexities of the human spirit. And very funny, as well.
Check out those mutton chops on Don!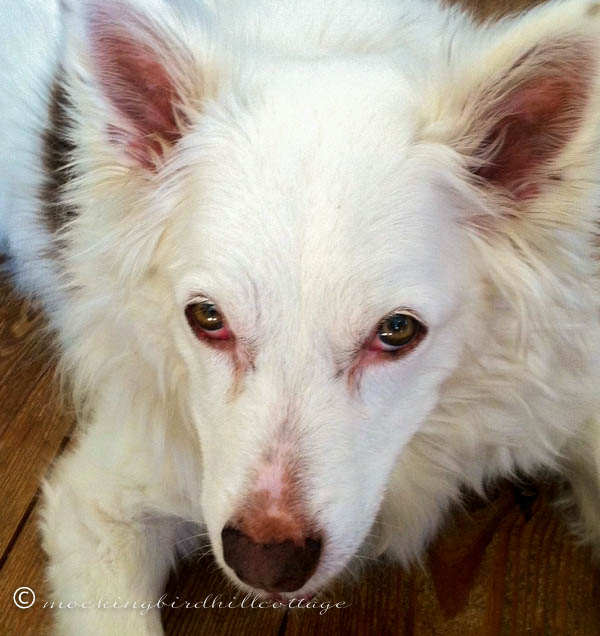 • My girl with a look in her eyes not unlike the look she gave me this morning. She's a beauty. And a handful. She misses her dad. We would go visit him, but he's staying in an apartment that is only reached by stairs – a lot of them. She just can't handle that many stairs these days. And she's too big to carry. So we have to stay here. If only there was an elevator there! There is Don, in the city where I lived for many years and still love, and I can't be with him. (And no, we really can't afford a hotel.) Ah well. It's frustrating, but Scoutie's health and well-being has to be our top priority.
• On a very sad note, my brother-in-law lost his mother yesterday, just two weeks after he lost his brother. Gracie was a wonderful woman who was the proud matriarch of her family. Loving, strong, wise – she was a role model for everyone. At what one would consider an 'advanced' age, she was helping build houses for Habitat for Humanity. John adored her, as did Meredith and my nephews. Rest in peace, Gracie. You will be missed by so many. We are blessed to have known you.
That's all for now.
Happy Friday.