The sump pump has been on overdrive here at the cottage. Rain, rain and more rain was the theme for Saturday and into the early morning hours of Sunday. Since the rain was to begin around noon on Saturday, Scout and I took our walk together in the morning. She went a little further than the last time – yay, Scout!
Right after that, I took off for my favorite little antique shop. I decided to treat myself as I hadn't been there in weeks. Everyone around here is emerging from their winter prisons and getting out again.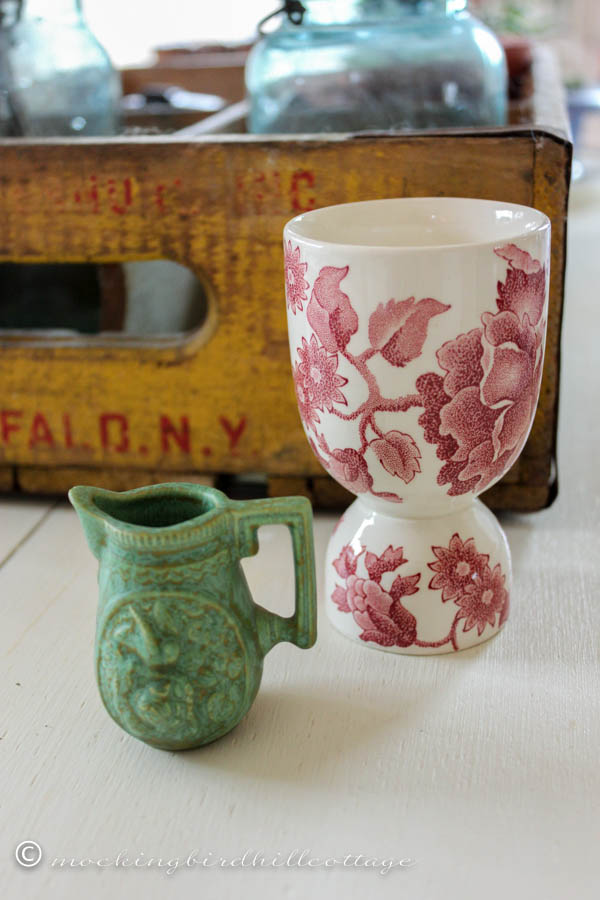 I brought these little treasures home.
The little mini pitcher will make an nice addition to my miniature pottery collection. And the red transferware egg cup? How could I resist?
Collecting smaller things like the miniature pottery or egg cups is something that all of you who are dealing with small space restrictions might want consider. They don't take up much space, and in the case of my collections, are pretty reasonably priced. You can amass a collection without it taking over your house, yet the display of your collection can pack a pretty powerful punch.
Back to my finds: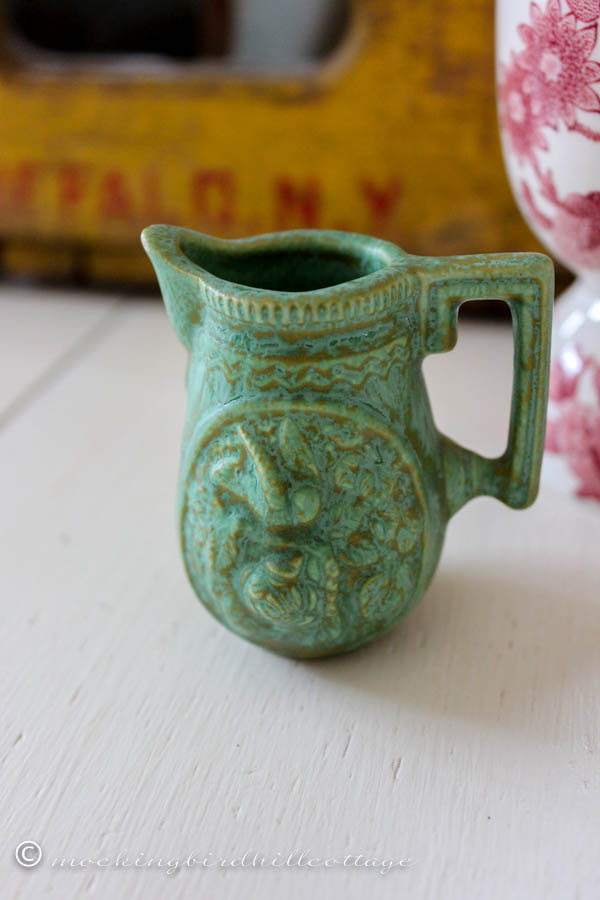 This pitcher is absolutely lovely, with a glaze that reminds me of Arts and Crafts pottery, something I researched when we were living in our little Craftsman cottage in San Diego. Depending on the light, this little pitcher looks green or aqua. That's a little bird and a flower in the design. On the reverse side there is another bird sitting on a branch. The pottery mark on the bottom of the pitcher is a thistle. Jean had another piece there with the same mark. She hasn't been able to find out anything about that particular mark, and my efforts so far haven't yielded any information.
It's probably worth more than what I paid for it, but since Jean couldn't determine the maker, I got a good deal. I really love it.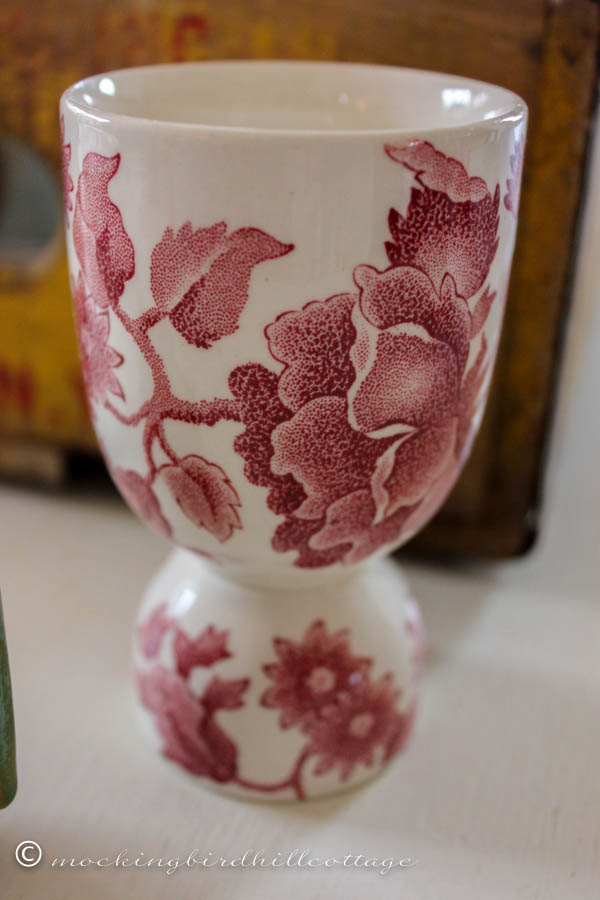 And do I need to say anything about this pretty double egg cup? I love transferware. I love red. There you go.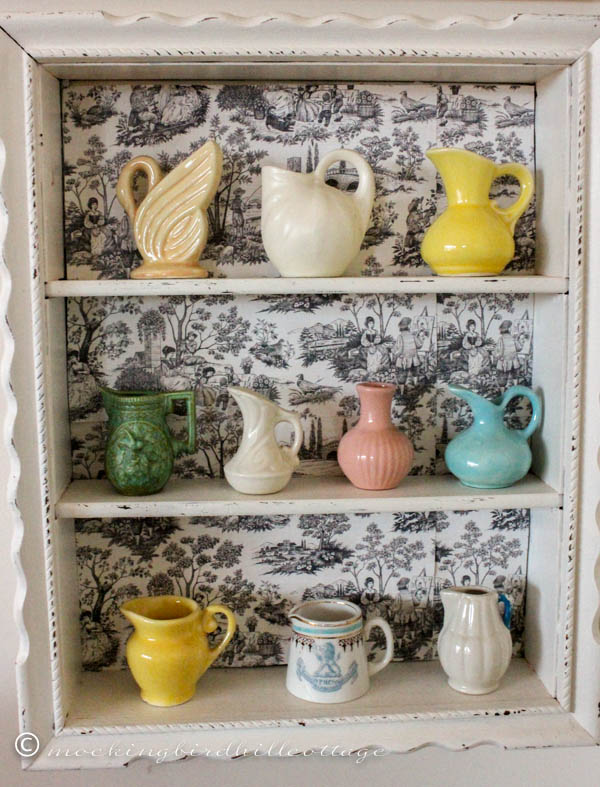 I couldn't seem to get a straight-on picture of the shadowbox (it's in a corner,) but here is the new addition. I think I'm going to have to search for another shadowbox. I'll soon be running out of room in this one.
Isn't the hunt for a piece the best? I like getting things on eBay and Etsy, but far more fun is the ongoing search where you have a little list tucked away in a corner of your mind and each time you open the door to a shop, the possibility of a hidden treasure awaits. And when you find something, that little surge of adrenalin hits and you quickly grab it. It's yours.
This shop has been a great discovery. I almost always find something there.
Maybe that's why I mustn't go there very often.
The winner of a copy of The Moon Sisters is Claudia! (Not me! Another Claudia.) I've just sent you an email, Claudia. Congratulations!
Oh, and to top yesterday off, I watched His Girl Friday on TCM last night – perhaps the quintessential screwball comedy. Rosalind Russell, Cary Grant, Ralph Bellamy and a cast of wonderful character actors, a witty and smart script with dialogue that is so well-written it takes your breath away and directed by the great Howard Hawks. Heaven.
Happy Sunday.