I tend not to have a lot of window coverings in this cottage. When we moved in, there were already blinds on most of the windows, except for the kitchen. I suppose the owner thought that the kitchen, which is in the back of the house, didn't require anything of that sort. However, I wasn't comfortable with that so I added simple roman blinds in red that are insulated, which turned out to be a good idea as it gets windy here.
For a wonderful couple of years, my niece and her family lived south of us in New Jersey. (They are now back in the Chicago area.) They were renting a house and she had these white roll up shades from Target that she planned to get rid of when they were about to move again (this time to Amsterdam.) Since I had nothing but basic white mini blinds on the living room windows, I gratefully took them off her hands. There are four of these shades, three in the living room and one in the bathroom.
This is what they look like: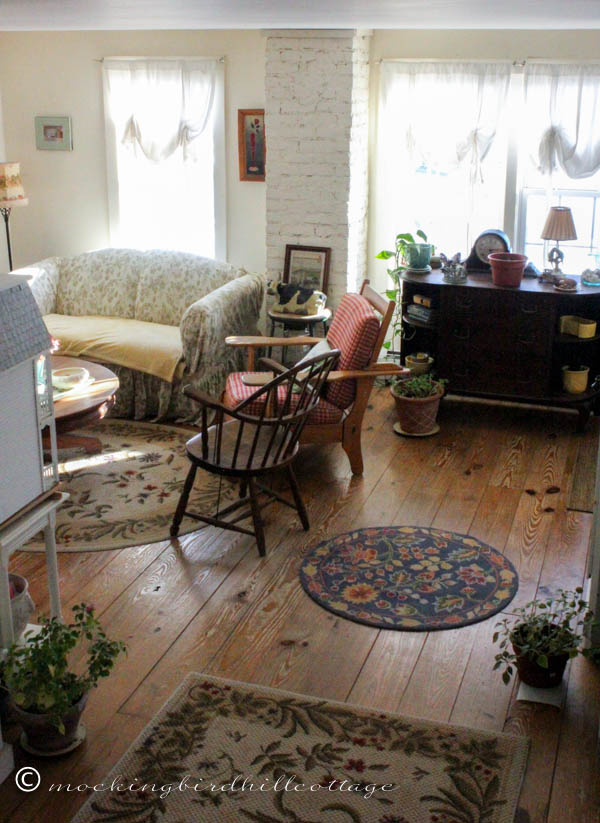 These windows are always hard to shoot because so much light pours in – but I think  you can see that the shades swoop down in the middle and have ties. Those ties, though you can't see it in this photo, hang down for a good 15 inches or so.
They've always been too long. They get in the way. They get caught in the blinds. They get dirty. They annoy me.
And, after 5+ years of these shades, the swoopy thing in the middle was really getting on my last nerve. It looked too from-frou, though I know that you will probably say, "Really, Claudia? That's not what I would call from-frou." I can't think of a better word. The swoops were too much. And they looked weird when viewed from outside the house.
They drove me nuts.
Not that swoops are bad, you might have them in your home – they just didn't work for me. In this cottage.
You know that feeling when something you've had around for several years suddenly irritates you? That's what happened with the shades. However, I cannot afford new window coverings. And when faced with any sort of decision about window coverings, my M.O is to run and hide. Curtains? No. We have too many windows. What color would I choose? Pattern? There's already a lot of pattern in our living room. We don't need more. Wall space is at a premium and I don't want part of the wall space taken up by curtains.
When in doubt, make do. That's my motto. Just a simple idea, but I wanted them to roll up more tightly, sans swoop, so that they covered less of the window and looked a bit sleeker.
No More Swoop.
So I threw them in the washer, along with some bleach, and the next day I figured out how tightly I wanted to roll them and how long I wanted those annoying ties to be. I ironed each shade and each tie, grabbed my tape measure, cut the ties, then sewed a new hem at the bottom of each tie.
Then I laid the shade out on my nice big California King bed (you can see I'm still thrilled with the new bed), inserted the curtain rod, rolled and rolled and rolled until I was ready to tie it off, crossed my fingers, and took it back downstairs to see if it worked. It took a surprisingly long time to do all of this. Iron, spray starch, measure, cut, hem. In the meantime, Scout paced and panted, adding an annoying soundtrack in the background. She doesn't like it when I disappear upstairs for more than a half hour.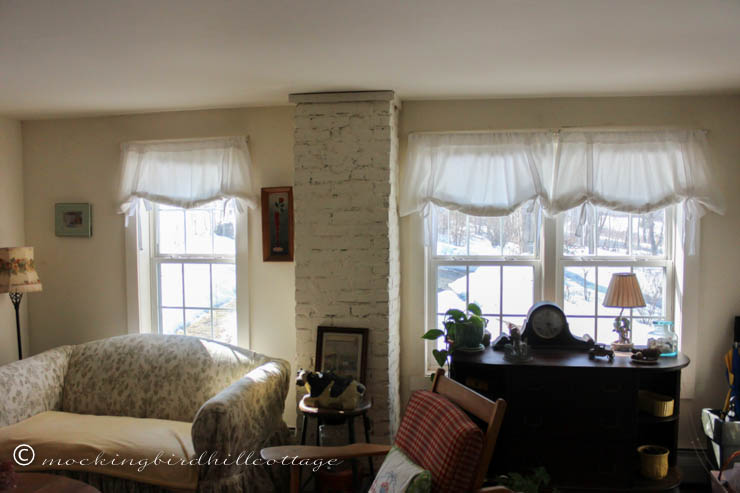 Better? I think so. In retrospect, I probably should have lopped off some of the fabric, which would have made  the roll itself less heavy. I never unroll them as we also have blinds on those windows. But this will do until the day comes when I can afford something else. (The bathroom shade went through the same treatment.)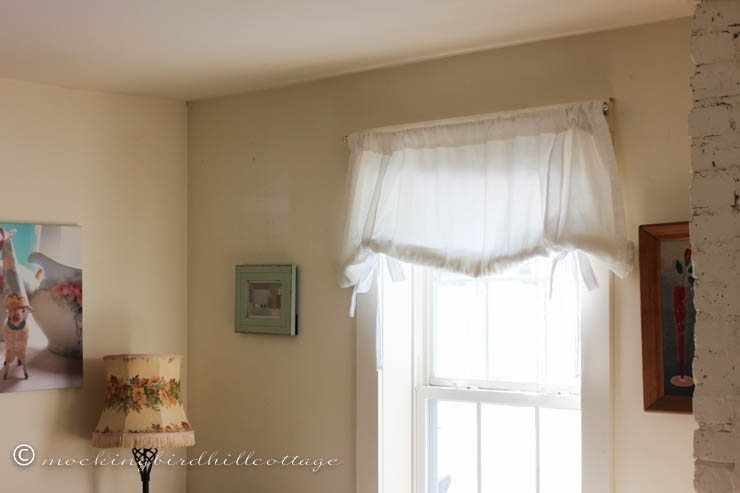 No annoying ties hanging the length of the window. I cannot tell you how glad I am to see them go. Why didn't I think of this sooner? I have no answer to that one.
And I just noticed for the first time, after living here over eight years, that the window frame above the sofa is taller than the frame around the other two windows. Or the window itself is not aligned with the other two windows. What?? I kept trying to line up the bottom of the shades on all three windows and it wasn't working. Now I know why.
This house gets funkier by the minute.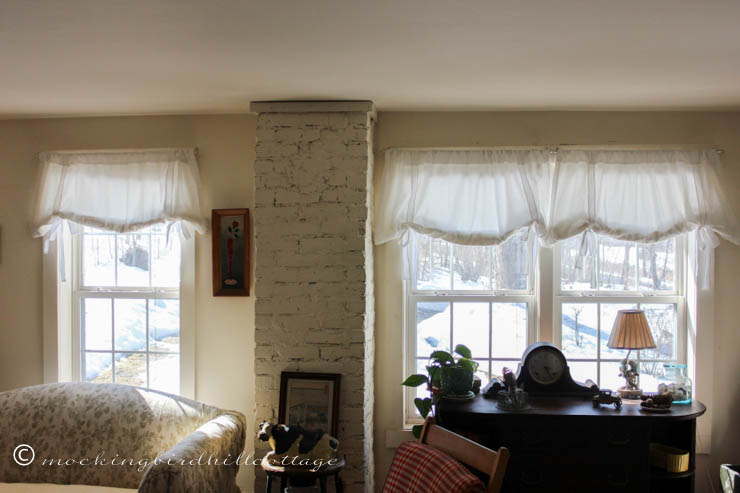 Look at Monty with his head bathed in sunlight. He's pretty darned cute.
Note snow on the ground. Yes, it's still there. Yesterday the temperature hit 57 degrees. So there has been a considerable amount of melt, but we have had so much snow that I fear it will be well into April until we see it totally disappear. Today we are due for a lot of rain which might turn into a little snow tonight. And ice. Thursday brings temps in the twenties.
Ask me how sick I am of winter. And snow.
You already know the answer.
If you missed it, I reviewed an excellent book yesterday and I'm giving away a copy. Leave a comment on that post if you want to be eligible. You have until Friday evening.
Happy Wednesday.