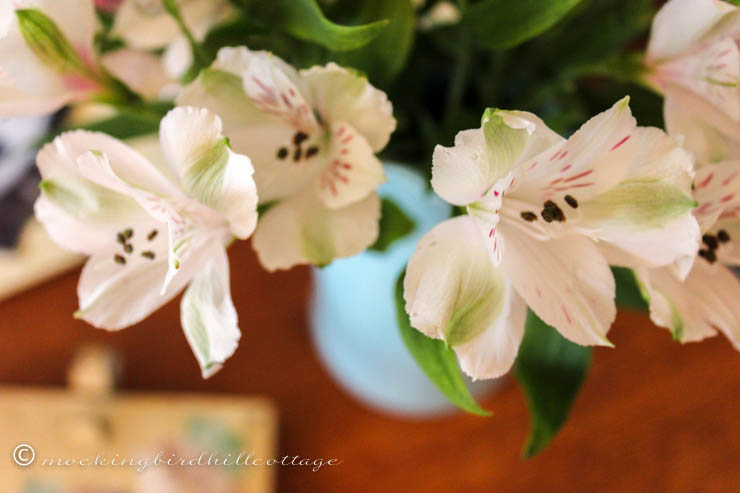 • It's a gray sort of day here at the cottage. The nor'easter is headed our way, though we will be spared any snow accumulation – only a dusting. It promises to be very windy later today. I always feel edgy when it's windy. I can never fully relax until it's all over. But, and this is key, after all of this, it looks like warmer temperatures are on the way.
I won't know what to do with myself.
Most of the snow has melted but there are still big piles of it on the property and on the side of the road.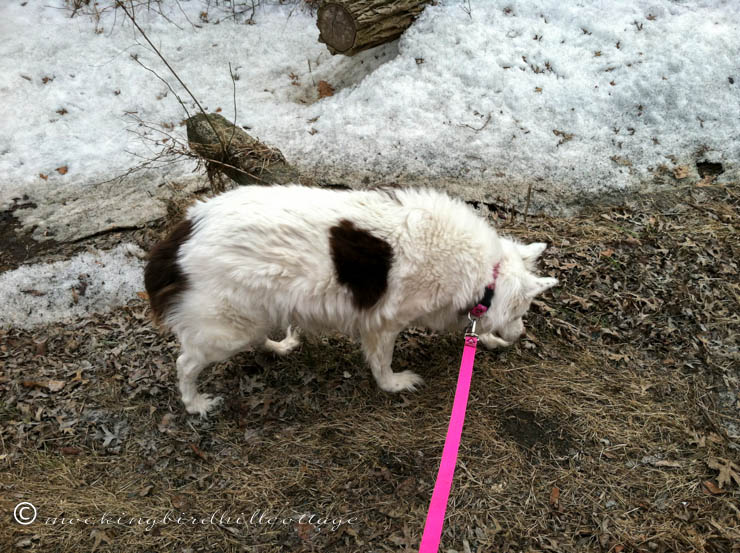 • You can see what I mean in this photo, taken yesterday on our walk. I've started taking Dame Scout for a short walk each day. She tires out more easily than she used to, but she loves getting out of the house. We walk for a shorter distance, as well. Yesterday, I decided to give her a day off because I worry about her arthritis and the little limp that she has. I thought to myself: 3 days on, 1 day off.
But about 5:00, Scout started getting hyper. She clearly wanted something. Food? She'd already eaten. Did she have to go outside? Nope. What the heck did she want? Then it dawned on me. When I asked her if she wanted to go for a ride in the car, she jumped up on the loveseat and gazed out the window – the window where you can see the car.
I got my answer. So we went. I remember the Vet saying 'Use it or lose it' when talking about Scout and walks, so we are going to do our best to get her out every day now that the weather is better.
While we were walking down the road, thousands of starlings appeared again. They were everywhere. In dozens of trees, in the corn field, flying through the air. The noise they made was incredible. And at the same time, V formations of Canada geese were flying overhead. It was like being in a wildlife sanctuary. Incredible!
So, good timing, Scout!
• This article in the New York Times today, Literary City, Bookstore Desert, which talks about the exorbitant cost to rent a retail space in Manhattan and its negative effect on bookstores, was troubling. You might want to read it. In it, I also discovered that the gorgeous Rizzoli Bookstore in Midtown (in a simply beautiful old building) might have to move because the owners are planning to tear down the historic building for yet another boring glass high-rise. If you've ever been in Rizzoli's you'll will understand my shock and dismay. If you haven't, google Rizzoli Bookstore and you will see photos of one of the most beautiful bookstores I have ever been in.
Very troubling, indeed.
• I had to go to Radio Shack the other day to get a new battery for our phone. I saw this at the checkout. A Sheldon Cooper Flash Drive. I'm sending a copy of this photo to Jim. I'm sure he knows about it – the marketing deals for these guys are huge. And the show is syndicated, so they are set for life.
I'm writing a book entitled, "When Your Former Students Earn a Heck of a Lot More Money Than You Do." 
And believe me, Jim isn't the only one. I have a lot of former students working in Hollywood. One is the creator of Doc McStuffins. One is a writer/producer who worked on Grey's Anatomy for years and is now developing other series. One is an Executive Producer and Writer for Modern Family. One is a producer for The Fosters. And the list goes on and on. Several are Emmy Award winners.
I'm enormously proud of all of them. Smart, talented, deserving – every one of them.
I'm hoping they will support me in my retirement. Do you think?
Happy Wednesday.