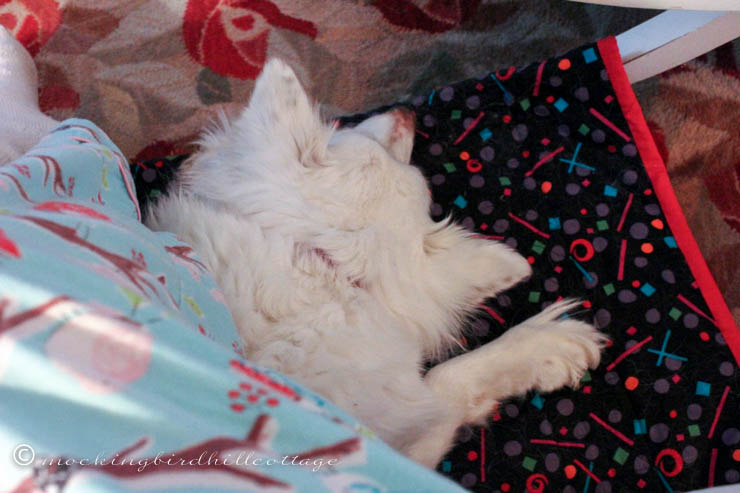 Scoutie in the tunnel this morning. A month or so ago, after repeatedly seeing her land with a thud (it's become impossible for her to effortlessly ease her body to the floor as she could when she was younger) I put a quilt by the chair. It provides a bit of a cushion for her. I also put one in front of the loveseat in the living room because she often sleeps there at night. Scout has always been a restless sleeper. She's here, she's there, she moves around a lot. And as much as I would love it if she slept on a cushy dog bed, she simply won't. She likes the floor.
The addition of the quilts certainly won't get the rooms in a decorating magazine, but I don't care. Little girl's comfort is what this is all about. Just as the addition of mats throughout the living room and kitchen helped Riley get around. They were unattractive, but they worked and they made his life easier and safer.
She's getting a bath next week in honor of her father's homecoming which will be a week from this coming Monday. I anticipate lots of father/daughter cuddles.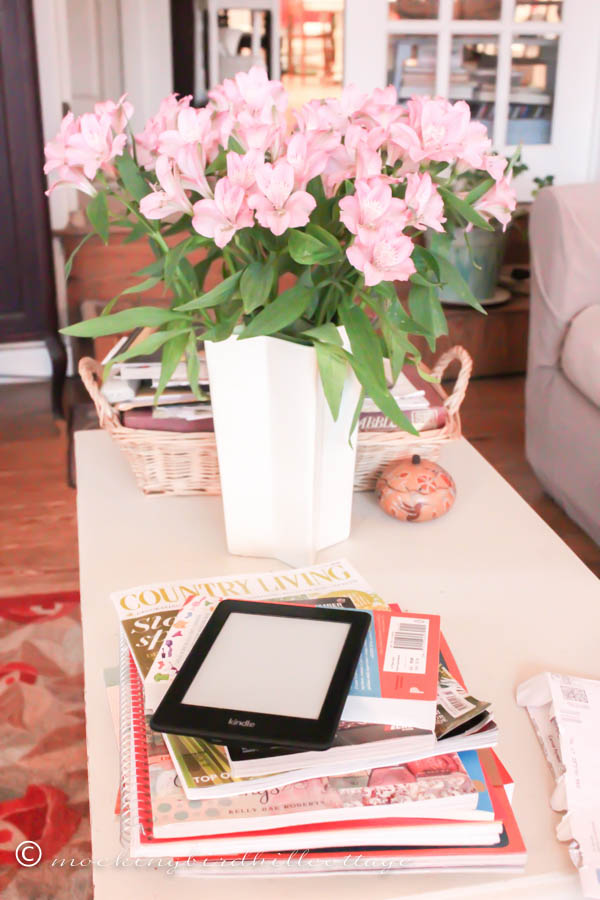 (See? The flowers have been there for two weeks and they're still going strong.)
I'm reading a very good police detective mystery, The Keeper of Lost Causes, by a Danish writer, Jussi Adler-Olsen. I don't remember how I learned about it, but one click later, it was loaded on my Kindle. At a discount. I see why these gosh darned eReaders are so convenient. Don't worry. I'm still reading and buying real books, but space is limited here at the cottage, as you well know. I can only bring so many books in here. Anyway, I really like this book. The writer has a dry sense of humor and the story is really compelling.
Oh, I love reading. Love, love, love it. The ultimate escape. Life saver, imagination soarer, invitation to another world, delightful, insightful – reading is one on one. One being me and my imagination. The other one being the words on the page. We are in our own little world, the book and I. And no one will see the world created by the writer in quite the same way as me. Isn't that wonderful?
Reading has always been and continues to be one of the greatest pleasures in my life. A thank you to my mom and to Miss Brown, my first grade teacher, for instilling a love of reading in me.
When I realize that my mom, who has dementia, cannot read anymore, it breaks my heart. She has always loved to read and could polish off a book pretty quickly. It has been a constant in her life. Not being able to read seems to be especially cruel.  I love you, Mom. I hope your imagination is taking you to worlds we cannot see; vivid and beautiful and peaceful.
I also seem to have inherited from my mom a tendency to leave stacks of reading material and paperwork all over the house. See above. My mom always had two end tables in the living room and each of them had a lower shelf. There were stacks of magazines there. One table held my mom's magazines. The other table held my dad's magazines. I have the same sort of thing going on here. I have a stack of reading material under the end table in the den. I have a stack of books under the table next to my blogging chair. I have a stack of things on the ottoman. And I have the stack you see on the coffee table. At some point, I get sick of it all and go through each stack, ruthlessly sorting and tossing.
But on some level, I find it enormously comforting to have stacks of things to read surrounding me. Thank goodness, Don doesn't seem to mind. In fact, he'll have his own stack on the coffee table in the living room when he returns.
Cheerful clutter. That's what I call it.
Happy Friday.