I've been searching for succulents to replace the ones that didn't make it when I knocked over Riley's Dish Garden about a week ago. Right now, the pickings are slim around my neck of the woods. I'm sure there will be much more available when the nurseries put out their new stock for the spring. But since snow is forecast for the Northeast today, I think that's going to have to wait. (By the way, I think we are going to dodge that bullet, with only a sprinkling of snow. Cross your fingers.)
I did find two plants, one of which will probably have to be transferred to a pot in the near future. But in the meantime, my precious Riley's Dish Garden has been replanted.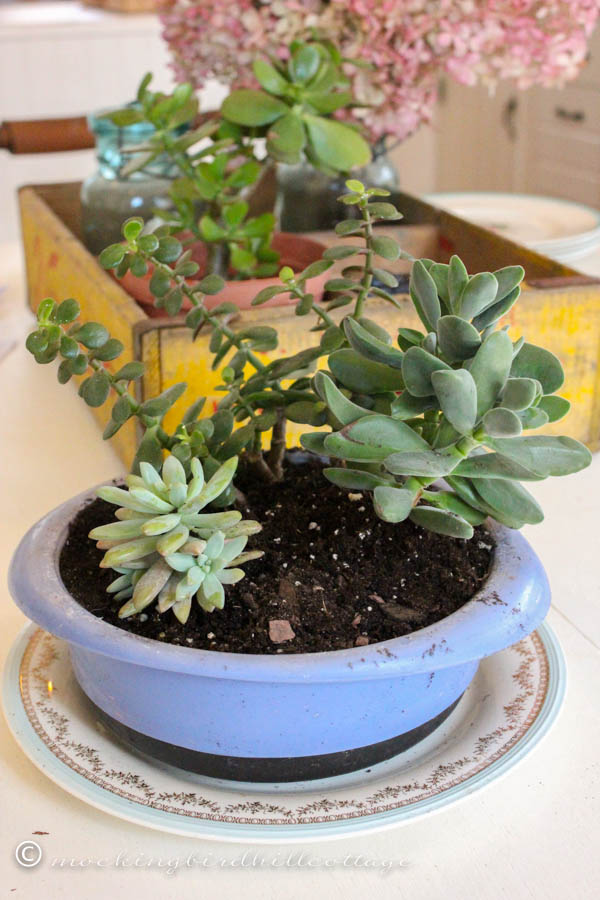 The tall plants in the back are from the original dish garden.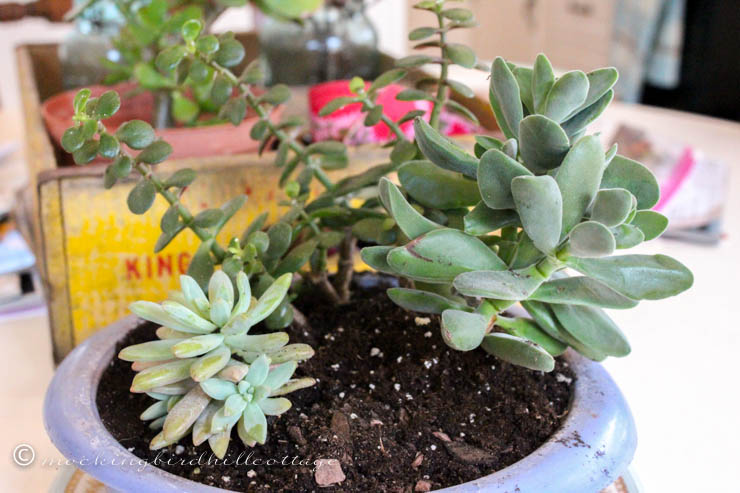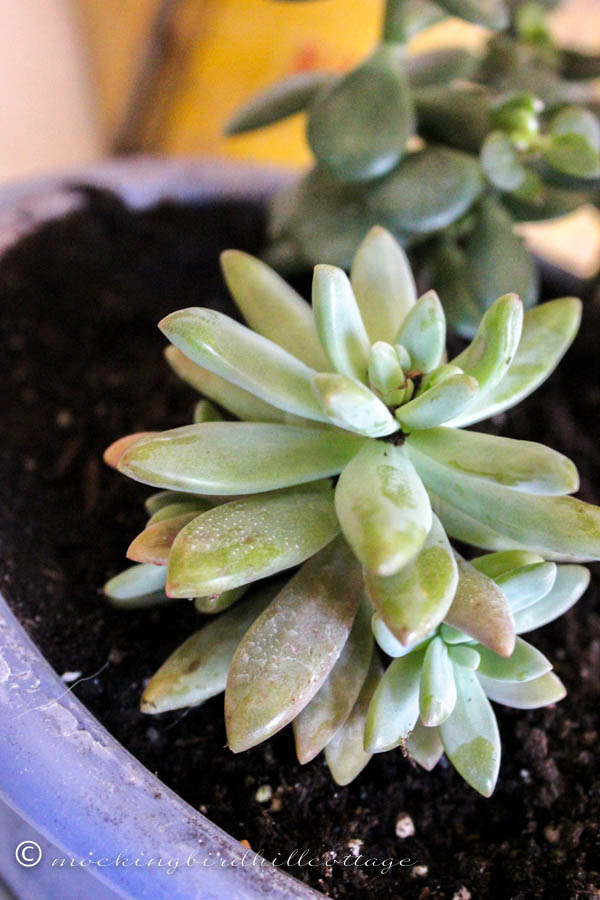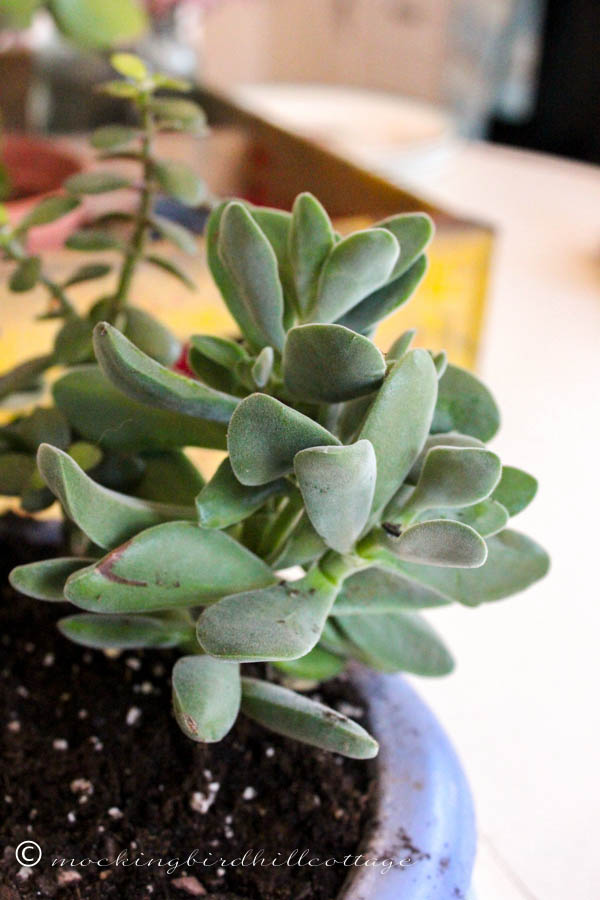 I miss my boy.
I was fine yesterday when I was adding soil and plants but, today, looking at these photos? I'm suddenly teary eyed. I see the dish and I see his big brown eyes. I can smell his wonderful scent. I feel the silky smooth hair on his ears and forehead. I tell him I love him and miss him and oh, how I wish he was here.
You never get over the loss, do you?
I was recently telling someone the story of our first dog, Winston, and his rapid decline at the age of eight when a tumor was discovered on his heart. To my surprise, I started to cry. It's been over ten years since we said goodbye to our beloved boy, yet in an instant I can be right back in that horrible time of grief and loss. It wasn't until a year or so after we lost Winston that I realized I had been in a sort of depression for several months following his death.
My dogs are my children. As I watch Scout lose the crazy energy she once had, see her slow down and sleep more, hear her groan because of her aching joints, with eyes and ears that aren't functioning as sharply as they used to, I know that this time is precious. Beyond precious. We are all too aware that she is 15 and we are so grateful she is still with us. Don doesn't like being away from her at this time in her life. I understand. She is everything to us. She is our daughter. She is the magic dog that everyone loves. Her smile lights up the room.
Ah, I'm crying again.
Anyway. I know you understand. Riley has been gone for a year and a half, though it seems like yesterday when he was here with us. Winston has been gone for over 10 years, yet in an instant, I am with him.
I like to think they are with me in spirit and soul. I hope they are. I hope they nuzzle up against me when I'm down. I hope Winston and Riley visit Scout, who has outlived them both. I hope that, when I am sleeping upstairs, they are all having a fine time together downstairs. Wouldn't that be nice?
Once again, a blog post has taken me somewhere I didn't expect to go. I was just going to write about the new look of the Dish Garden and here I am, writing about love and loss.
By the way, Scout is on Glucosamine and that has helped a lot. Nevertheless, she has swelling on her joints, her hips hurt, she limps a little. She gets tired easily. But her spirit is strong.
Let's close on a 'cute' note. While I was at the nursery, there was a display of minis meant for fairy gardens. But fairy gardens are ubiquitous and I have enough to handle with my real-sized gardens. However, one piece stood out and I bought it.
For my dollhouse, of course.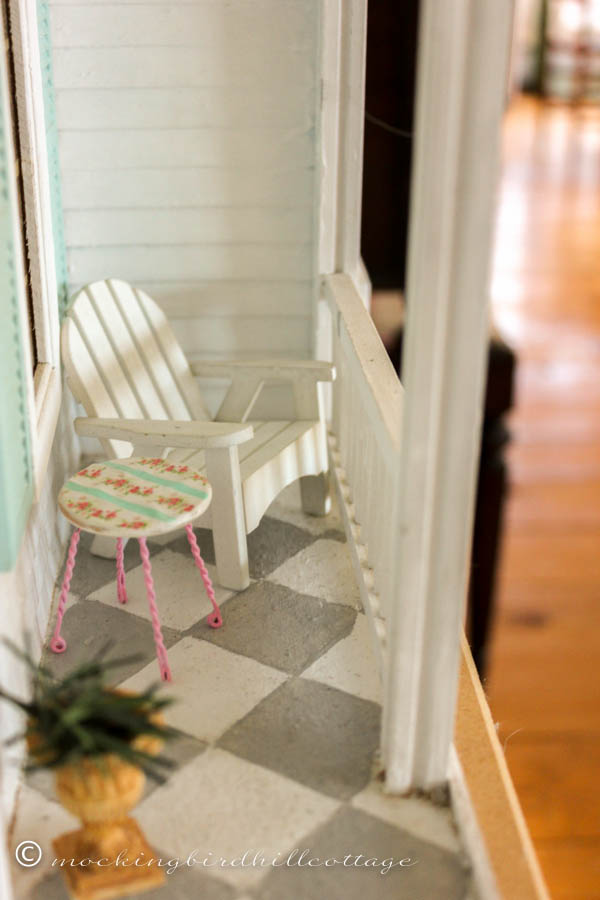 Yep. That adirondack chair. The owner of the dollhouse sits in it and reads while drinking a glass of iced tea. Sometimes she props her legs up on the porch railing. Sometimes she just sits and watches the world go by.
Happy Tuesday.