Yesterday I got out my tripod and proceeded to take some photos of the studio space upstairs. Since I've recently added and changed some elements with a good measure of de-cluttering as well, I thought it was time for an update. For those of you who are new to this blog, my 'studio' is a space I have created at the top of our stairs and hallway. It's tiny but somehow it works.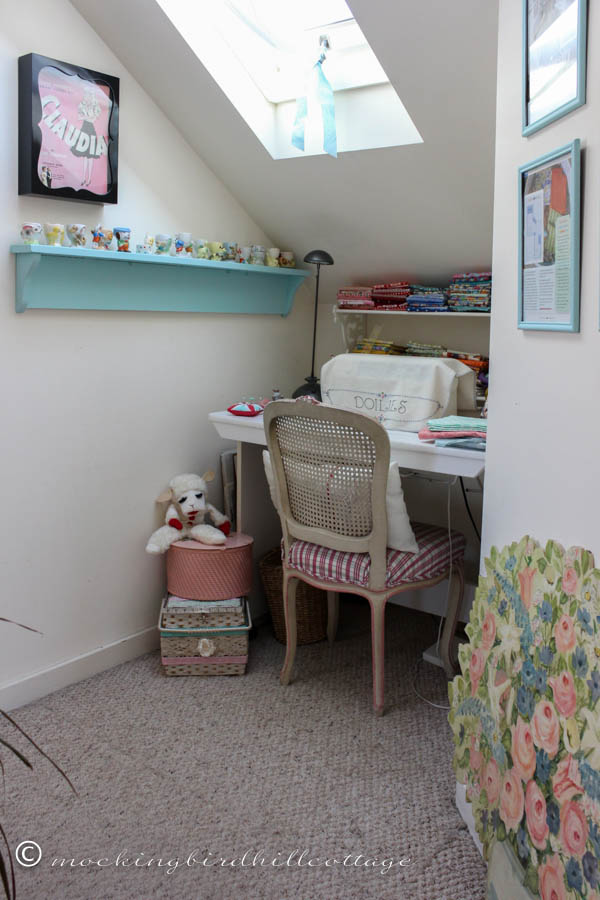 Lamb Chop, my muse, ready to inspire me. She's slacking off a bit lately – I haven't been feeling very inspired.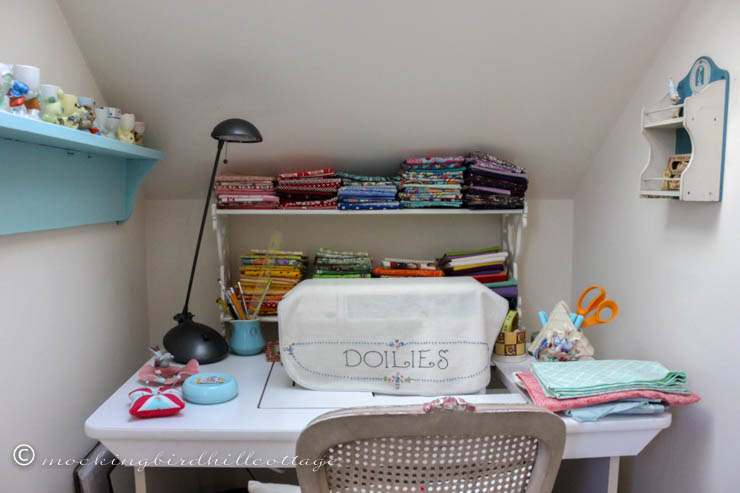 My sewing table.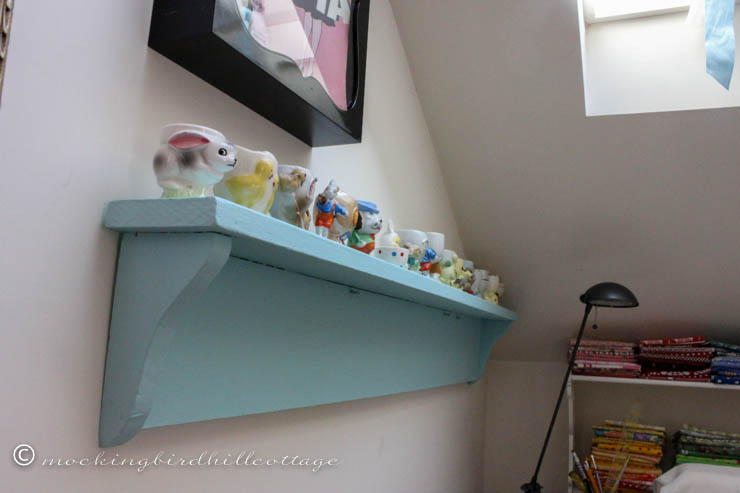 My happy little egg cups.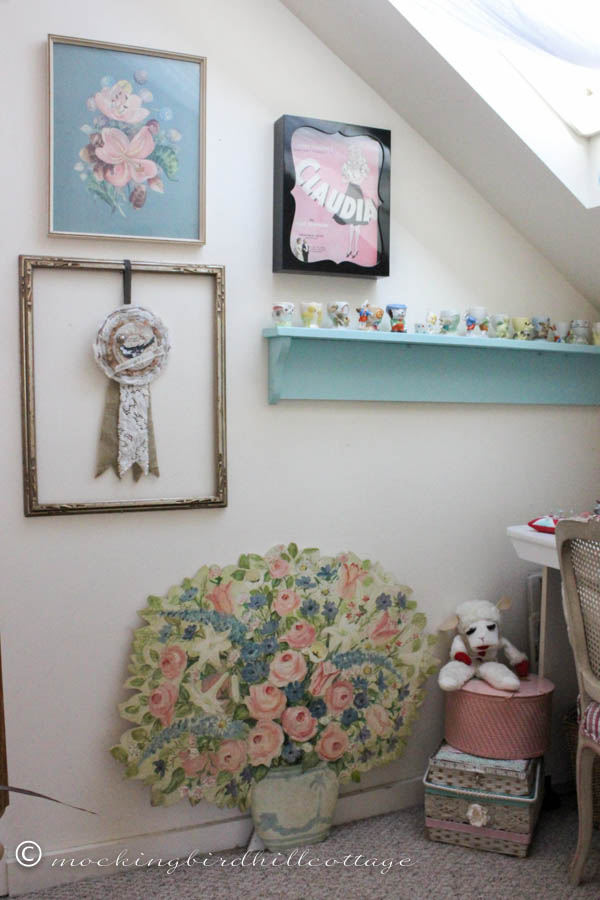 I think the flower fireplace screen is going to go here. I just want to move it a smidgen to the left.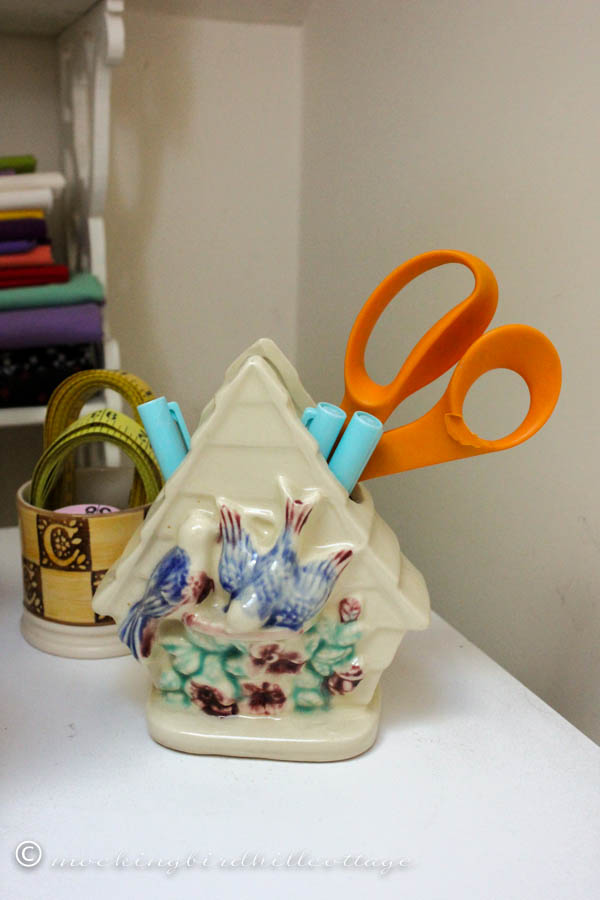 The baby mug was made by Emma Bridgewater (I got it in England) and the wall pocket is a relatively new treasure.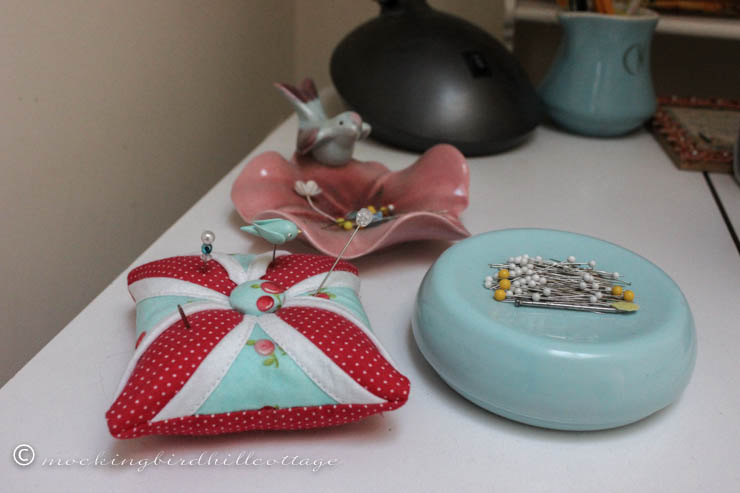 The red and white pincushion was made by Debbie at Happy Little Cottage.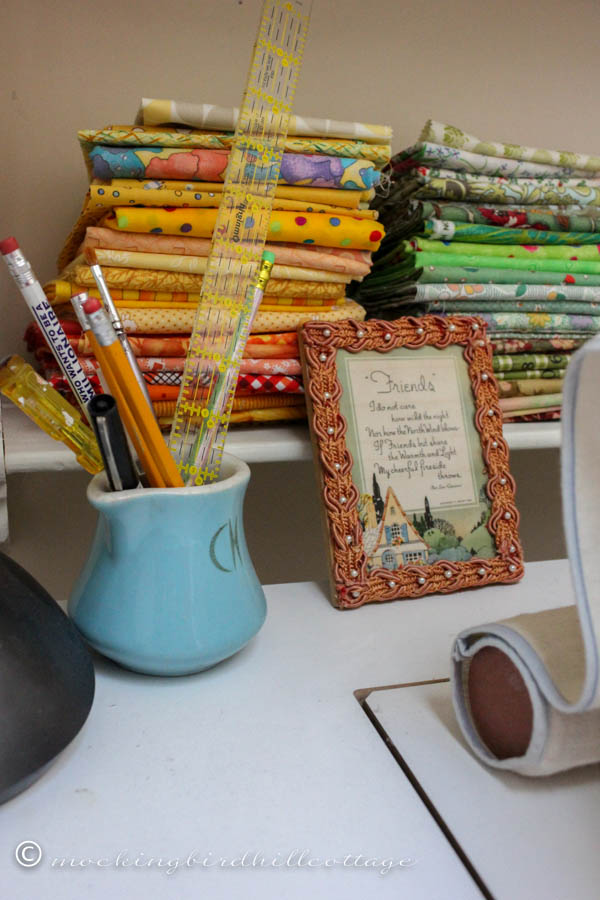 Fabric. "Friends" was a gift from my friend Lori at Vignettes in San Diego.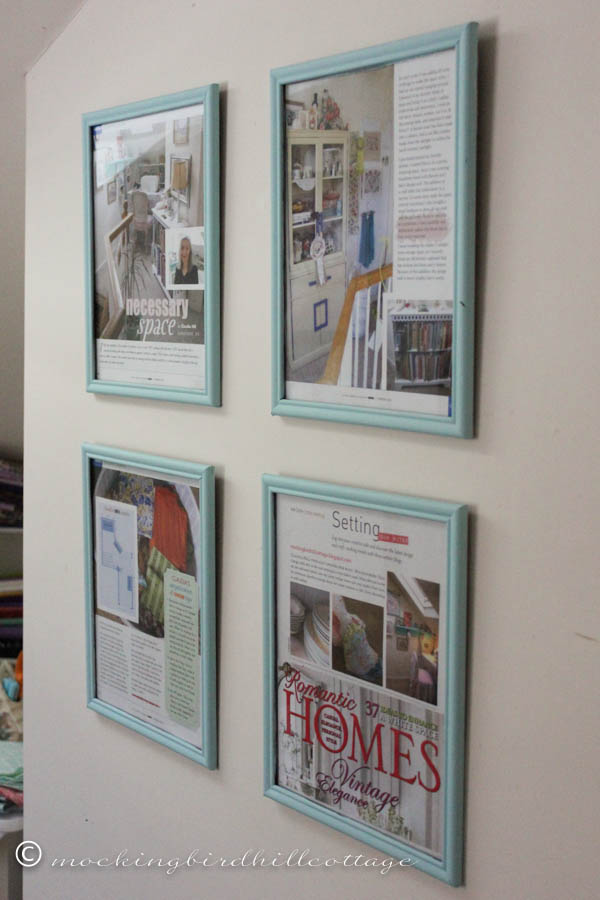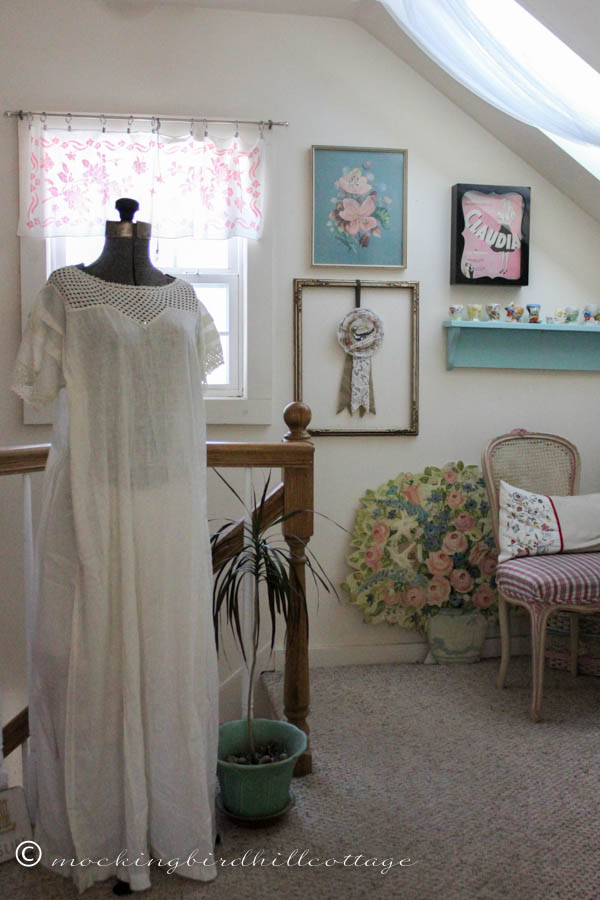 The view from the bedroom. Letitia is still wearing my grandmother's nightgown.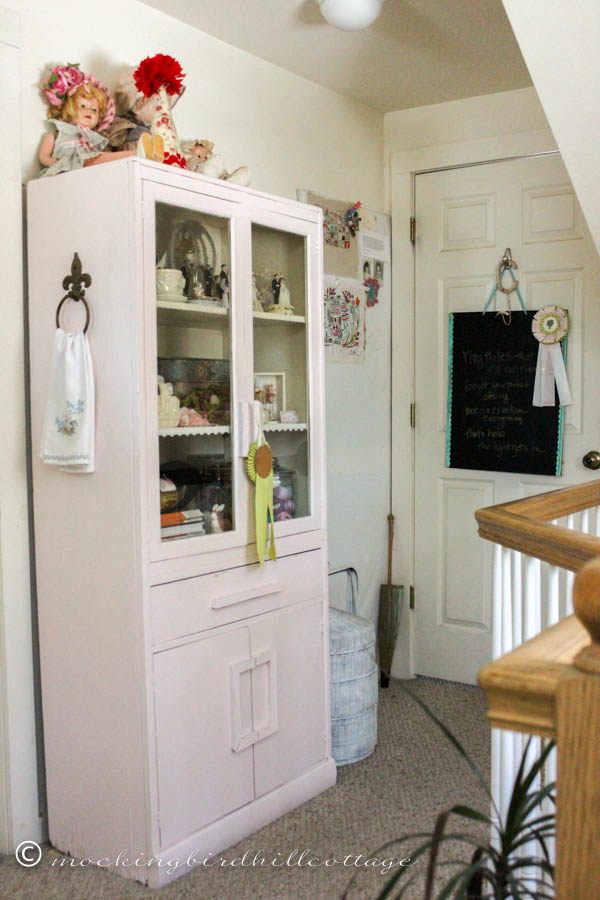 As you turn the corner (our bedroom door is on the left) you can see the rest of my tiny space.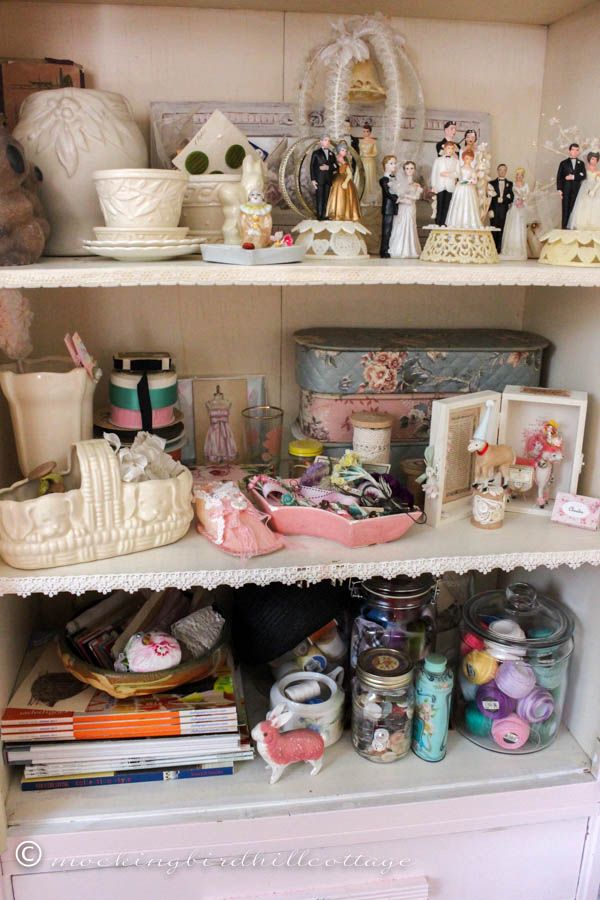 Inside the cabinet – some treasures, some tools, some stuff.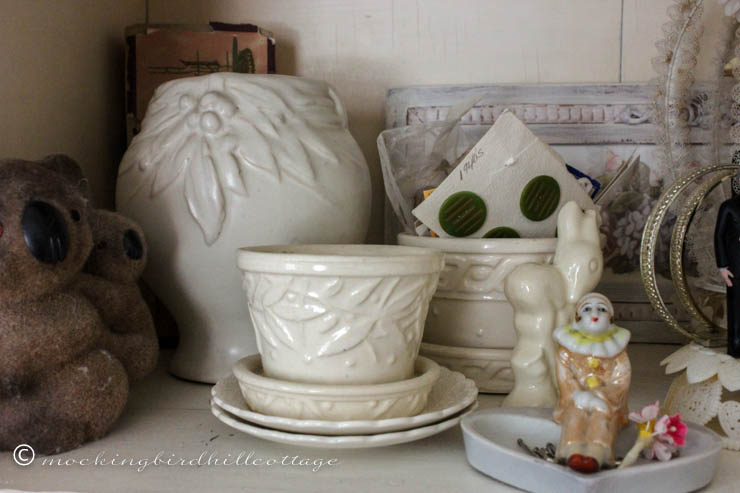 McCoy pottery, my little Koala Bear Bank from Becky.
VIntage glove boxes, my sheep from Judy and my little sheep from Lori at Vignettes in San Diego. Matchbook from Elyse.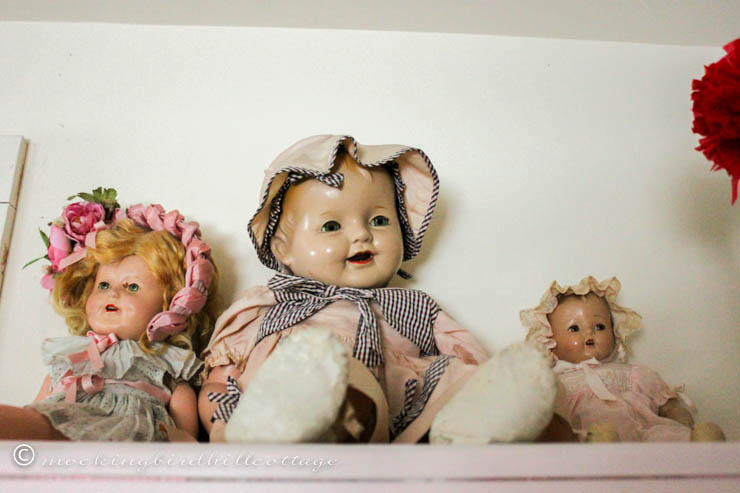 My beloved dolls. The one on the left was my mom's Shirley Temple doll. Tressa (who has two left feet) is in the middle. And Emma is on the right. They all have a story, of course. I 'rescued' Tressa and Emma.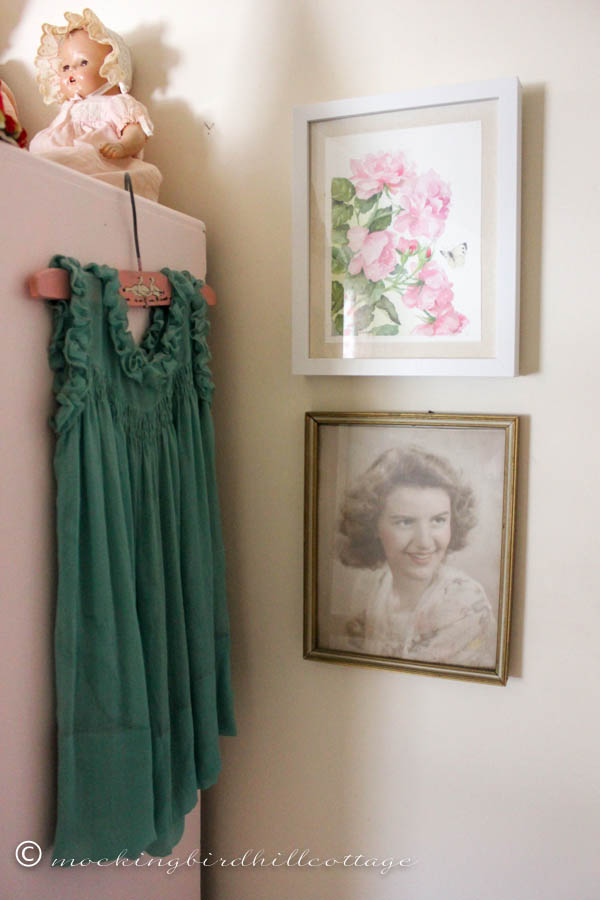 That's my mom in the photo and that's her dress on the left.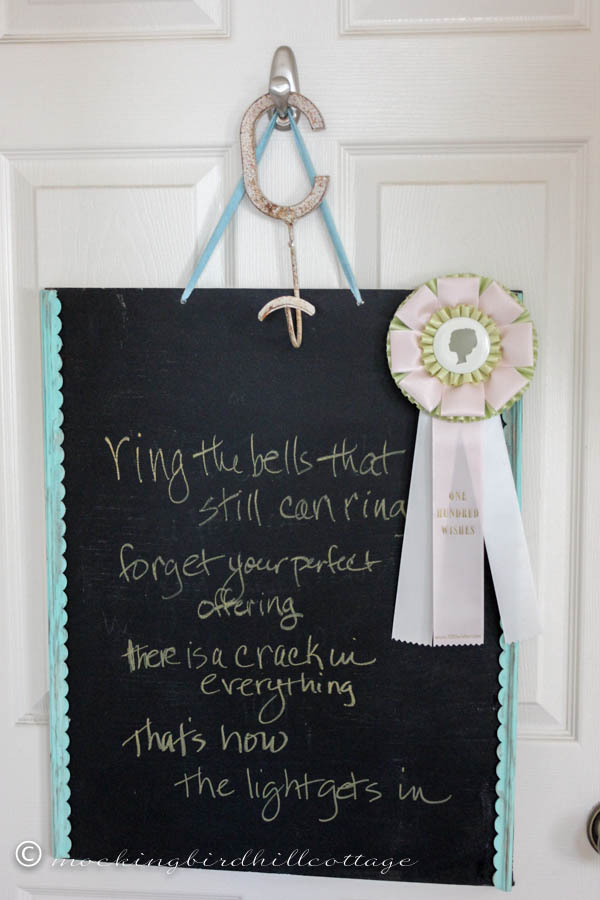 My chalkboard with my favorite Leonard Cohen lyric.
I'm very happy with this update to the studio. Much less clutter, a cleaner look, but still happy and bright.
My dad just called me to say that Mom is moving back to the nursing home today. The doctor said she's much better. Meredith and I are still worried that Mom seems unable to talk. Meredith thinks she is trying to talk, so that concerns us. But her bed in the nursing home is still waiting for her and that's a bit of good news. I use that term relatively as she is very unhappy and is not living a life that I would ever have wished for her.
But we'll take our good news where we can find it. She's improving enough to be discharged and for that we are thankful.
Thank you for your prayers, my friends.
Linking up with my friend Alice's Sundays at Home at Thoughts from Alice.
Happy Monday.