Remember when I told you that something was coming in the mail for the dollhouse? Something a special someone had made? Just because?
It came in the mail yesterday. All the way from Australia.
Yes, you're right. You can't miss it. It's that incredible bed! (Pardon me while I take a moment to scream with happiness.)
Do you believe this?
Let me tell you the story. My friend Norma, who is a very talented miniaturist, lives in Australia and we have been blogging friends for quite a while now. (She once sent me a stuffed koala bear when I was working temporarily in San Diego. That post is here. ) I've said it before on this blog; dollhouse and mini bloggers are amazingly generous people. They are willing to share their advice and their tutorials and are always ready to answer a question. When I first got the dollhouse, a couple of bloggers sent me some pieces to help me get started. Just because.
Norma sent me an email after reading a post in which I mentioned that I still needed to find a bed and said that she would like to make me one. My jaw dropped. Could I pay her, I asked? No, was her answer. She simply wanted to design a bed that would suit the bedroom at Hummingbird Cottage.
We had a conference about style and fabric choice. I chose a toile and decided to go for pink. And Norma took it from there. She sent it out in the mail last week – on Monday. I've been watching the mail like a hawk ever since.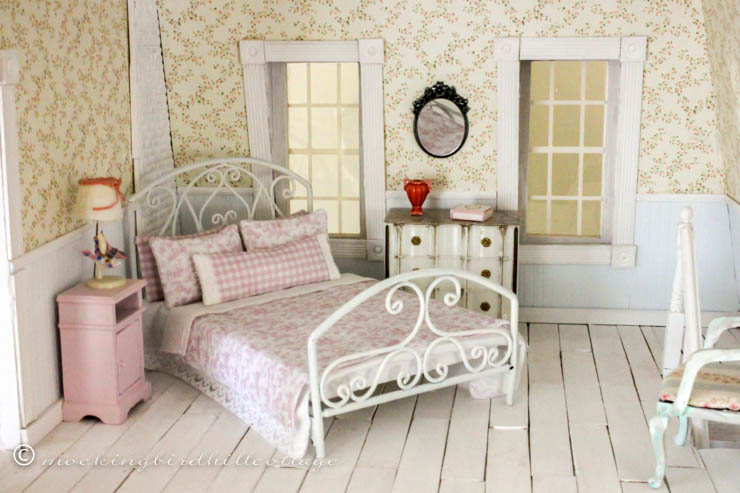 Yesterday, as I was raking outside, Lori, who is our mail carrier, stopped and called me over to her vehicle in order to have me sign for a package. Was it from Australia, I wondered?
Yes!
I ran into the house, shouting "It's here!!" I'm not kidding.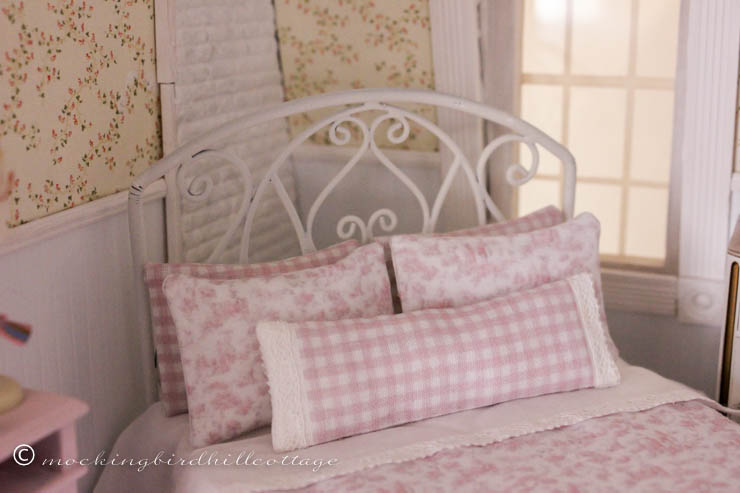 Norma made all of the bedding. It's exquisite.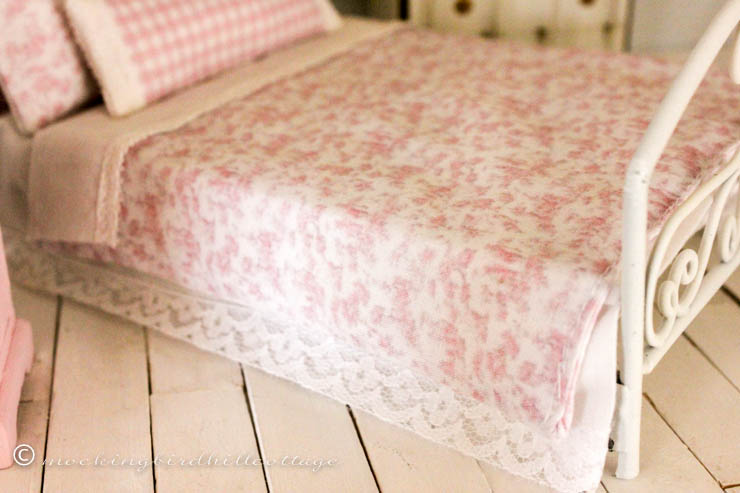 The lace is gorgeous. The fabrics are wonderful. The bed is perfect for this attic hideaway. (The owner loves pink.)
She also included a few other treasures. I don't have photos of all of them yet, but I'll share the ones I managed to get.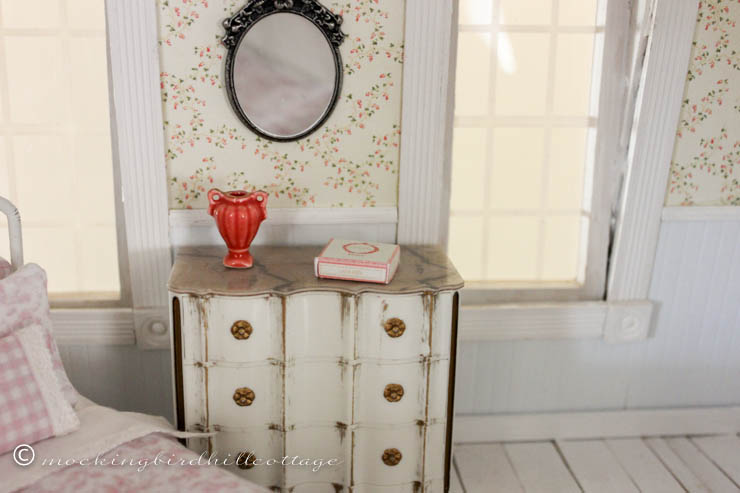 That's a box of macarons from Laduree.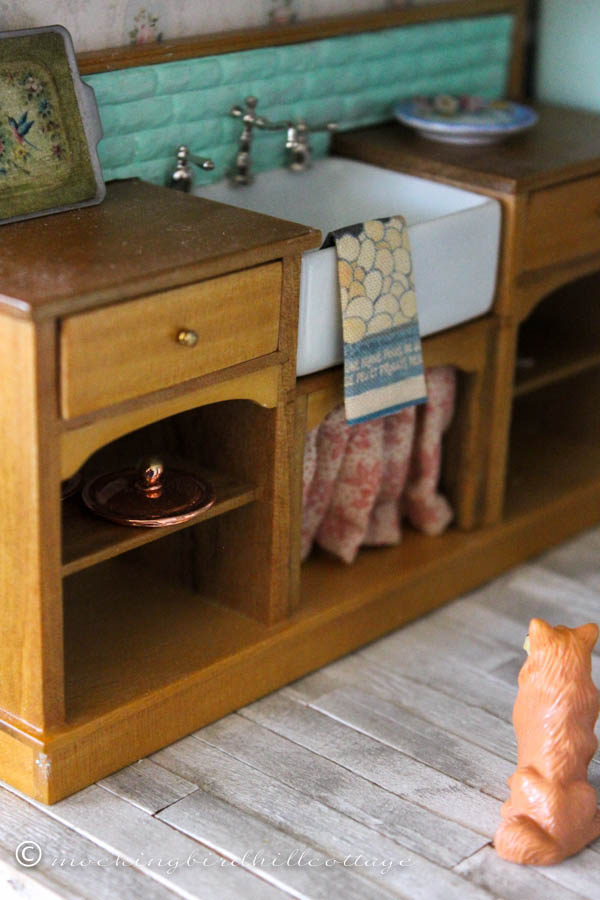 A tea towel for the kitchen.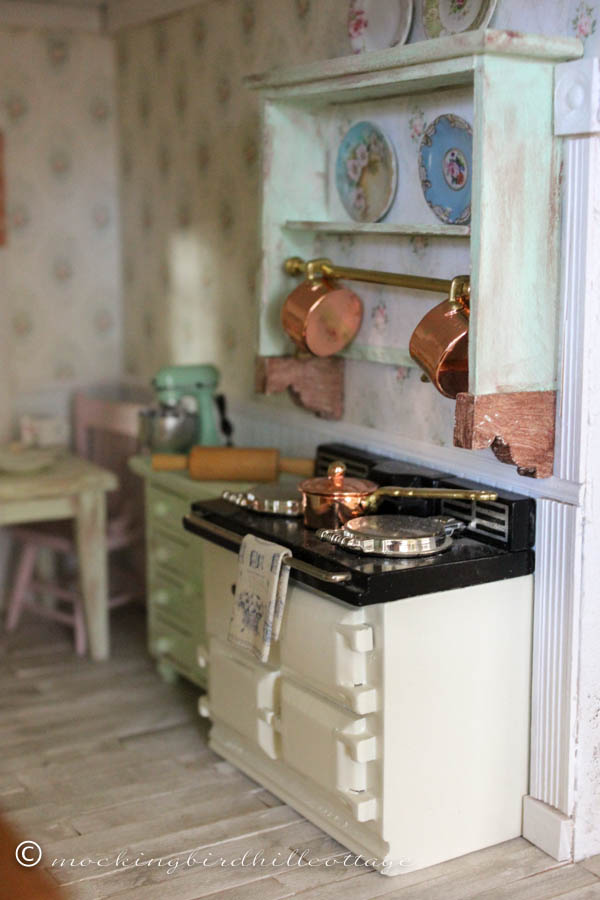 And another.
There's even more but I have to get out my macro filter to take some sharp close-ups. Coming soon.
I'm thrilled with this new addition to the dollhouse. But even more thrilling and heartwarming is the fact that Norma took the time to do this for me. This is a treasure, pure and simple, made with love and heart. Another beautiful story for the dollhouse, which is full of things that many of you have sent to me. They are what makes the dollhouse a true and loving home.
Thank you, dear Norma. I can't stop looking at it. Bless you.
By the way, I have wanted to do something with the potting shed and, with some trepidation, I finally did it yesterday. That's a teaser, my friends. More tomorrow.
Happy Thursday.