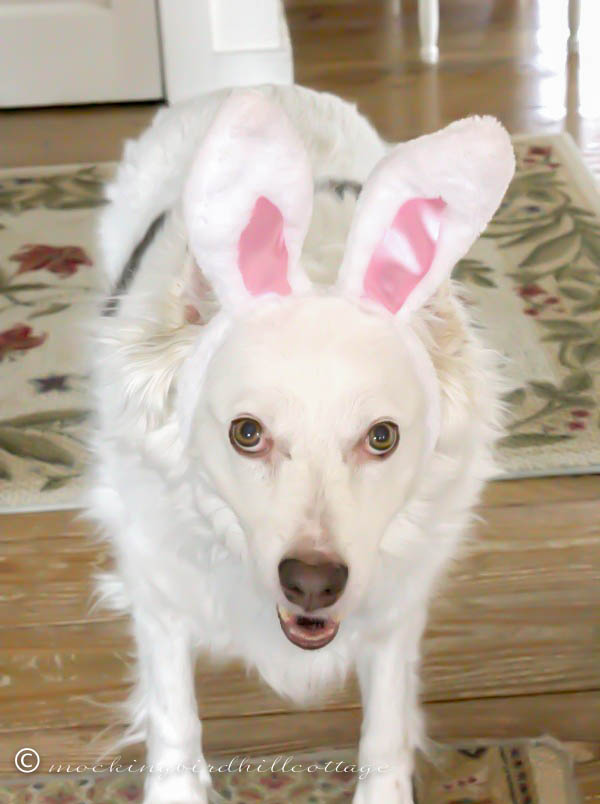 Happy Easter!
As you can see, our little Easter Bunny has already paid us a visit. Reluctantly. Every year we drag out these bunny ears and make Scout model them.
She doesn't like it. Not by a long shot.
This morning I raised the roman blinds in the kitchen and looked out the window to see a fox staring at me. He was just as surprised as I was. He trotted away from me for a few steps and then turned back and stared at me. My mouth was still open from the gasp I made when I first saw him. Then he trotted around the far side of the dog corral and into the woods.
Wow.
I've seen several foxes lately. Twice on this property, once on the road where we walk Scout and once more when one ran across the road in front of me while I was driving. We've lived here almost nine years and I think I saw a one or two foxes in all that time. Until now. I wonder if he's living on our property?
I also saw two bunny rabbits this week. (He'd better stay away from our bunnies.)
Oh, make that three. See below.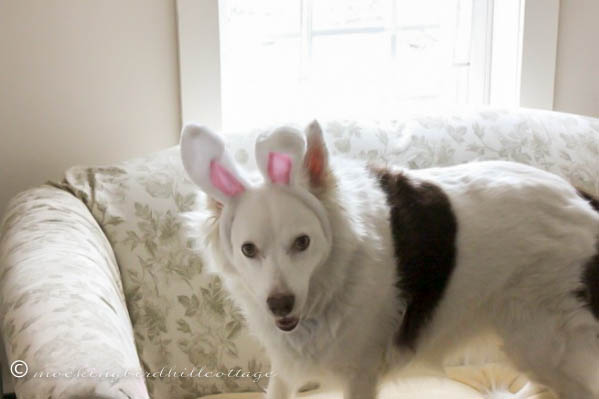 We're having dinner at Noble and Tina's this afternoon. It's sunny and it's getting warmer – hard to believe after our long winter – but it's true.
Whatever you celebrate or don't celebrate,
Happy Sunday.