Don came up with this idea last night. He grabbed a flashlight and we now have this scene: Moonlight in the Potting Shed.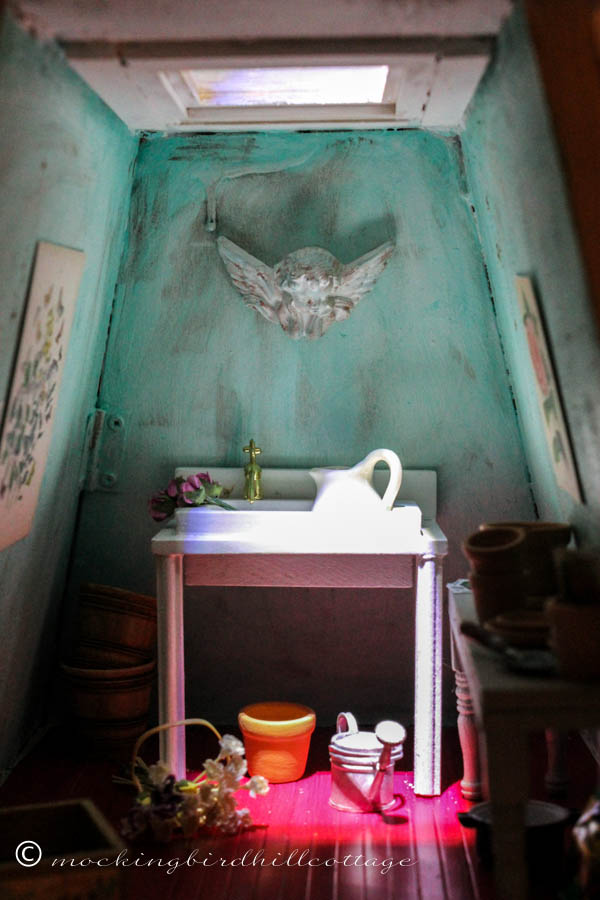 Maybe the owner steals away in the dead of night to work in the potting shed. Or maybe the moon shines its light every night on the empty potting shed, illuminating the sink and the flowers, the pots and the watering can.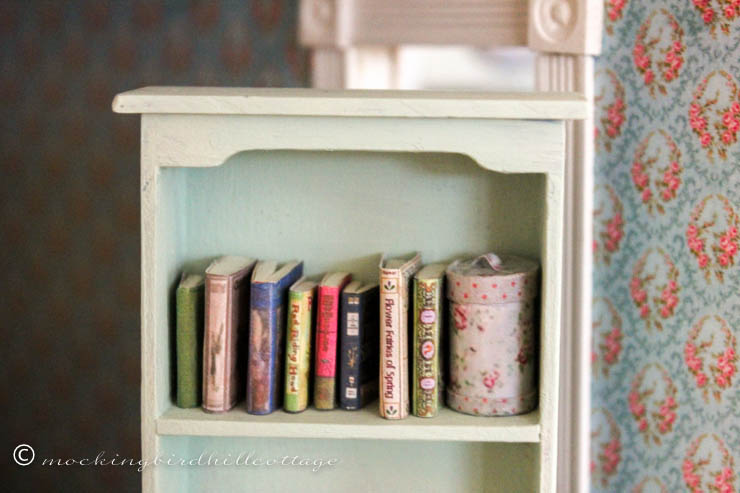 Amidst the treasure trove sent to me by Karen, there were many mini books with solid red, green and blue covers. I've been printing out book covers (google 'free dollhouse printables') and here are the results so far. The owner loves books. I've decided she is a Professor of Literature. Her specialty has yet to be decided. Anyway, I think a home should be full of books, so I have lots more to make.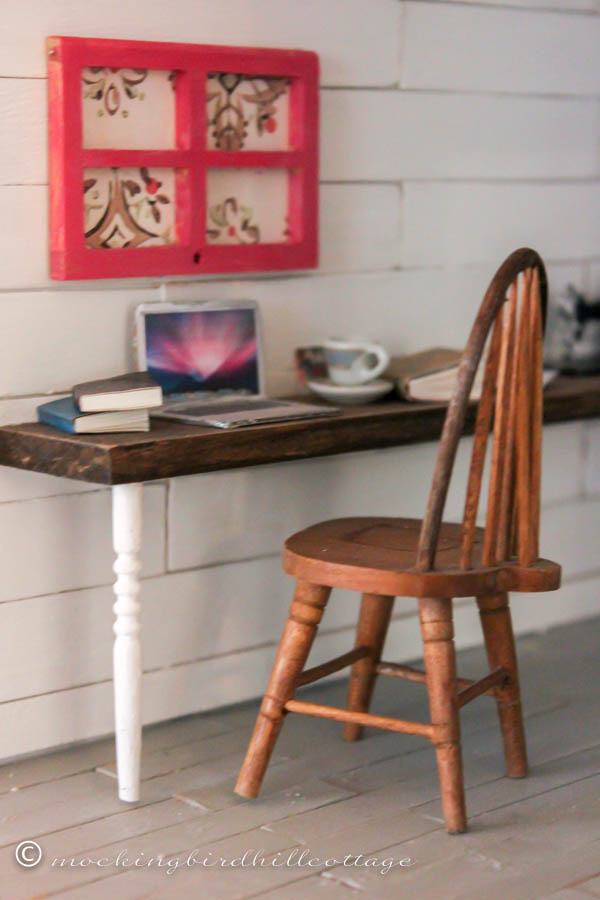 I found a printable for a MacBook Pro (just like my real life computer.) I printed it out and mounted it on some cardboard. I hope to find a resin version someday (I've seen one on Etsy) but in the meantime, this will do. Still needs some tweaking…
_______________________________________________________________
May 1st is always a bittersweet anniversary for me. Today marks the twentieth anniversary of the tragic murder of one of my students. It was my first year teaching in the MFA program at the University of San Diego/Old Globe Theatre Professional Actor Training Program. One of my students was John Lentz. He was funny, kind, smart and talented -the kind of guy who always had a twinkle in his eye and who disrupted class in the best possible way, making us all laugh. Classes had just ended for the year, John had done his Thesis acting project, where he had an amazing breakthrough that we all were lucky enough to witness, his parents had just been out to see that performance. He was only a few weeks away from getting his MFA. On Friday, just two days before the 1st, John, my colleague Rick, and I went to lunch and talked about everything under the sun. Laughing. Happy. On our way back to the office, we stopped at a memorial to a student who had been murdered several years before – it was a rose garden, with a beautiful inscription.
Two days later, John was dead. As he and another student walked out of Balboa Park after the closing performance of a show at the Old Globe, three people drove by in a truck. The truck stopped, a girl (she was 17) leaned out the window, and fired a handgun. John fell to the ground. The other student (John's girlfriend) was shot in the leg. As she held John in her arms, he said "I think I'm dying." Less than an hour later, he was dead.
We were devastated. I don't think I've ever cried as much as I did then. A 24 year old man, on the cusp of his career, taken from us senselessly and brutally. We all flew to Kansas for the funeral. We spent time with his family (a more loving and supportive family I cannot imagine.) During that summer, I attended the murder trial of the three people involved. I sat next to John's mother, stared down the young girl who fired the shots, felt such incredible anger and rage. Why did they do it? Because they just felt like shooting someone that night.
How dare they take our John away from us?
We named the theater space at the University in his honor. I grieve for him still. I will never forget him. And I will never understand this country's fascination with guns. Guns kill. Guns kill. It's so obvious. So clear. Maybe you have to lose someone you love in order for it to hit home?
It shouldn't have to come to that.
Life can deal you a terrible blow and then turn around and bless you with unexpected love. Two months later, I met Don. I was still reeling from John's death, still (and always) heartbroken. And this wonderful man stepped into my life. From the depths of despair to incredible happiness – all in the space of 60 days.
Dearest John, I miss you. I am so lucky to have known you. I will never forget you.
Happy Thursday.