I love gardening. When spring arrives, I am outside most of the day, weeding, planting, mulching, pruning, taking photos, and generally sighing with happiness. We've lived on this property (my first ever house that wasn't a rental) for almost nine years and in those nine years, I've added perennials to existing garden beds, created 4 new garden beds, and if I could, I'd add even more! There are roses, catmint, poppies, sedum, hosta, boxwood, bee balm, phlox, day lilies, butterfly bush, peonies and two versions of one of my favorites: hydrangeas. Oh, those hydrangeas! Dependable, large, lush. Such beauties they are! So when BlogHer and Endless Summer® Hydrangeas asked me if I would take a closer look at their
collection
of re-blooming hydrangeas, I jumped at the chance. I don't know about you, but I see their distinctive blue pots in my favorite nurseries and I've been hankering for one of my very own.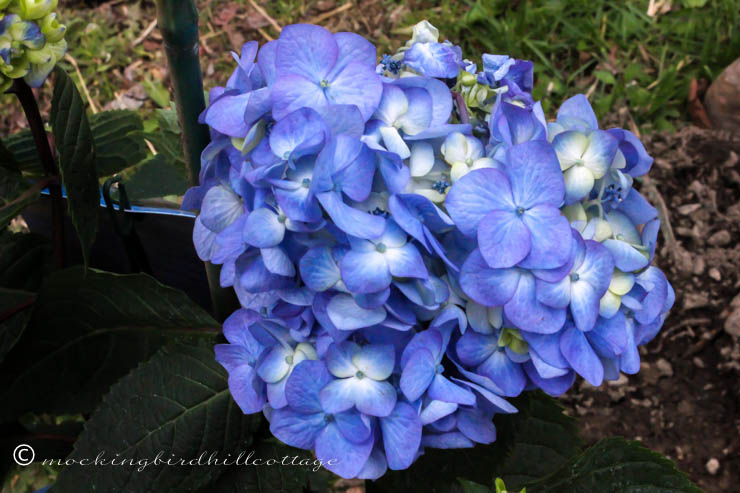 We're talking gorgeous color here. Some information for you on this collection: "The Endless Summer® Collection is the world's first and best assortment of re-blooming hydrangeas. They are easy to grow, requiring a low investment in time, money and effort for a big reward. They are beautiful for gardens, containers and in cut and dried flower arrangements. No matter which variety, their beautiful big blooms enhance any outdoor living experience." How could they not?

The hydrangea that was graciously sent to me by Endless Summer is their new BloomStruck™. I counted the days until it arrived on my doorstep. With every garden bed already full around here, my husband and I decided that we needed a hydrangea on the outside of what we call the Dog Corral and adjacent to a little funky patio that we love. It will definitely add some much-needed beauty to a utilitarian chicken wire fence.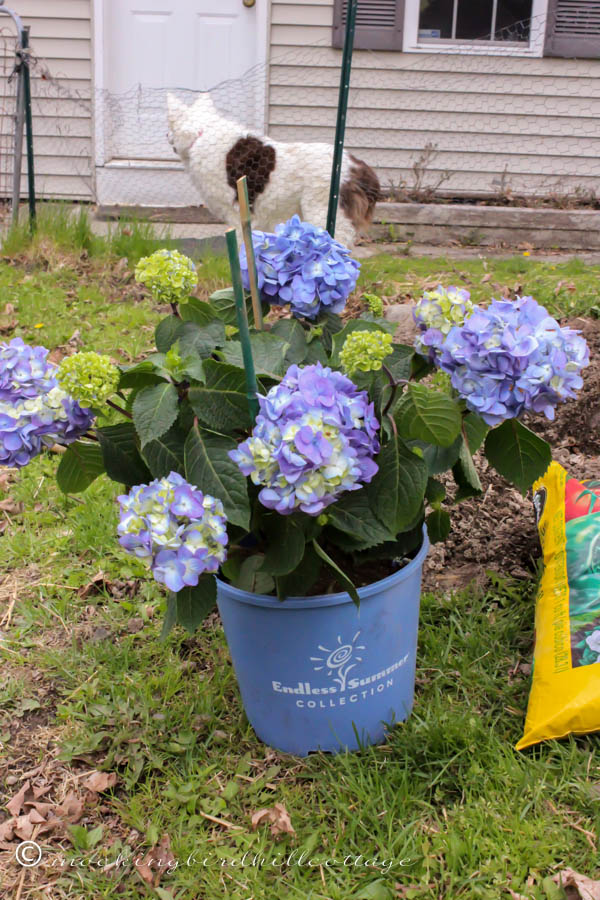 I dug the hole, which should be one and a half times as wide as the size of the pot. Well, I should be honest here. When I got tired, my husband took over. He's got more arm strength than me! Scout, our Border Collie, supervised. Isn't that hydrangea stunning?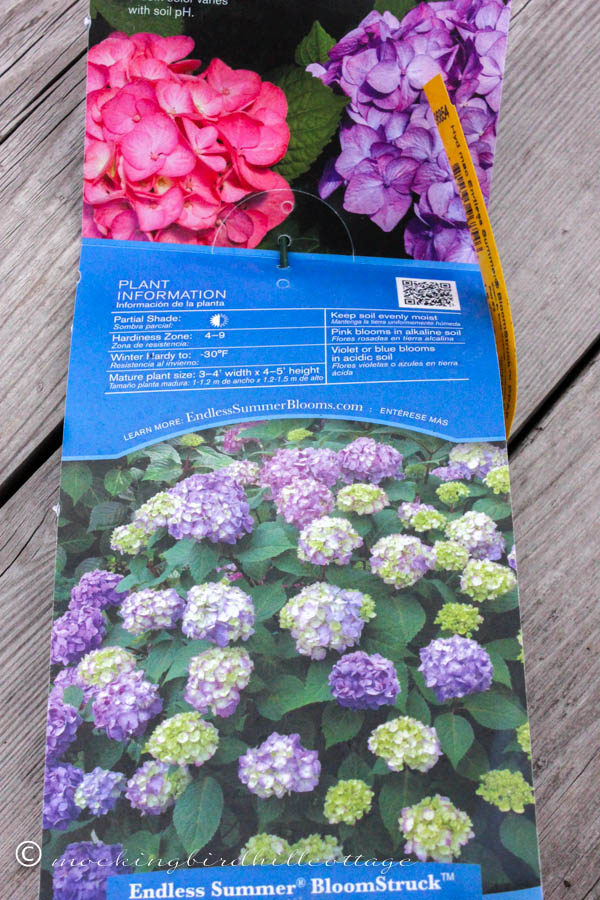 By the way, Endless Summer includes lots of information as to soil and when and how to plant and everything you need to know about your hydrangea.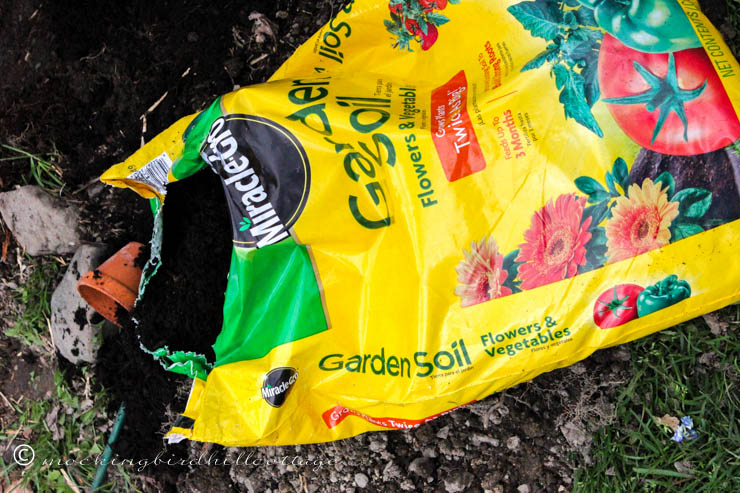 Our soil has its share of clay, so I amended it with some garden soil, adding it to the bottom of the hole. That's what works in my particular soil. Your soil may need different amendments. I loosened the bottom and sides of the root ball, then I made sure the crown of the plant, where the base of the stems meet the soil, was even with the ground. Then I refilled the hole with soil.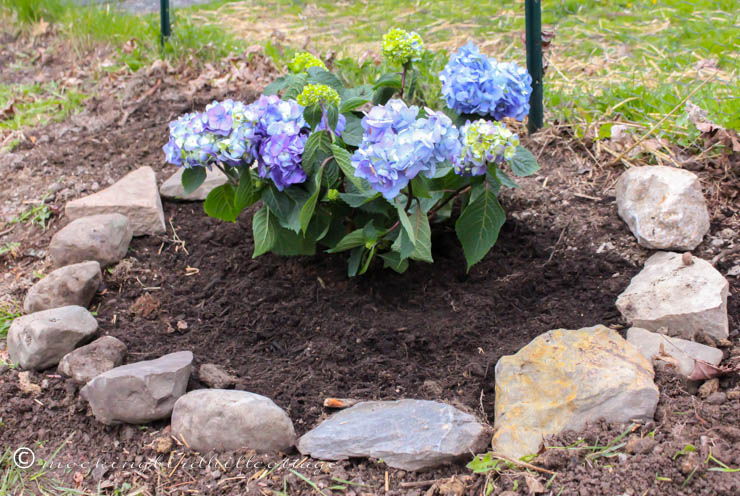 All of our garden beds are edged with rocks that we've found on the property, so we did the same thing here. (Oh boy, do we have rocks on this property!) I can't wait to watch this grow. If you're unfamiliar with hydrangeas, the color of the blooms is directly influenced by the pH of your soil. If your pH is acidic, the blooms will be blue. If they are alkaline, the blooms will be pink. You can easily run a pH test if you're interested and there are products you can add to the soil to change your soil's pH. In fact, Endless Summer® offers two products that will do that for you. Color Me Pink™ and Color Me Blue™ are safe, all natural and organic. As for me, I like the element of surprise, so I'm going to watch and wait. Pink or blue, I love this plant. If you're interested in learning more, please visit the Endless Summer® website. If you leave a comment on this post, you will be automatically entered in a contest to win a $100 Visa Gift Card. Leave a comment with an answer to this question: Do you grow hydrangeas? Tell me how you use them in your garden! Happy Planting,
Sweepstakes Rules:
No duplicate comments.
You may receive (2) total entries by selecting from the following entry methods:
Leave a comment in response to the sweepstakes prompt on this post
Tweet (public message) about this promotion; including exactly the following unique term in your tweet message: "#SweepstakesEntry"; and leave the URL to that tweet in a comment on this post
Blog about this promotion, including a disclosure that you are receiving a sweepstakes entry in exchange for writing the blog post, and leave the URL to that post in a comment on this post
For those with no Twitter or blog, read the official rules to learn about an alternate form of entry.
This giveaway is open to US Residents age 18 or older. Winners will be selected via random draw, and will be notified by e-mail. The notification email will come directly from BlogHer via the sweeps@blogher email address. You will have 72 hours to respond; otherwise a new winner will be selected.
The Official Rules are available here.
This sweepstakes runs from 05/19/2014-06/22/2014.
Be sure to visit the Endless Summer brand page on BlogHer.com where you can read other bloggers' posts!