But first, let's open with the obligatory photo of my first newly opened Clematis bloom of the season: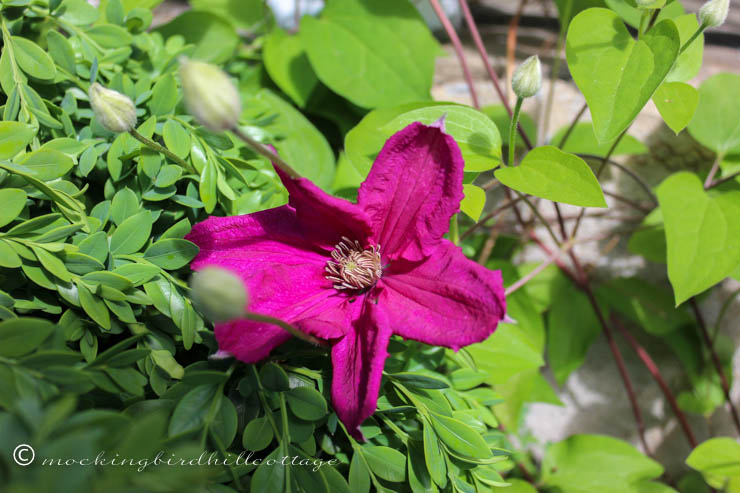 A thing of beauty, no? I've had this plant for several years and it never bloomed until we had to cut down the Weeping Willow. Apparently, it wasn't getting enough sun.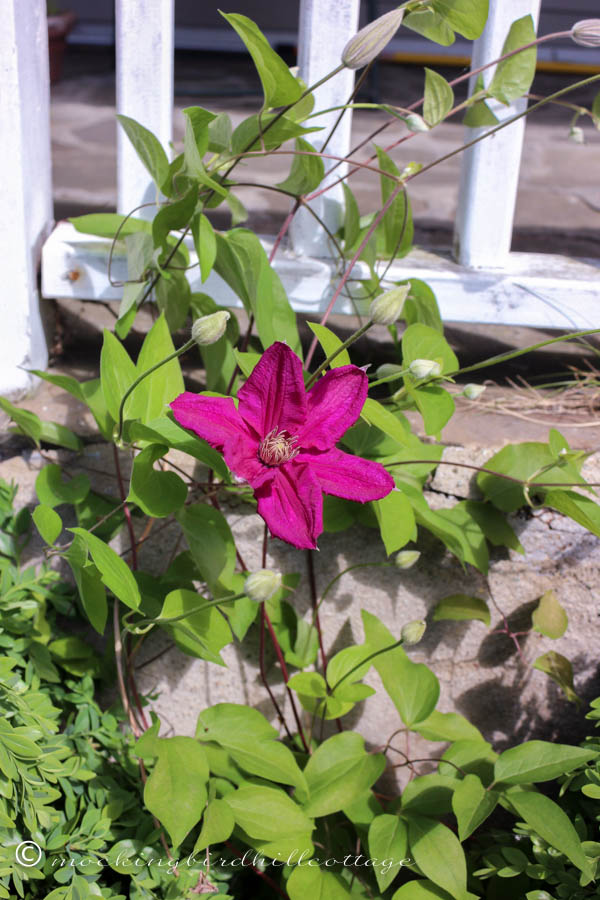 Now, it climbs up to the porch railing and spills out onto the lawn.  Sigh of happiness.
Okay. I made you look at flower photos but let's get to the heart of the matter. Last year, Country Living brought its fair to Rhinebeck, NY, which is just across the Hudson River from where I live.
I didn't go. Funds were tight. We were just getting by. And I was a bit depressed.
Guess what? The same exact situation is going on this year but I am going anyway! There is much to see and do there, not the least of which is my friend Heidi's booth which was a real hit last year.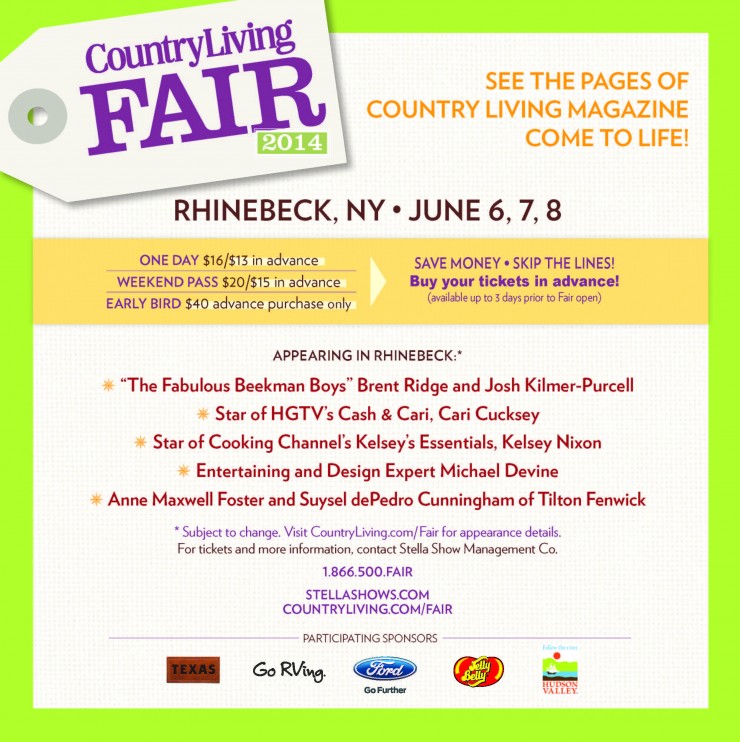 Here's more information:
What: See the pages of Country Living magazine come to life, with three days of shopping, cooking, crafting and DIY demonstrations, as well as antique appraisals, and locally sourced, artisanal food, in a fun, festival atmosphere.
When: June 6, 7, 8, 10 am to 5 pm.
Where: Dutchess County Fairgrounds, Rhinebeck, NY
Who: Guests will have the opportunity to meet the Country Living editors, as well as special guests, including:
Brent Ridge and Josh Kilmer-Purcell, "The Fabulous Beekman Boys"
Cari Cucksey, star of HGTV's Cash and Cari
Kelsey Nixon, star of Cooking Channel's, Kelsey's Essentials
Michael Devine, entertaining and design expert
Designers Anna Maxwell Foster and Suysel dePedro Cunningham of Tilton Fenwick
For a full list of celebrity guest and vendors, click on this link.
• You can purchase tickets starting at $13 at Stella Shows.
• Admission is $13 in advance and $16 at the door, three-day weekend passes are available for $15 in advance and $20 at the door.
• An Early Bird Three-Day Weekend Pass is available for $40 (in advance only) and grants early admission at 8:30 am on Friday and Saturday.
• Free Admission for children ages 16 and under.
Well, here's the exciting news!
Thanks to Hometalk and Country Living, I am giving away two 3 day passes to the Country Living Fair. These passes will grant admission to the Fair on all three days, including early admission (at 8:30 am) on Friday and Saturday.
Yikes! That's an amazing deal!
This giveaway will have a quick turnaround, so if you are interested, you must leave a comment on this post and I will pick the winners on Monday morning, June 2nd. As always, there are no hoops to jump through – all you have to do is leave a comment. One pass will go to one winner. Another pass will go to the other winner – two winners!
My friend Heidi had the best time last year. My local friends that attended the Fair raved about it. So I'm going to go and will share as much of my experience as I can with you.
Don't you want to go, too? Leave a comment!
Edited to add: Hey guys, some of you are leaving comments, which is great, but haven't indicated if you're interested in entering the giveaway. Please let me know in your comment!
Happy Friday,