Let's take a little walk around the property and see what's growing and blooming in this late-to-get-going Spring.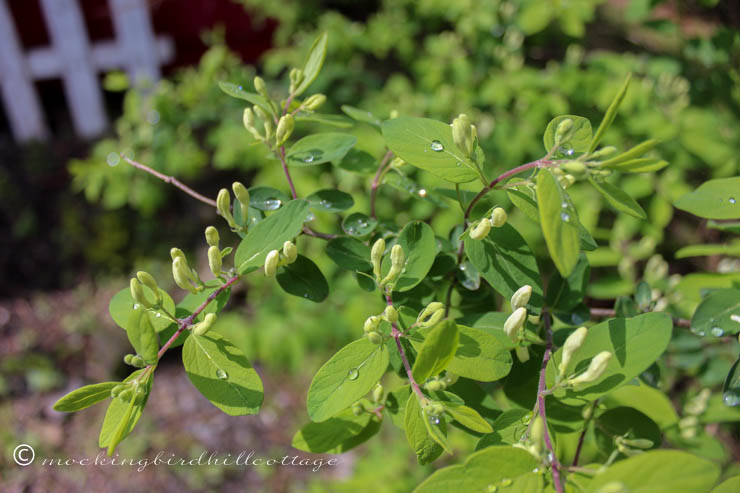 The wild honeysuckle that grows all over this property is blooming, much to the delight of the bee population.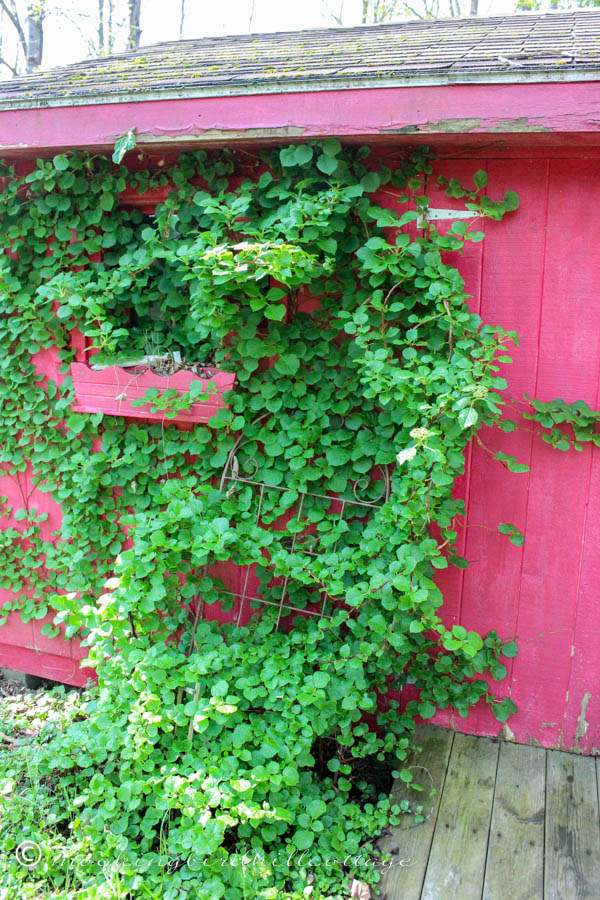 The climbing hydrangea that I planted about 6 years ago is taking over the shed. It's supposed to start blooming after 4 or 5 years but nary a bloom has been sighted.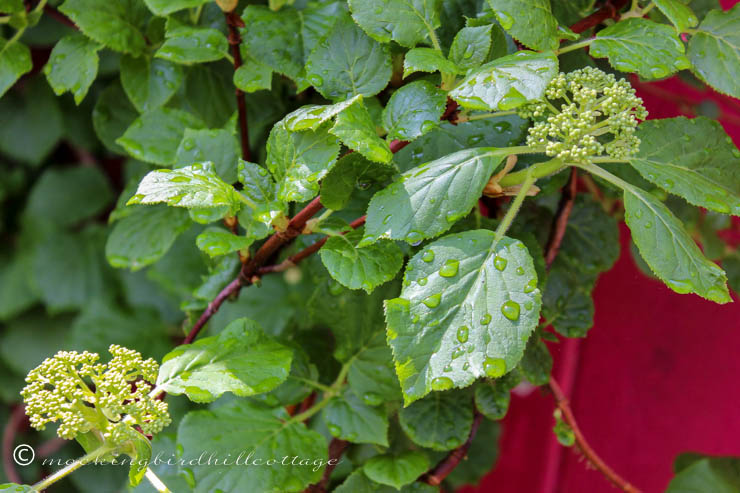 Until now. I couldn't believe my eyes. In fact, I had just finished a sentence that included the words, "I guess this will never bloom," when I saw these. Only two, but who cares? A small victory.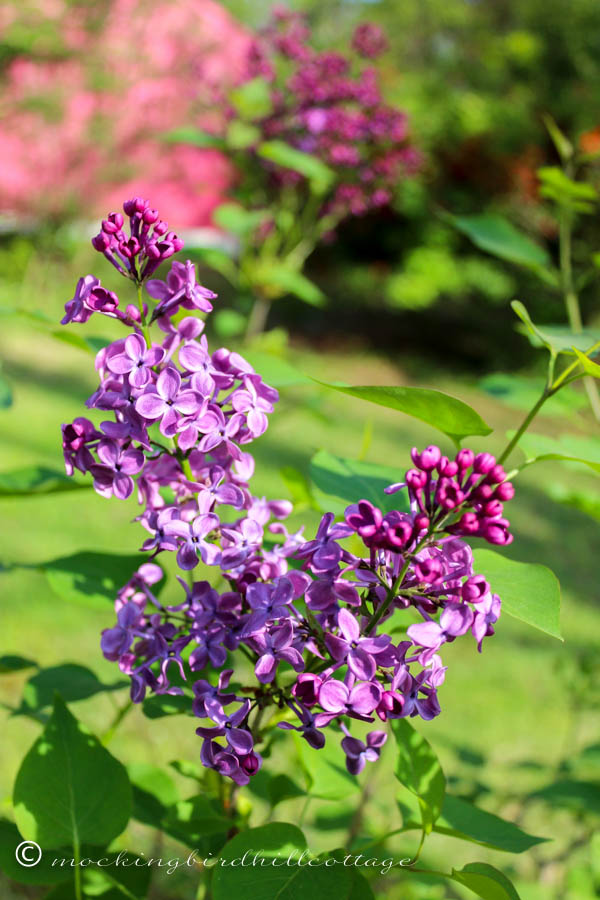 The lilacs have bloomed. I walk over to that side of the driveway several times a day and inhale. What a glorious scent.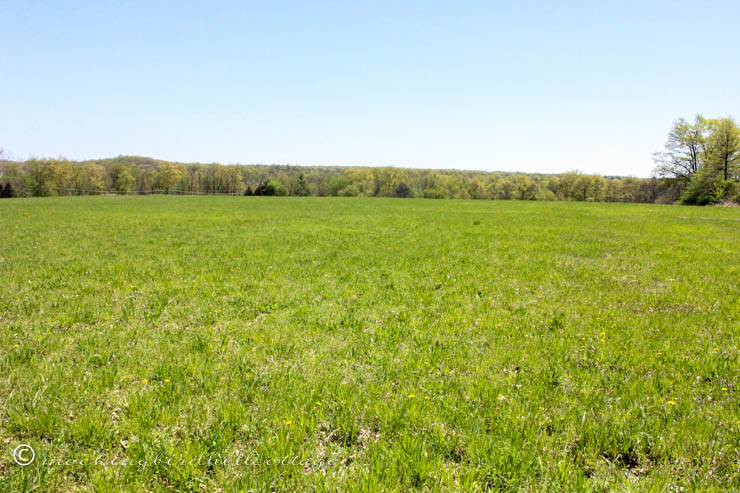 Our woods open up to this big field, which is owned by my fellow blogger Breida and her husband. I walk through our woods daily and always take a moment to stand and gaze out at this vista.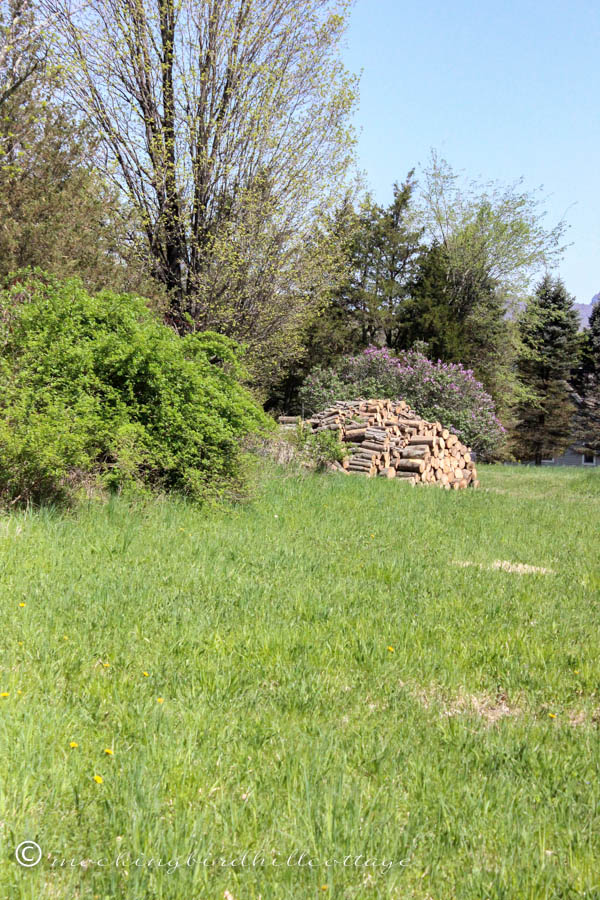 To the left is the back of our neighbor's property. He's been busy stacking enough wood to last him through the apocalypse. Check out his beautiful lilac bush.
This tree is on the edge of my other neighbor's property, which also abuts Breida's field. Isn't it pretty?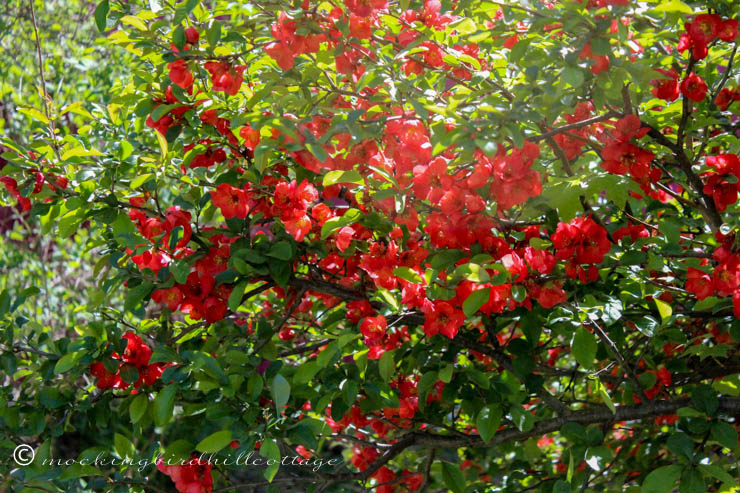 The flowering quince is still blooming.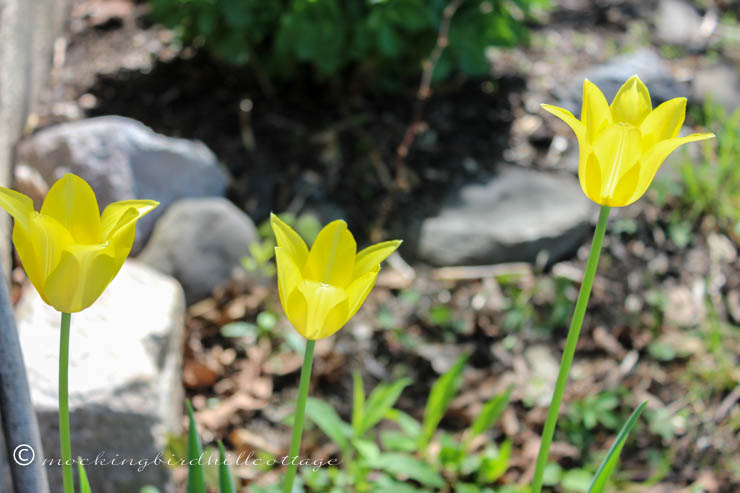 My delicate yellow tulips are open. These were planted long before we moved here, as were the daffodils and a couple of the hostas and sedum.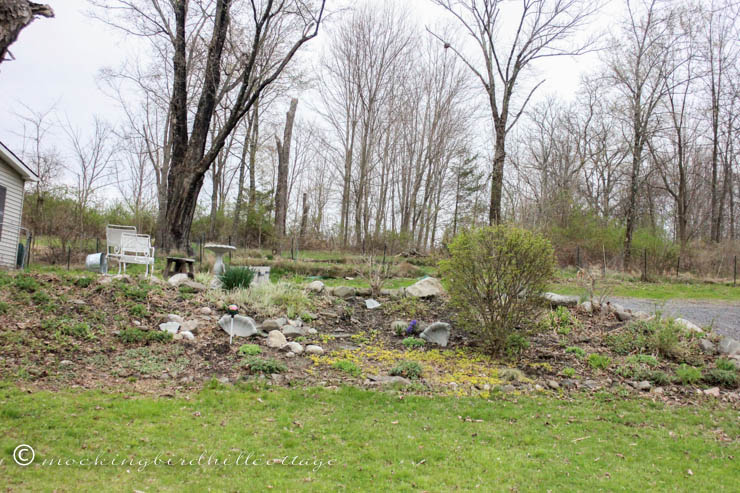 The big garden bed on April 30th.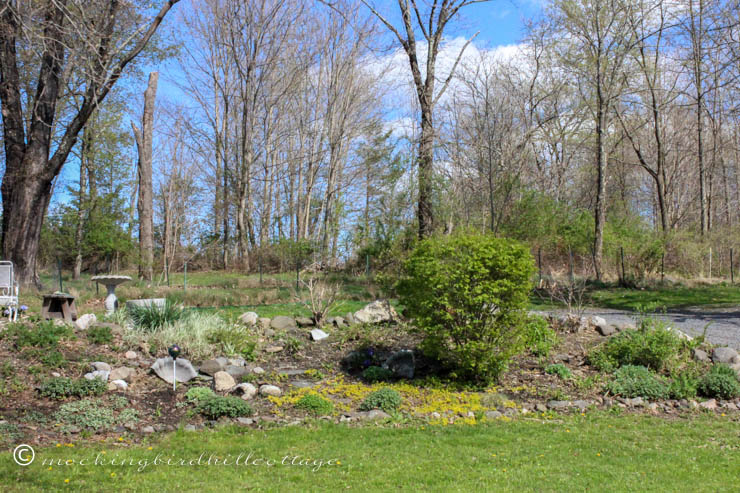 On May 7th.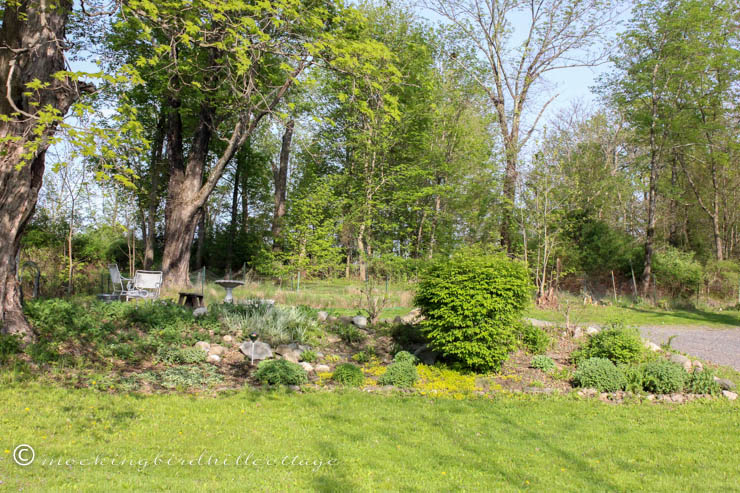 And on May 13th. As you can see, the trees have really filled in, there's green everywhere, and the perennials are much bigger.
I planted lots of morning glory seeds the other day, as well as zinnias. I haven't filled my barrels or my galvanized planter with flowers yet – my budget is very, very tight – and I haven't bought any hanging plants for the porch. Those things will have to wait a bit. Waaah! I want them now!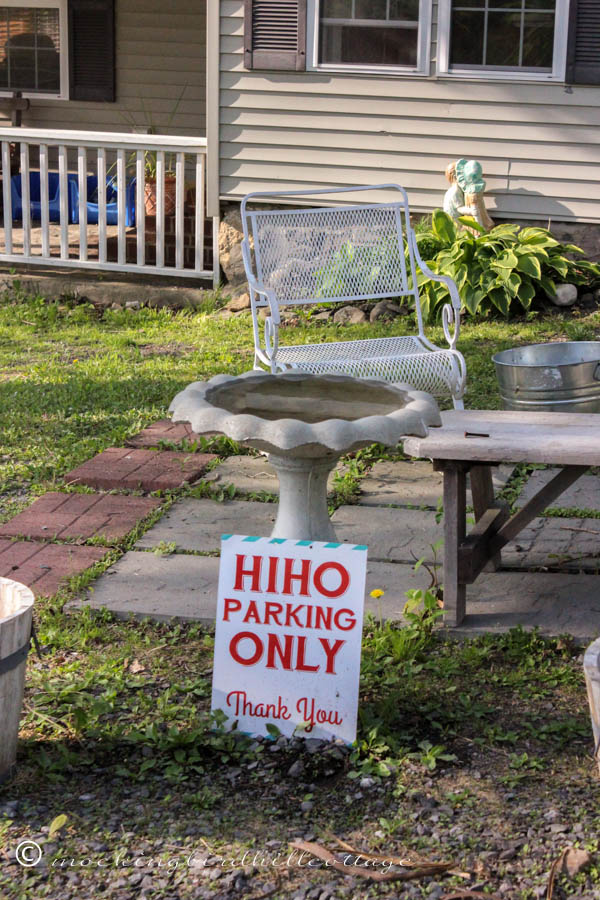 When my friend Heidi's shop (which was called Hi Ho Home Market) closed, she gave me one of her signs, which we have placed in front of the birdbath – right where we park our car. Sort of perfect for the funky patio area, don't you think? We love signs and if they can be used with a sense of humor, all the better.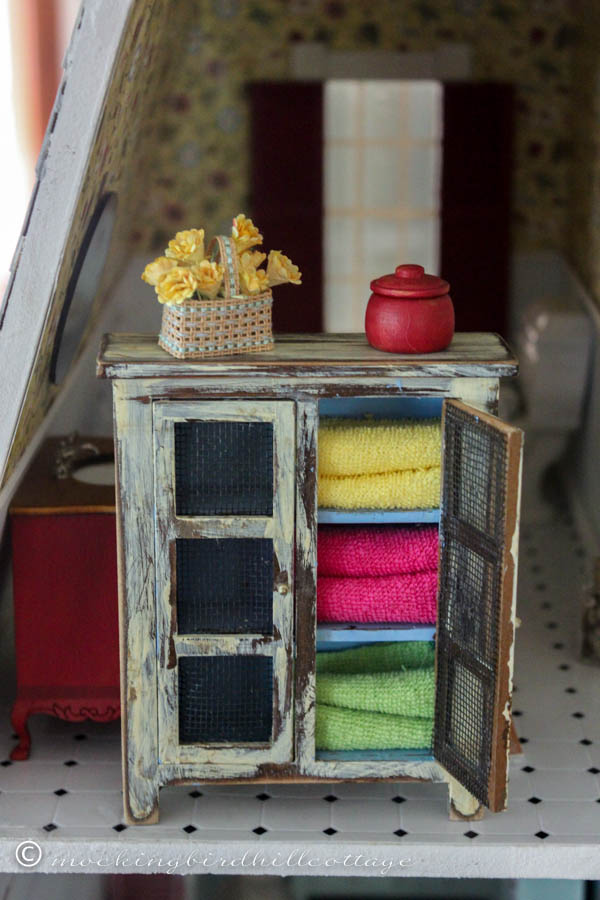 I made some towels for the dollhouse bathroom by using baby washcloths, a tip I picked up somewhere on the Internet. I think they look neat but they're too bulky at the moment. I'm going to trim them down a bit.
Today I have to mail off all the items I made for the swap. I spent most of yesterday morning wrapping each item and figuring out how to pack everything so that nothing is damaged. Can't wait to see what everyone else has created!
Happy Wednesday.