Here's looking at you. The world looks pretty amazing when it's reflected in a gazing ball.
Spring is here. Although we had a minor glitch when we had a Frost Advisory last night.
It's May 7th.
I had to run out and cover a plant I had just put in the ground a few days before. After the Red Sox game ended (12 innings!), there were Don and I, flashlight in hand, throwing a sheet on the plant. Well, not actually throwing a sheet; we artfully arranged it so it covered the plant, but didn't touch it.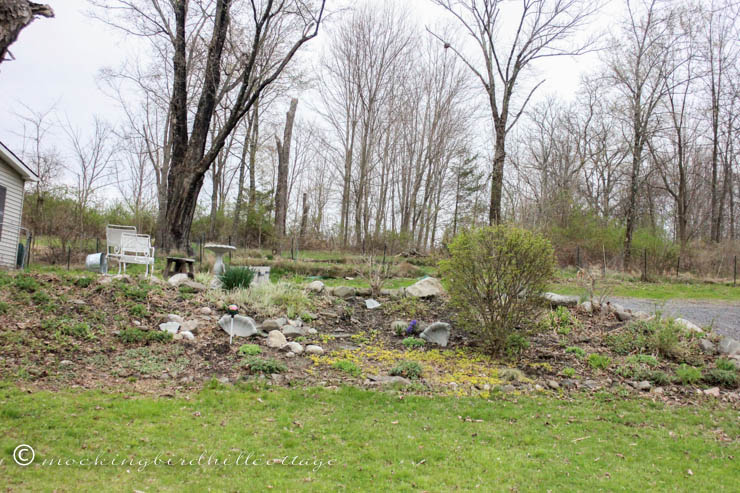 Big garden bed last week.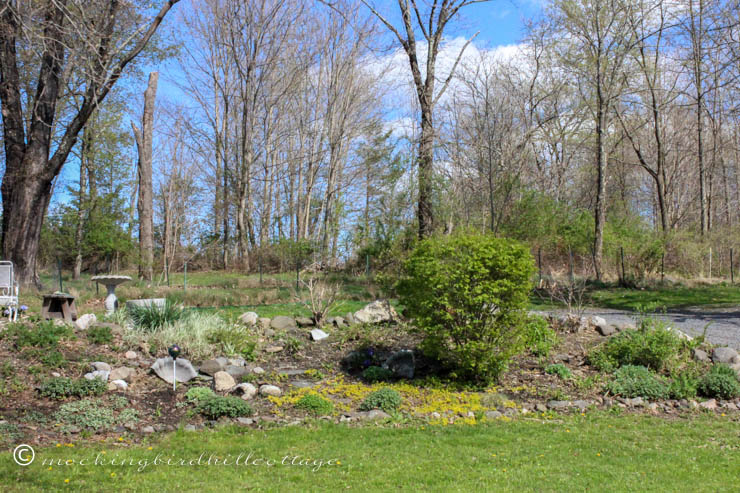 Big garden bed this week: perennials are spreading, growing taller, and you can spy some green on those trees.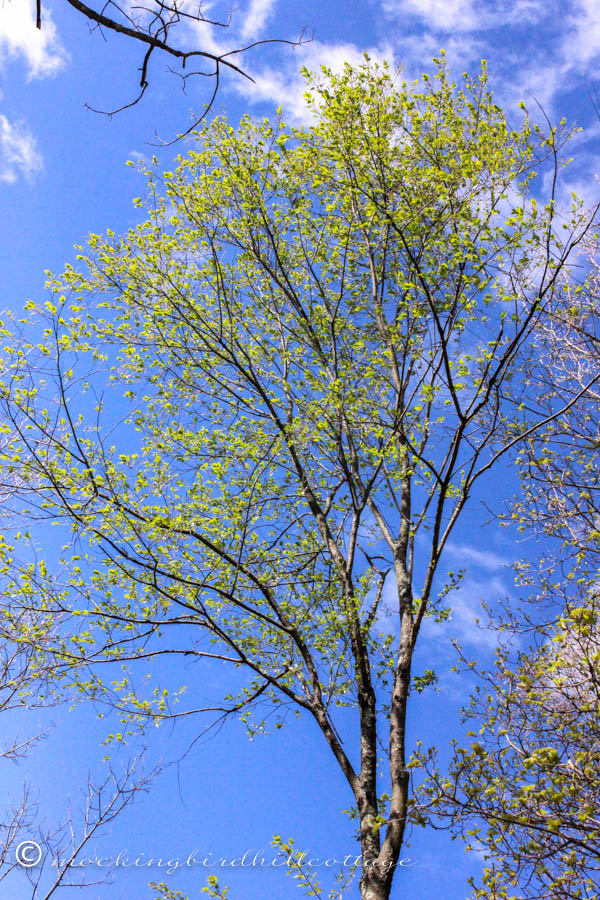 Up in the back forty, some are actually leafing out. Will wonders never cease?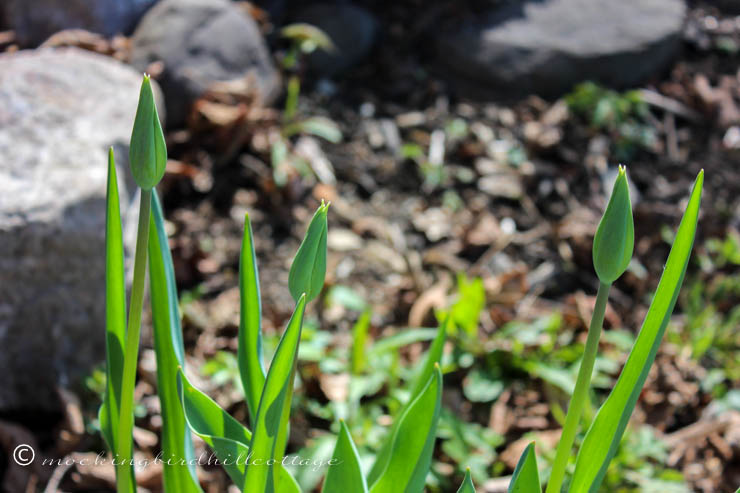 The tulips are just about to open. My goodness. It's May. (Do I need to keep saying that?) Apparently, yes. I am still wrestling with the fact that Spring has come so much later this year.
My peonies are emerging from the ground. They bloom, like clockwork, during the first week of June. Will that still hold true this year? I'm wondering.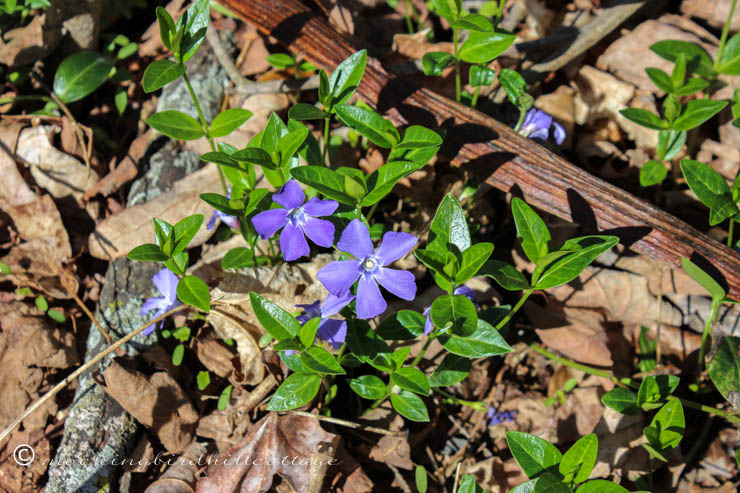 The woods are full of vinca; swaths of purple flowers are everywhere.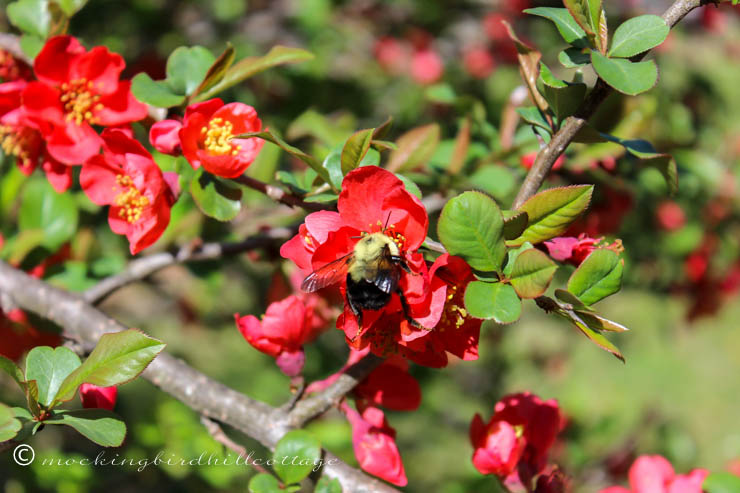 The buzz of big, fat bumblebees accompanies me on my walks around the property.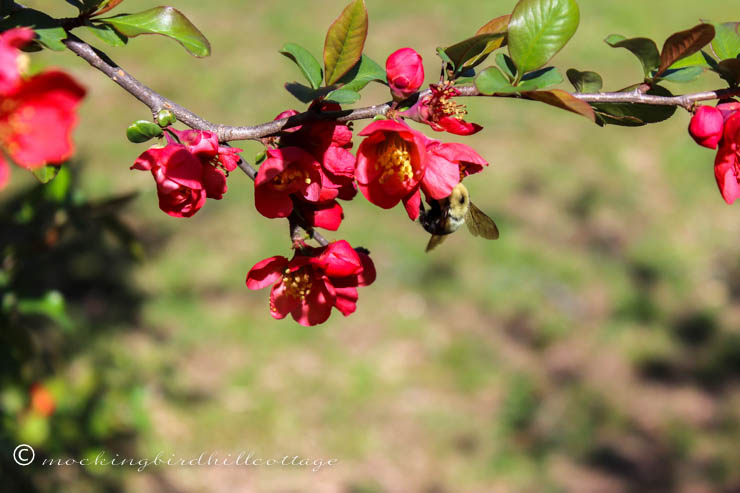 Waiting for Spring here in Northeast isn't for sissies. It requires a lot of fortitude and more than a little patience. This year, more than ever, I look for the tiniest signs. It's getting a little easier to find them lately, but for quite a while there, I had to look very closely indeed.
I almost had to use a magnifying glass.
In other news, I cringe slightly when I share this with you, but here's the scoop. I added another ad above the content area on the blog. I don't like the look of it, but it's necessary right now. I spent a long time on the phone with Dawn yesterday, trying to figure out how to change some CSS coding so that the ad wasn't right on top of the post title. We finally figured it out, but it's messed a bit with my post title spacing. Nothing I can't ignore.
The truth: I need more income from this blog and I don't kid myself; that will be easier said than done, as this blog isn't one thing, i.e., a decorating blog or a food blog, it's a lot of things. It's a reflection of all my loves, all my passions. I'm perfectly happy with that, indeed, I deliberately fashioned the blog in that way, but the downside is that my kind of blog earns less ad income. So I continually walk a little tightrope here, balancing the need to be honest and real with trying to find more ways to generate an income. I haven't had coaching work in several months. Jobs of any kind in my neck of the woods aren't particularly easy to find. We need more money coming in. STAT.
Wouldn't it be perfect if this blog I put so much work and love into, this place where I write a new post each and every day, could provide me with an income that matches what I might earn working elsewhere? I'm putting it out there into the Universe.
Why not?
(Please don't think I'm asking you to click on ads. You don't have to do that and I don't want you to. Only click on an ad you are honestly interested in. If you visit the blog directly, that is enough. Thanks.)
Happy Wednesday.