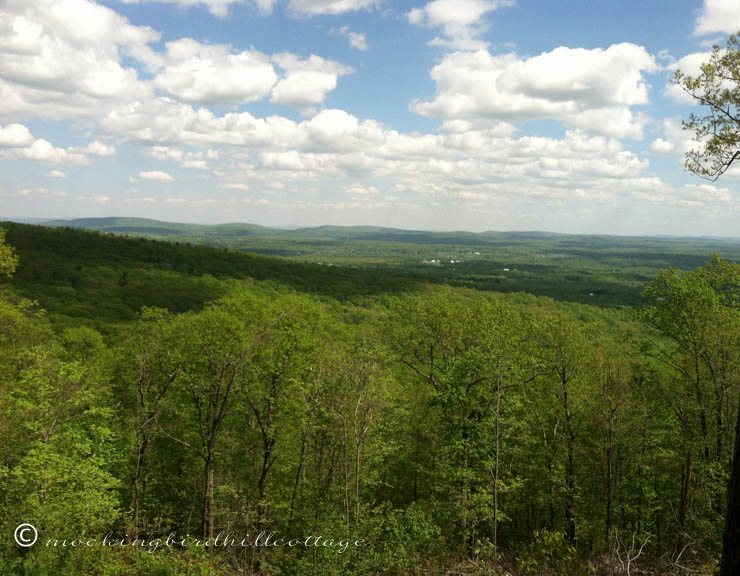 Yesterday we took another 5 mile long trail walk. Only this time, the parking lot was full and we had to park elsewhere (read 'far away') and to access the trail we had to climb up the mountain via a set of stone steps that was endless and exhausting and scary for this girl who is afraid of heights.
Not doing that again.
I had to rest a few times on the way up and, to be perfectly honest with you, I wanted to sit down and cry. I cannot tell you how steep those steps were. They seemed to go forever and I was absolutely sure we were never going to get to the top. And I was afraid I would fall.
After that, the hike was a piece of cake.
Even though I will never use those steps again, I felt a real victory in simply meeting that challenge and making it up the mountain.
Hey, at least I can say I've done it.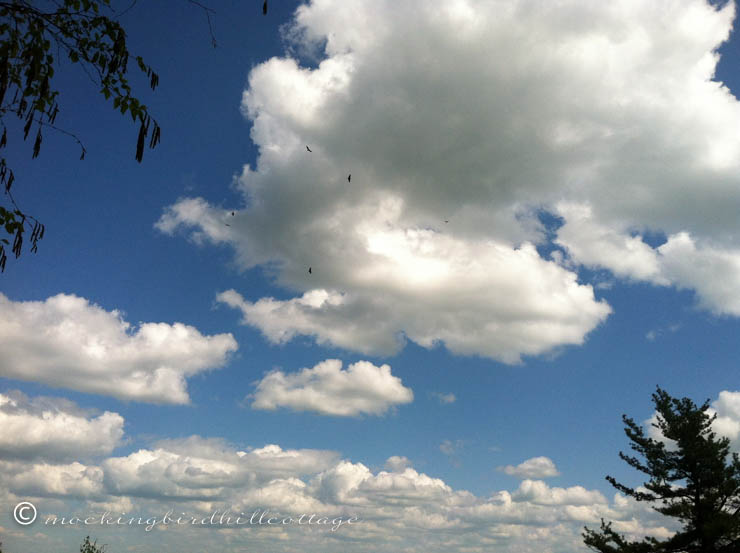 Can you see the hawks? Whenever I see hawks in the sky, I think of the lyrics from Oklahoma: "…and watch a hawk makin' lazy circles in the sky."
Now onto the real meat of my story.
When we got back home, I went upstairs (Don was in his studio/office/the spare room) and popped in to ask Don a question. As I turned to leave the room, I noticed that the framed photo of Mom I have on the wall in my studio was empty.
The frame and the glass were there, but no photo.
Considering the recent loss of my mother, it was a bit unsettling.
As I bent over to search for the photo, which had fallen behind a basket I keep next to the cupboard in the studio, I saw two photos there. At first, before I could see it more clearly, I thought the second photo was of some strangers. And I wondered if Grandma (who gave me the framed photo of Mom) had kept another photo behind the one of Mom.
It turns out she did, but on closer examination, I saw it was a studio portrait, not of strangers, but of my grandmother and mother, taken when Mom was a little girl. I was dumbfounded. I've had this framed portrait of Mom for over 30 years. Grandma used to spend hours with us looking through every photo she had of the family. I thought I had seen everything.
But no, I hadn't. I'd never seen this photo in my life.
I literally gasped when I saw it.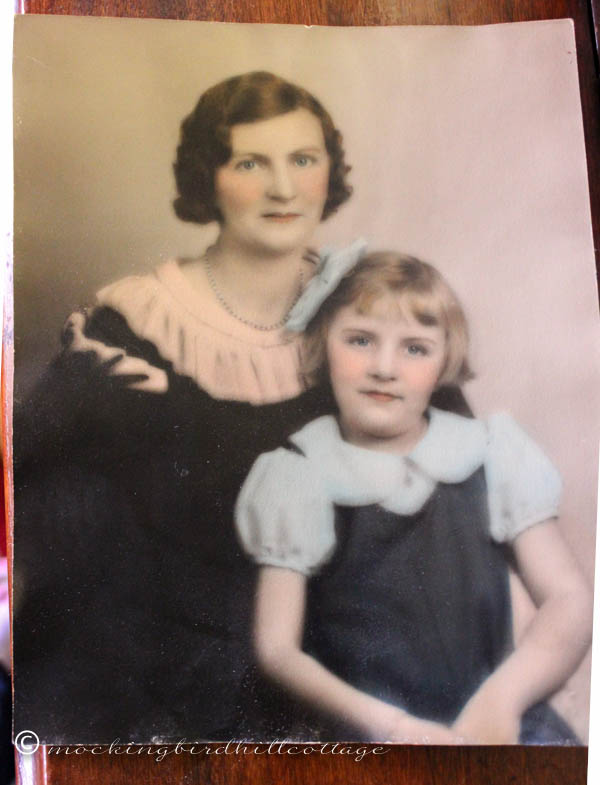 Here it is.
It's a hand-tinted, absolutely gorgeous 8 x 10 of my grandmother and my mom.
The young version of Mom looks exactly like the older version of Mom that I knew, minus the tow head. Same expression. Same tilt of the head. Such an 'old soul' look on her face.
Grandma is young and stylish and serene.
I immediately took a picture of the photo and emailed it to Meredith, who had also never seen it and was shocked and amazed by this discovery. (I'm going to have a copy made for her.)
I don't think it's a coincidence that these photos fell out of the frame. I think it was a message. I was guided to see this new-to-me photo, to know that Mom is with Grandma, that she is okay. Meredith feels the same way.
Their relationship was somewhat rocky as Mom, an only child, asserted her independence from Grandma, who could be controlling, and they had their ups and downs. But they loved each other and this portrait of Mom sitting in her mother's lap, relaxed and happy and content, tells me they are together again with none of the rancor or tension that was often a part of their relationship. Only with love.
What a gift this is!
Another little miracle. Another message from beyond.
Happy Sunday.