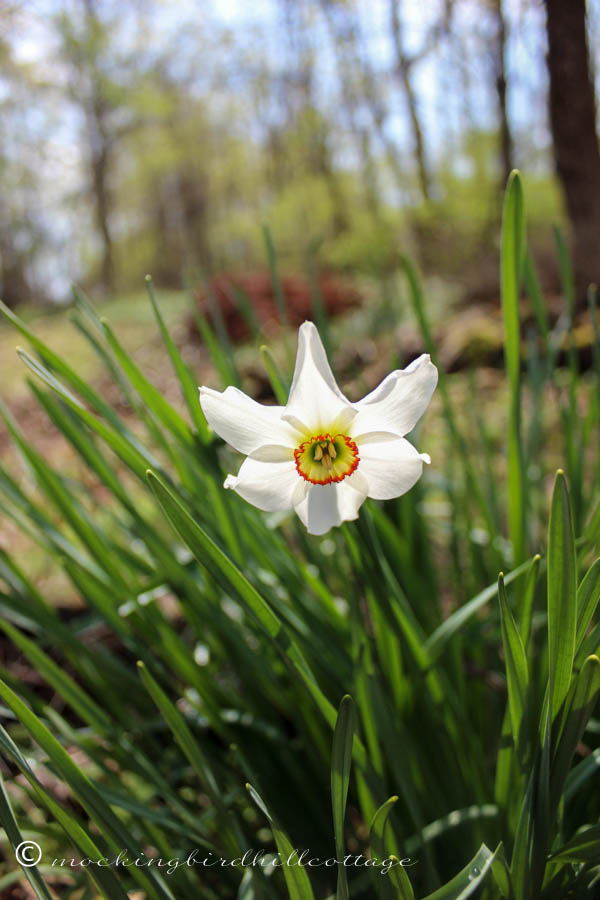 Let's talk about the smallest places in which we have lived as adults.
(I will be adding some photos of flowers that are blooming here at the cottage, even though they have relatively little to do with today's subject matter. But they're pretty.)
Now, I'm not talking about dorm rooms or college apartments (I lived in one where 3 of us shared a tiny bedroom) – they don't count – or the bedroom you had when you were still living at home. I'm talking small apartments and/or houses. As you know, I have never lived in a large abode. Never. I grew up in a tiny bungalow crammed with six people. Six tall people. And from that point on, I have always lived in a small space.
But some of the places I have lived have been rather more petite than others. I should also add that I was a renter for most of my adult life. We bought this house (I use that word loosely, as we've got a hefty mortgage) in 2005, moving in a few months short of my 53rd birthday. A non-renter for the first time ever.
1. When I first moved to Philadelphia at the age of 30 to go to graduate school, I rented a small studio apartment with one window. One. And it was in the back of the building, so the light was terrible. It had a linoleum floor that was dark brown in color and really reminded me of the basement floor in my parents' house. There was room enough for a bed, a dresser, a chair and my grandmother's trunk, which functioned as a table. (I left most of my belongings behind in Michigan when I made this move. Some of it, regrettably, is still at my friend Jan's house.) I made shelves out of wood and cinder blocks. The kitchen was the size of a closet; in fact, it was a converted standard closet where you opened louvered doors not to find clothes, but a sink, a couple of cupboards and a refrigerator. Its one redeeming quality was a non-functioning fireplace with a mantel. I lived with very little sunlight for a year. It reminded me of a tunnel.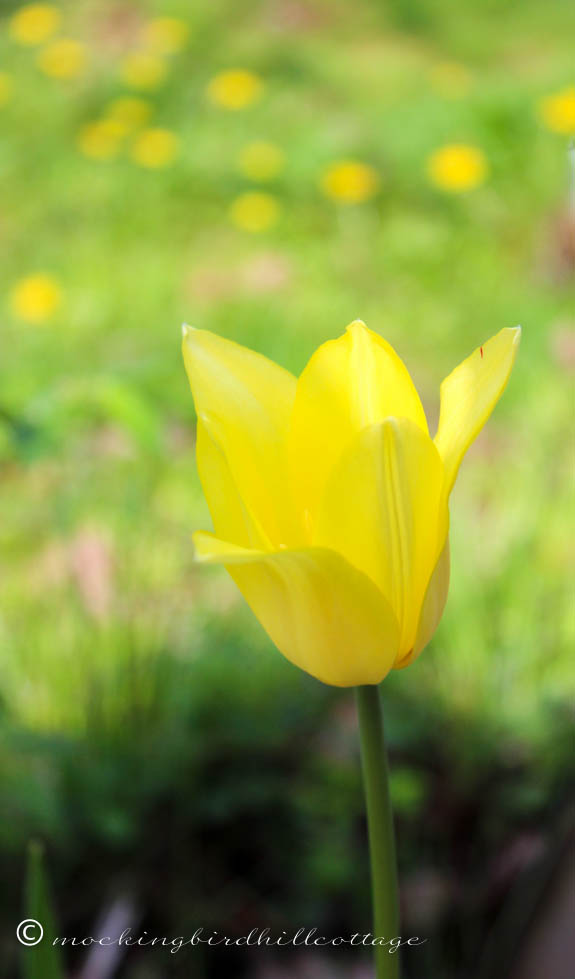 2. In my third year of graduate school, I moved to a tiny two room apartment. One room was the kitchen. The other was the bedroom. All of my bookshelves were in the kitchen, as well as my stereo and record albums because there was no room for them in the bedroom. The bedroom had 3 windows (yay!) but it was so poorly insulated that I had to line the inside of the windows with that plastic sheeting that you cut to fit the window and make taut by heating with a hair dryer. When it was windy, the plastic would flap and make noises. Once again, I made do with a bed, a chair, a dresser and an inexpensive dining table that I found at IKEA. The first IKEA that opened in the U.S. was right outside of Philadelphia – oh, my fellow poor graduate students and I were so excited! This apartment was very small but seemed positively palatial compared to my first year studio. I stayed in that apartment for three years until I had to move to Boston.
3. Which brings me to the smallest apartment I have ever lived in. Boston is an expensive place in which to live and as a new faculty member at Boston University, I was hired that first year on a visiting teacher basis. They ended up liking me and I stayed on, however, the head of the department was sweet but rather cheap so he hired me for very little money. That made finding an affordable place in Boston particularly daunting. As I was still working in an office in Philadelphia at the time, I had only two days in which to find a place to live and I ended up in a studio apartment that was the size of many a walk-in closet.
I quickly realized that I was going to have to get rid of some of my things. And, mind you, I didn't have all that much to begin with. I had to leave my bed and kitchen table behind and buy a futon/sofa combination that could convert to a bed at night. I gave away lots of belongings. I took my essentials: books, records, shelves, dresser, stereo, television. I rented a U-Haul to move my stuff up to Boston and two of the faculty members arranged for some students to meet me on the other end to unload everything. After all the boxes were in the apartment, there was no space to move. None. One of the students asked me with concern and a little shock in his voice if I was going to be okay. At that point, exhausted and overwhelmed by the enormity of the move and a new job looming on the horizon, I said brightly, "Sure!" and hustled him out of there. It was 11:30 at night, I was in a new city, I didn't know how I was going to make it work, and I felt all alone. So I turned on the Tonight show just to hear the comforting sound of Johnny Carson.
That place was teeny-tiny. It had a galley kitchen. I had to open the futon every night so that I could sleep. Sheets on at night. Sheets off in the morning, tucked away until that night when the whole cycle would begin again. I had one window in the main room and a tiny sliver of a window in the kitchen area.
And the rent was pricey. But I made it work.
4. From there I moved on to that apartment in Cambridge that I've spoken about. It was only a one bedroom apartment but size is relative and it seemed huge to me after living in the tiniest apartment ever for a year. When I moved to San Diego, I also lived in a one bedroom apartment that was on the petite side but I was finally able to buy a bed and get rid of the futon. Then Don and I moved in together and we rented a house that had two bedrooms! I had never lived in a place with more than one bedroom. The house was a Craftsman bungalow, so we're still talking small.
When Don and I moved out East, we rented a small cottage that was so tiny that many of our belongings had to go into storage. We stayed there for four years, until we bought this cottage.
Which is also small.
Do you see a pattern here? I always long for more space. But I make do. Every place I have lived in, each of them rentals but one, has been decorated, filled with the things I love, and made my own. Or our own.
Not to sound too immodest, but I am great at adapting to a space. If I have to get rid of things, I do. If I can't paint the walls, that's okay – I figure out how to make the room pop. I've never, until now, had the luxury of doing absolutely whatever I liked with a space. And even now, we don't have the funds to do anything drastic. So I take what I have and make it beautiful. I bet you do the same thing.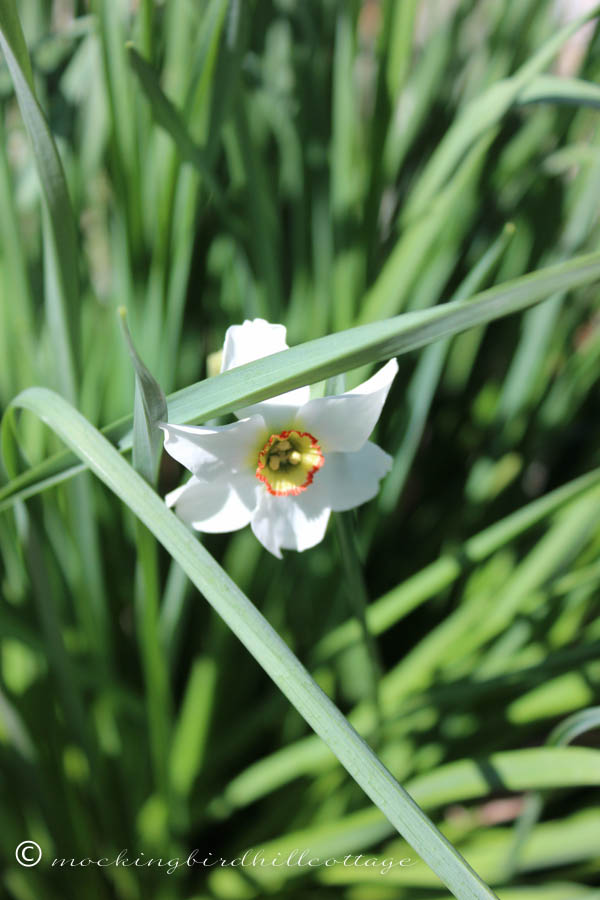 This house is tiny – just a little under 1100 square feet. But when one of us has been away from home working, usually housed in a very small one room apartment, we remark on its spaciousness when we return. I have a feeling that most people would think that it was way too small. I can't even imagine the snarky comments if it was featured on House Hunters. No walk-in closets, no stainless steel or granite, no usable basement, no attic, no garage. It would be thumbs down, for sure.
We love it.
When I see some of the so-called 'small spaces' out there in blog land, I chuckle. Really? Check out a typical Manhattan studio apartment or my Boston studio, and then we'll talk small. Likewise when I see a large house labeled a 'cottage.' I don't think so.
What's the smallest place you've ever lived in as an adult? I'd love to hear your stories.
Happy Monday.